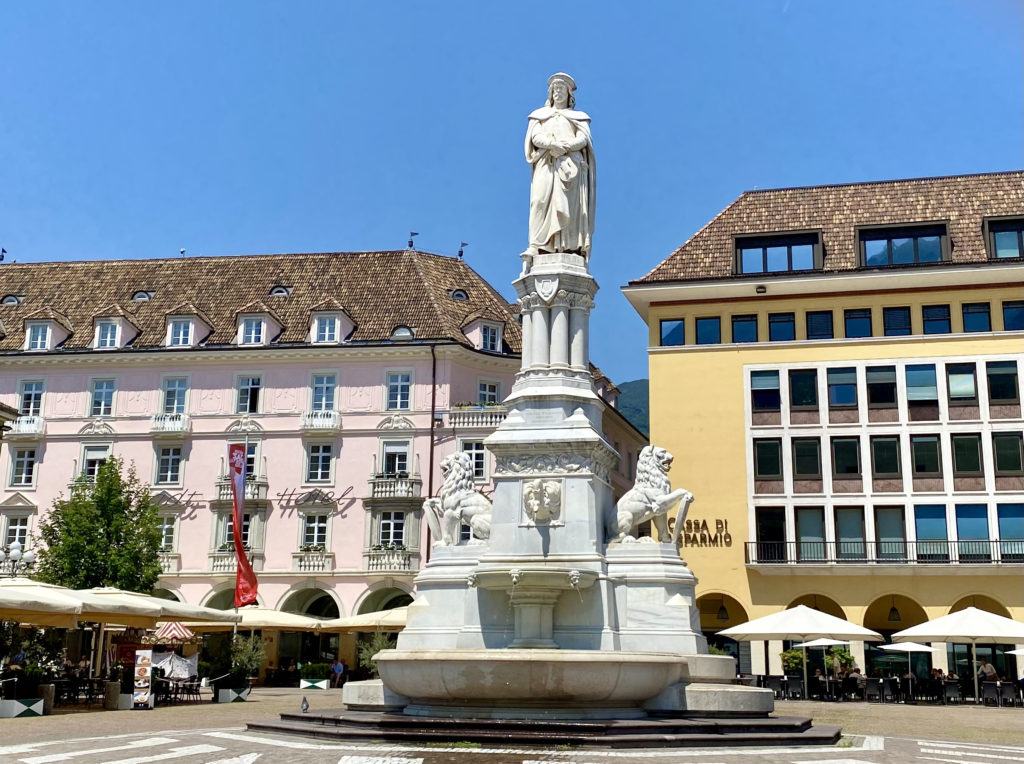 Bolzano is known as "the gateway to the Dolomites" for good reasons. It's the nearest city to the heart of the Dolomites. It took us only 1 hour 10 minutes on bus 180 from Bolzano to Tamion in Val di Fassa (http://gotthefridgemagnet.com/?p=11758)
Bolzano has a fascinating history which is reflected in its culture and architecture. It was part of the Austrian Empire from 1813 until 1918 when it became part of Italy. It's a bilingual city with many street signs in both Italian and German. For us Bolzano also served the purpose of breaking up our journey from the Dolomites to Verona for our flight back to London.
Sir Thomas Bed and More
Our requirements for accommodation in Bolzano were simple – somewhere in the historic centre, easily accessible from railway station as a stopover. Sir Thomas Bed and More's simple accommodation and convenient location fit the bill.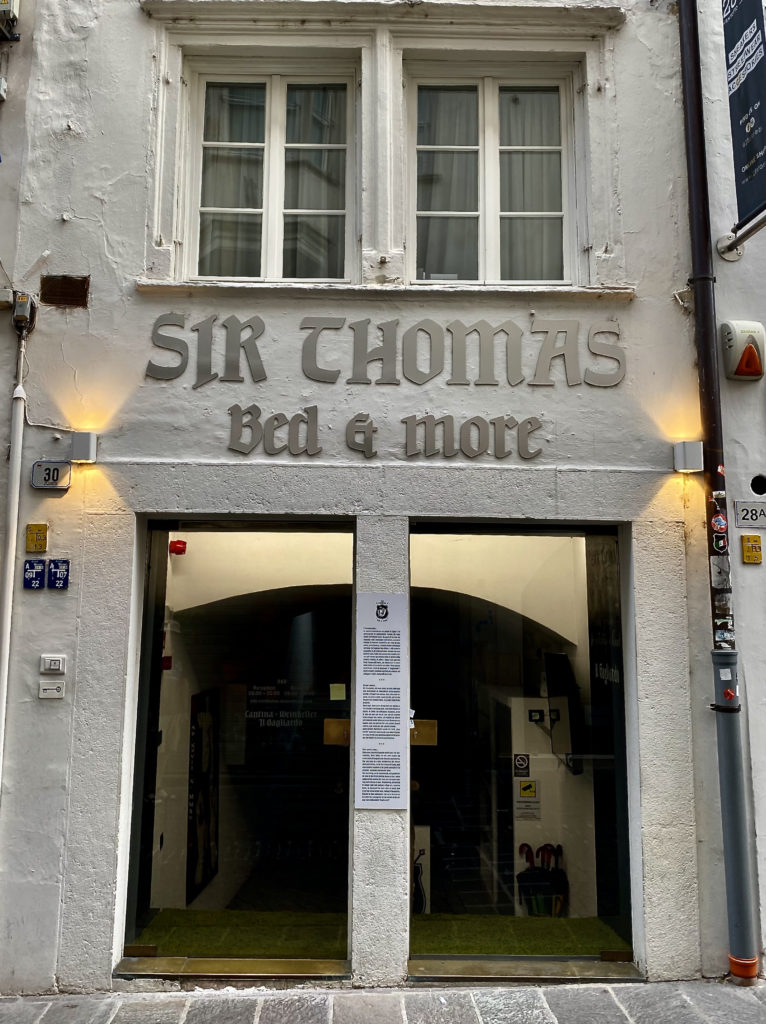 It's situated on the busy Via Goethe. There're many restaurants and eateries nearby. In the evening, restaurant seatings spilled out onto the street, yet our room was incredibly quiet. On the other hand, it's a challenge to get to our room on one of the upper floors without a lift, especially with suitcases. I don't think I'd return in a hurry!
Via Goethe
The best time of the day to visit Bolzano's historic centre is before breakfast or after dinner when there're not too many people around. That's the advantage of staying in the heart of the historic centre!
Piazza Walther
Piazza Walther dates back to 1808. It's the hub of city lives with bus stops to all destinations as well as the stunning Bolzano Cathedral (Duomo di Bolzano) nearby. It's also a short walk from the railway station.
There're restaurants and cafés on the edge of the square. It's a popular meeting place for locals and focal point for tourists. It was only this quiet early on a Sunday morning!!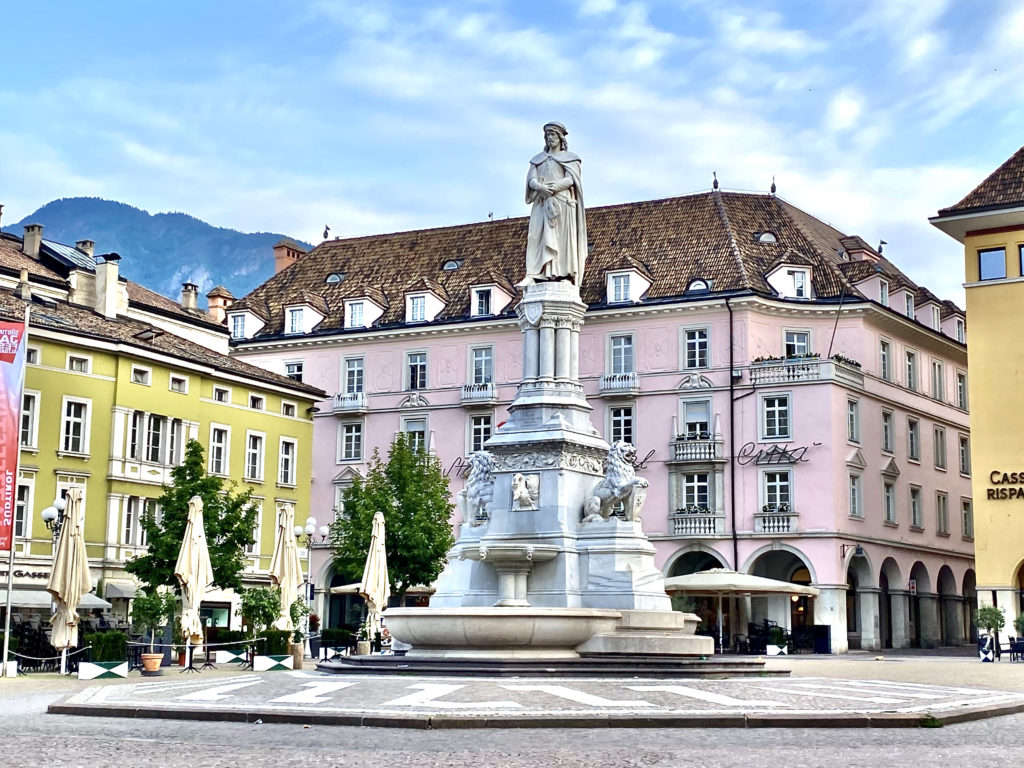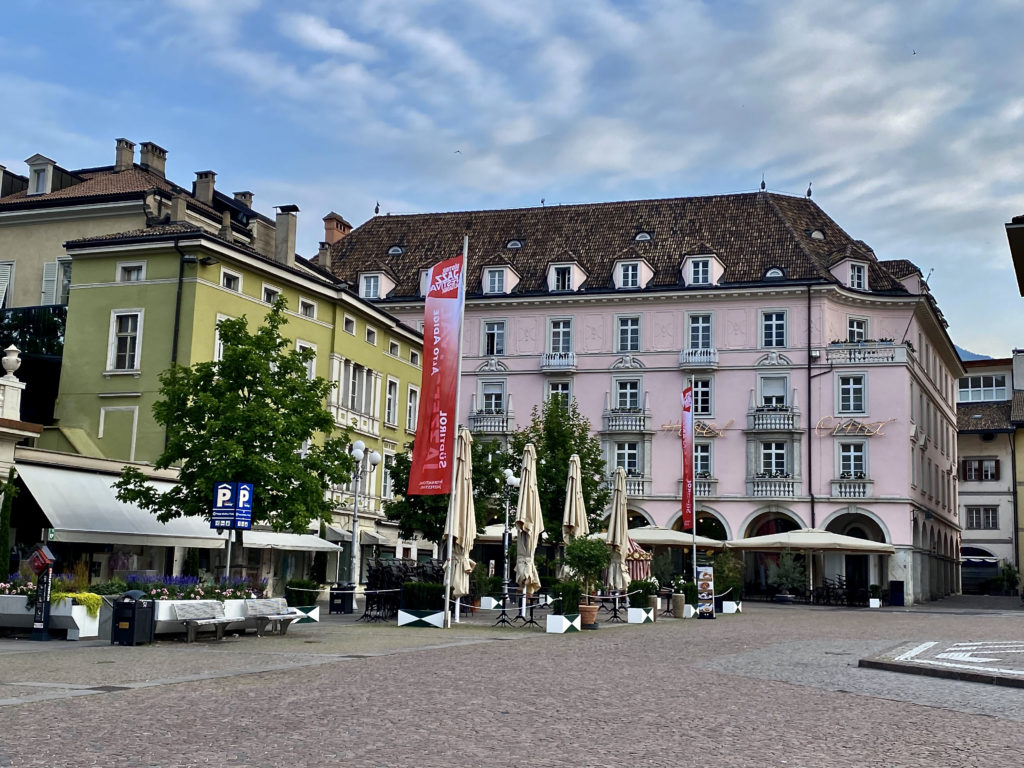 The centrepiece of the square is the monument of Walther von der Vogelweide (1170 – 1230)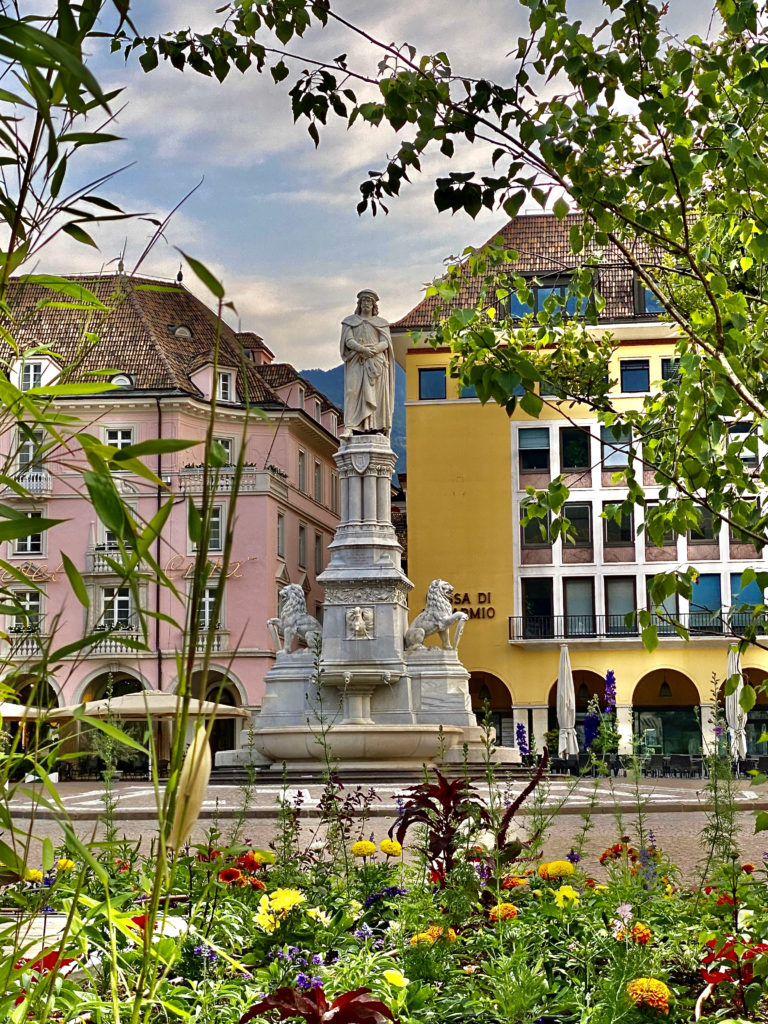 Bolzano Cathedral (Duomo di Bolzano)
There are other names for this cathedral which is located directly next to the Piazza Walther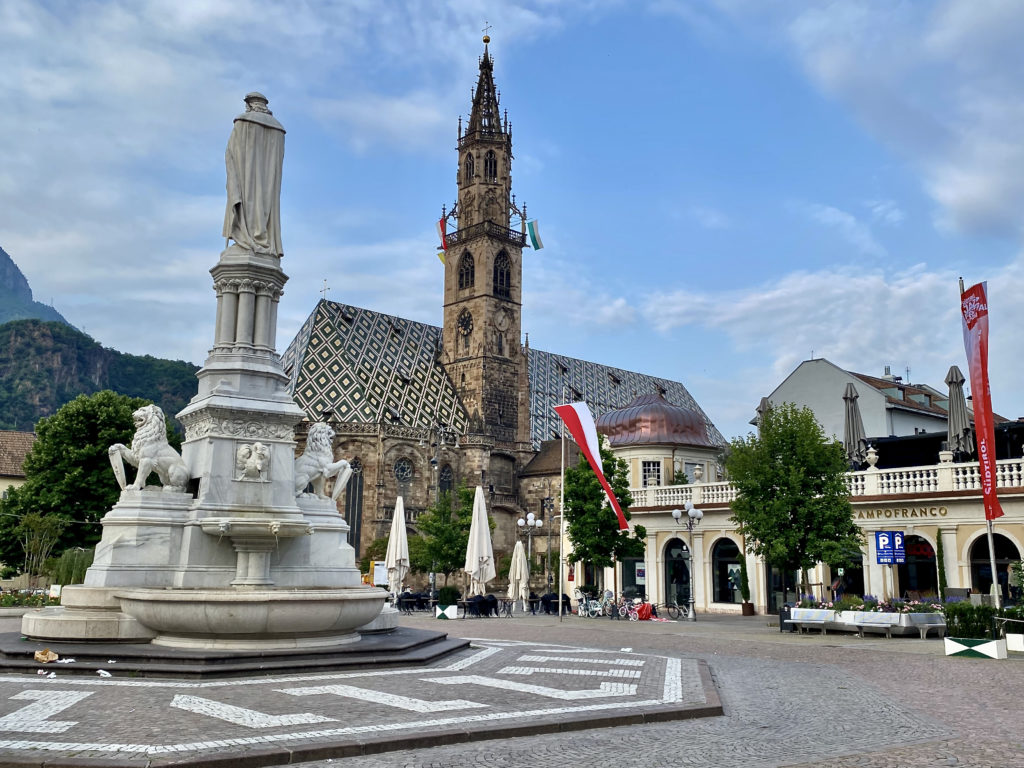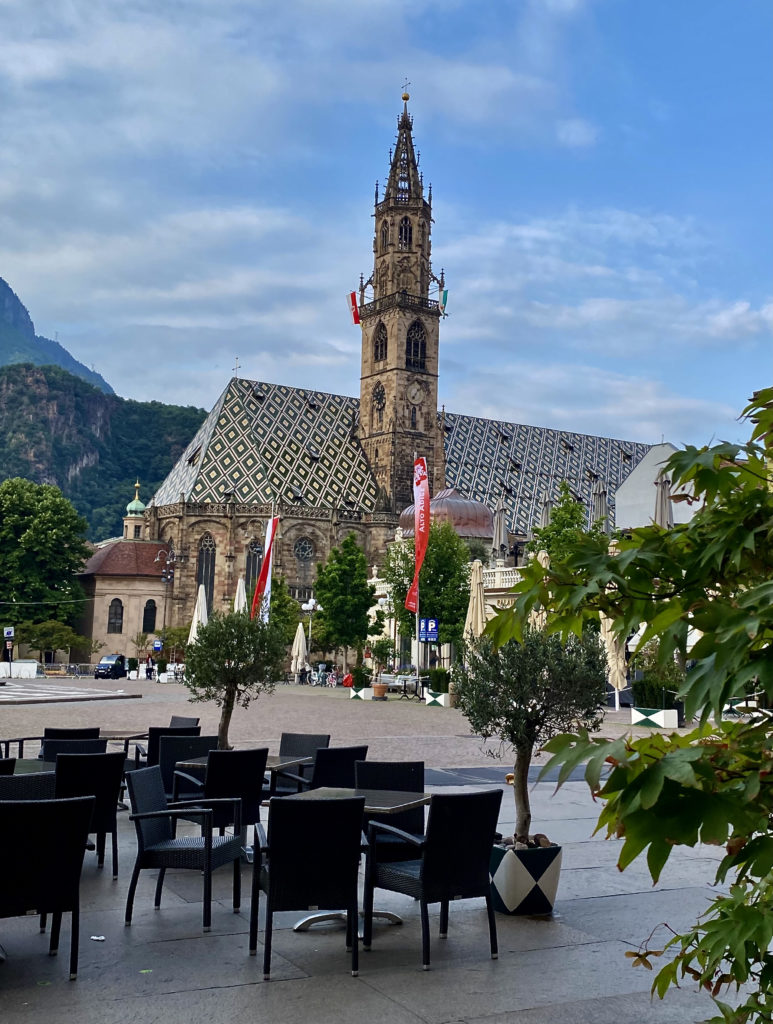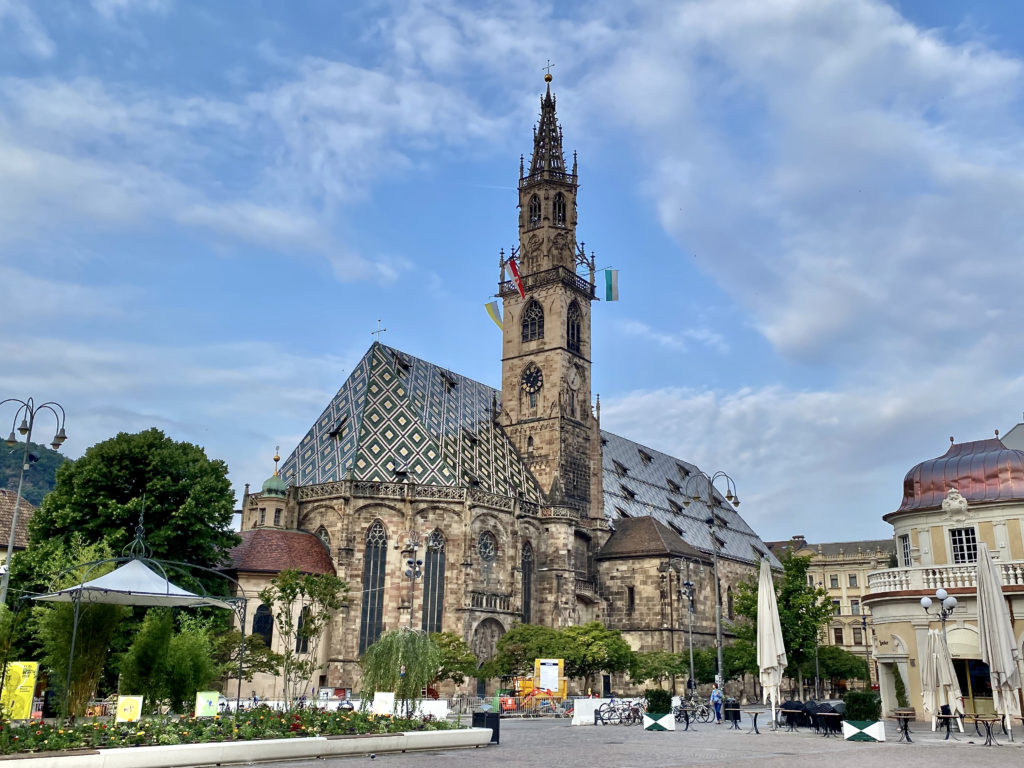 Bolzano is a rich city as reflected in all the imposing buildings around, even government and public buildings look elegant and stylish!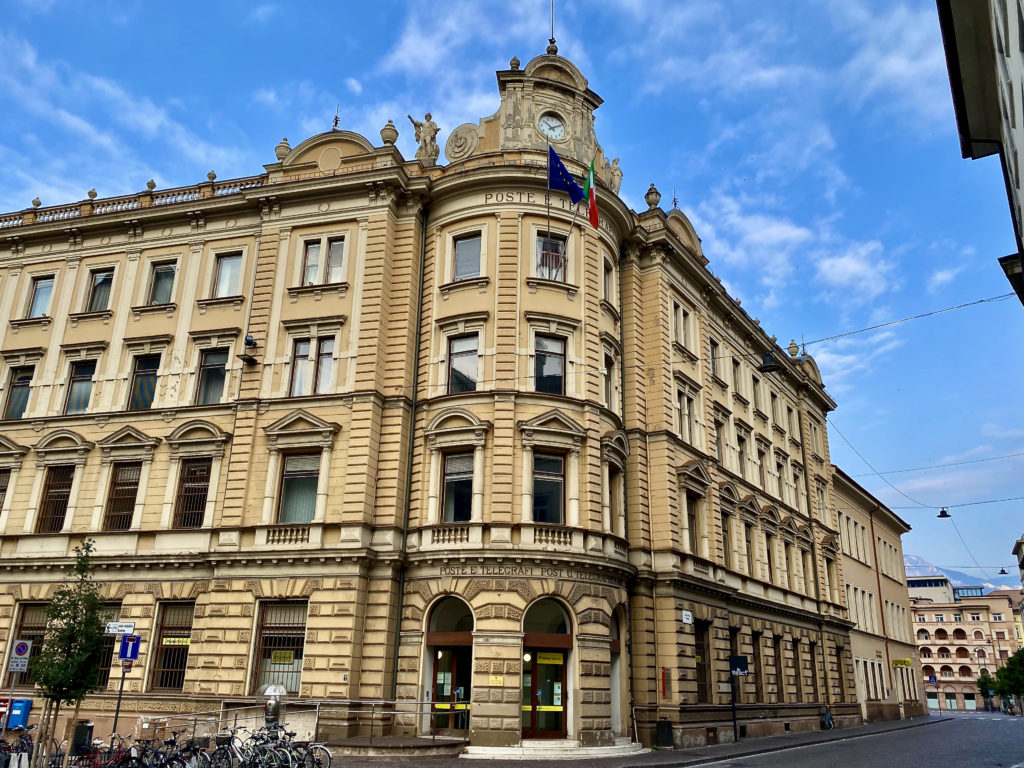 Town Hall Square (Piazza del Municipio / Rathausplatz)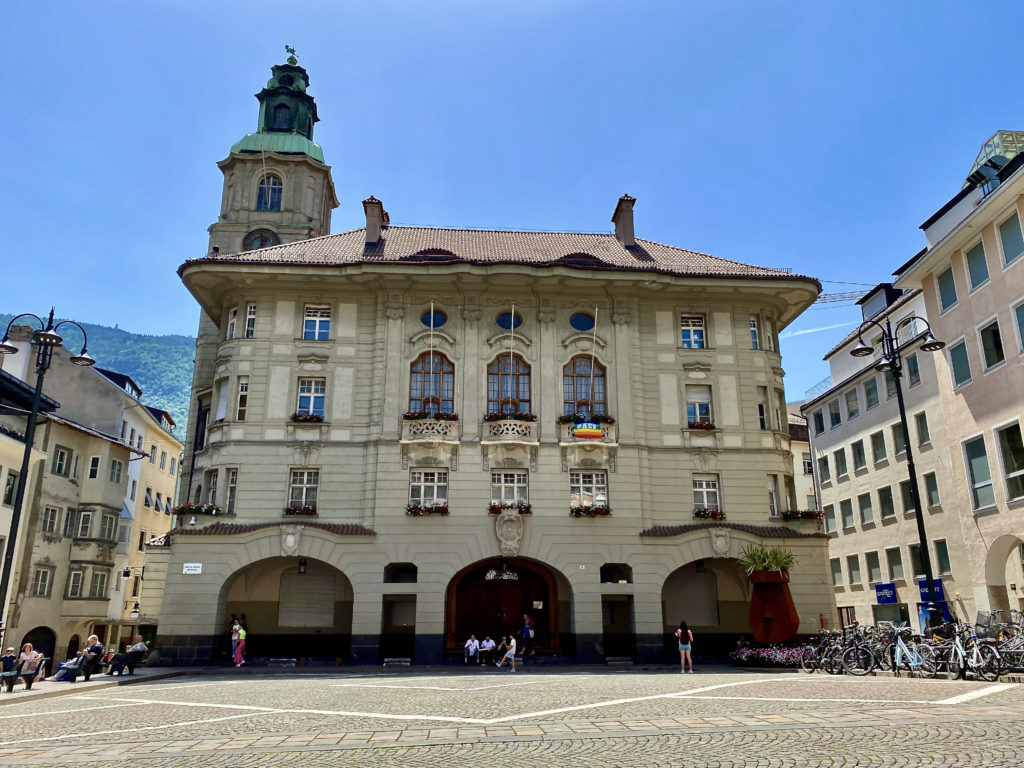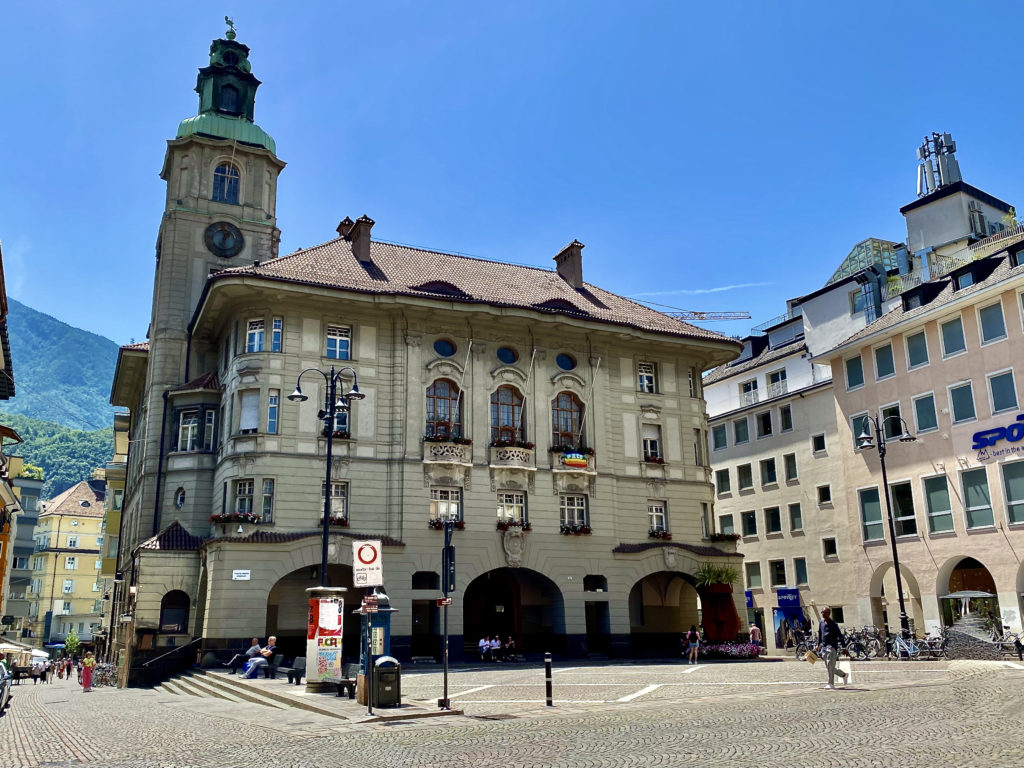 Piazza delle Erbe / Obstmarkt – Fruit Market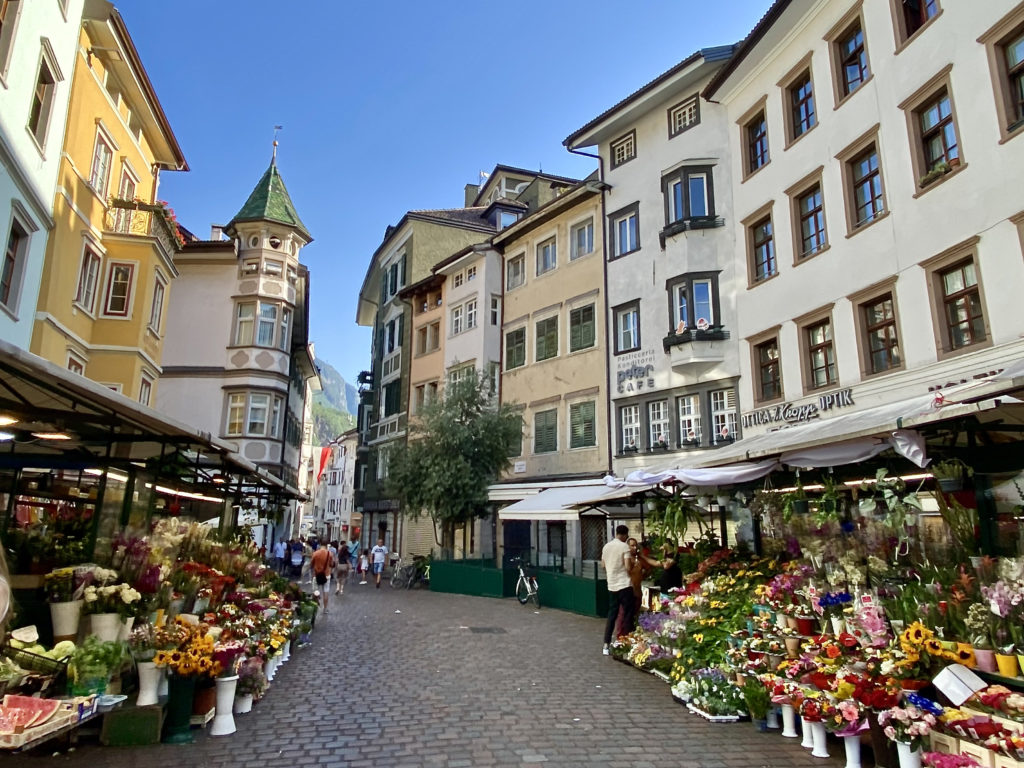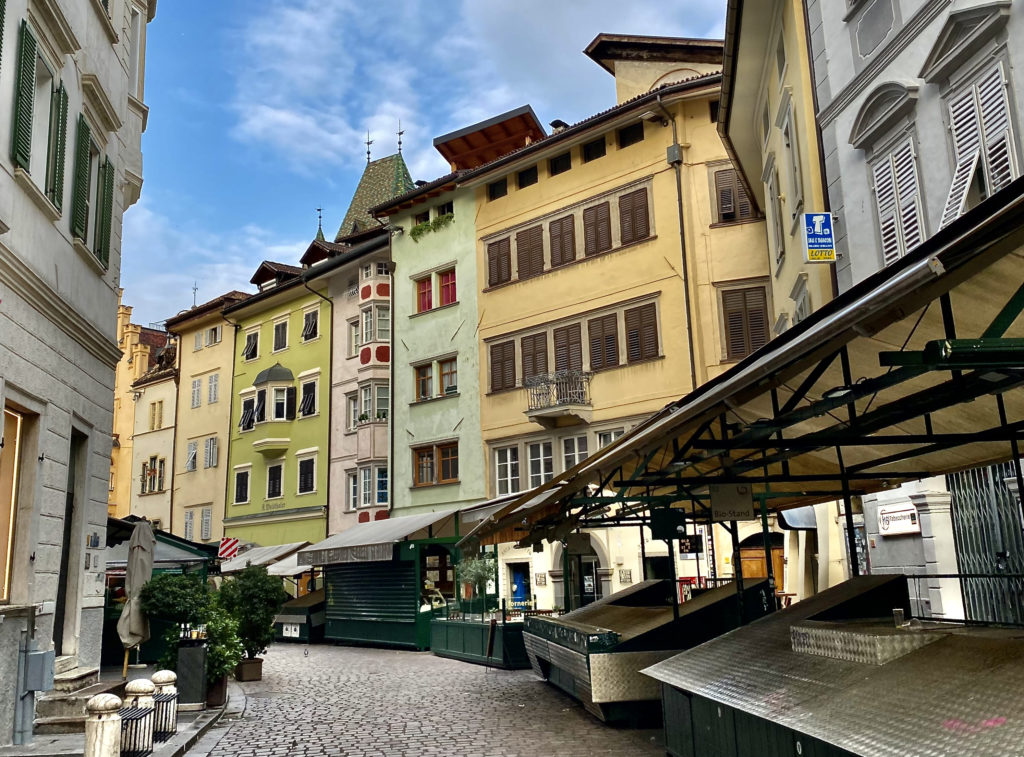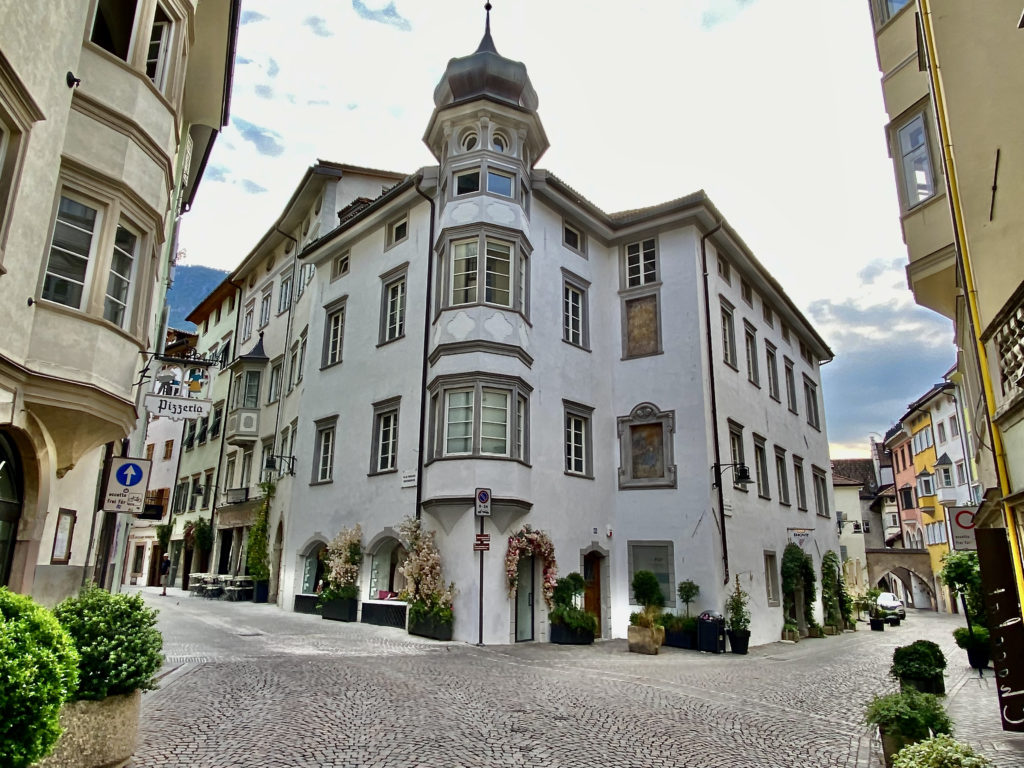 Via dei Portici – The Arcades
The arcades are normally full of people during the day – but not at 7.30 on a Sunday morning!!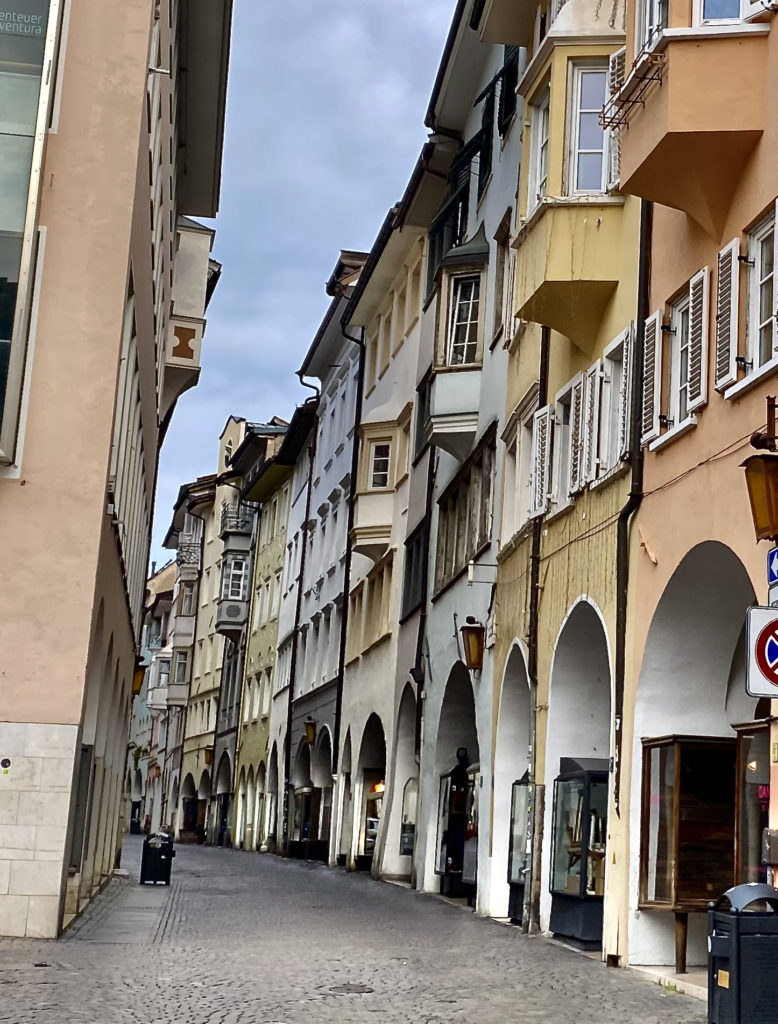 Via dei Bottai – with charming pastel-coloured buildings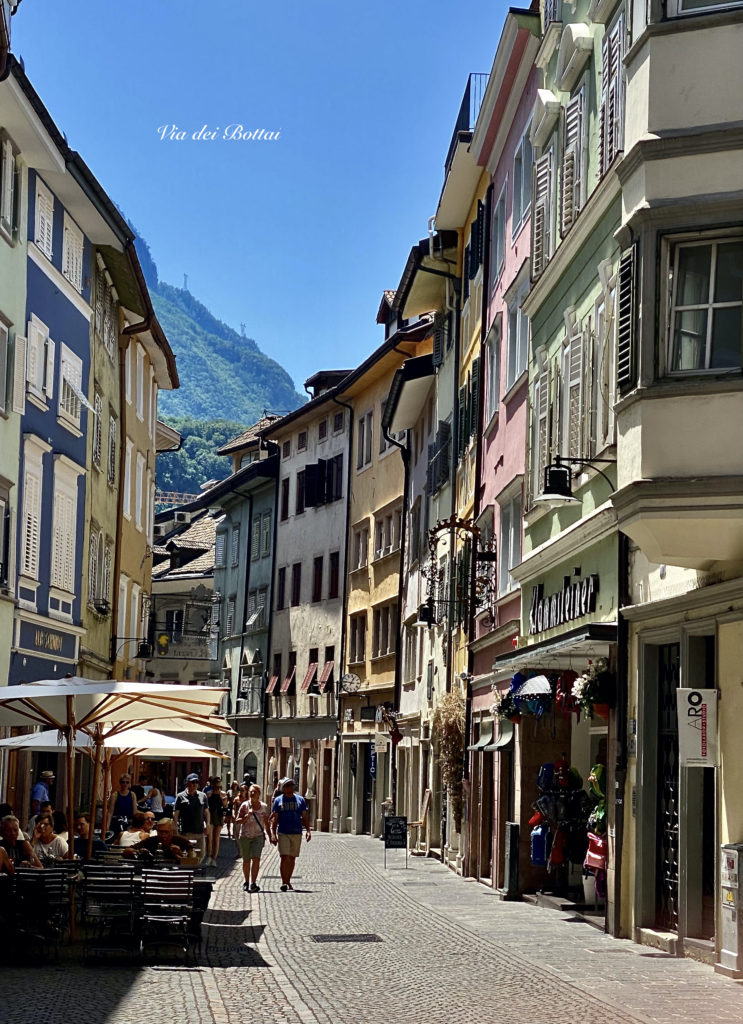 Other elegant buildings around Bolzano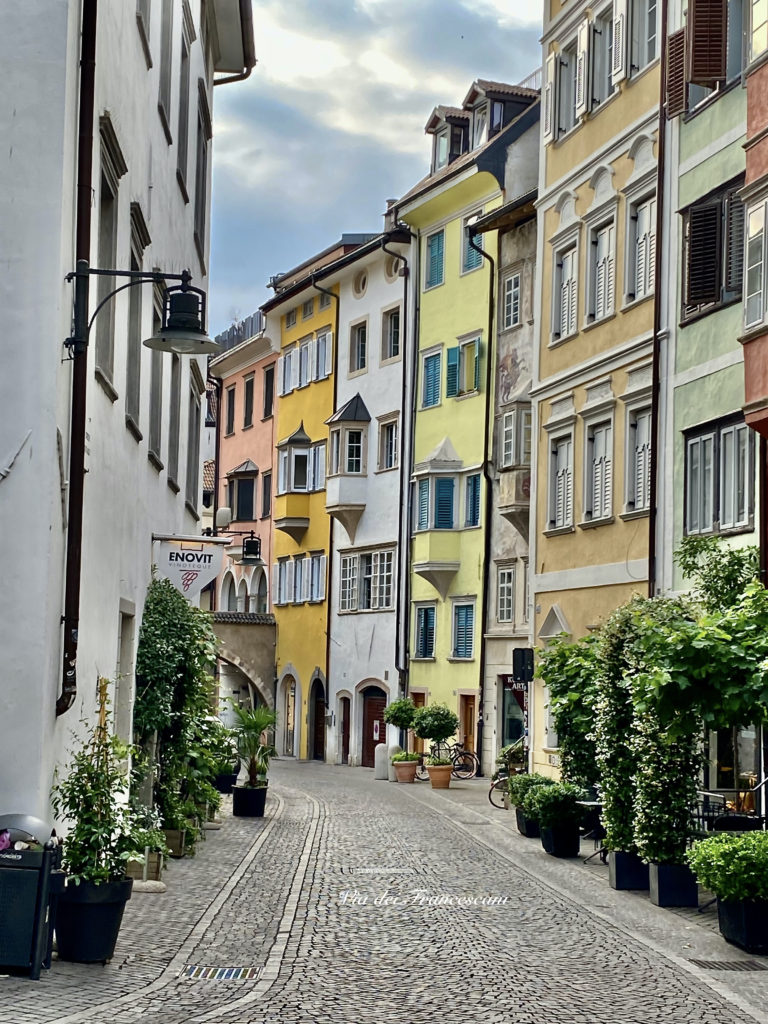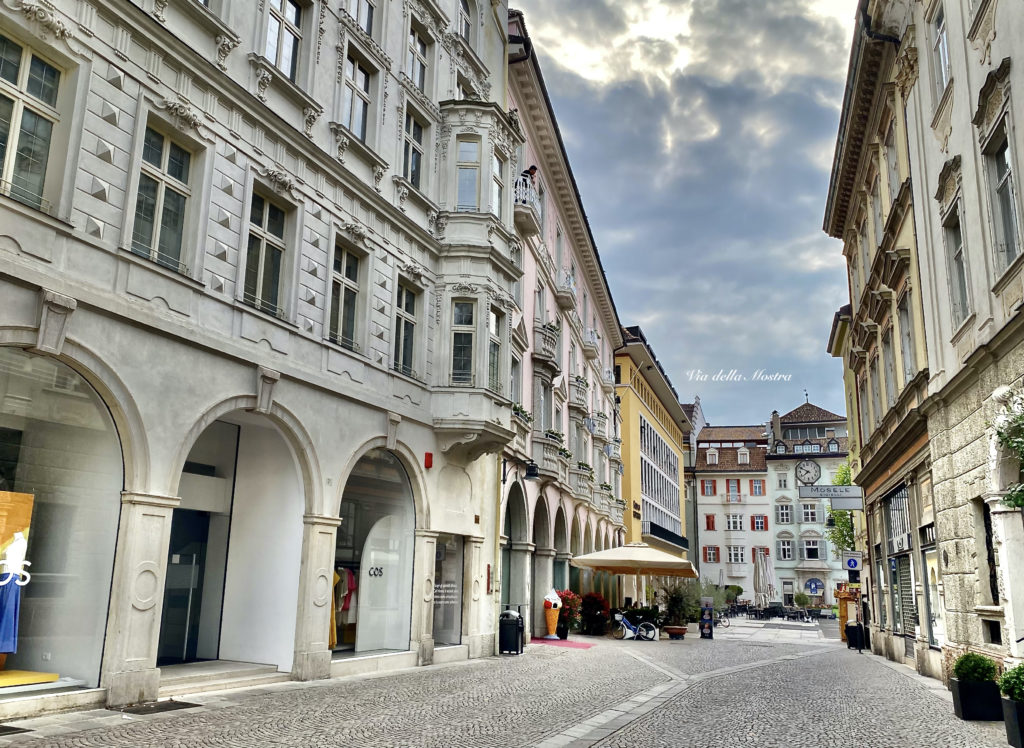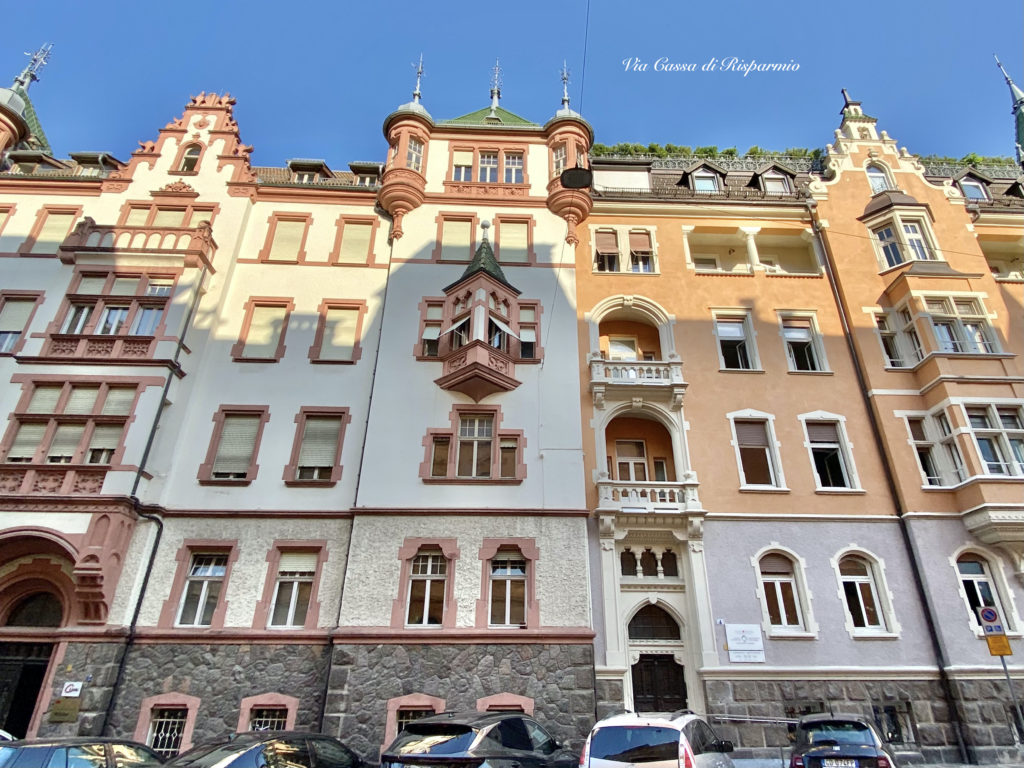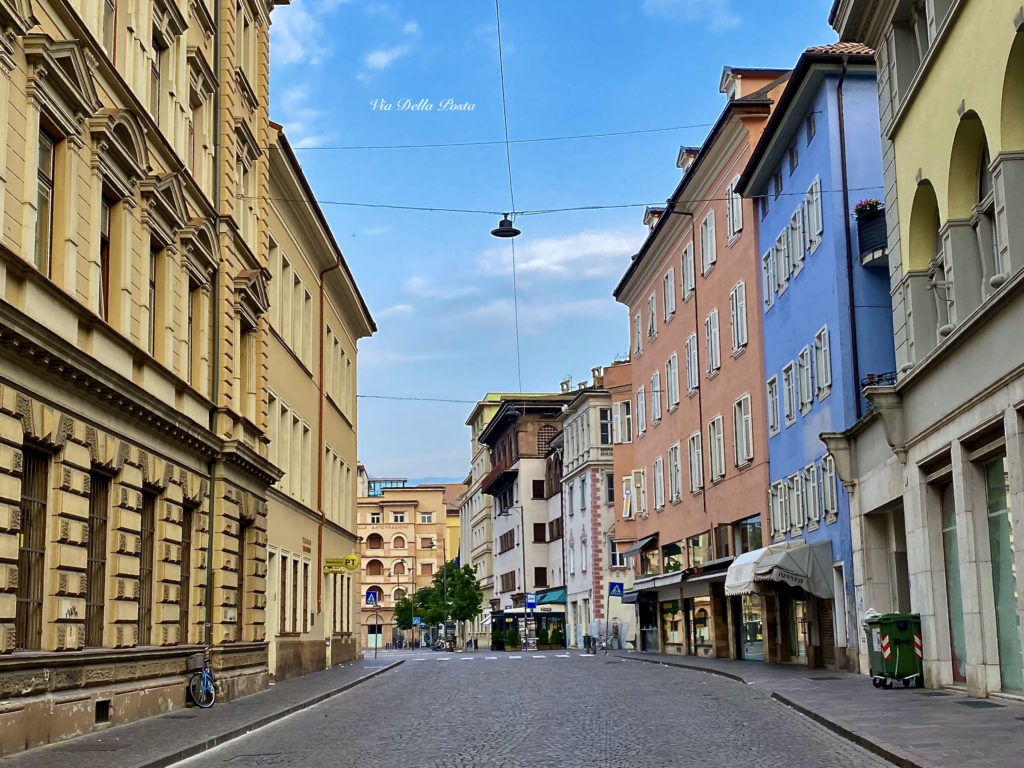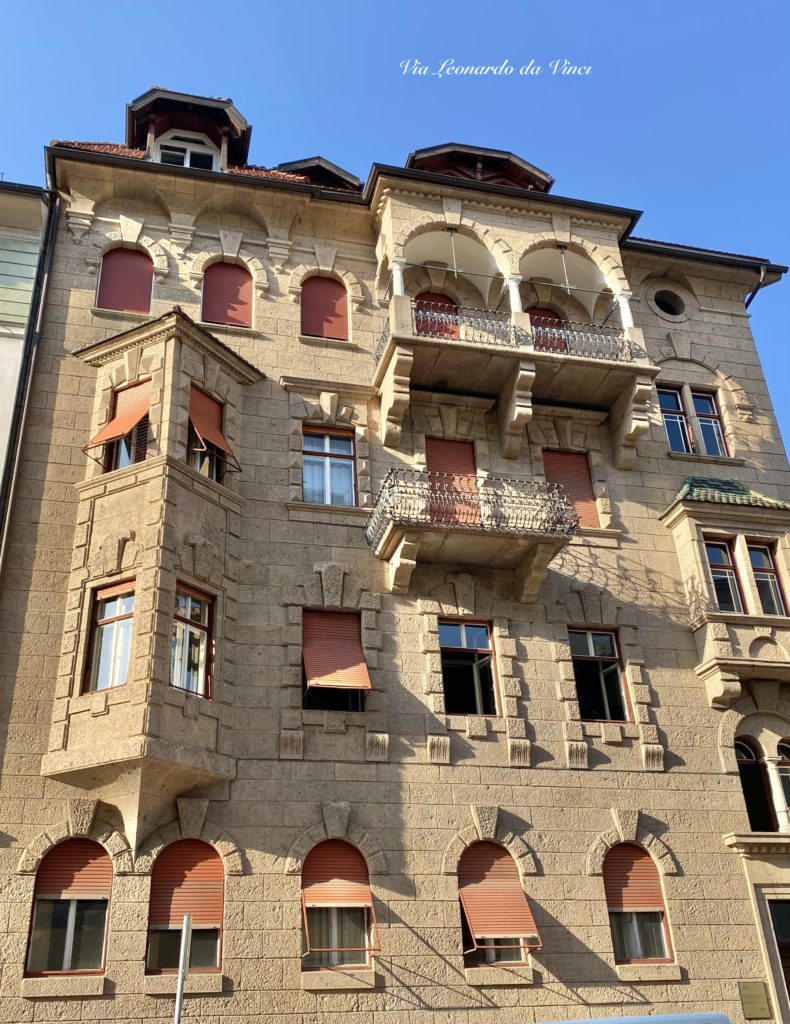 Castles and churches in Bolzano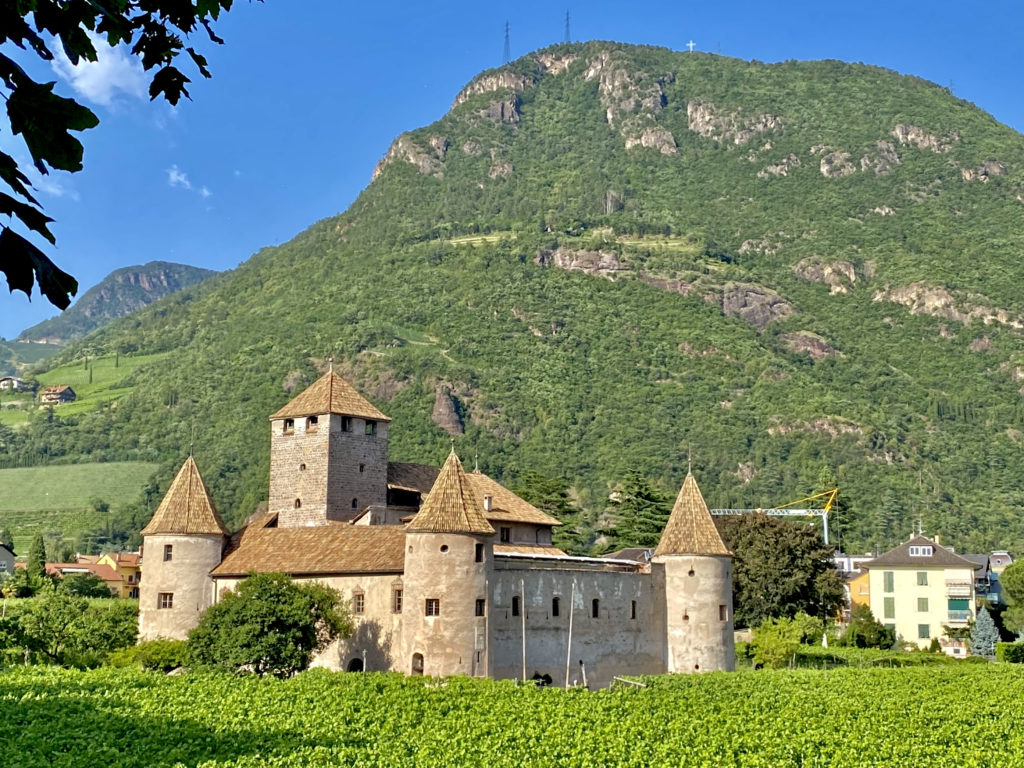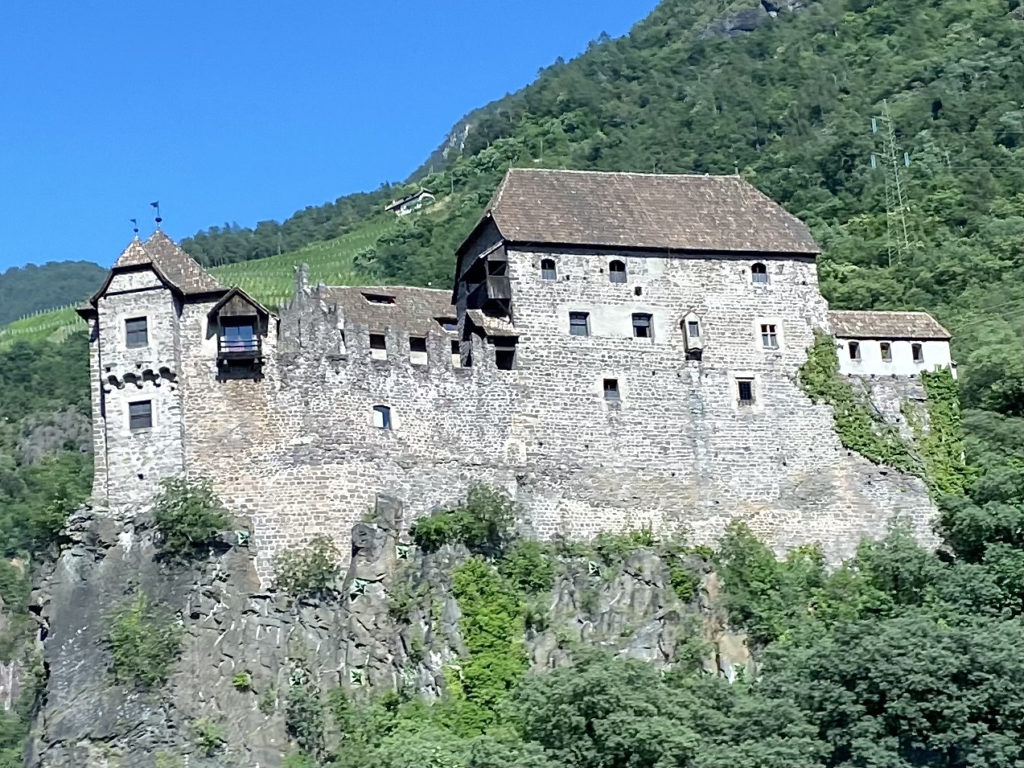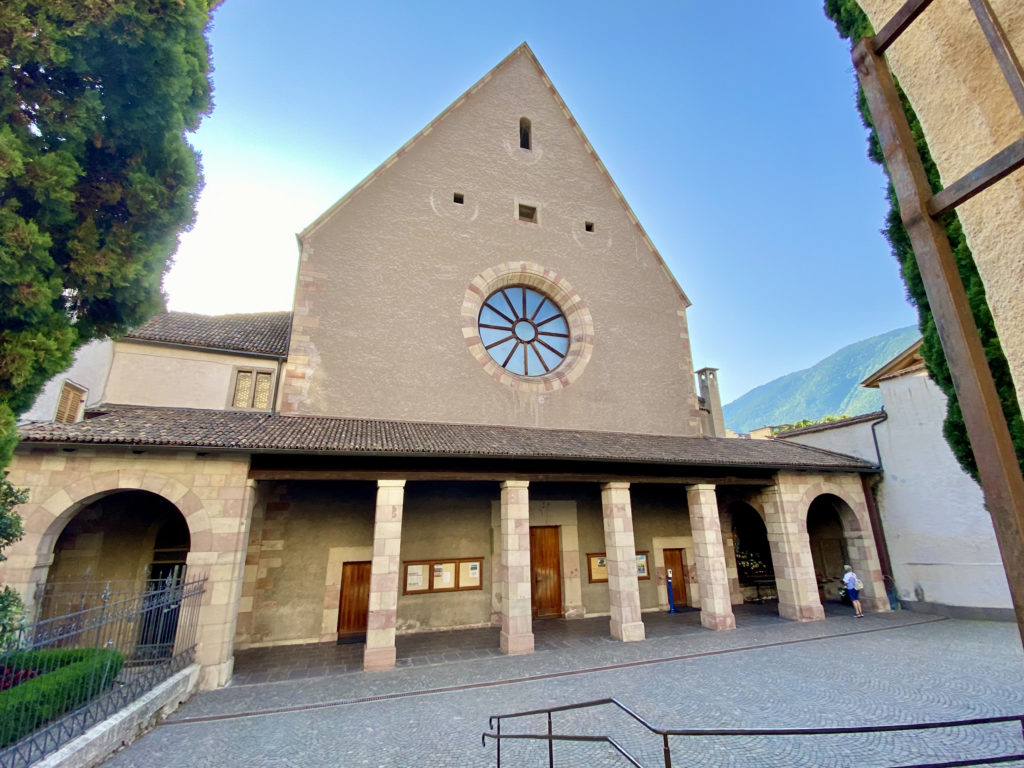 Monumento della Vittoria (Victory Monument)
This monument was erected in 1928 at the personal directive of Mussolini after the annexation of South Tyrol from Austria. Unfortunately, like Castel Roncolo it's closed on Mondays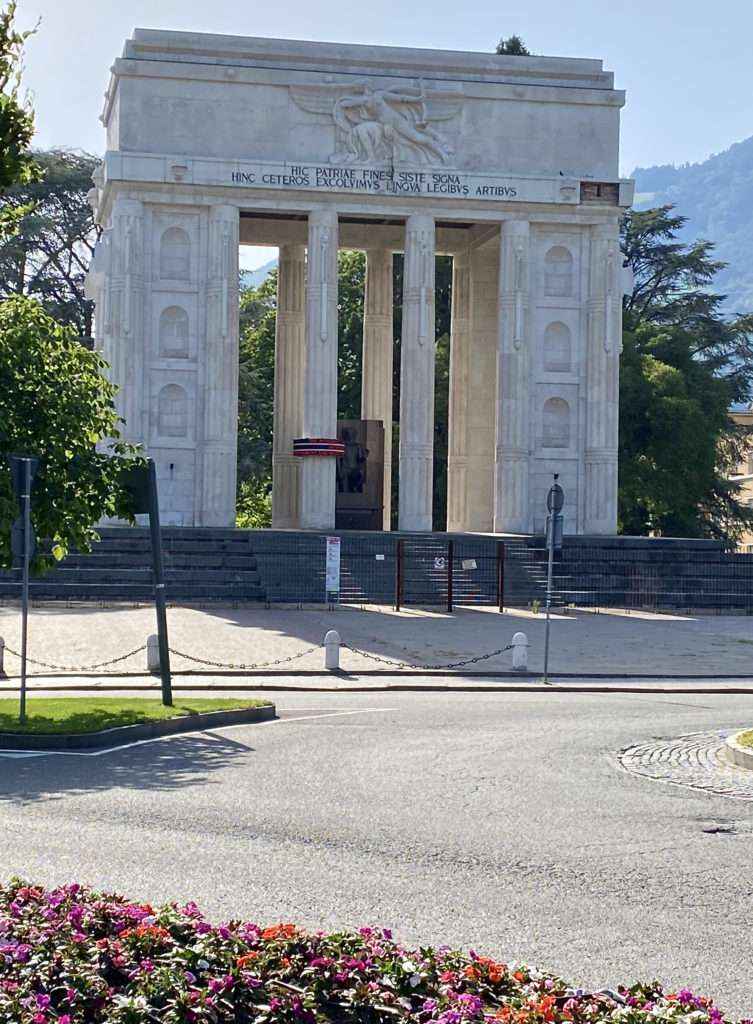 Funivia del Renon (Renon Cable Car)
As we explored Bolzano historic centre on foot, I forgot to mention the free Bolzano Card, given on our arrival at the B&B!! It provided free transport, amongst other benefits, during our stay. One of the perks that we did avail ourselves of was the daily return ride on Renon Cable Car to and from Bolzano and Soprabolzano.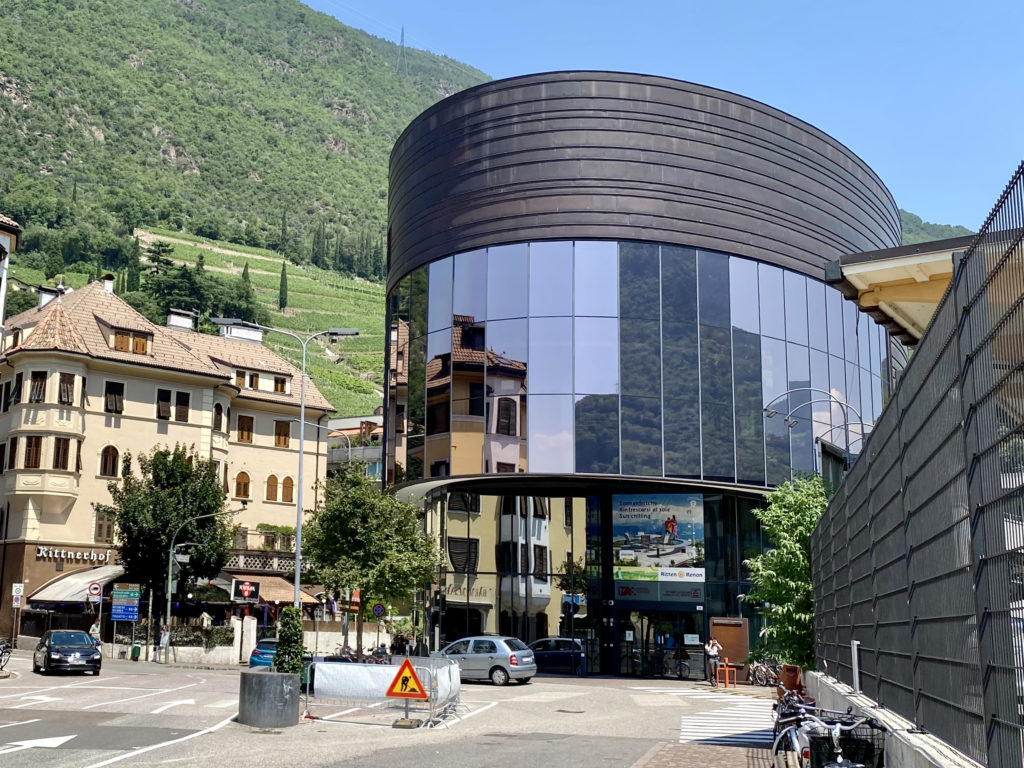 The terminal for the cable car is a short walk from Bolzano train station. The ride takes about 15 minutes and departs every 4 minutes. It affords some stunning views of Bolzano and the surrounding mountains.
Soprabolzano is about 1,000 metres high, 4.5 kilometres away from Bolzano. It's about 10°C cooler than Bolzano and very pleasant, especially when it was around 36°C in Bolzano when we were there! It was a real boon to be able to travel on it for free.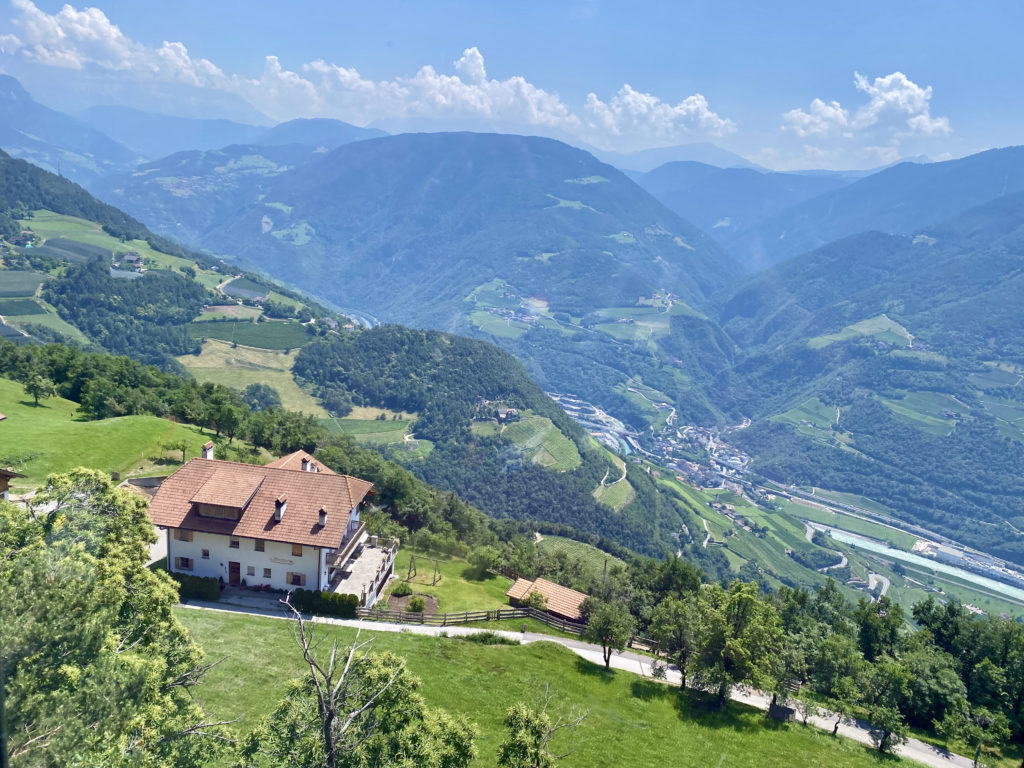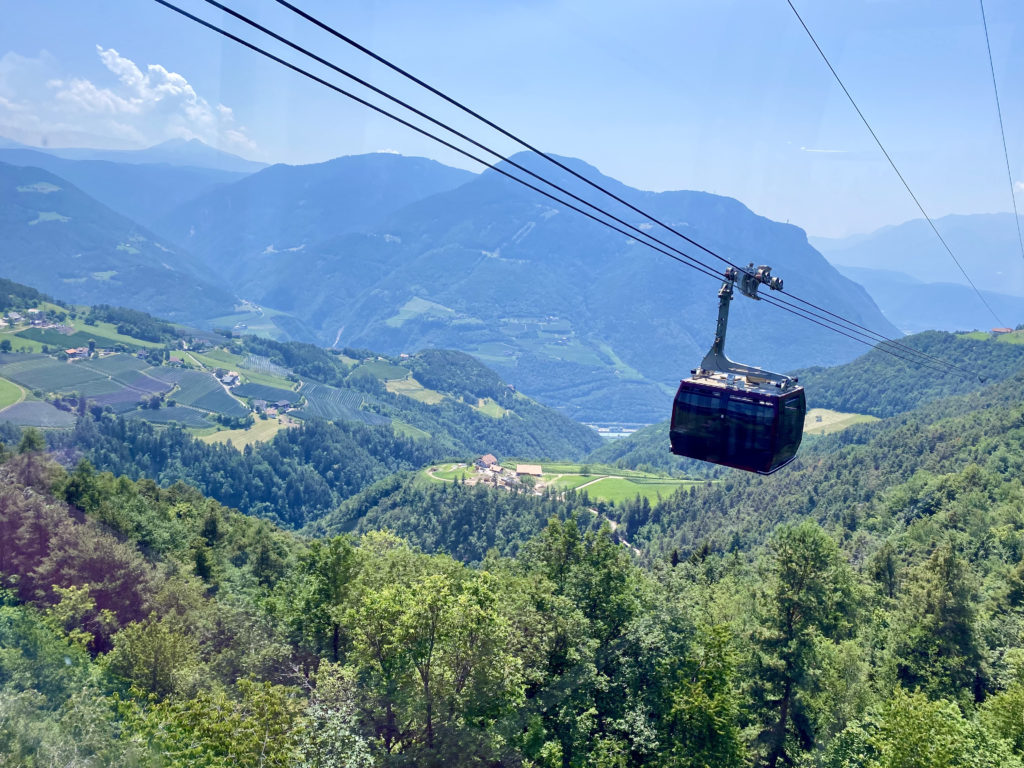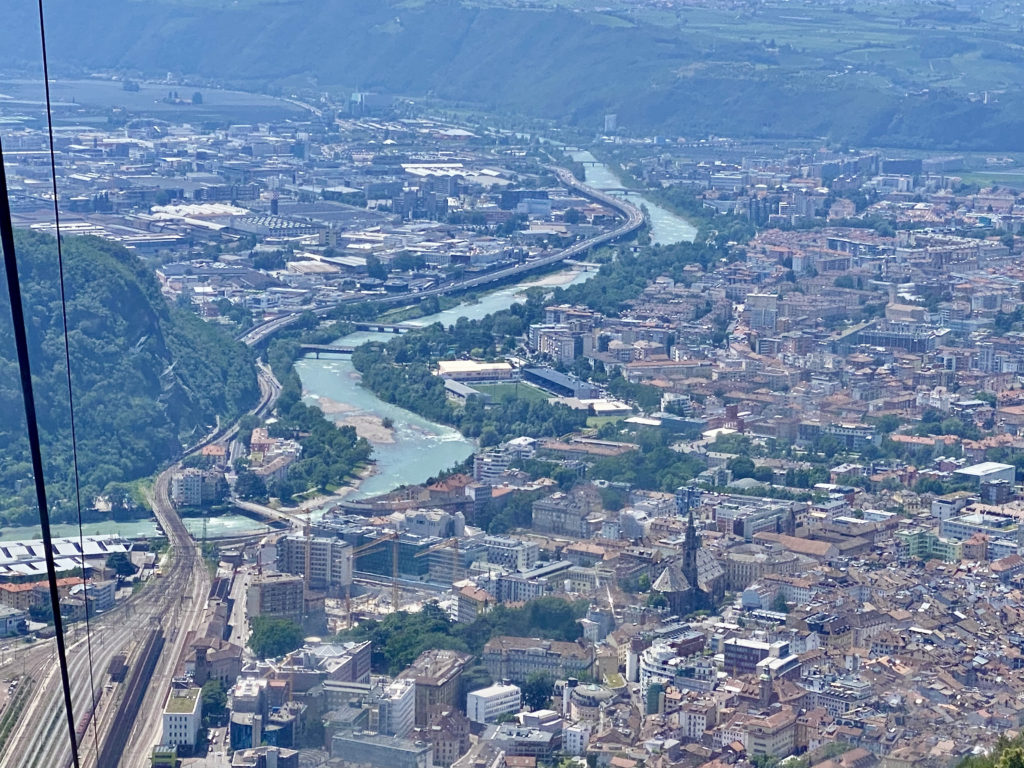 From Soprabolzen, there's a historic train, also free, to Collalbo (Klobenstein) which departs at 30-minute intervals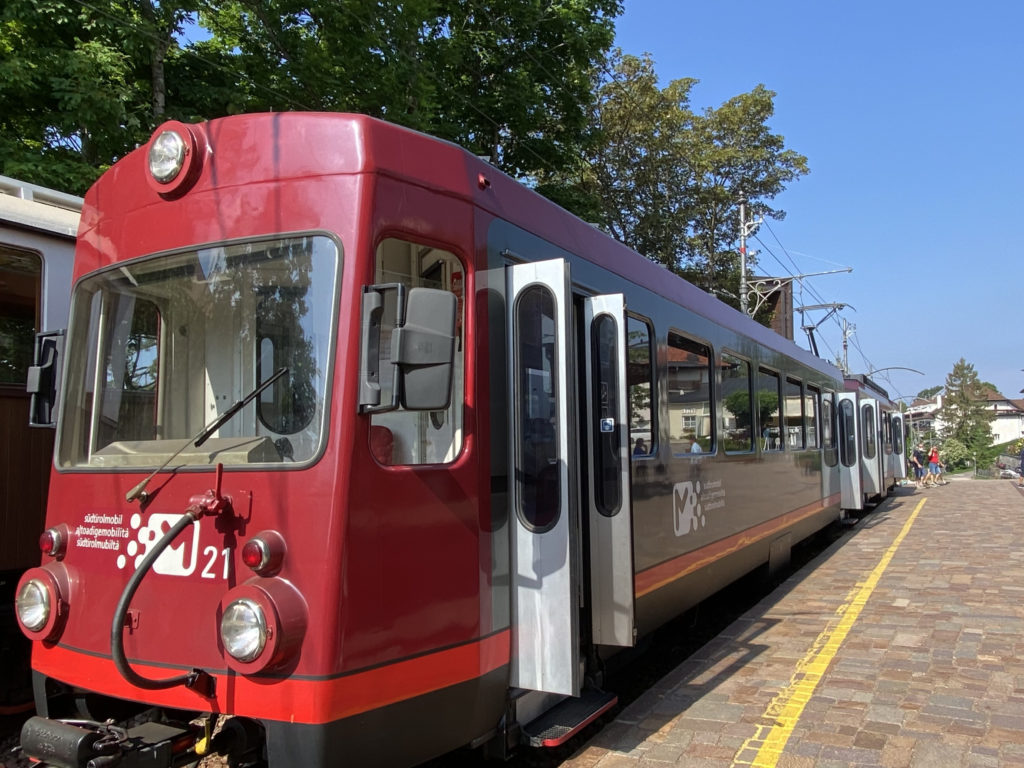 Lago di Costalovara
On our first trip on the train we got off at Costalovara (Wolfsgruben) on our way back where we found this charming small lake of the same name for a pleasant circular walk. Then we had a long cold drink at a hotel near the station while we waited for the train. What a life!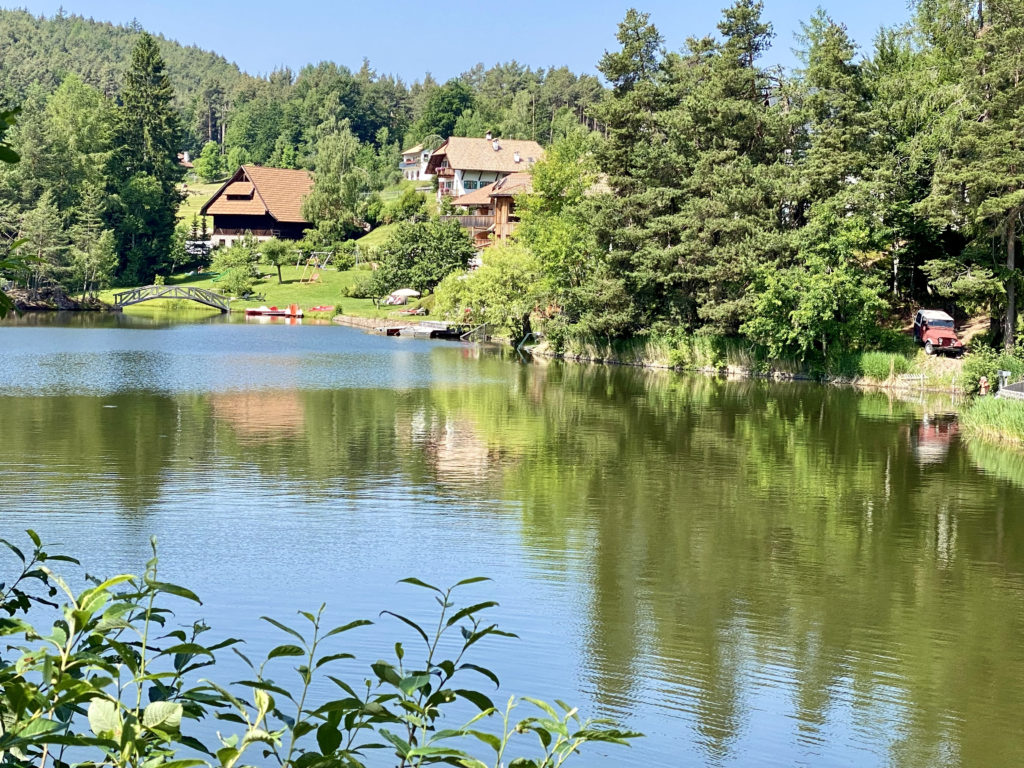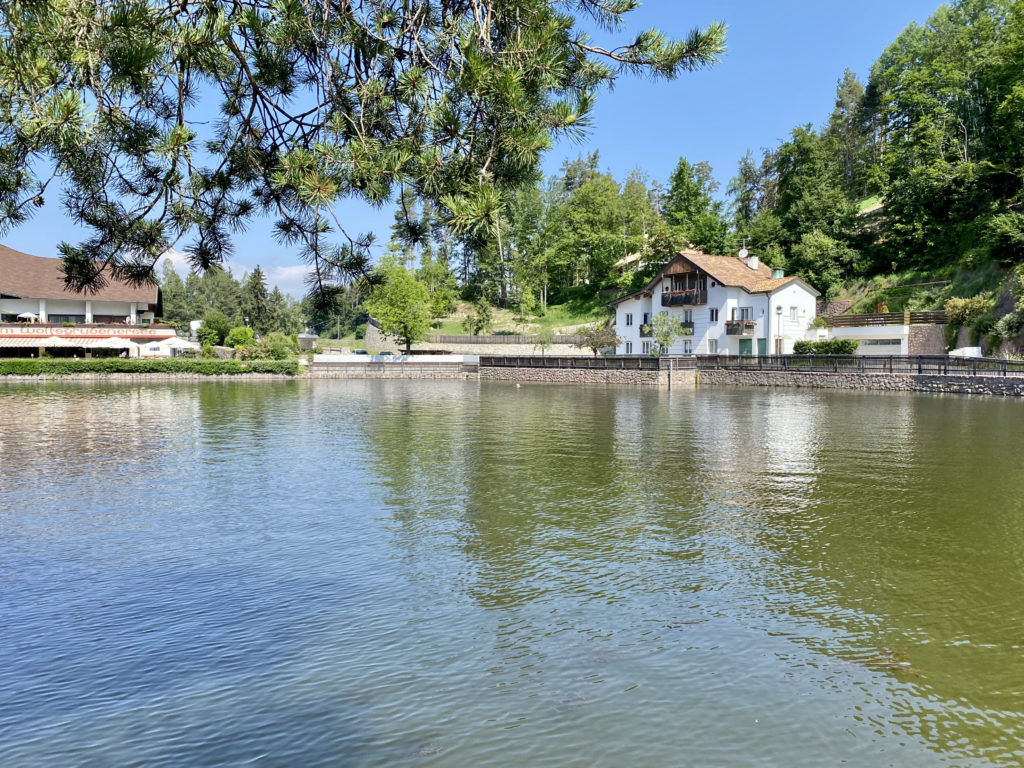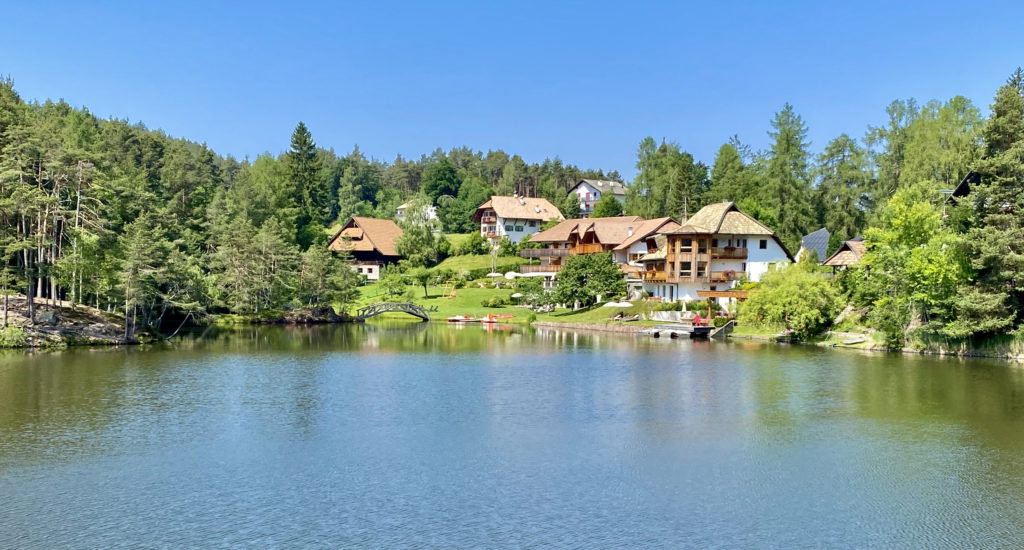 Klobenstein
On our last day in Bolzano, we took the cable car to Soprabolzano again. This time when we got off at the last stop at Collalbo we followed one of the many walking trails that took us to the pretty village of Klobenstein onto Earth Pyramids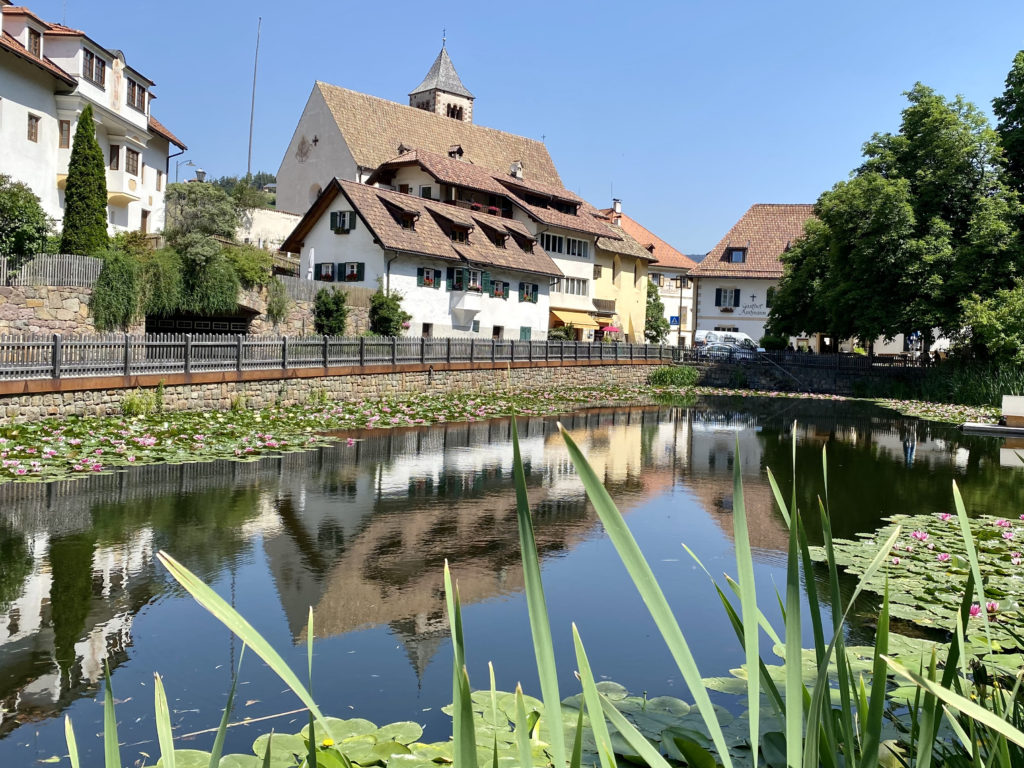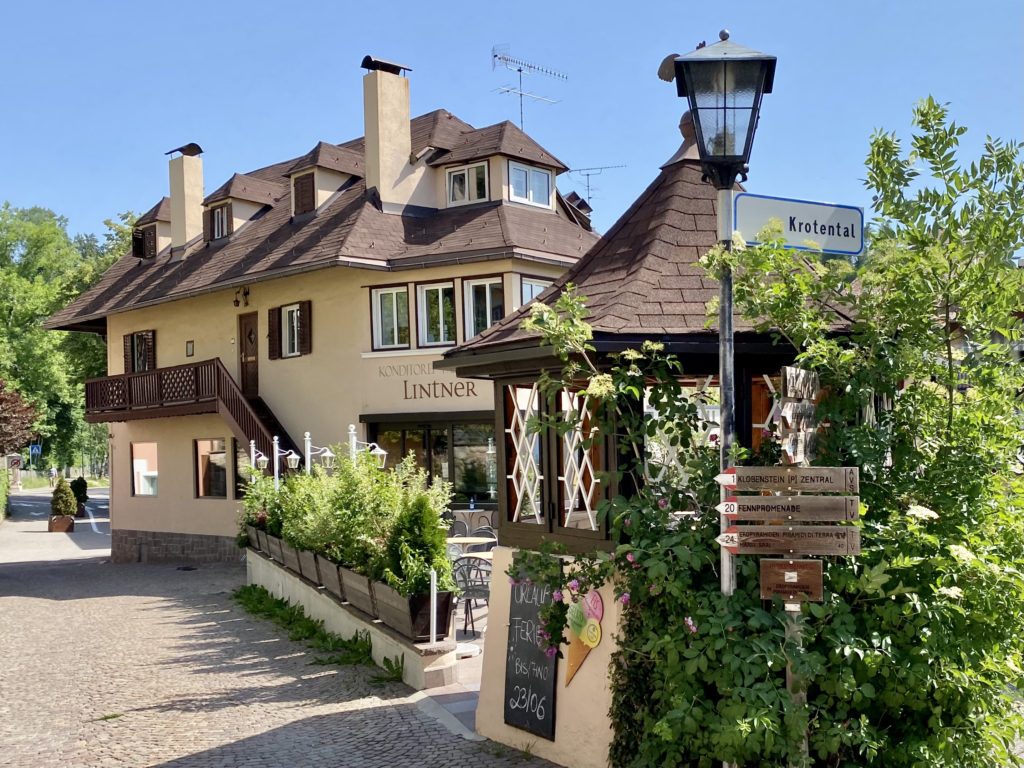 Earth Pyramids Renon, Bolzano
The walk took around 30 minutes from Klobenstein, the effort was worth it for the breathtaking views!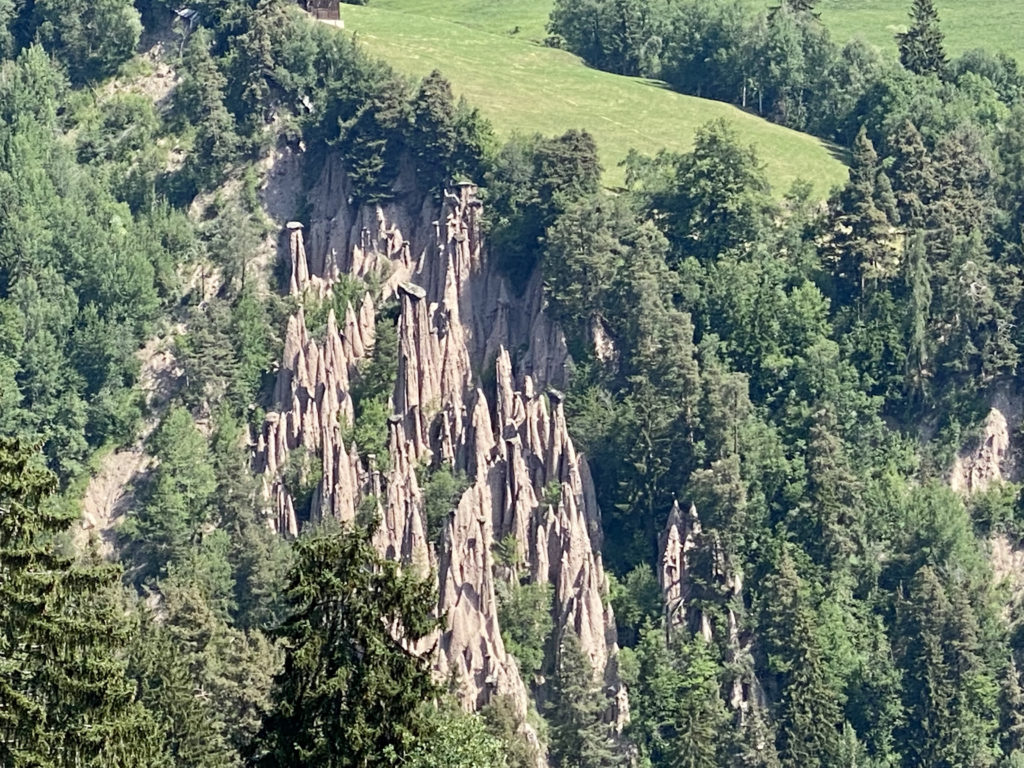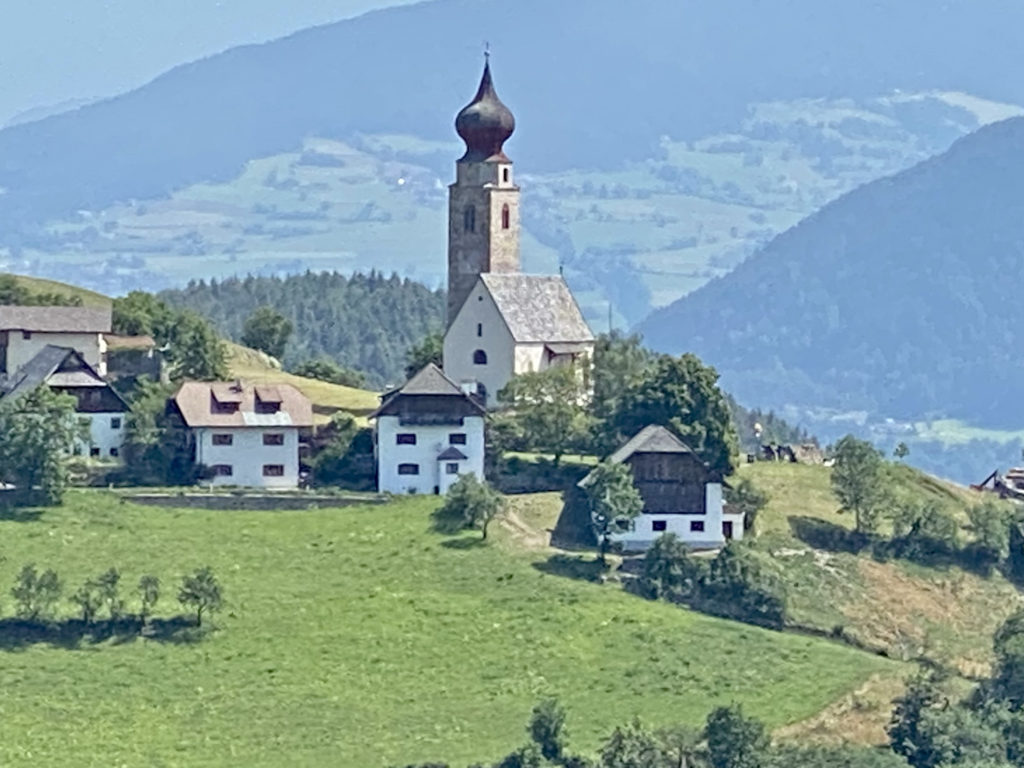 What a full and memorable trip we had! I got another fridge magnet and more photo opportunities!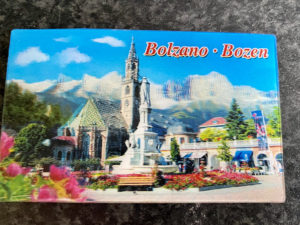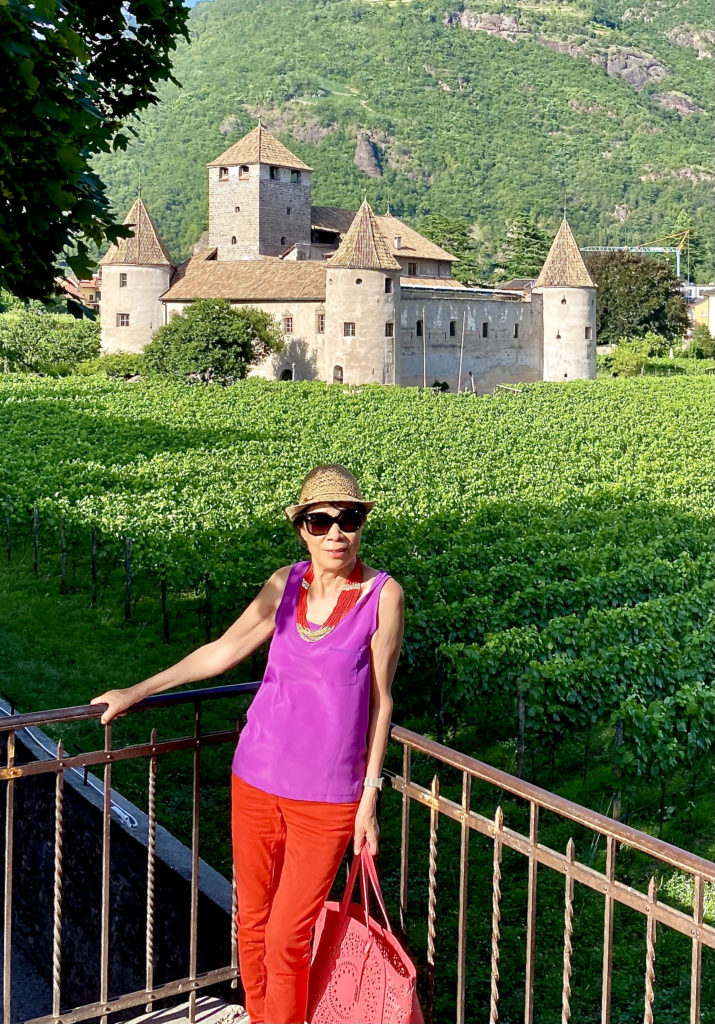 Earth Pyramids Renon, Bolzano