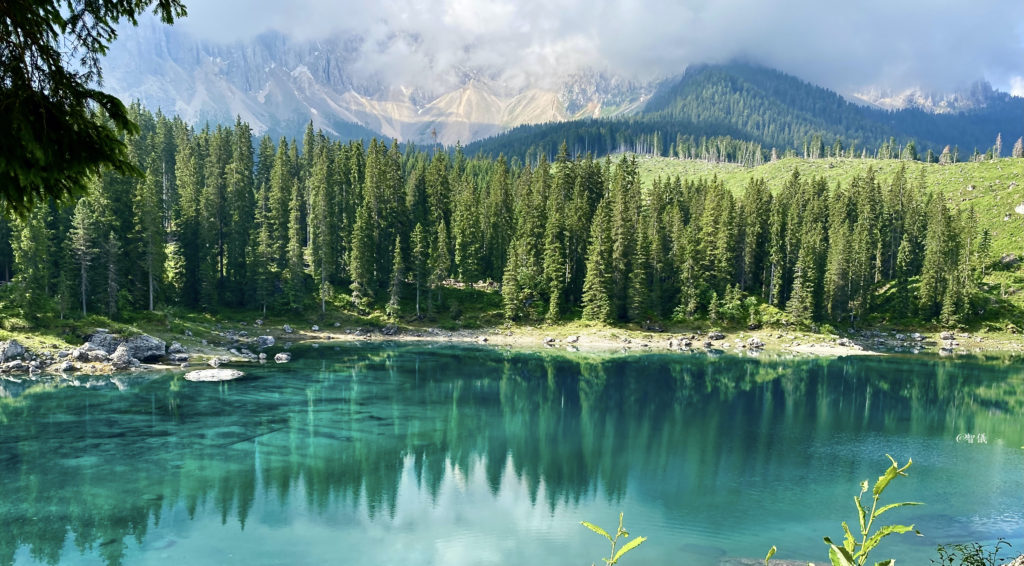 It's my other half's turn to celebrate his milestone birthday in June. He chose to spend it in Val di Fassa in the Dolomites where butterflies are plentiful for him to photograph!
In 2008 when we visited Val di Fassa we based ourselves in Trento and hired a car. We had to drive nearly 75 km every day just to get to the Fassa Valley. This time round we decided to stay in the heart of the valley and use public transport. And I'm glad to confirm that it worked a treat!

Getting there
Travelling from the south of England to the Dolomites required careful planning of the various connections, but it was luck that delivered us there without hitches!
We didn't encounter any delays on our early morning 75-minute taxi ride to Gatwick South Airport. Our 7.55 flight was slightly delayed but we arrived in Verona almost on time and we collected our suitcases quickly. By catching a taxi to Porta Nuova station we were in time to catch the delayed train to Bolzano. It was just as well, because the regional train was held up for the fast train to pass.

Luck remained on our side and we just managed to get the 14.07 bus (180) from Bolzano to Tamion because it was running a couple of minutes late! The first sight of the hotel in pleasant afternoon sunshine after a short downhill walk from the bus stop made all the efforts worthwhile!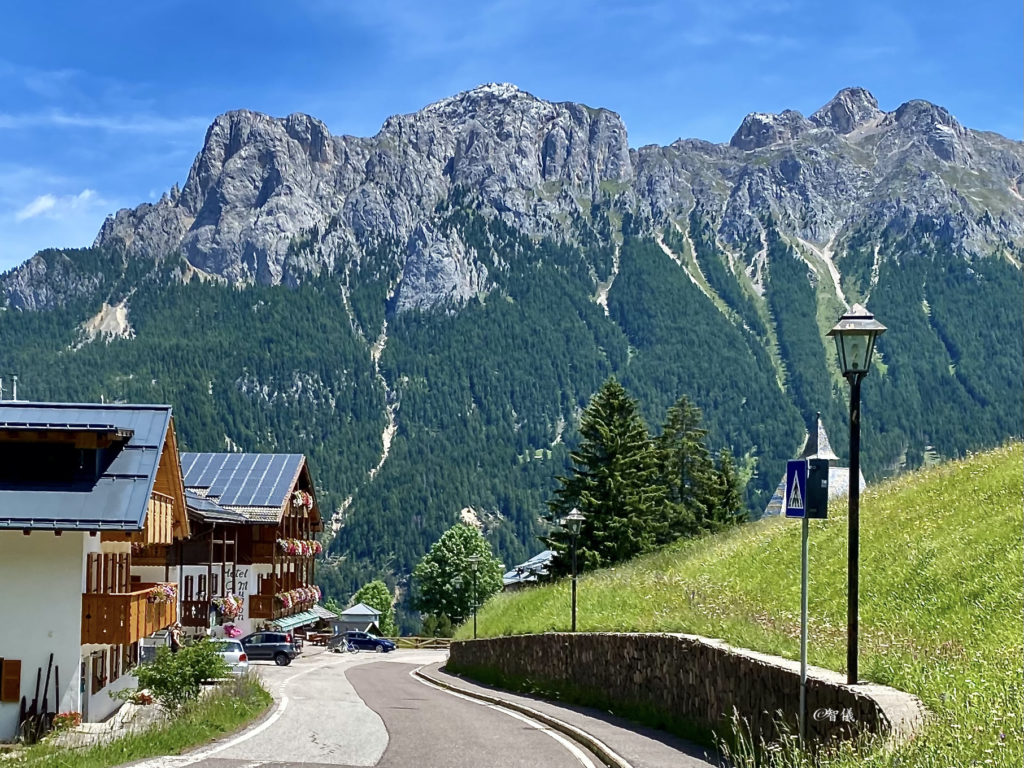 Hotel Gran Mugon
There's a element of luck in choosing the right hotel for our special trip in Fassa Valley amongst a sea of accommodation on offer. We struck gold with Hotel Gran Mugon!

This charming hotel is nestled in Tamion, one of the hamlets in Vigo di Fassa, surrounded by mountains. It has all the charms of an archetypal South Tyrolean hotel, with colourful flowers cascading from the window boxes on the balconies.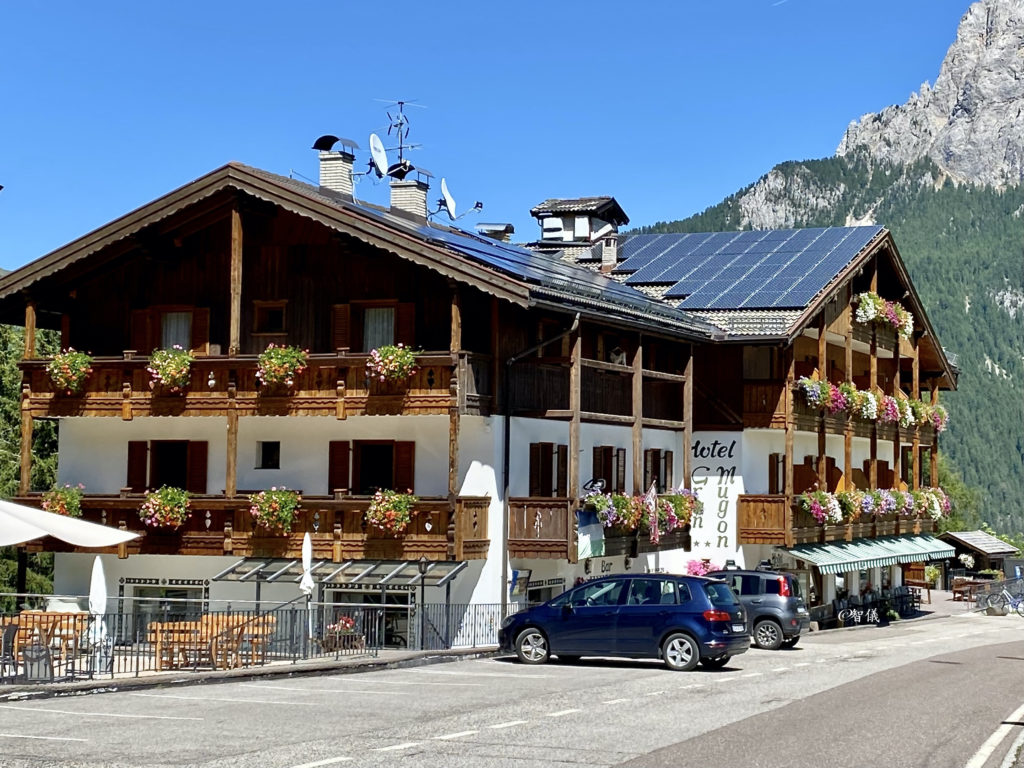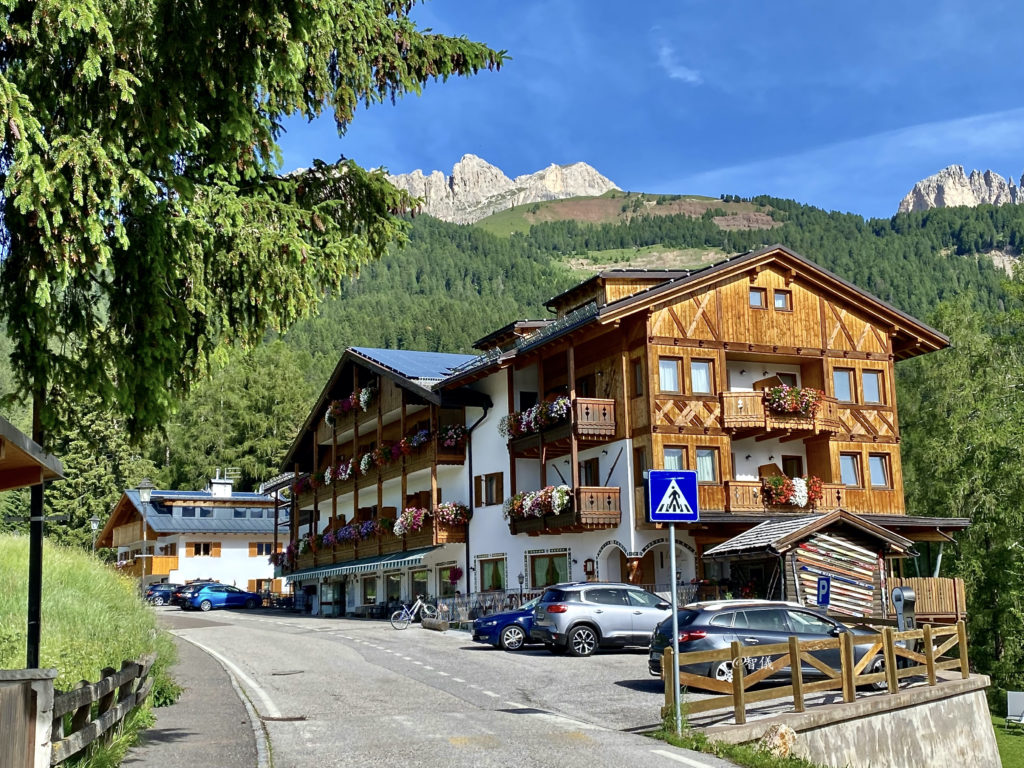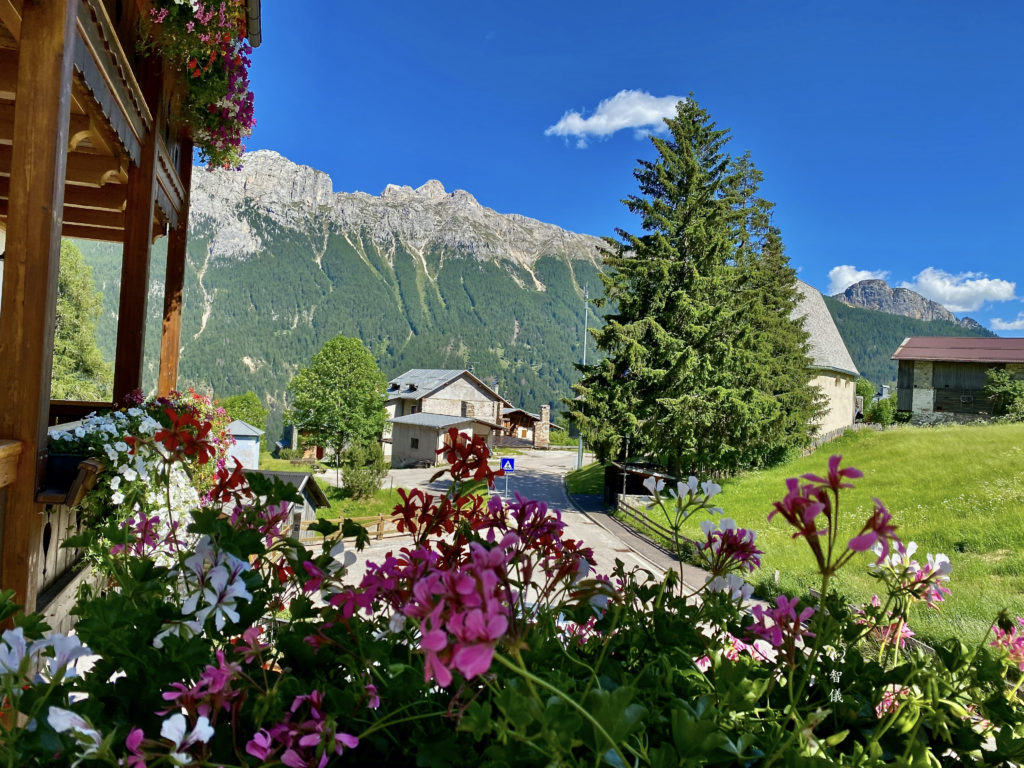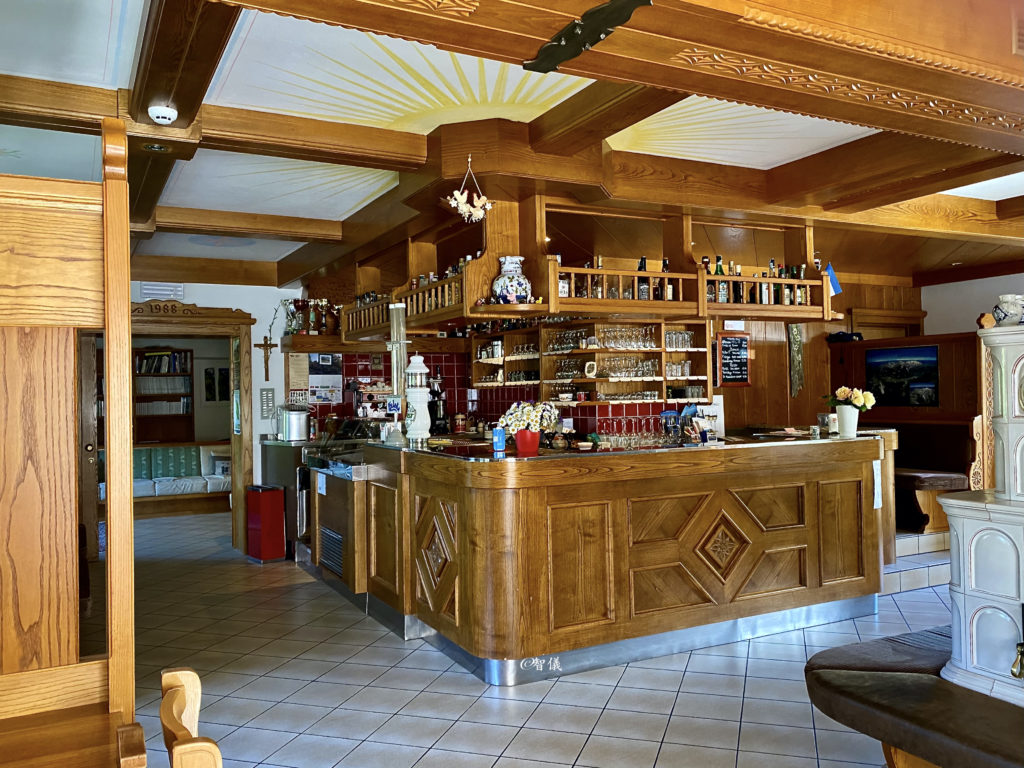 Apart from the hospitality of the hosts, the comfortable accommodation and stunning views, two other factors made Gran Mugon really special for us
(1) The tranquil yet easily accessible location away from the clusters of hotels: Tamion is about 3.5 km from Vigo di Fassa on the route for bus 180 from Bolzano to Pera di Fassa, with a request stop at the top of hamlet.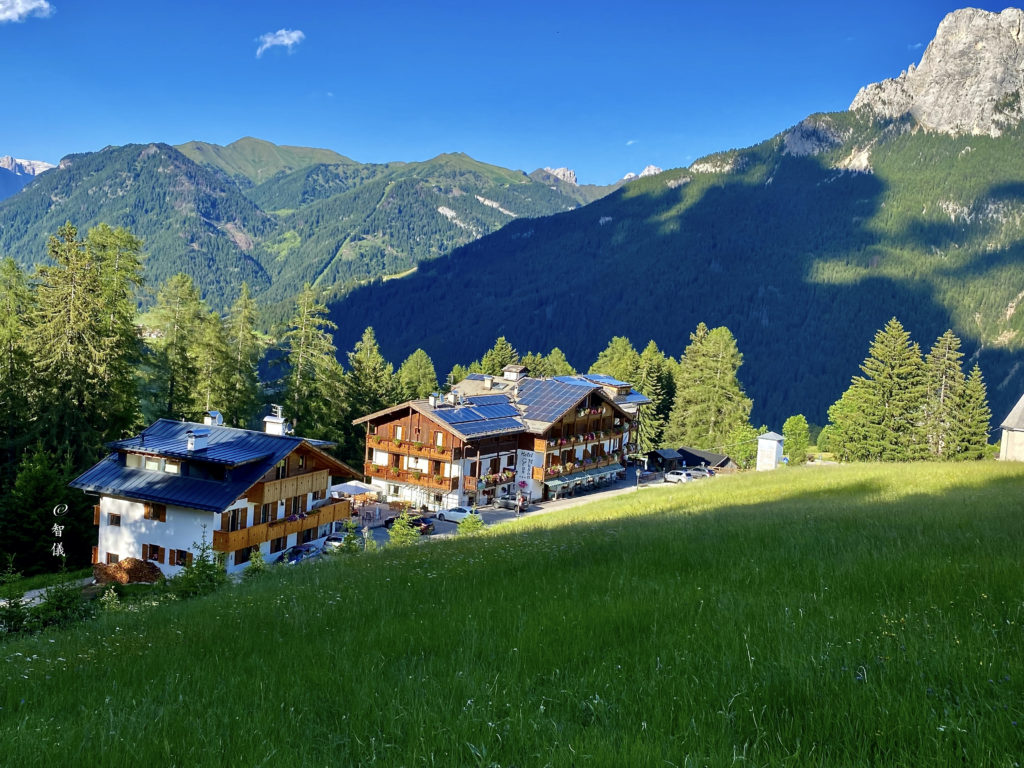 (2) The scrumptious meals prepared by the Michelin-star chef of the in-house restaurant L Chimpl: The restaurant itself was not open, but we were privileged to sample a selection of authentic local dishes. Every night there were 3 choices of starters, main courses and desserts to choose from, with at least one vegetarian option for each course.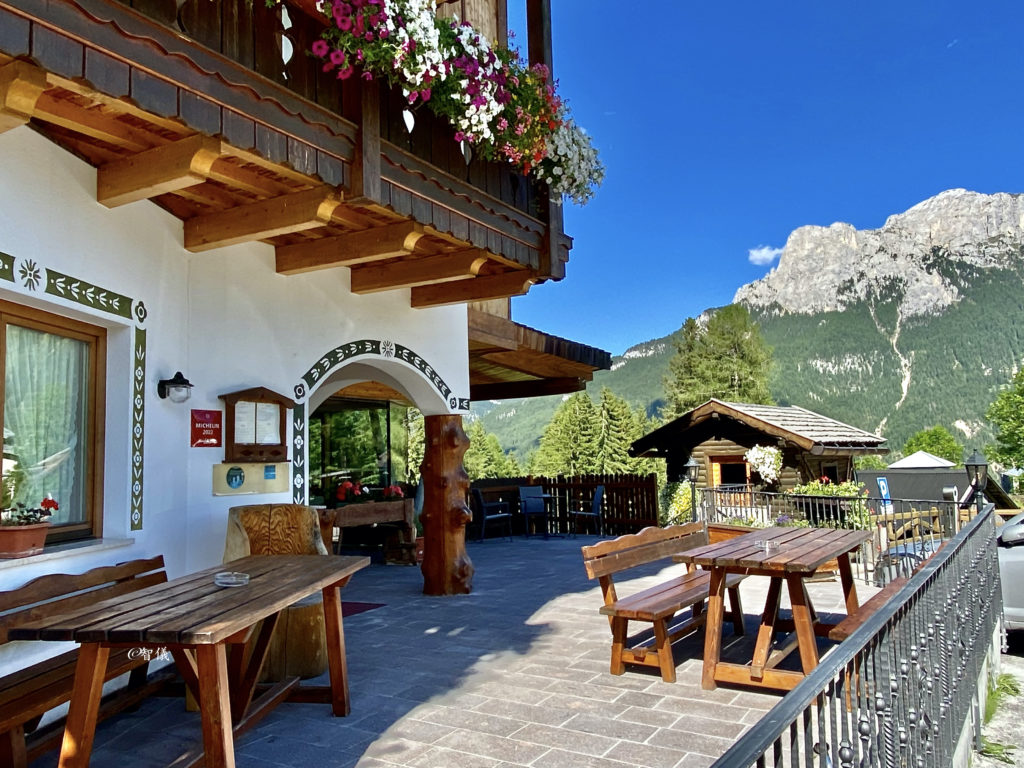 Tamion
Tamion is a perfect mountain retreat with only about a dozen of dwellings dotted around. It's haven of tranquility with wild flower meadows and woods for walks at every turn. Thanks to its elevated position, it's pleasantly warm (around 25°C when we were there) with gentle breeze, a good 10°C lower than Bolzano! (http://34.243.138.103/?p=11894)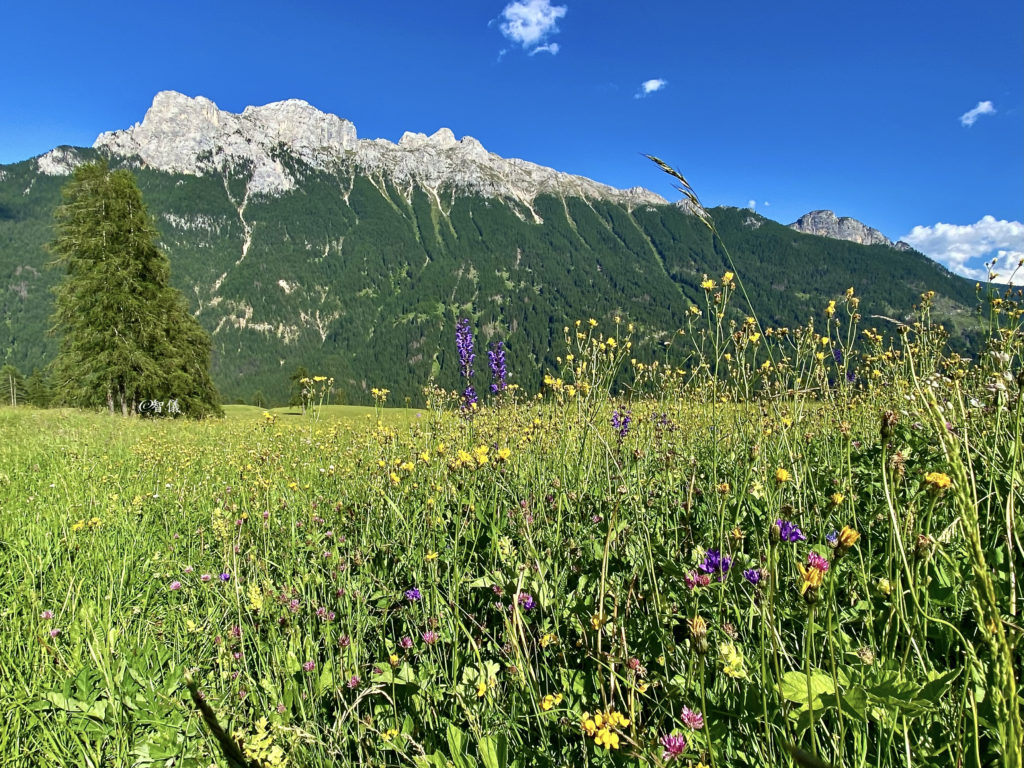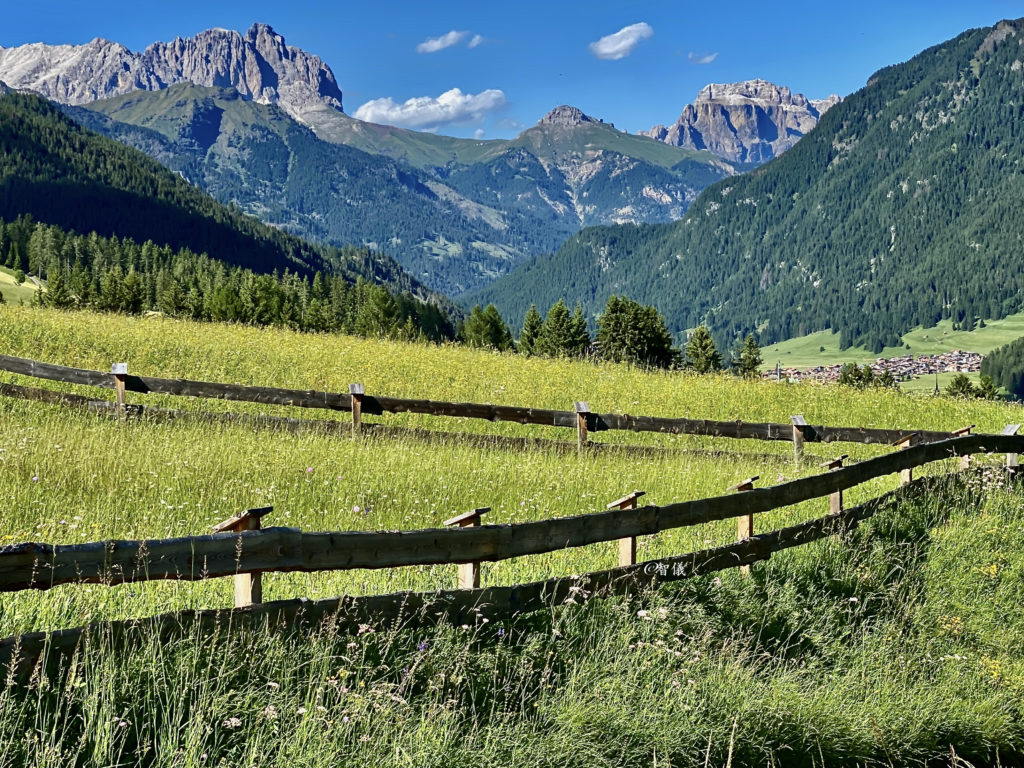 Talk about panoramic views!! Whichever way you look, there're spectacular mountains and majestic peaks looming in front, looking down on you! The feeling of being at one with nature was overwhelming! And the hotel is wrapped round in all this glorious setting!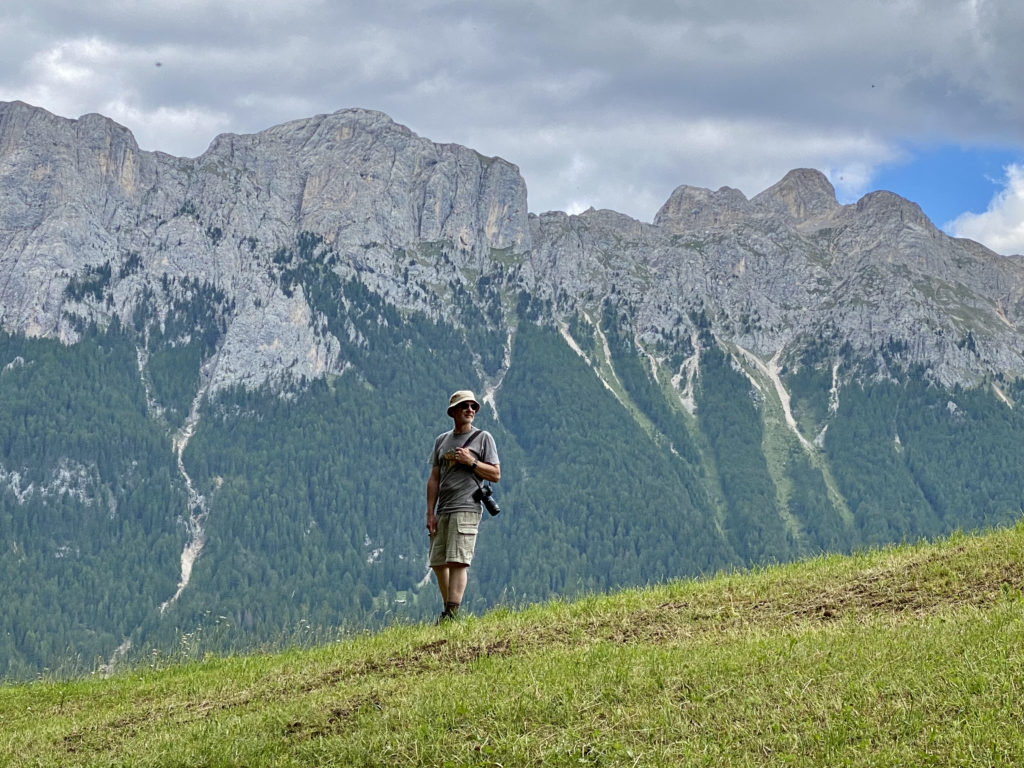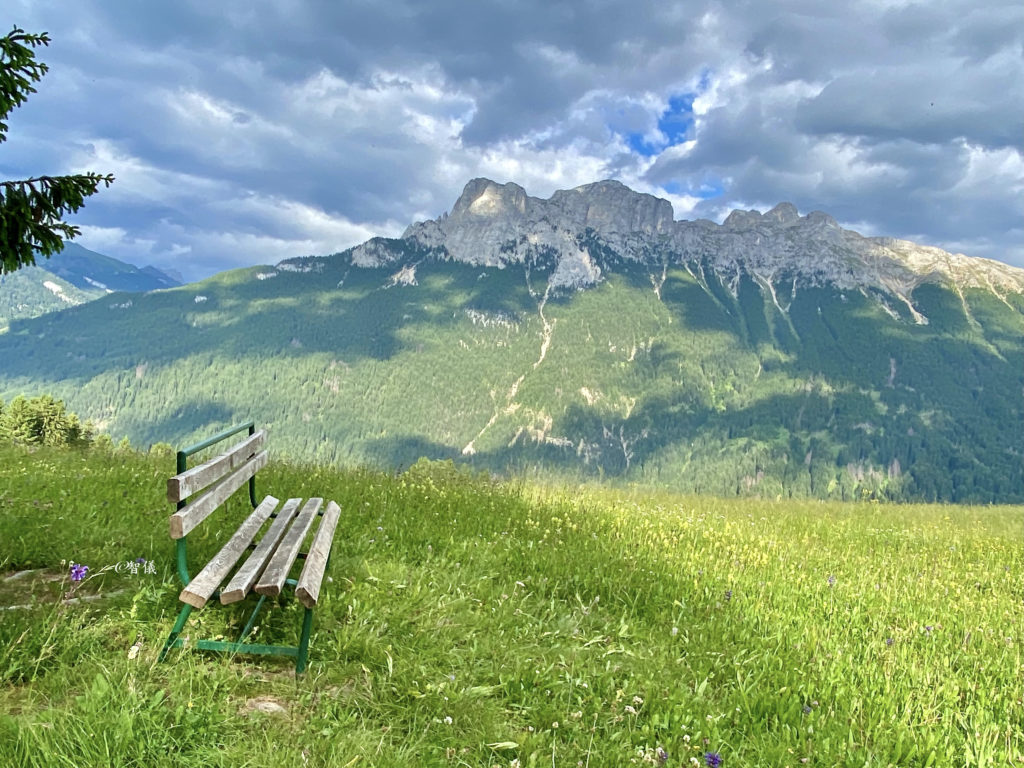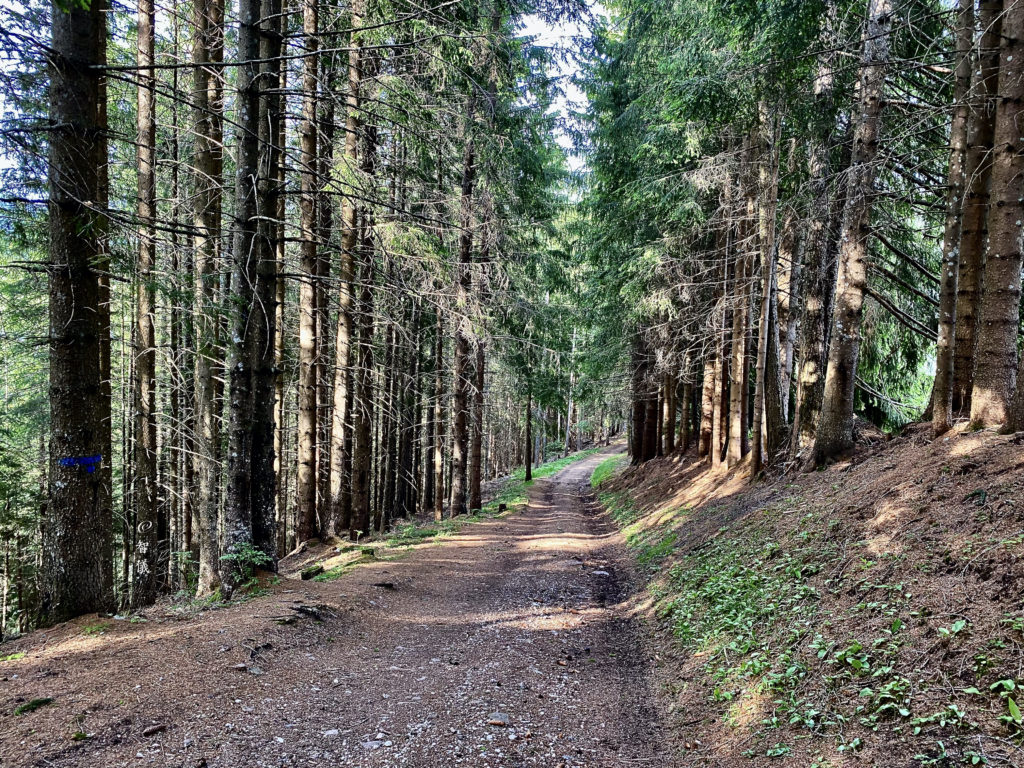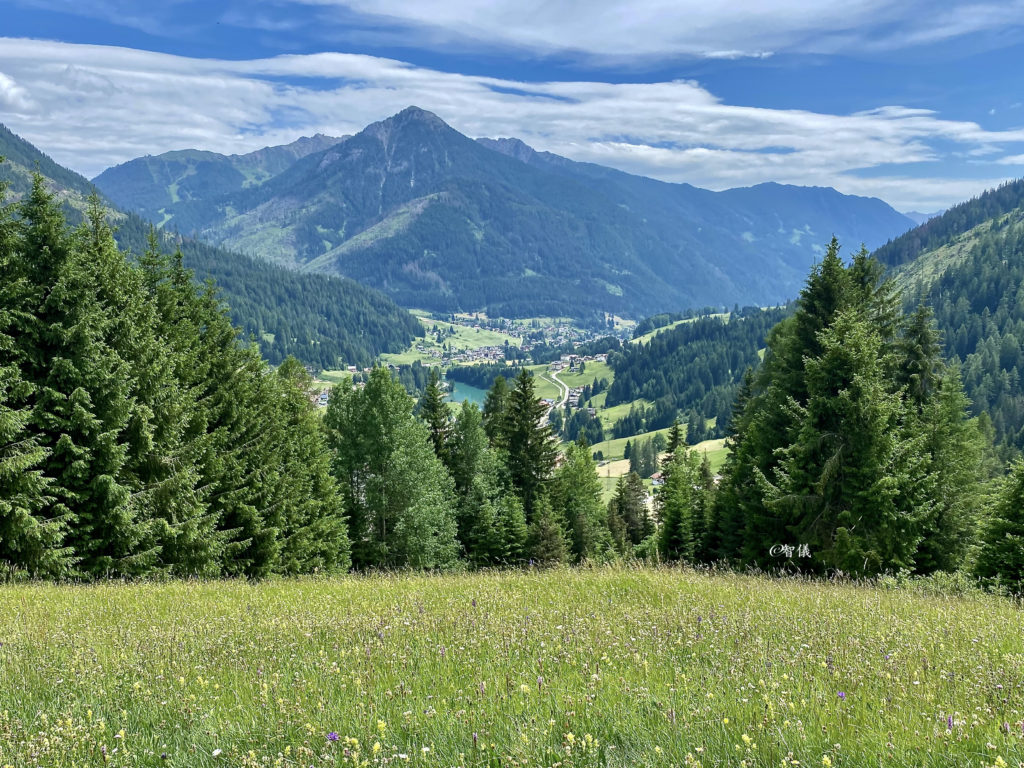 Lago di Carezza
On arrival at the hotel, I was sent a code for the Trentino Guest Card. It enabled us to travel free on local buses during our stay! On our first morning we availed ourselves of the Card which worked like a charm! We took bus 180 for the 20-minute ride to Lago di Carezza
The spectacular view was unrivalled from every angle of our circular walk!!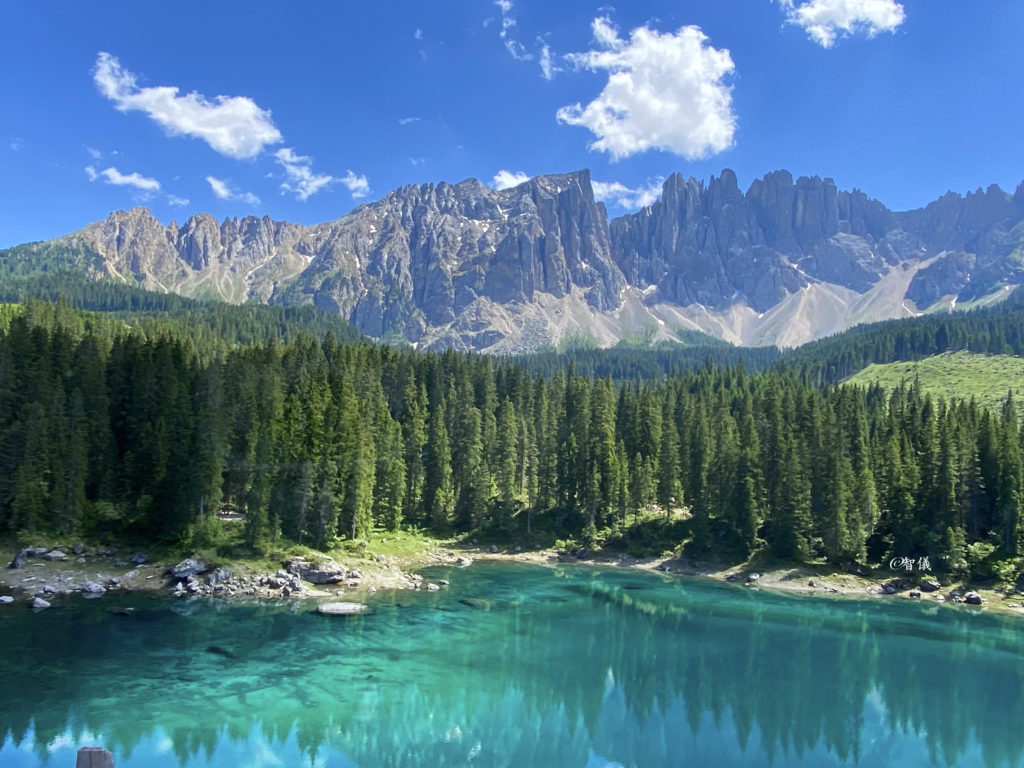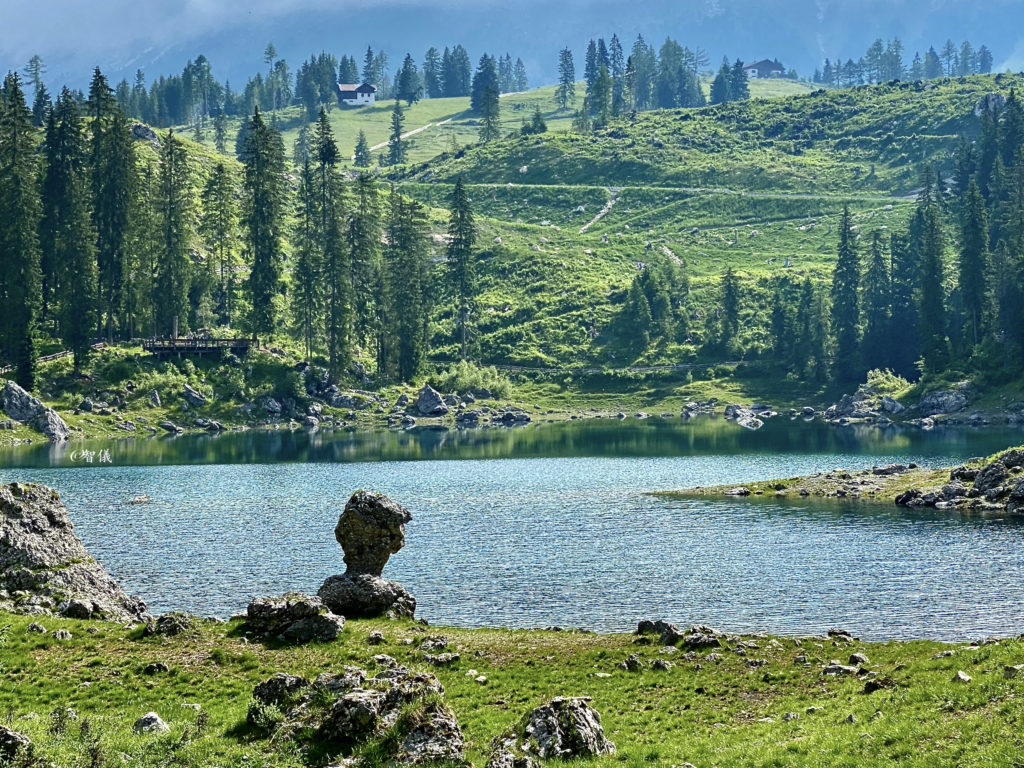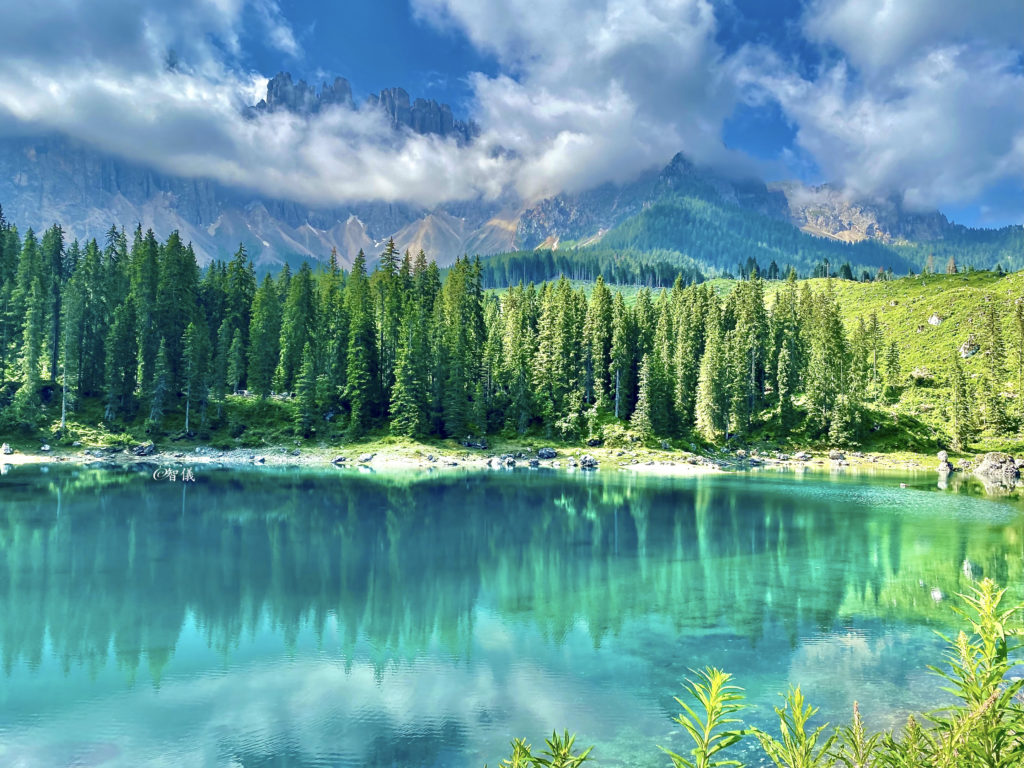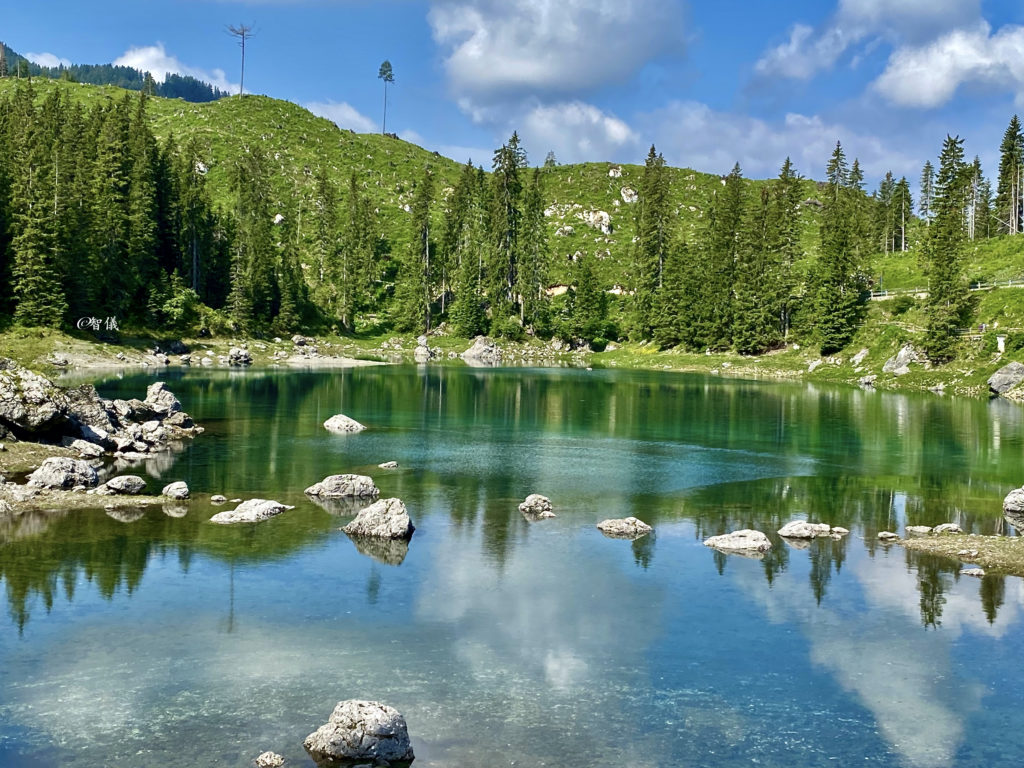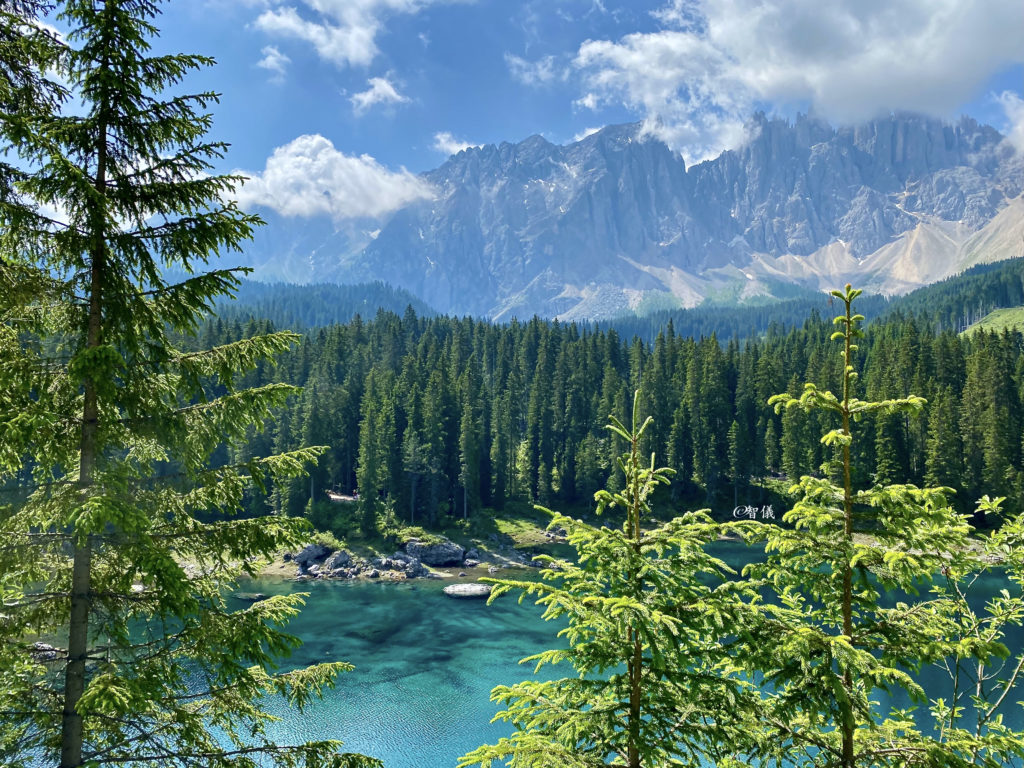 When the clouds gathered, the scenery around the lake took on a moody and magnificent look!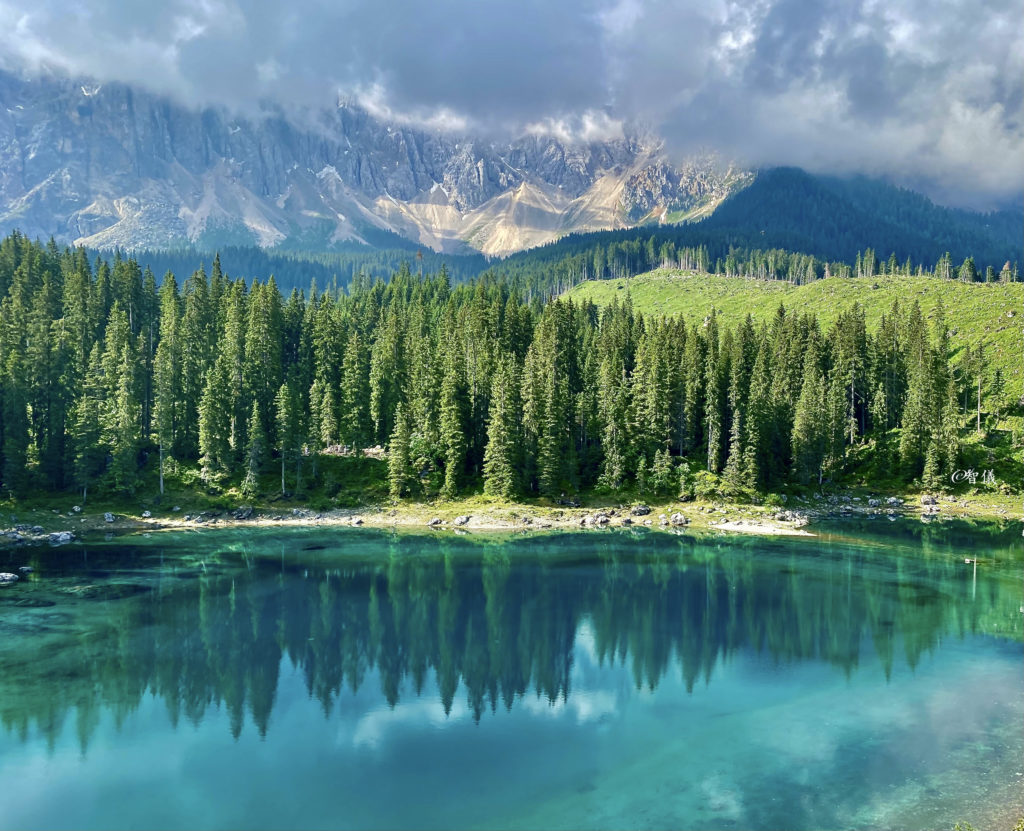 Pera di Fassa
The next day we took bus 180 to its terminus at Pera di Fassa where there's a chairlift but it was not operational. It was just as well as the morning was rather too cloudy and we would not be able to see much of the surrounding mountains. We were contented to stroll around this charming mountain village!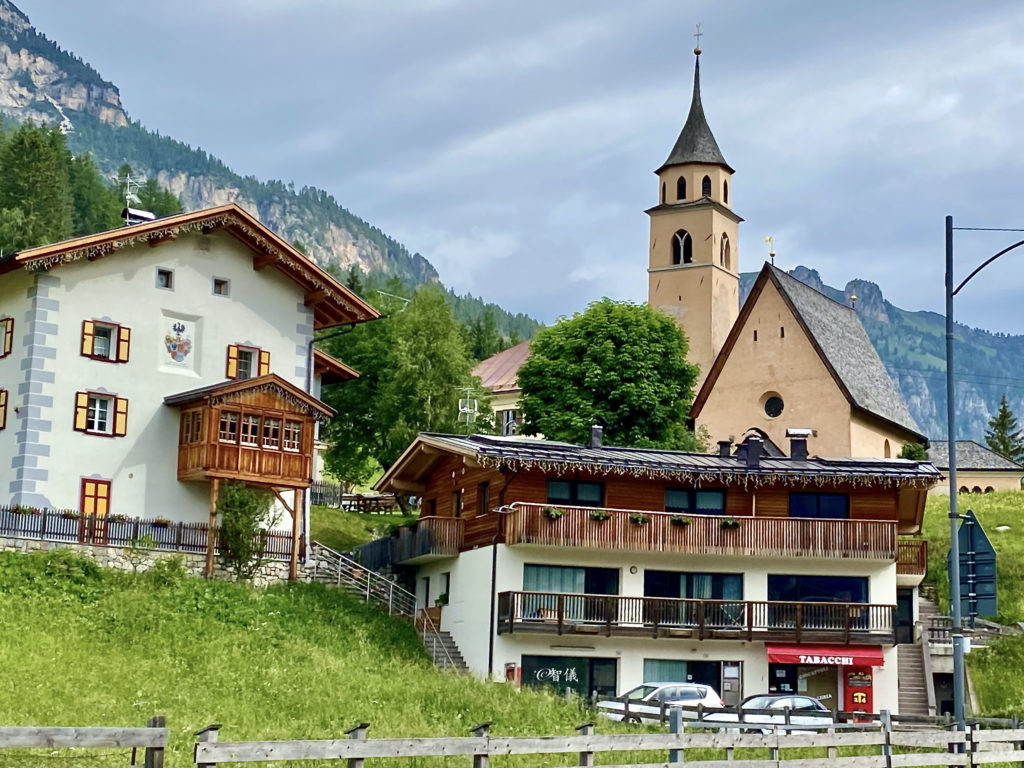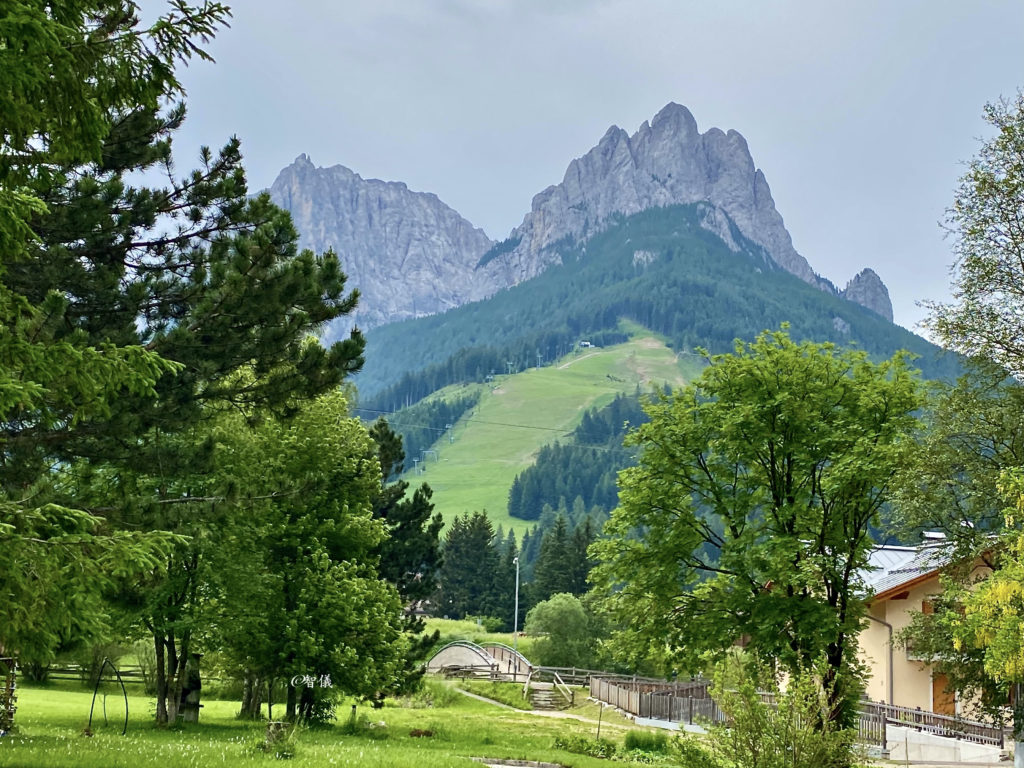 Pozza di Fassa
A pleasant short walk from Pera di Fassa took us to Pozza di Fassa which appeared to be the hub of the Fassa Valley.
Apart from the imposing town hall which housed the post office and Tourist Information Centre, the local amenities included supermarkets, patisseries, gift shops and not forgetting the gelateria across the road from the town hall!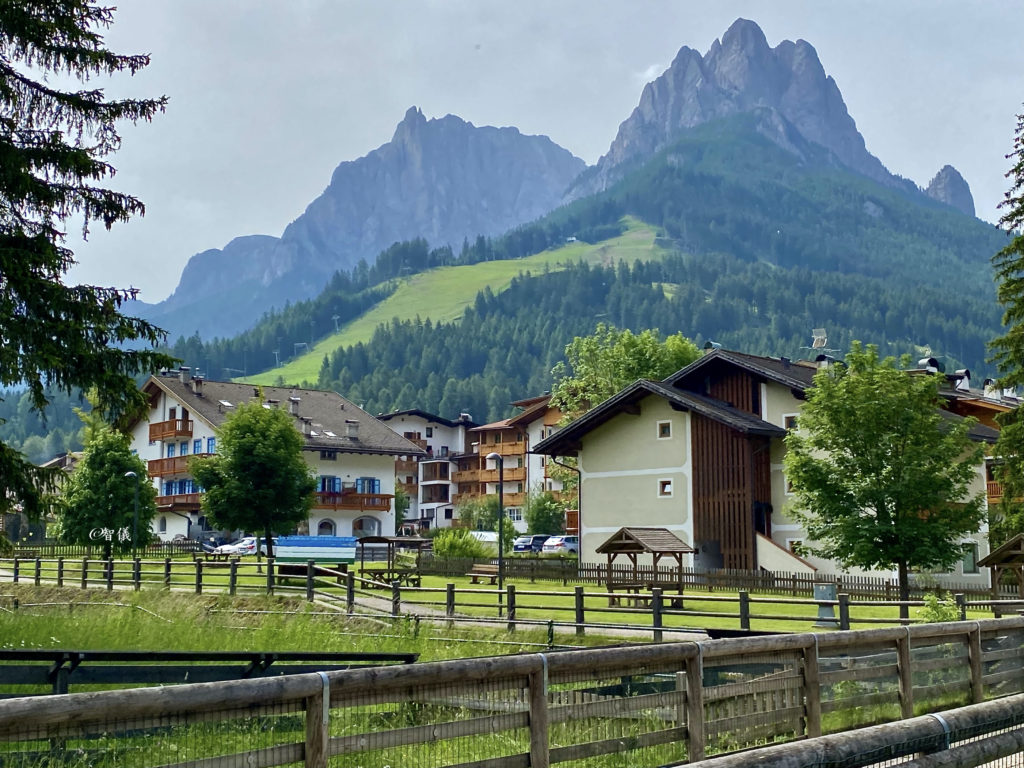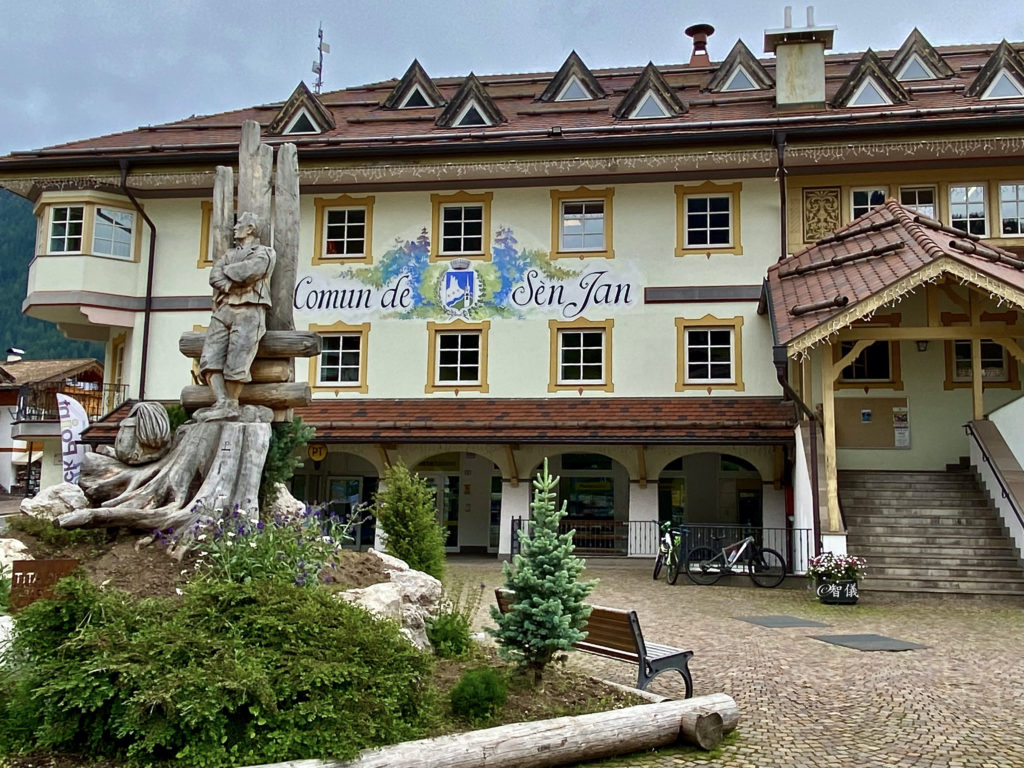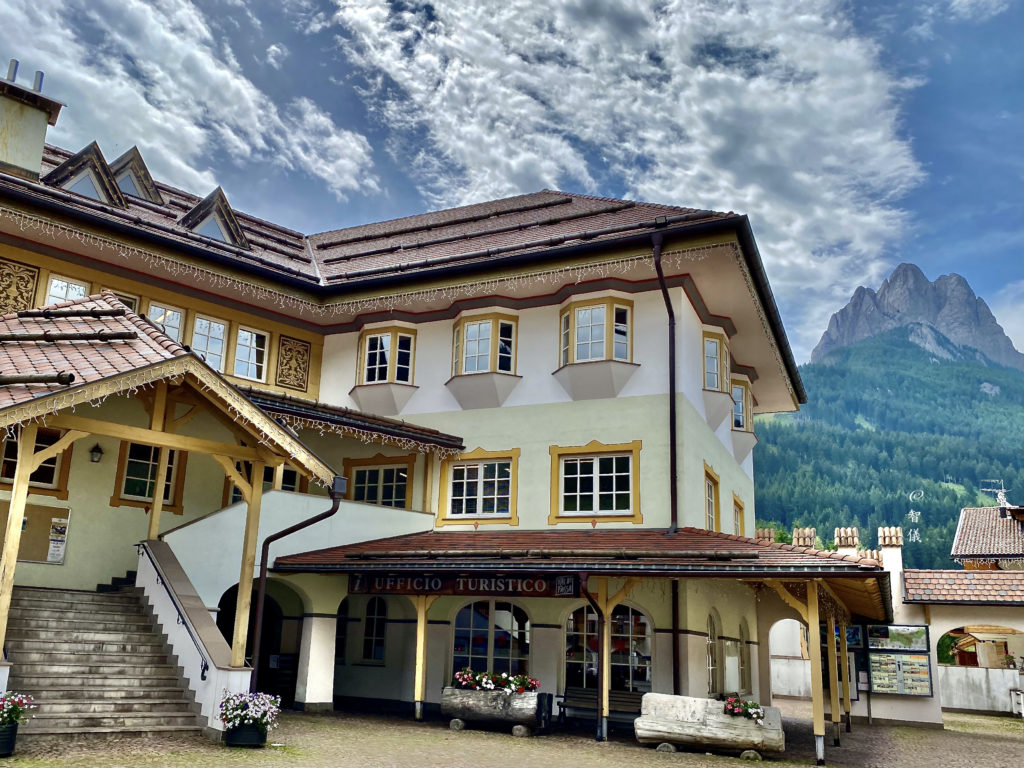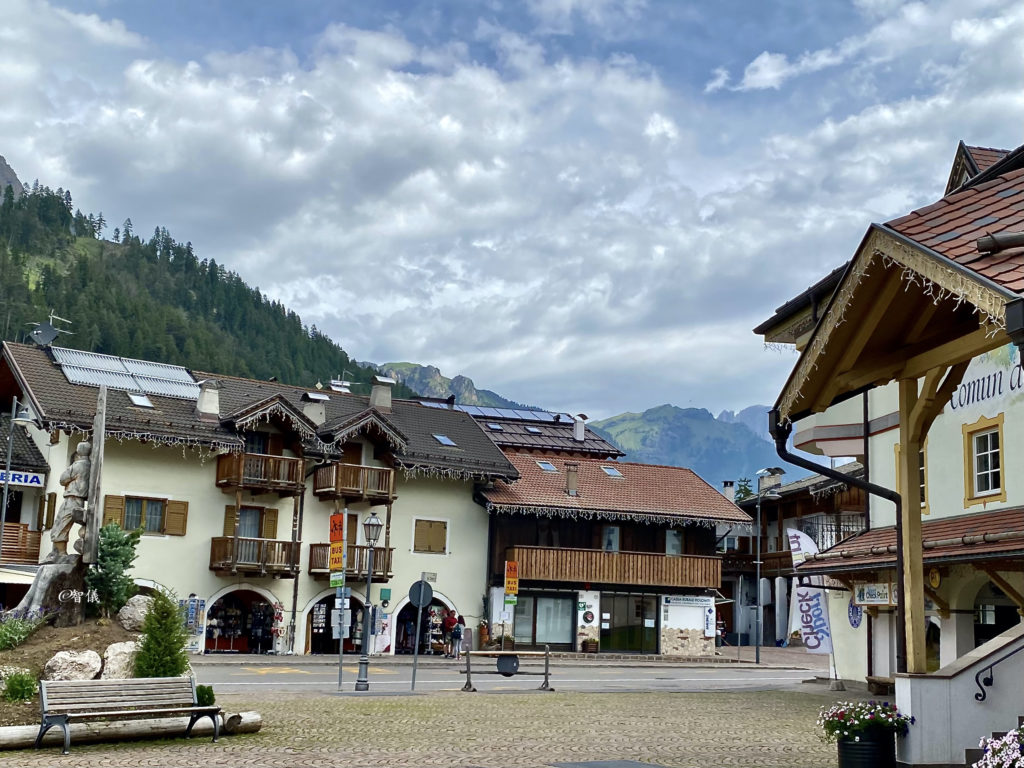 Passo Negra (Niger Pass)
We had vivid memory of Passo Negra from our previous trip: the charming restaurant where the other half took lots of butterfly photos and the mountain bikes that whizzed past us in our hired car on some twisty mountain roads!
By using public transport, it was much more relaxing this time round.
We took bus 180 to Paolina and changed to bus 185 for Niger Pass. Without the stress of having to watch where we were going, we could really appreciate the stunning views of the mountains! The bus stopped right outside Berggasthof, the hillside restaurant that we remembered.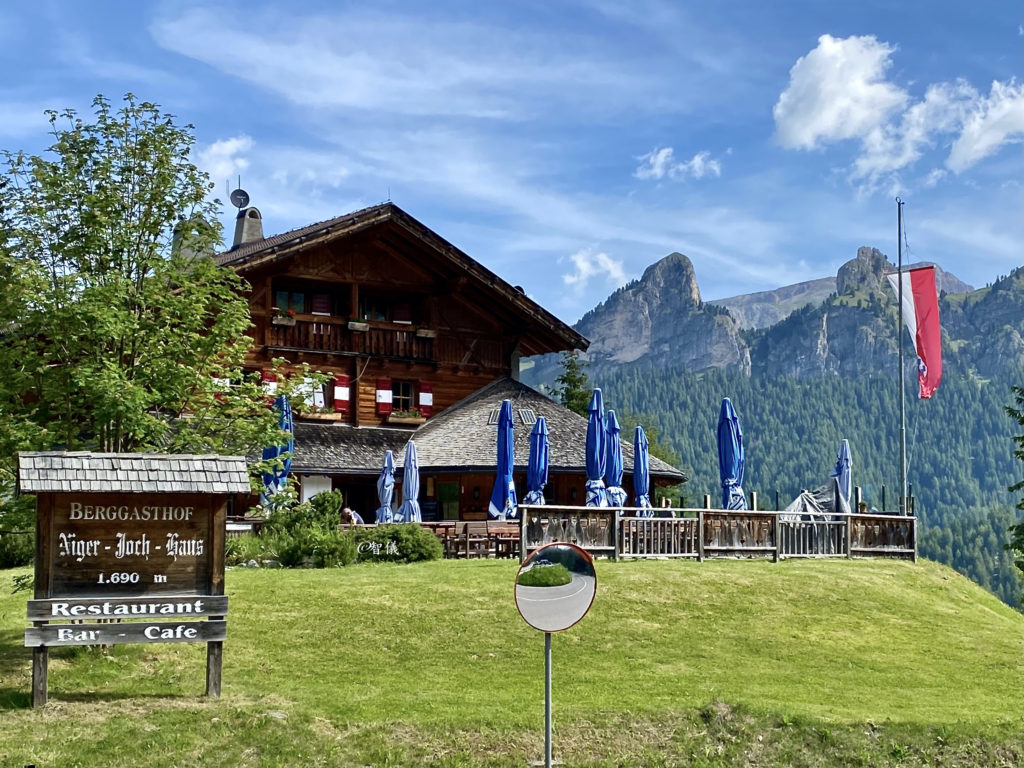 We spent a couple of glorious hours where we took photos to our hearts' content – he of butterflies and I of the awe-inspiring scenery. Then we had a light lunch at the restaurant, drinking in the stunning views at the same time!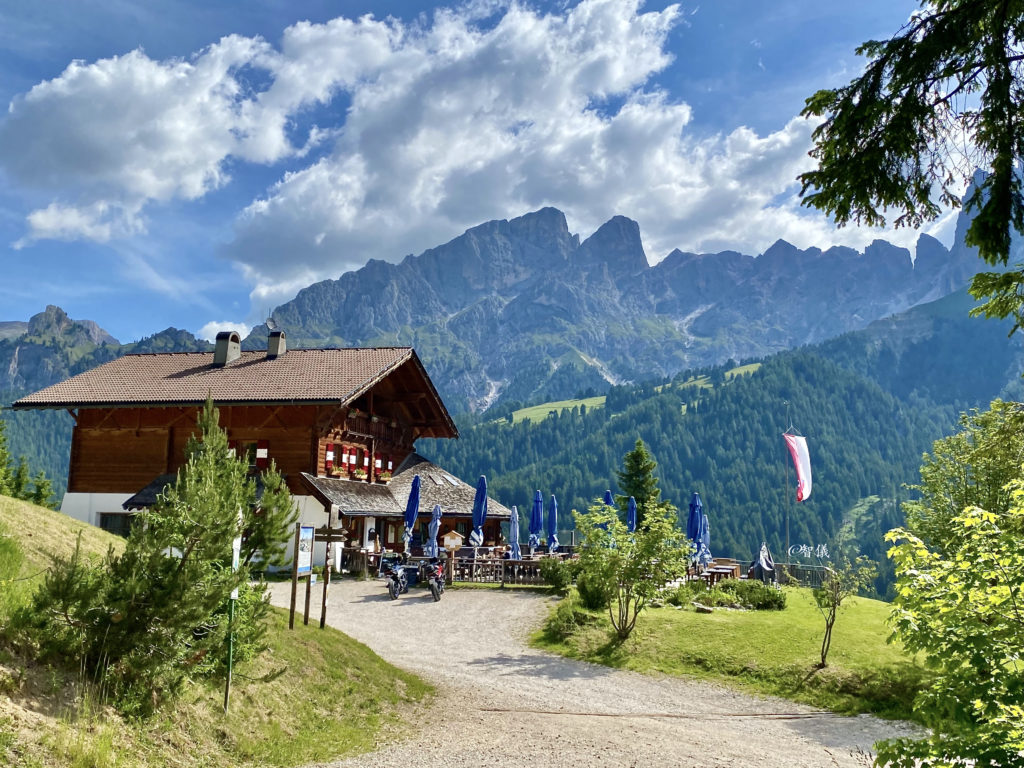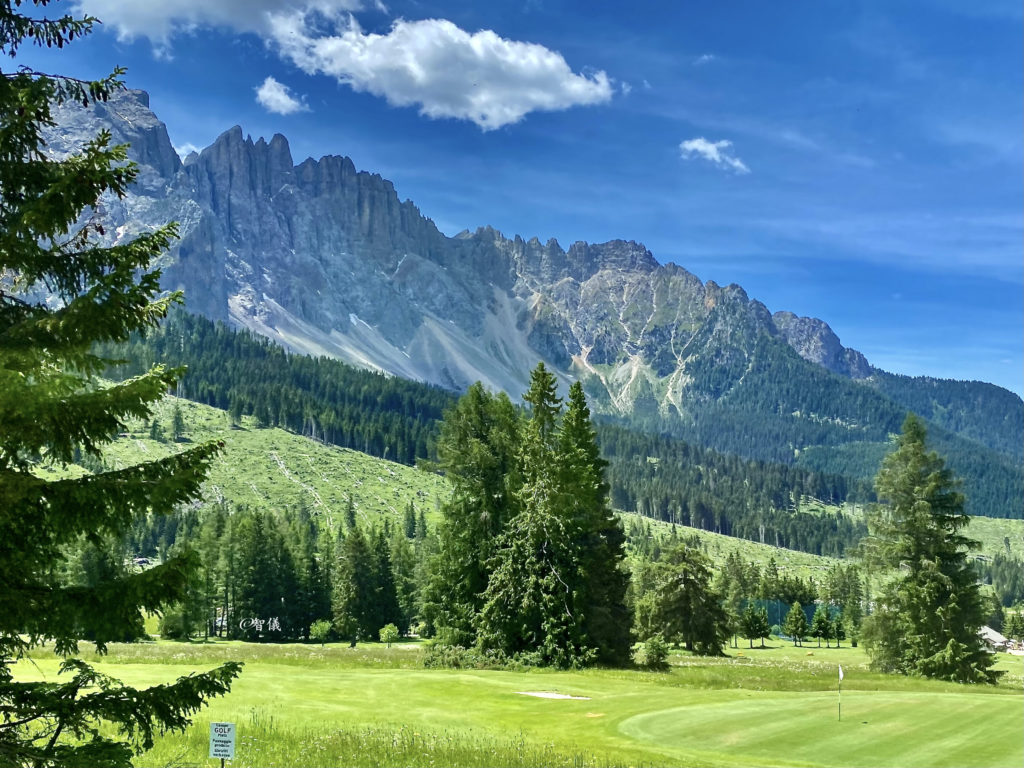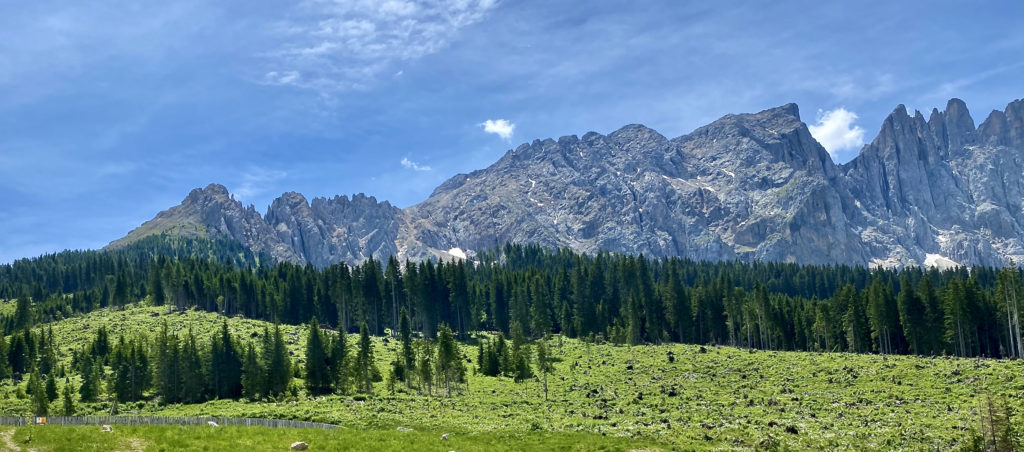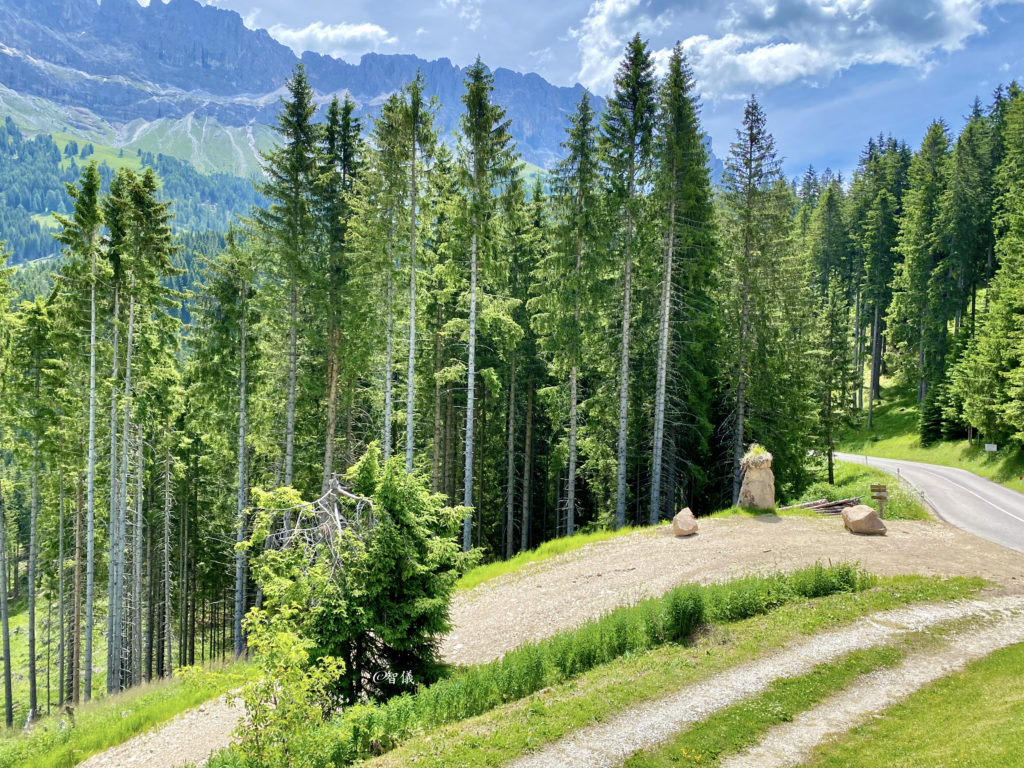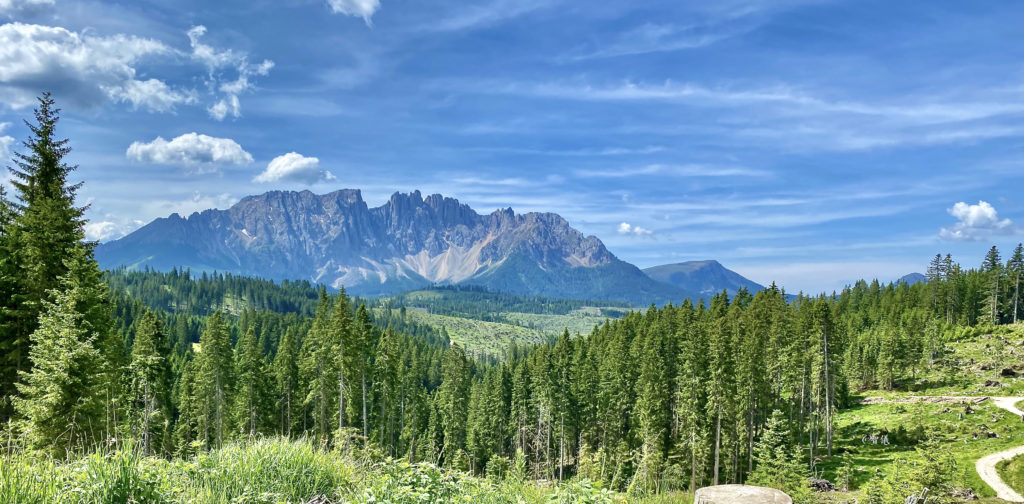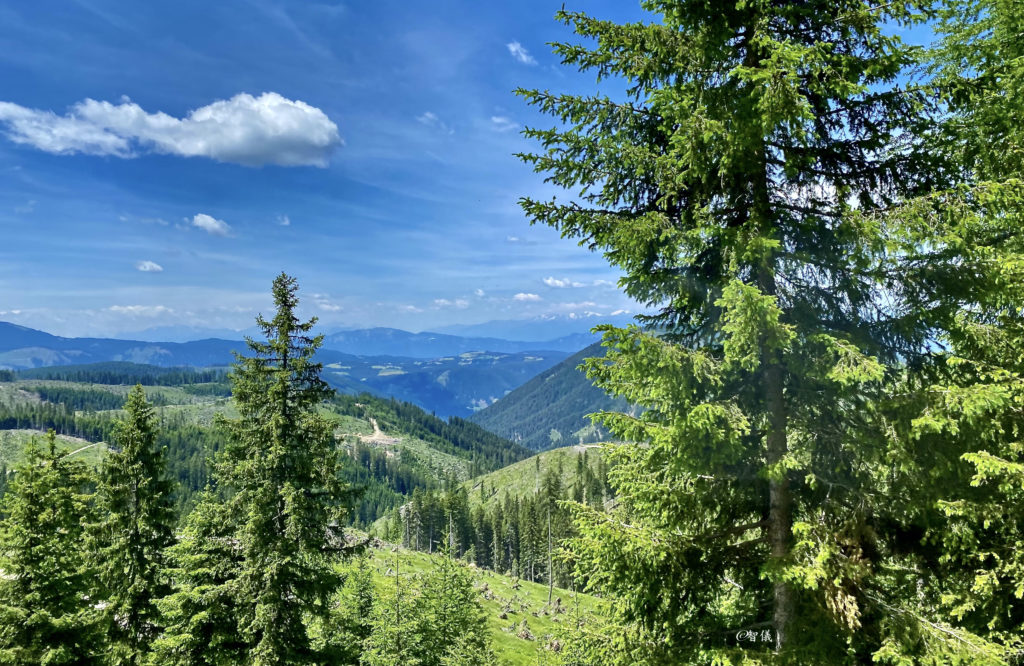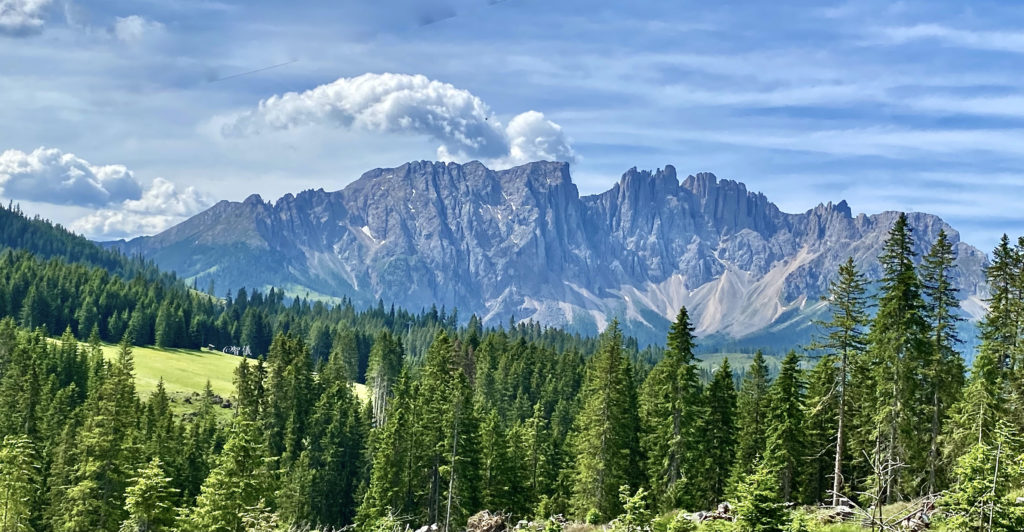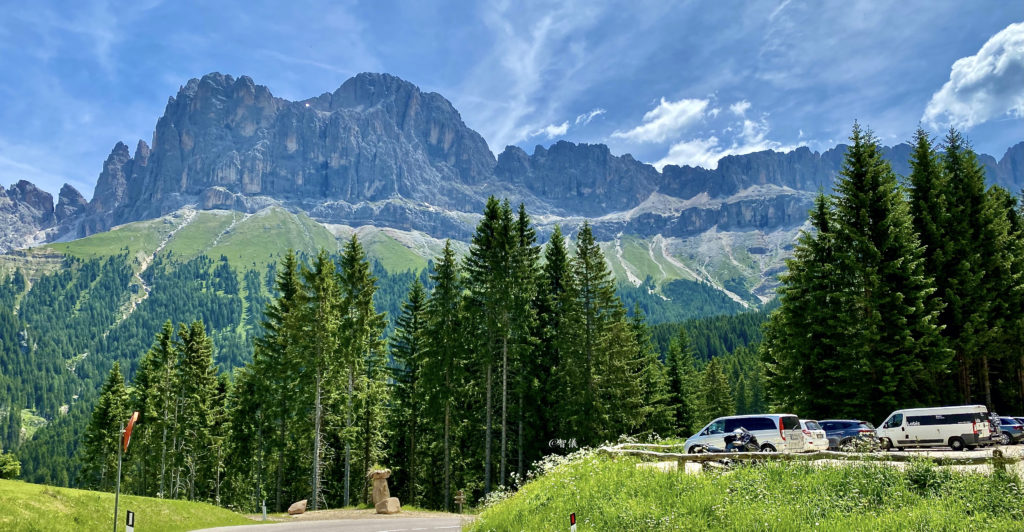 Planning a perfect holiday can be thwarted with anxiety – the weather, flight cancellations, lengthy delays at airports, strike actions … But all the stars aligned for us and our trip to Val di Fassa was an out-and-out winner!!