Alberobello, Puglia is home to "trulli," whitewashed stone huts with distinctive conical roofs. Alberobello is a UNESCO World Heritage Site for the trulli but many of them are now gift shops
When my partner and I visited Alberbello in April 2016, it was just as well that we bought the tickets the day before because the FSE (Ferrovie Sud-Est) train to Alberobello departed from a platform at the far end of the central station. The journey took just under 2 hours. It probably took just as long to walk amongst the trulli!
The owner of a shop housed in one of the trulli which sold strange flavour of liqueur very kindly explained to us the structure and history of a trullo and invited us to the back of the building to see the sea of conical roofs!
Views of the trulli were quite impressive!
Finally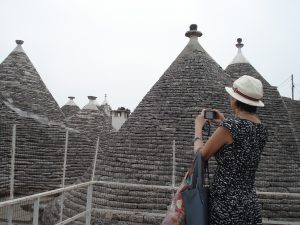 Got the fridge magnet 😁