(This blog was first published on 5 September 2018. It's updated 23 May 2023 because I found out that some of the photos did not display properly)
For my 9th trip in 2018 I went to Porto for 5 days in September with my regular travel buddy. 
Where to stay in Porto?🤔
This trip was booked in September 2017. It was another great deal from British Airways Holidays. For a deposit of £150 (per booking, not per person) I secured us the return flight and 4 nights at Sheraton Porto Hotel & Spa for a very reasonable price. The balance was paid 6 weeks before departure.
It would have cost more than twice had we booked the flight and hotel separately more recently.
Sheraton Porto Hotel & Spa
This hotel is at an out-of-town location which I tend to avoid. However it was worth the 10 minutes' walk to the nearest metro stop (Francos) to stay in this luxury hotel. Francos is only a few stops to Aliados and São Bento Station.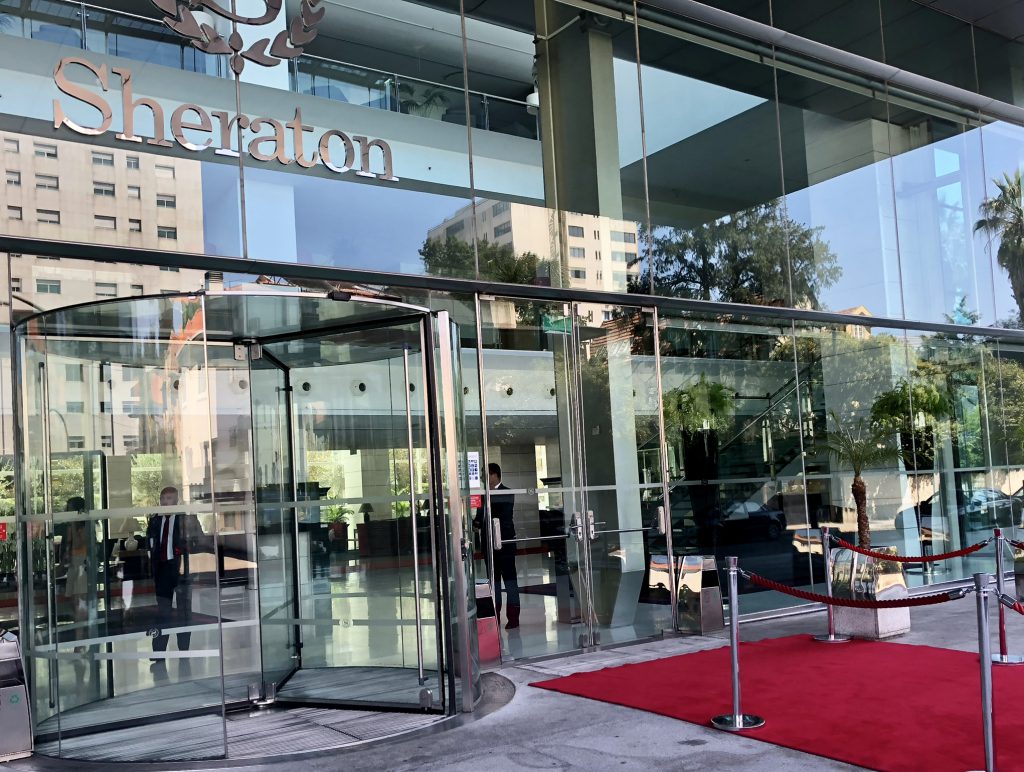 Besides, on arrival at the airport we each bought a 3-day Andante Tour Card for €15 (€7 for 1 day) for unlimited travel so we could (and did!) go back to the hotel for a pit stop in the afternoon before venturing out again.
The hotel itself is modern, our room was spacious with all the facilities expected of a 5* hotel.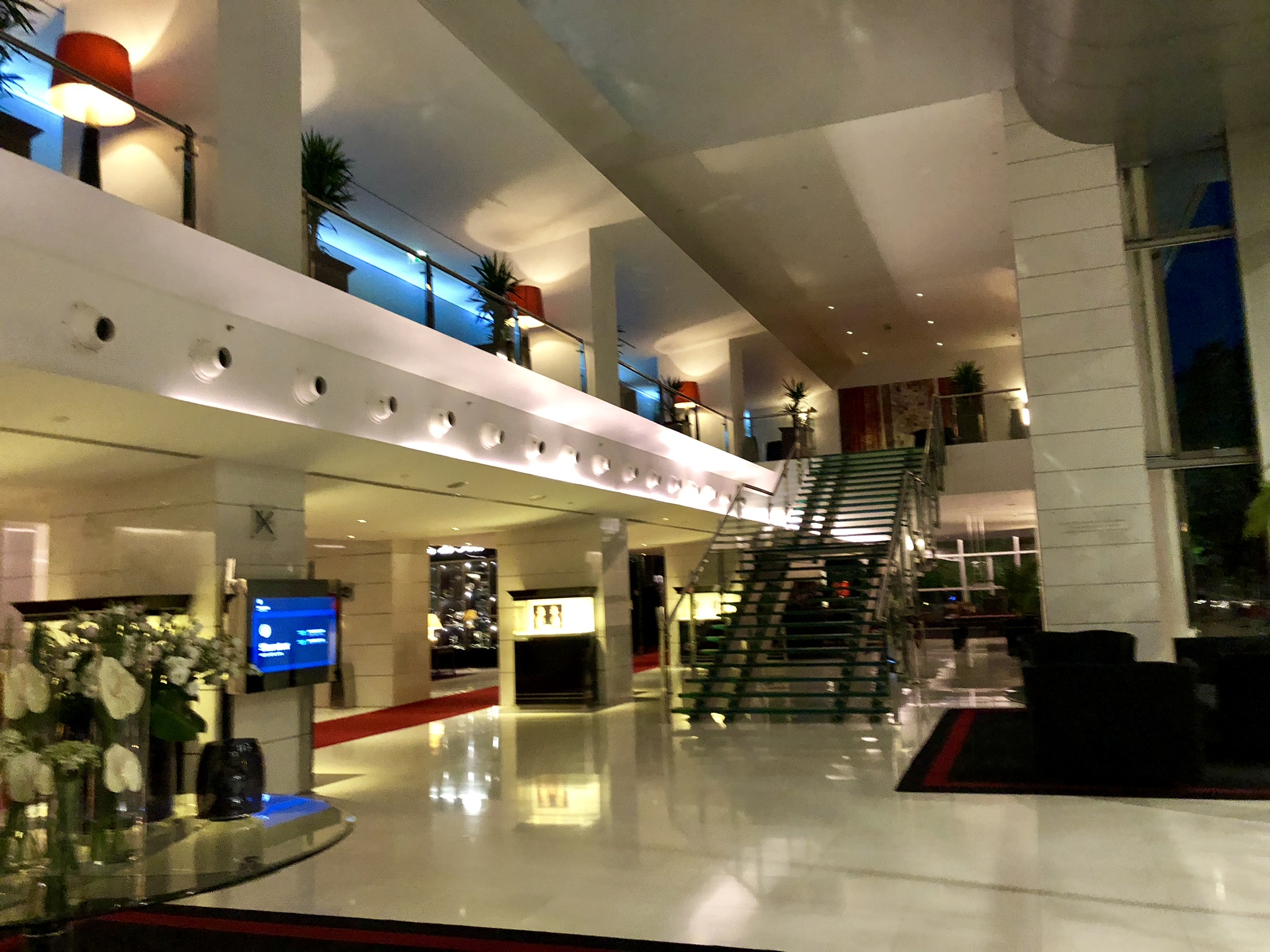 Cais da Ribeira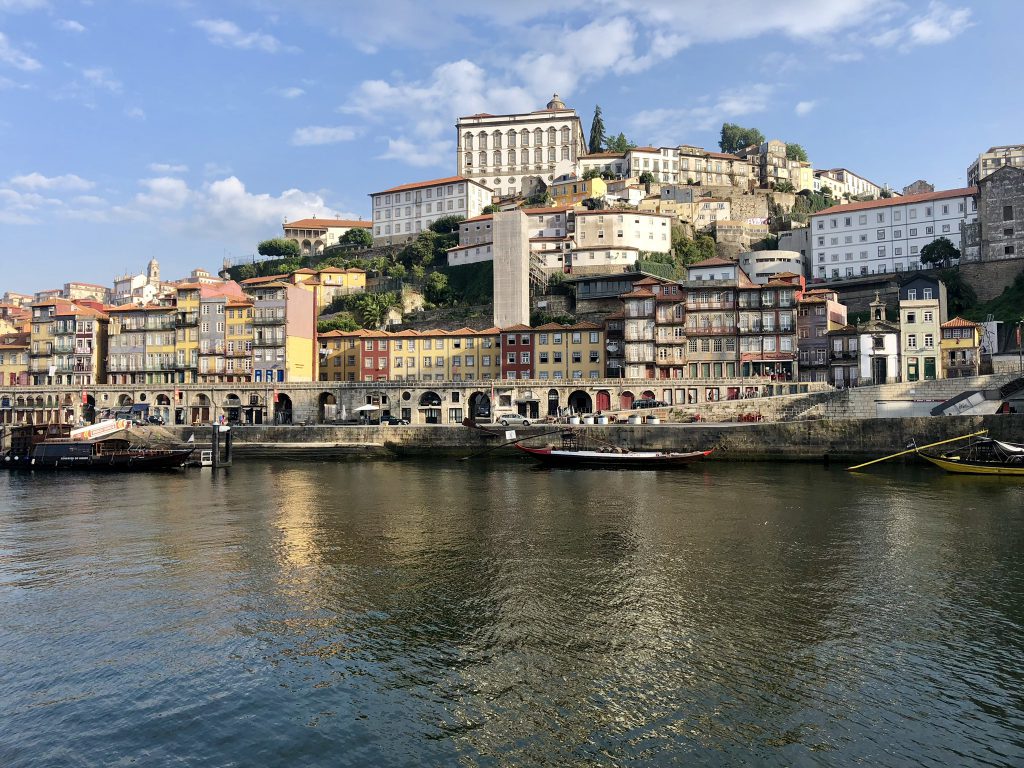 A chance sighting of a photo of Cais da Ribeira was enough to get me interested to visit Porto. To see it on a beautiful September morning as the boat pulled away from the pier under a sunny blue sky was magical!
But there're so much to see on the quayside itself : the colourful dwellings, the eateries on the raised terraces, sight of the awesome Dom Luís I Bridge, the sailing vessels large and small gliding to and fro on the river….
Little wonder that the area was named a World Heritage Site by UNESCO in 1996.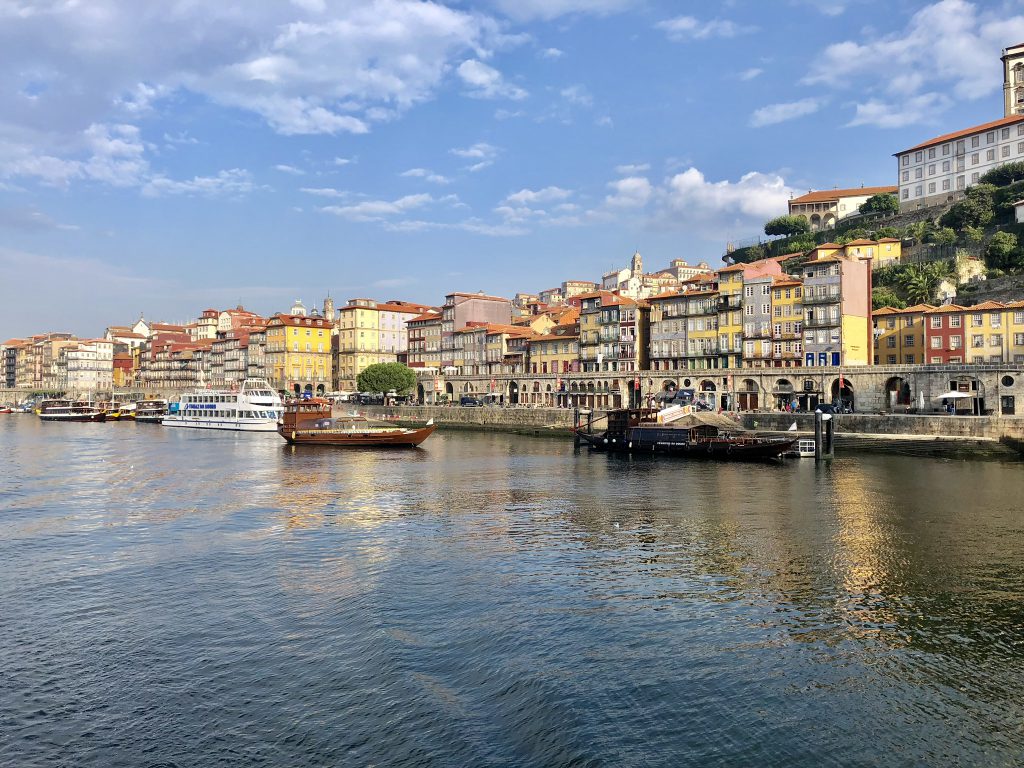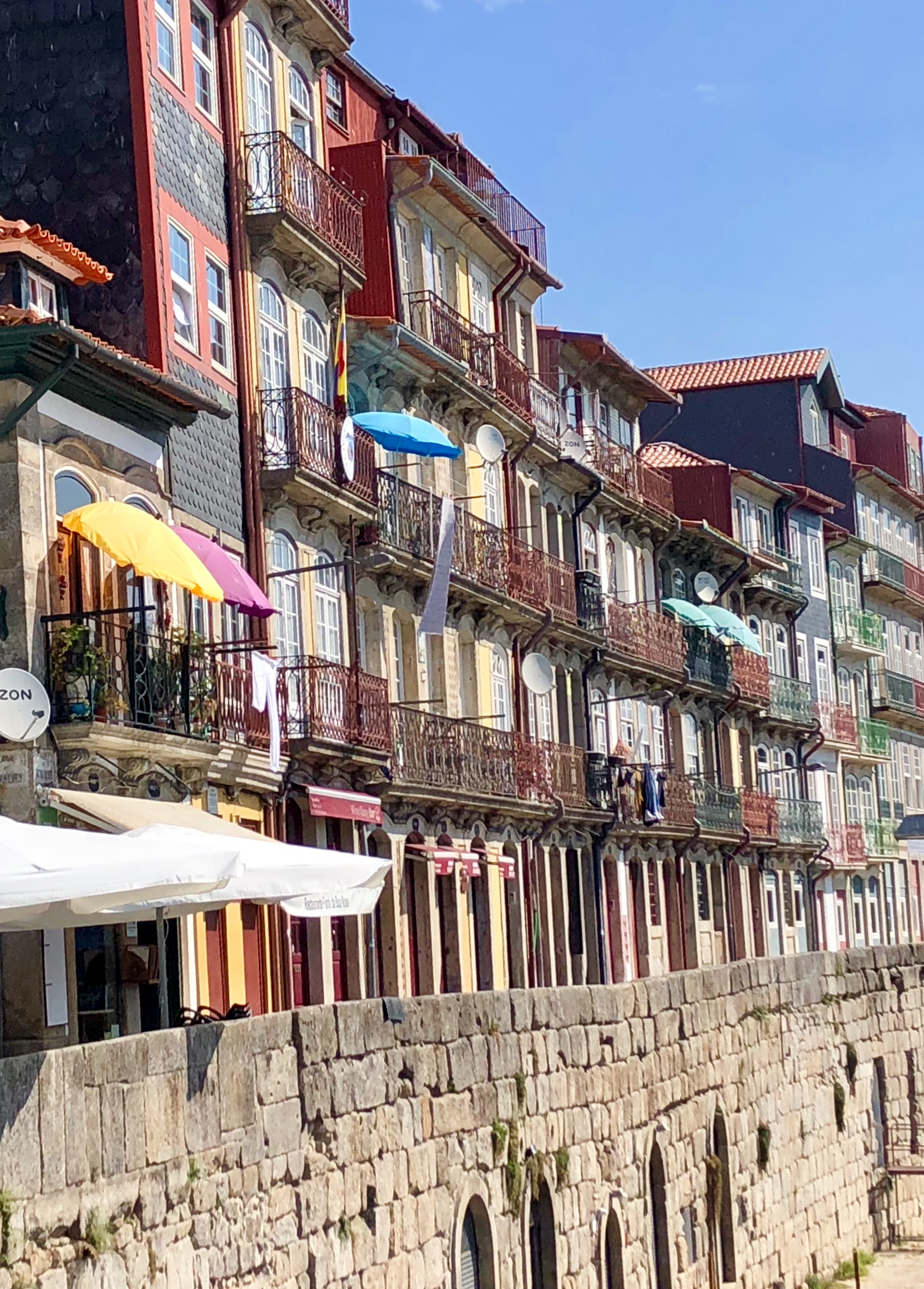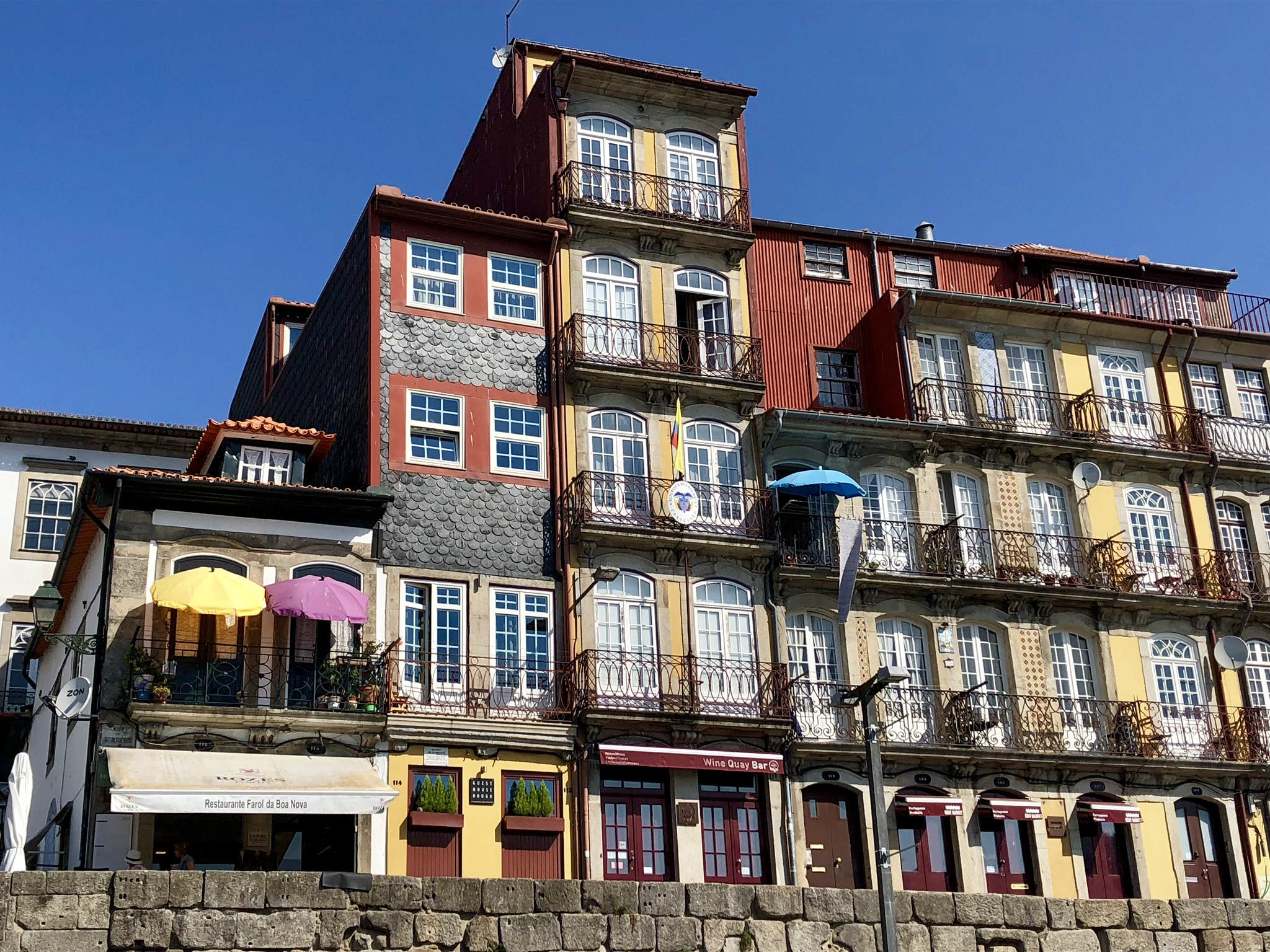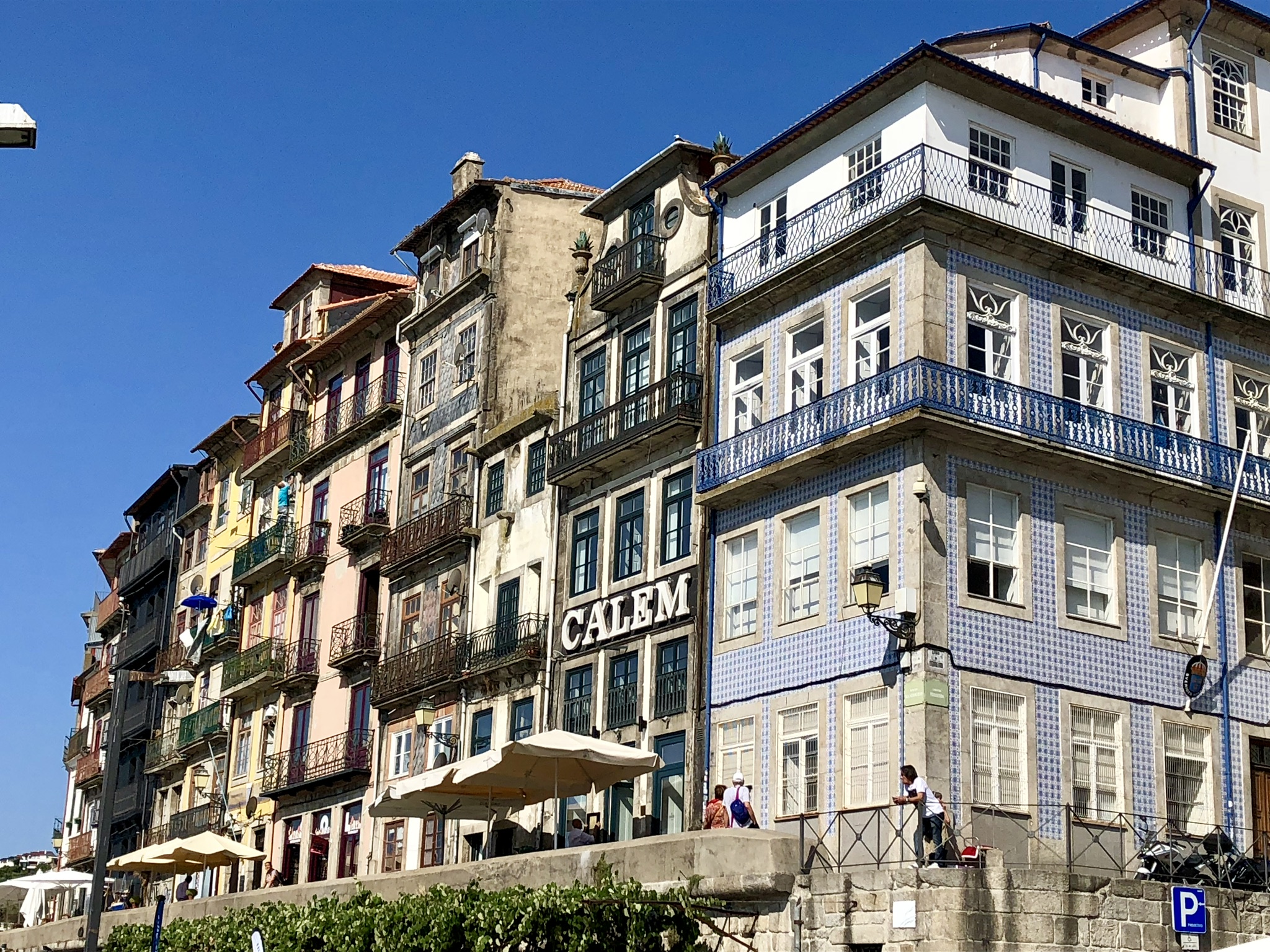 Lunch with a view at Cais da Ribeira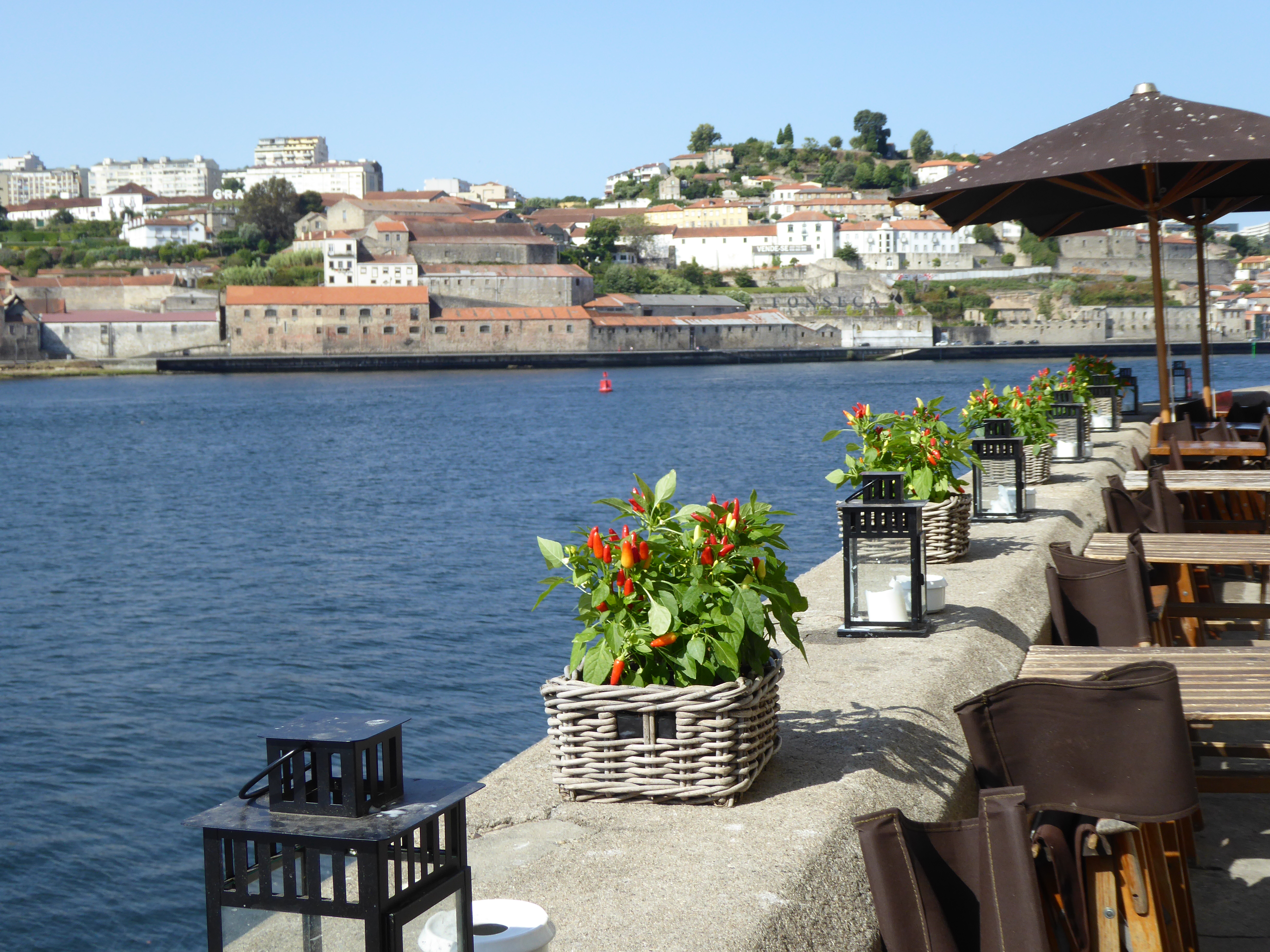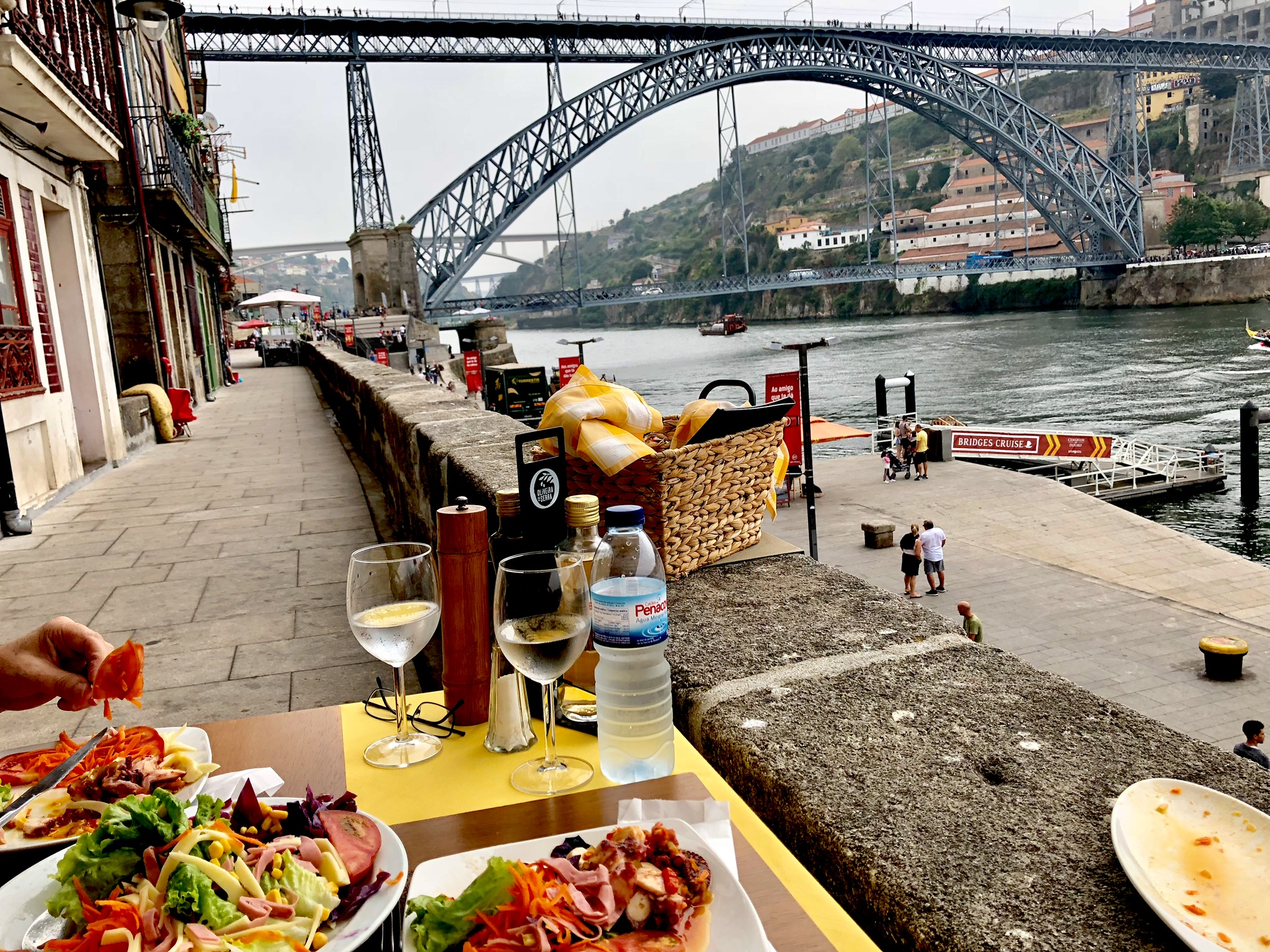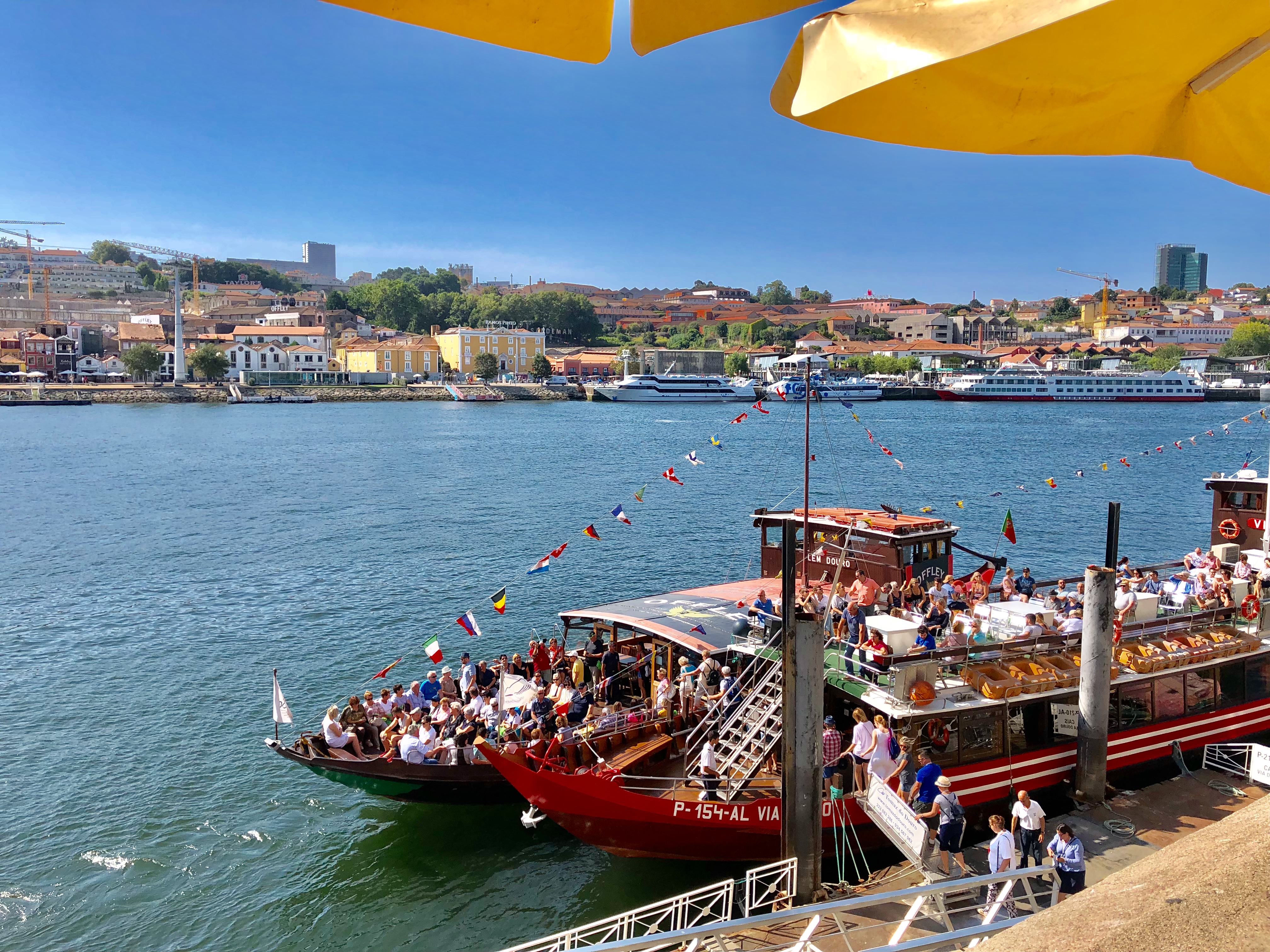 Dom Luis Bridge from Cais da Ribeira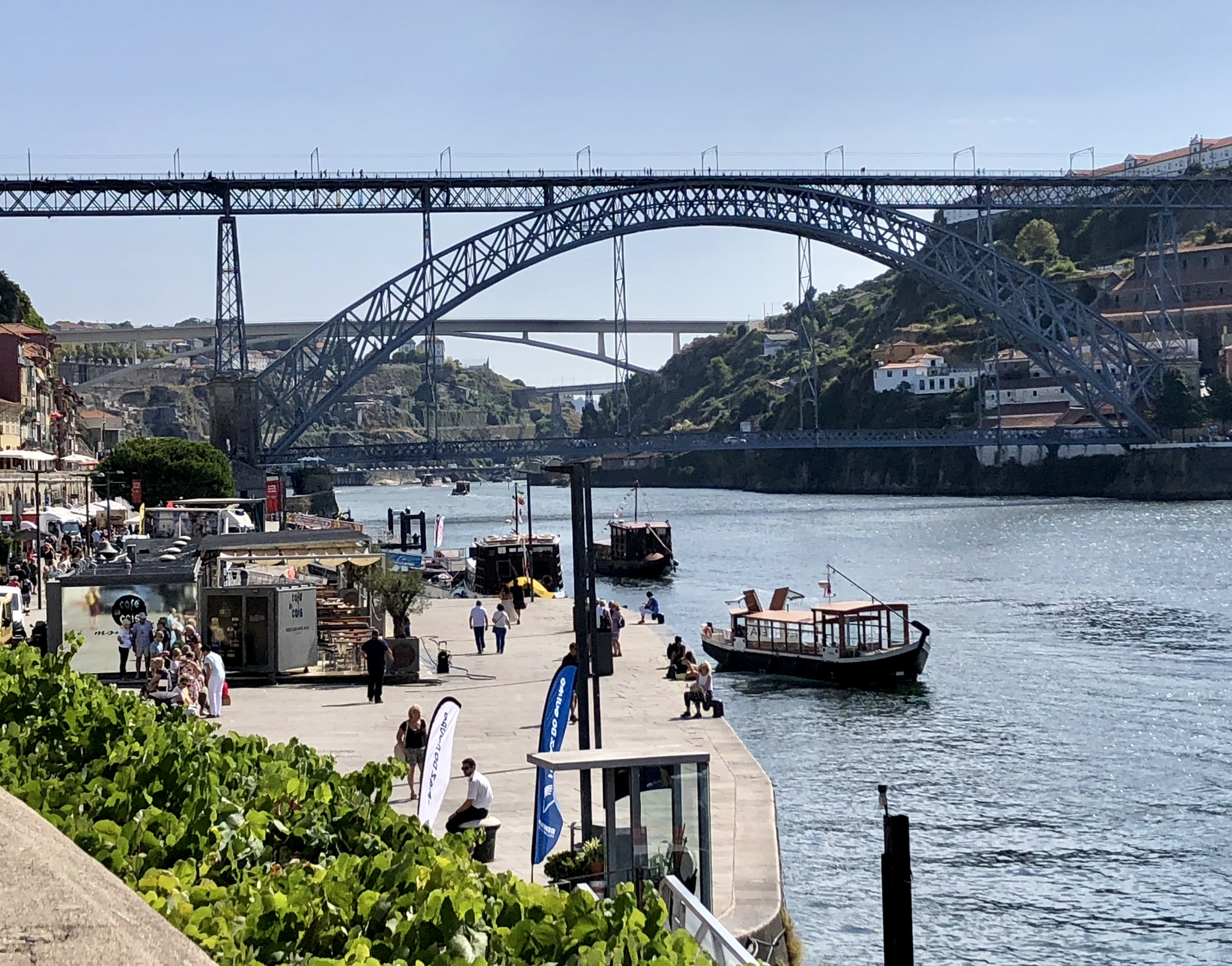 Dom Luís I Bridge Walk
The walk across the bridge is an experience not to be missed. We walked across the lower deck to Vila Nova de Gaia on the other side. It afforded a great view of Cais da Ribeira.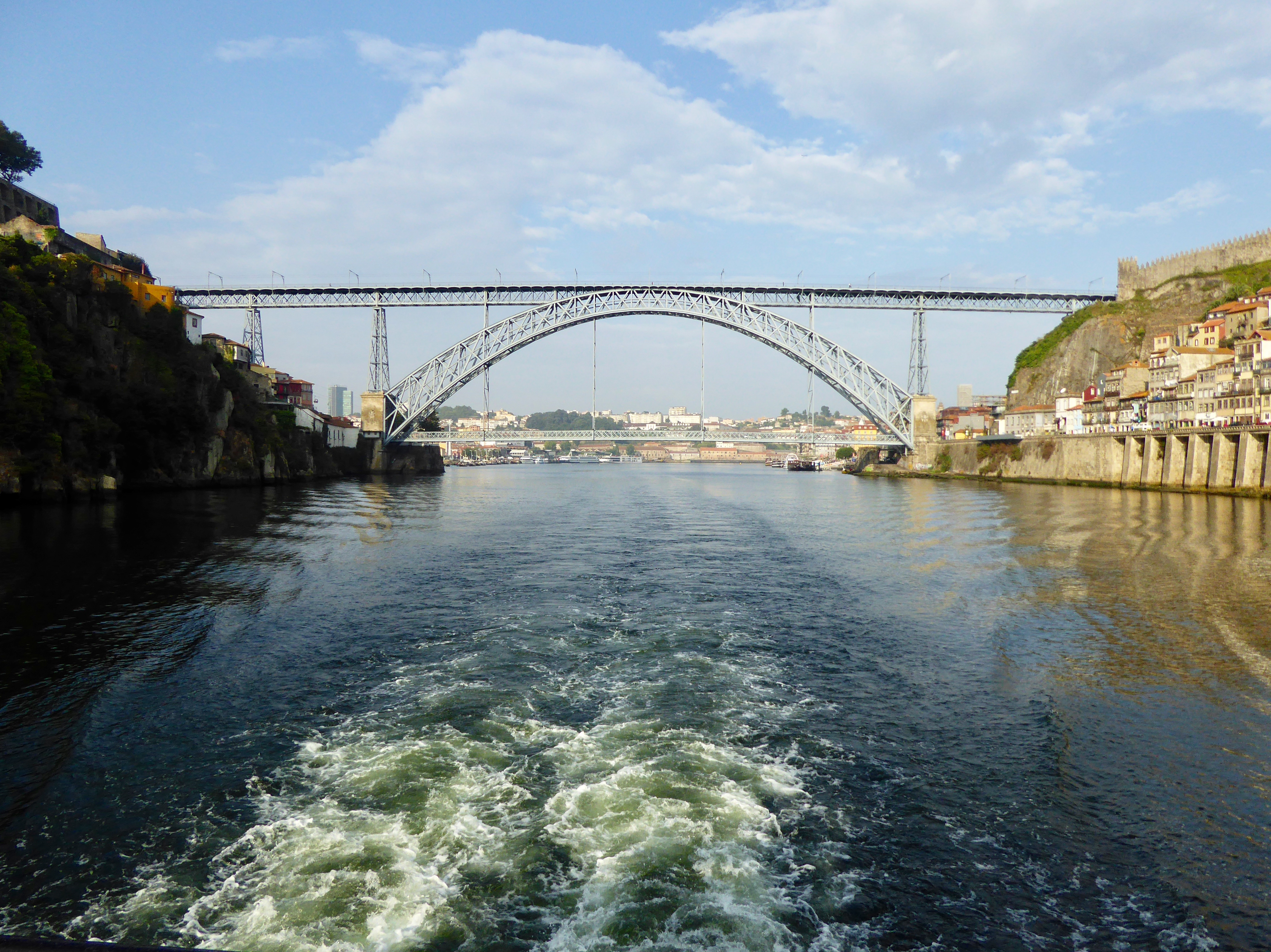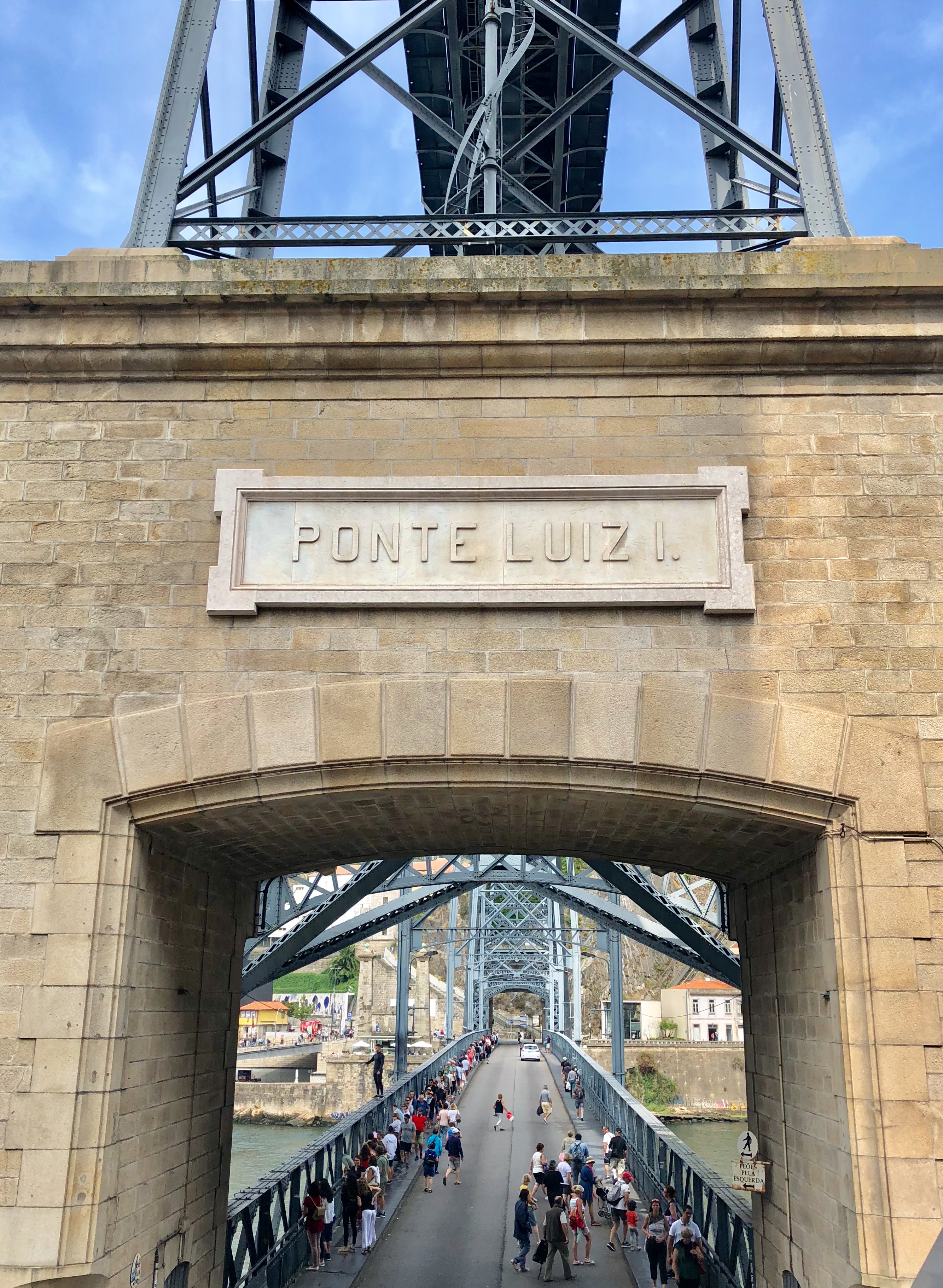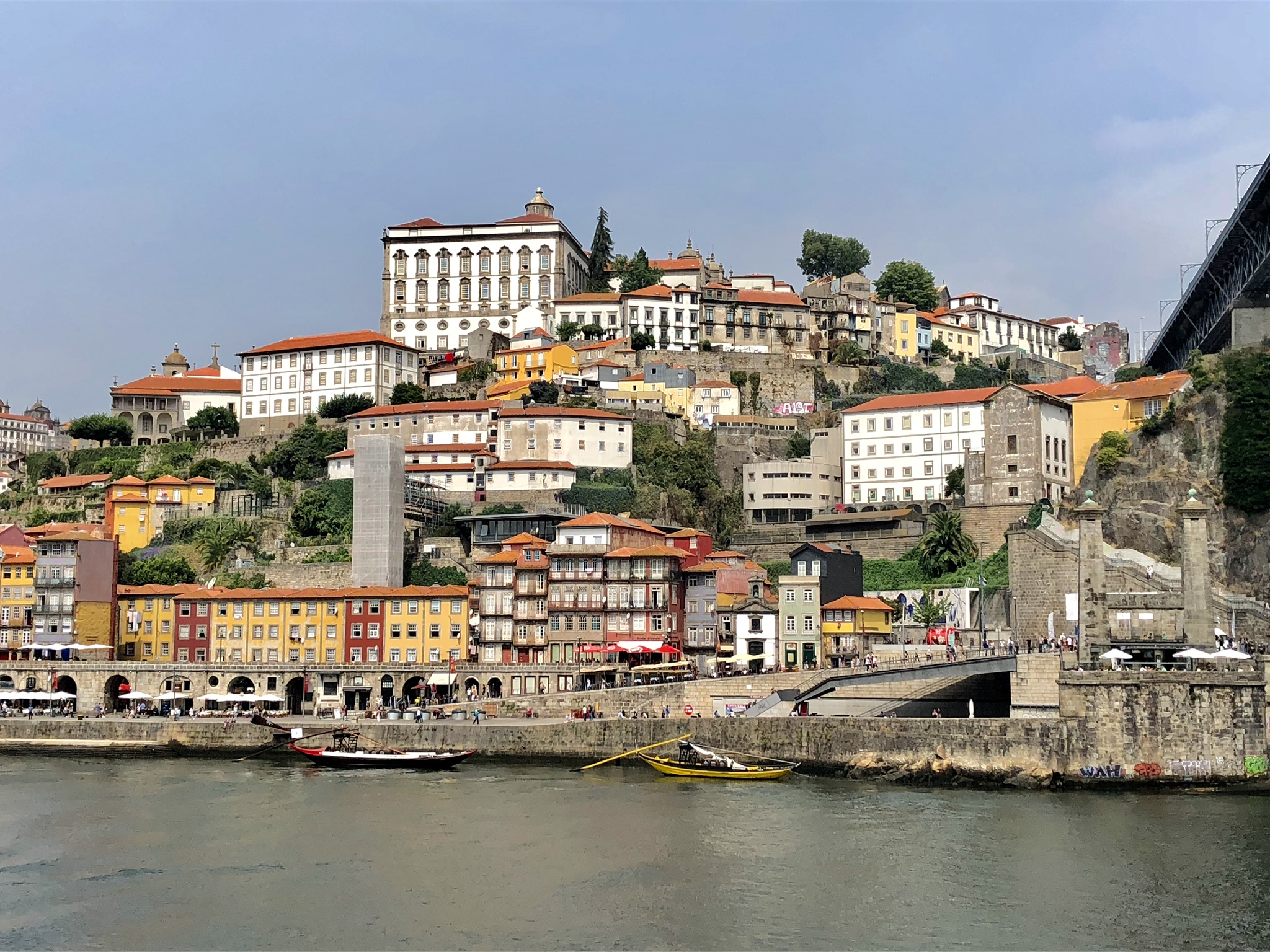 We then walked back to take the Funicular dos Guindais to get to the top deck of the bridge for a spectacular view of Porto on both sides of the railway tracks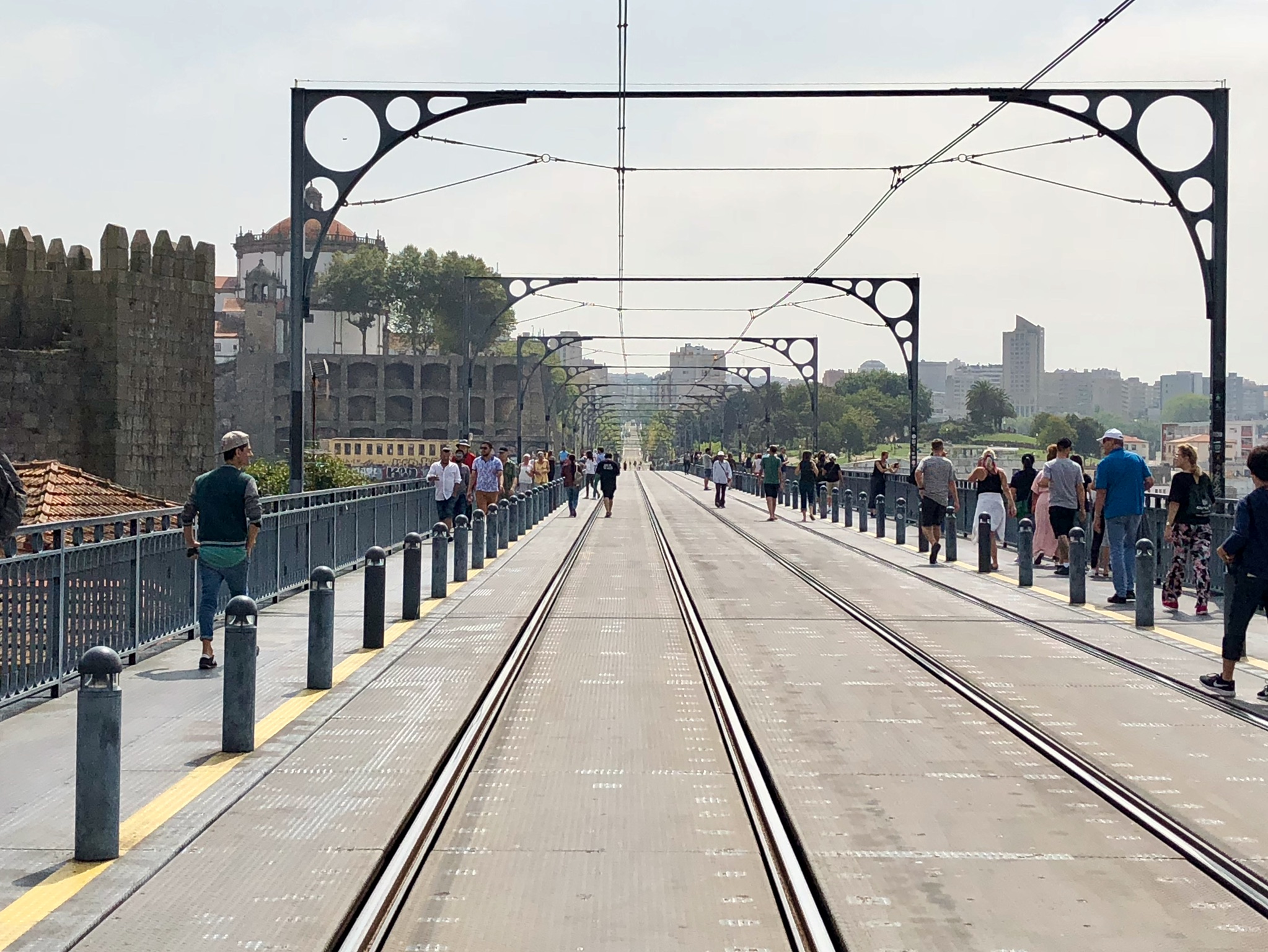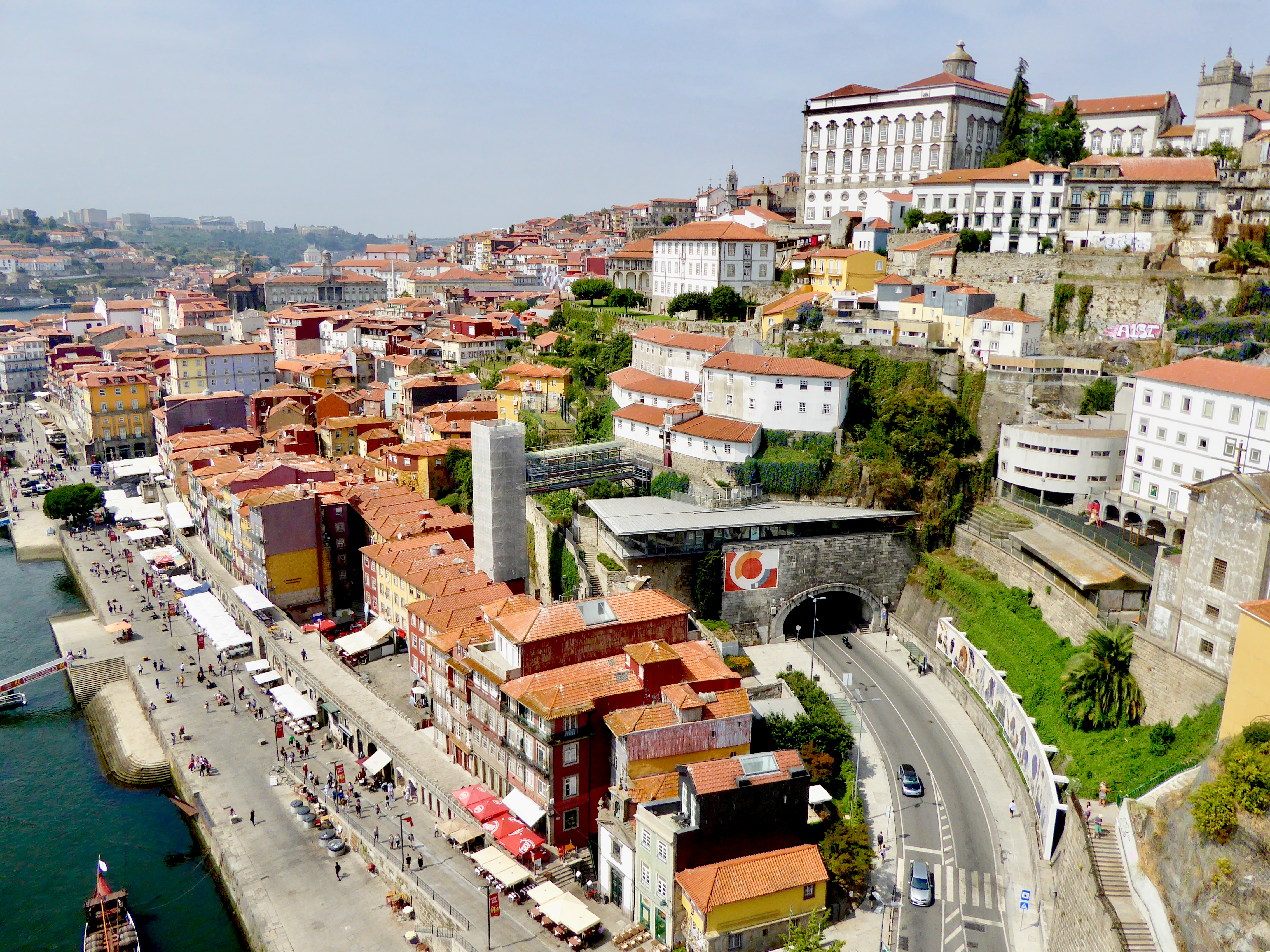 photogrid ids="4970,4966,4963,4967,4968″ captions="yes" columns="two" ]
Sé do Porto (Porto Cathedral)
The Cathedral is just off the top deck of Dom Luis bridge on the Cais de Ribeira side. It's an imposing building and a colourful Porto dominated by red roof tiles could be seen from the grounds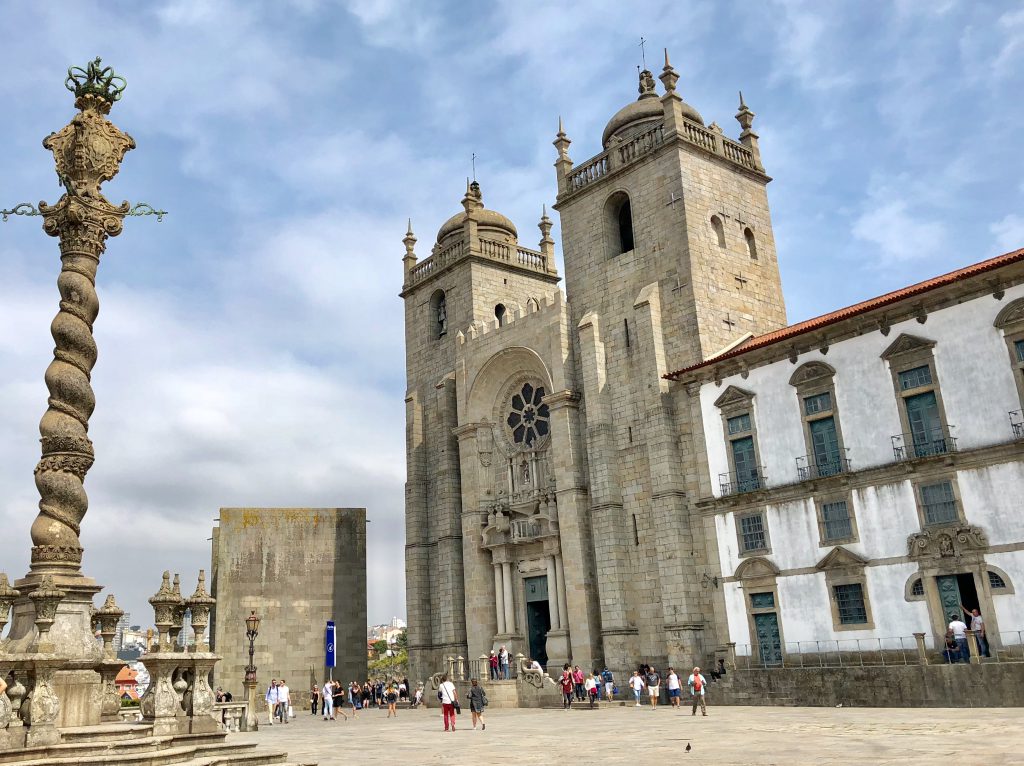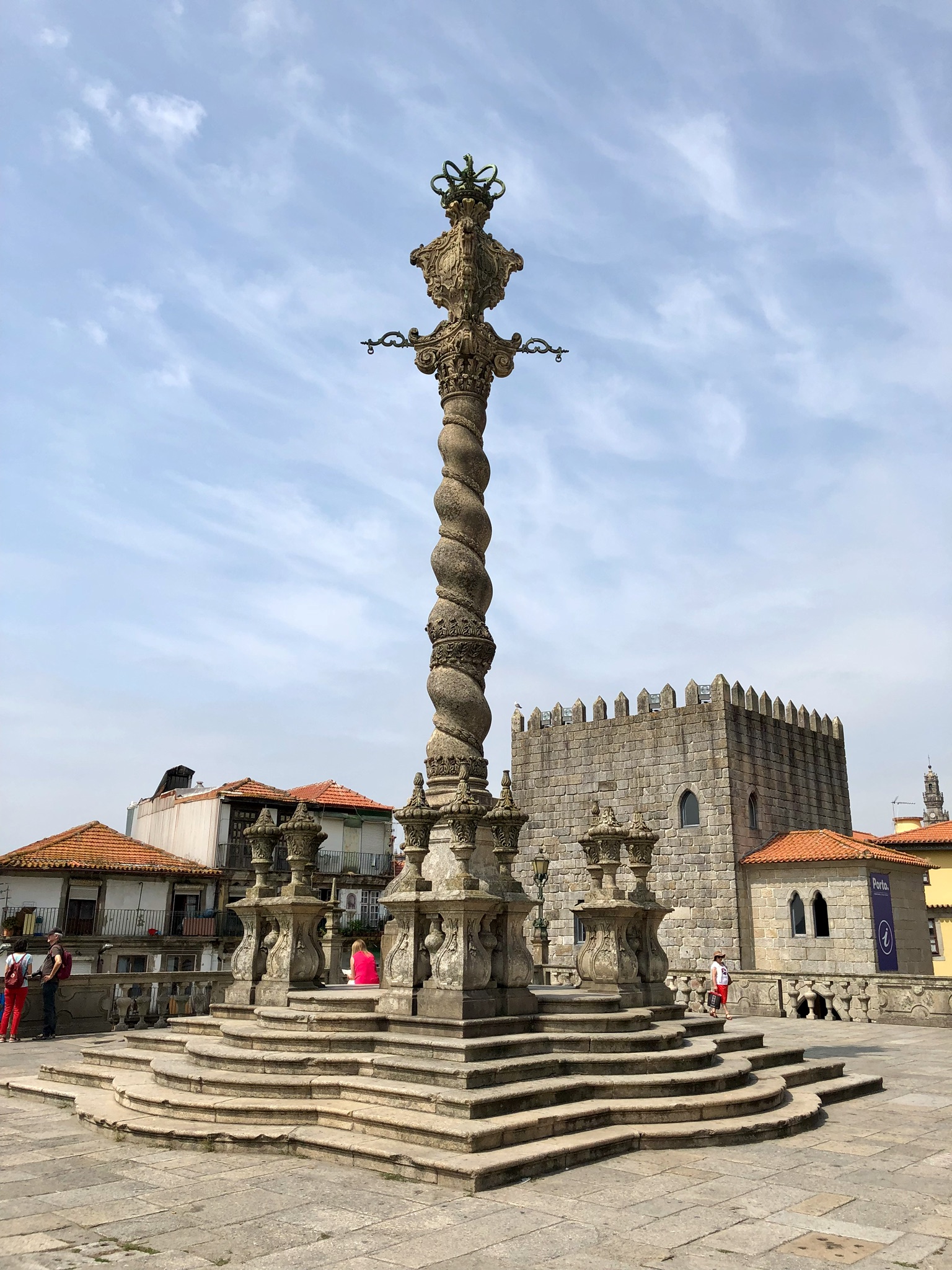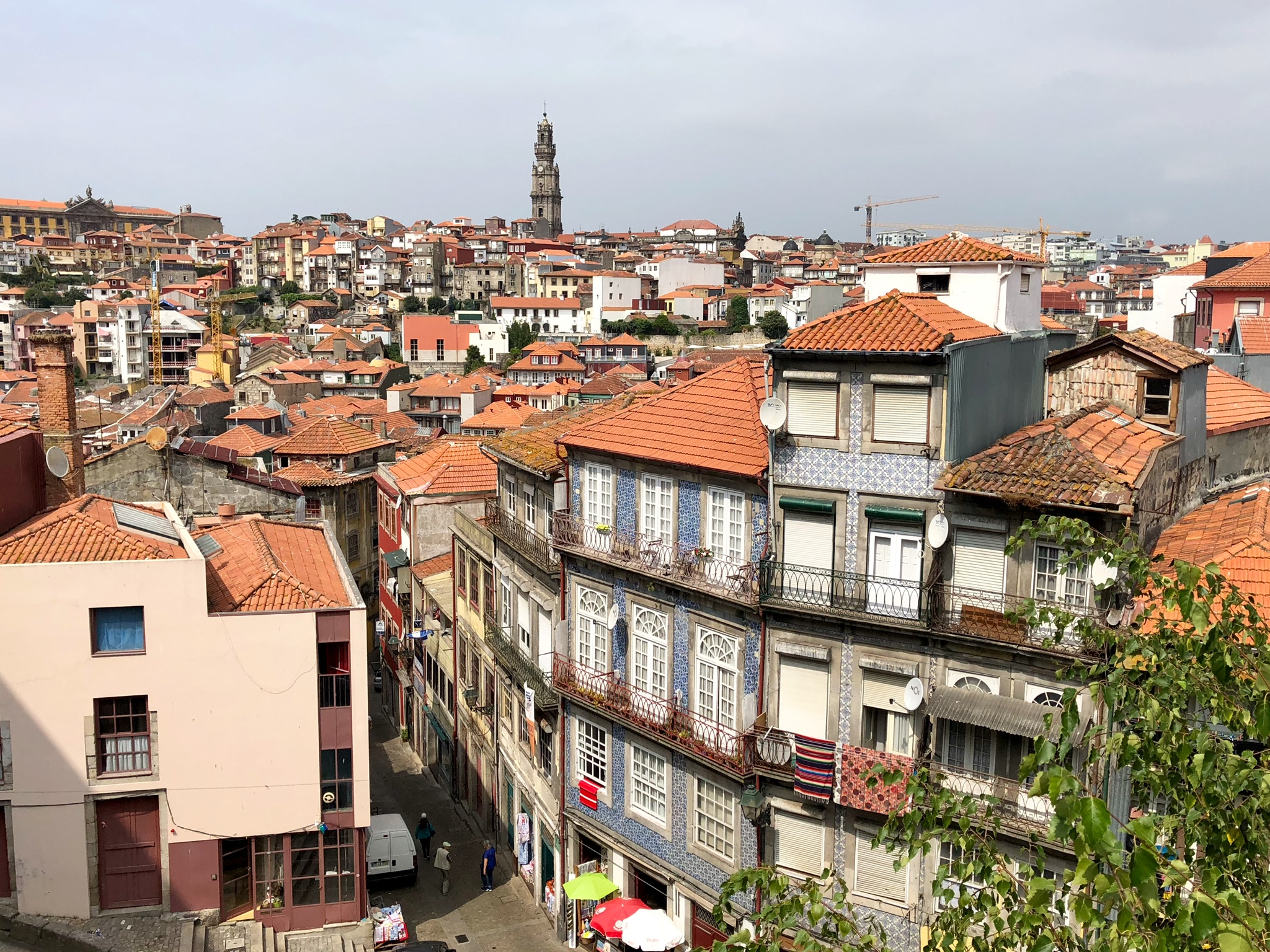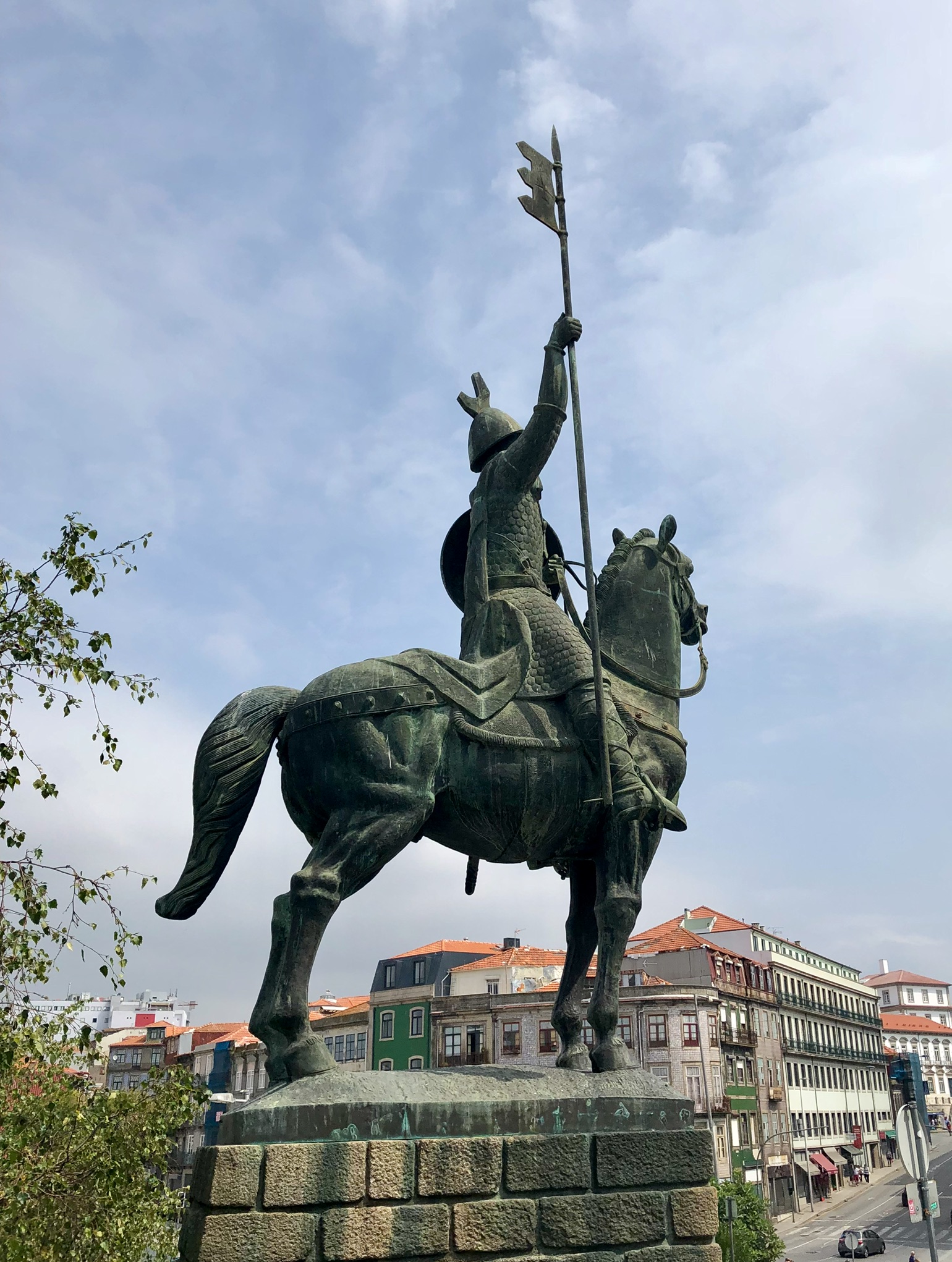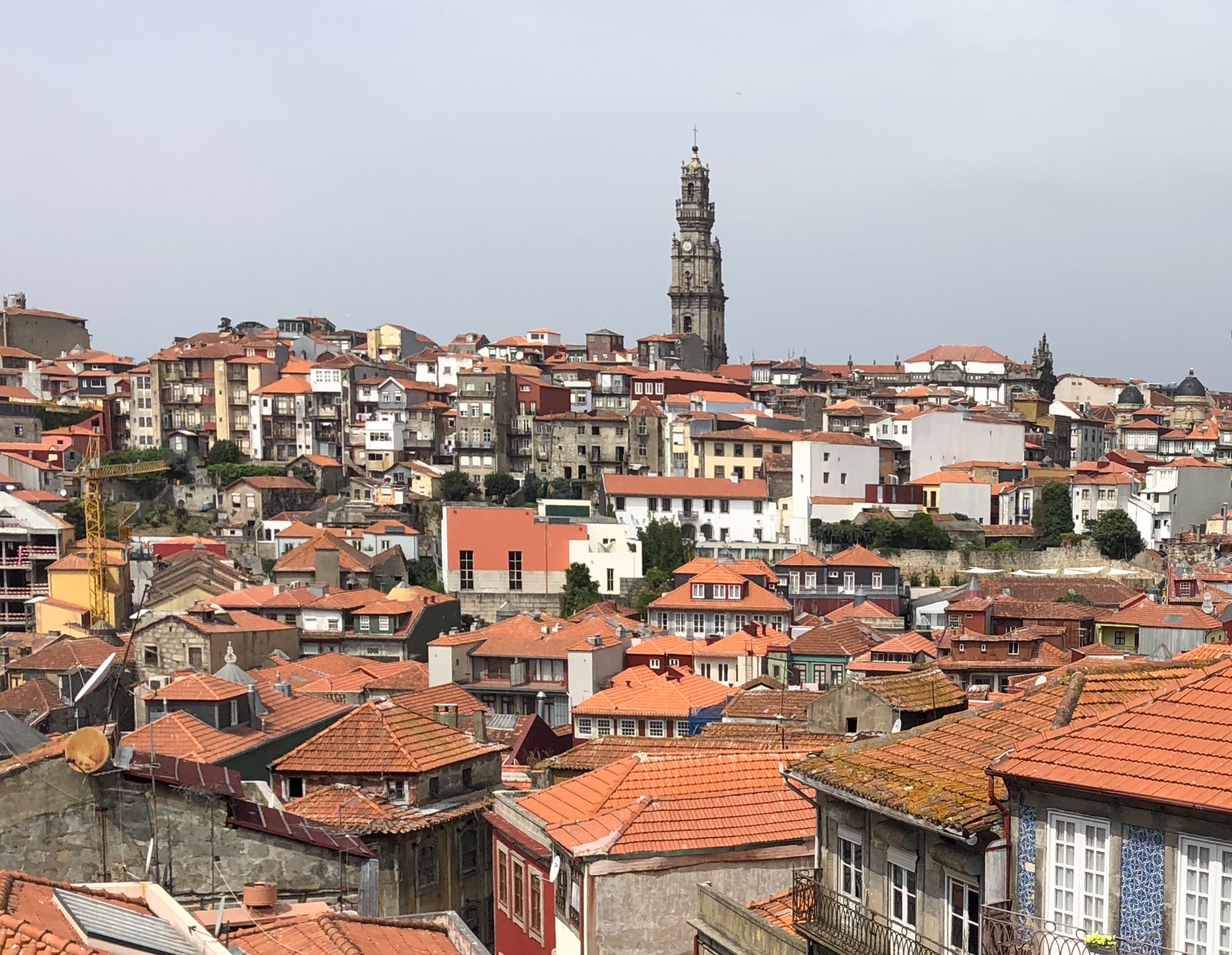 Majestic Café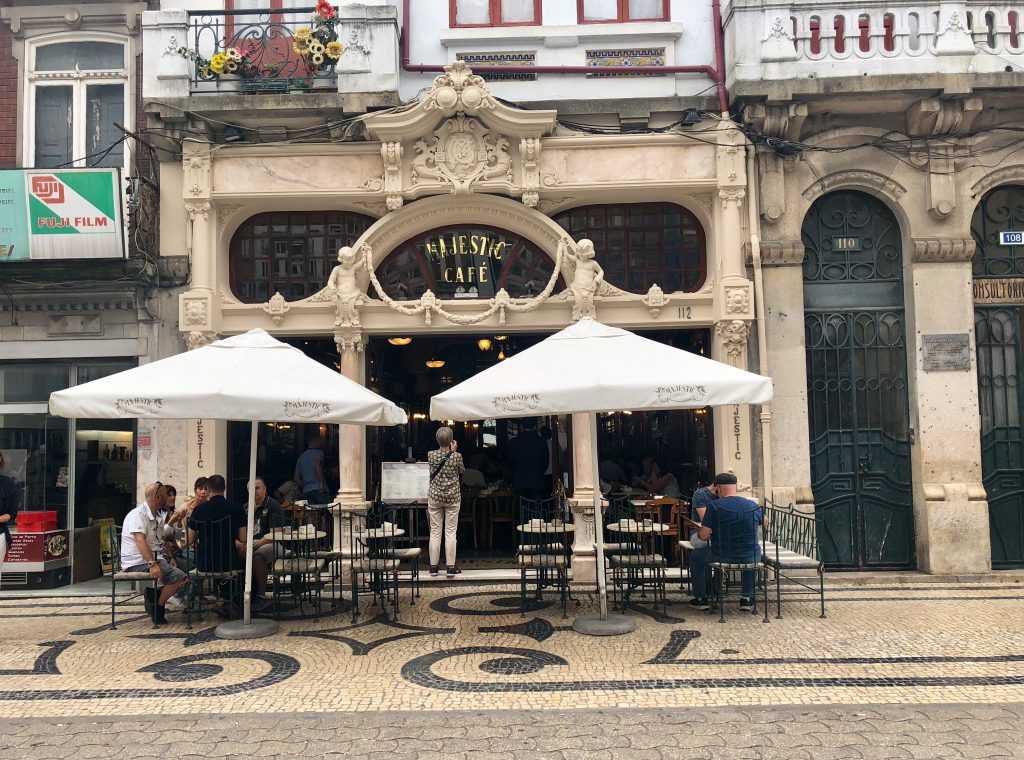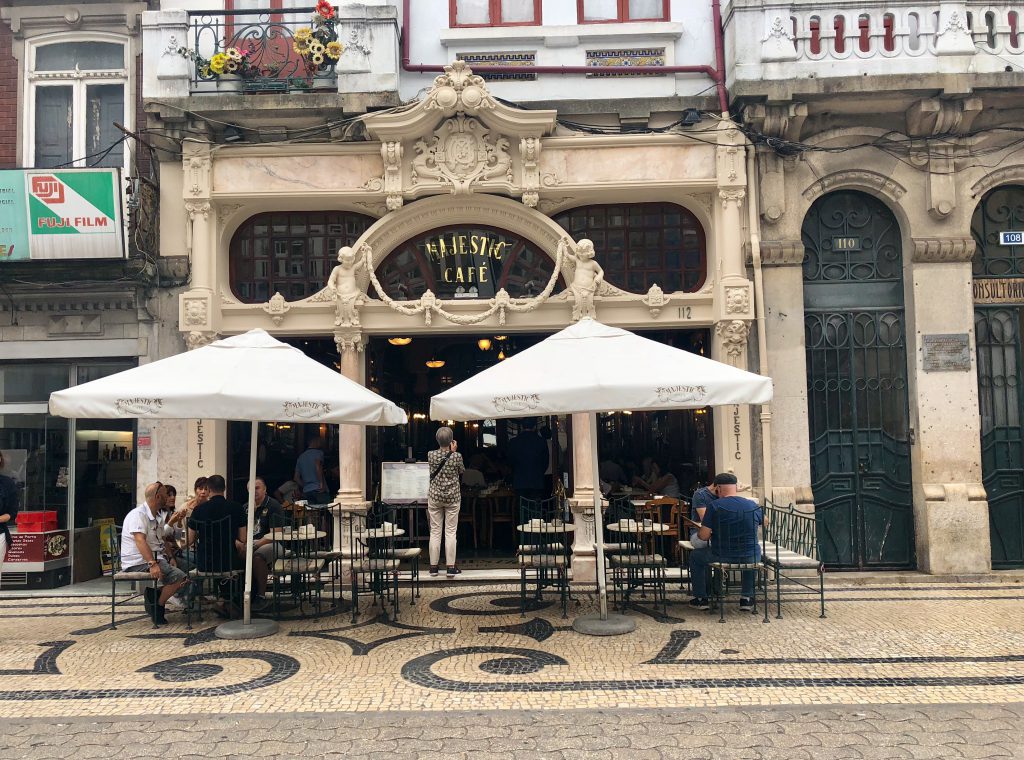 When it was opened in 1923 a contemporary review described it as "one of the most noble and luxurious cafés for which its name Majestic is most suited and justified. Ladies from the best of Porto's society frequent it….." This recommendation was enough to motivate us to make the effort to get there for breakfast shortly after it opened at 9.30 and before it became crowded!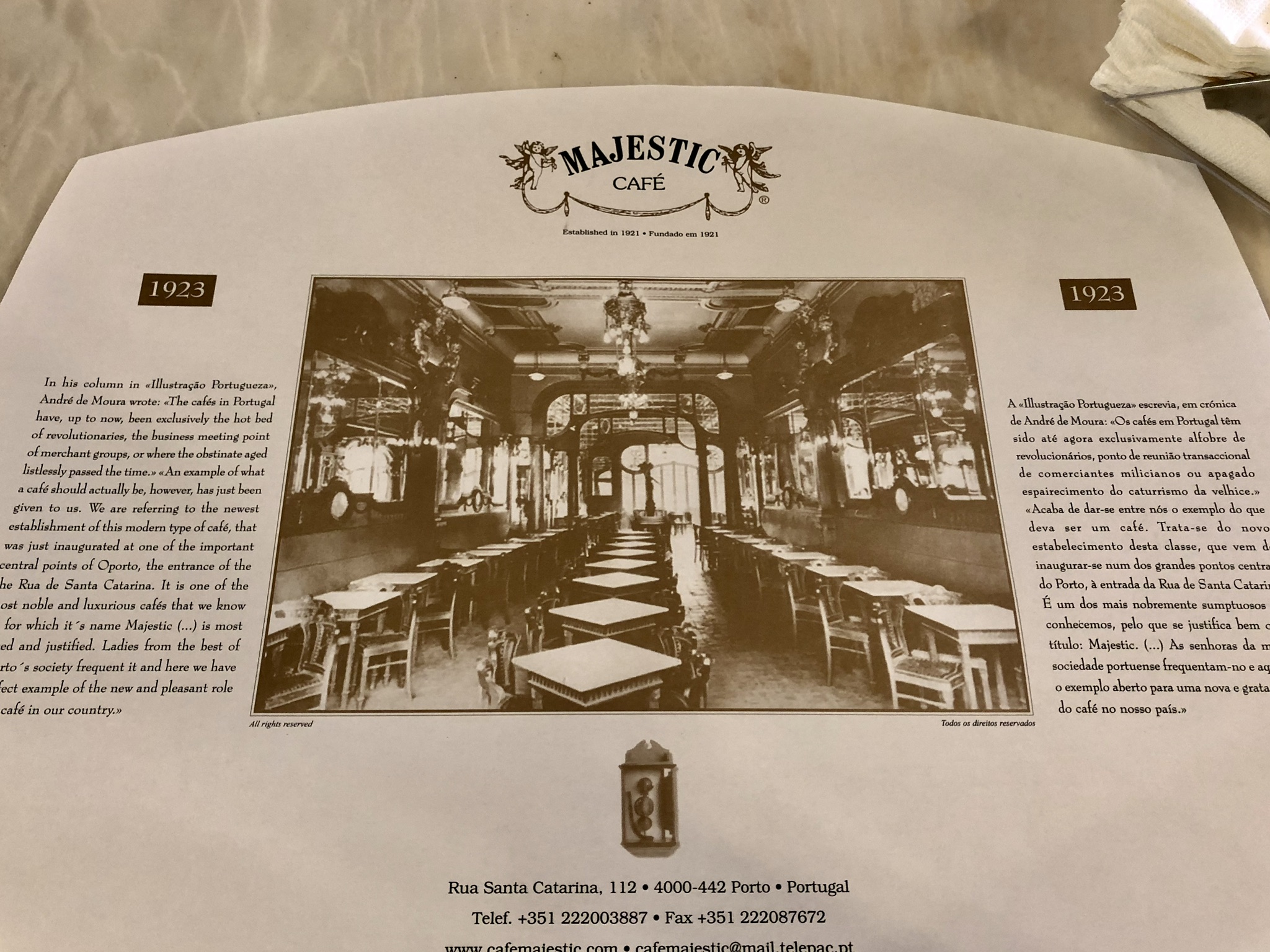 The price was no more than that of an ordinary breakfast charged in London, but what a treat it was to be in the prestigious establishment to enjoy the elegant setting of a bygone era and great service!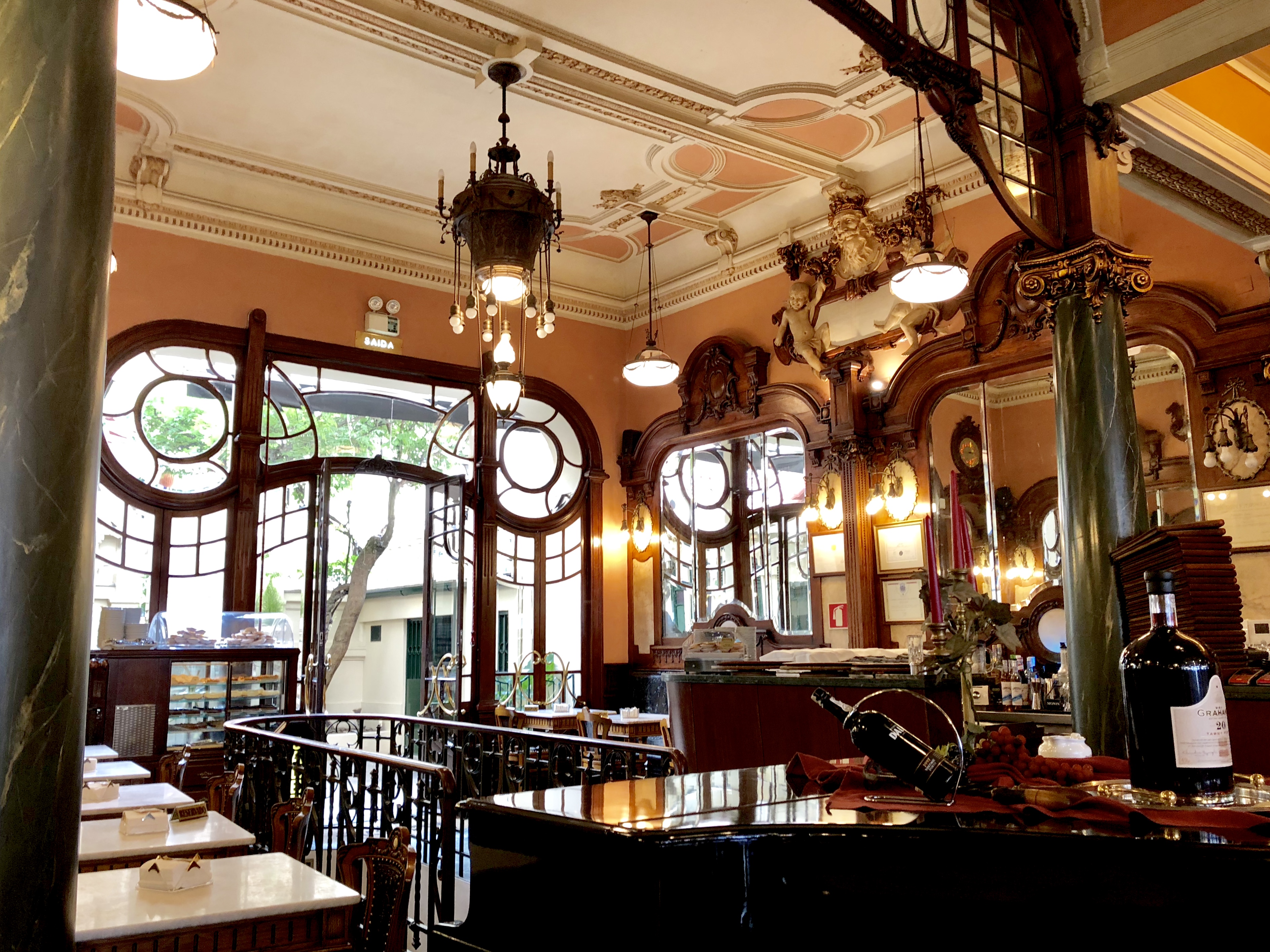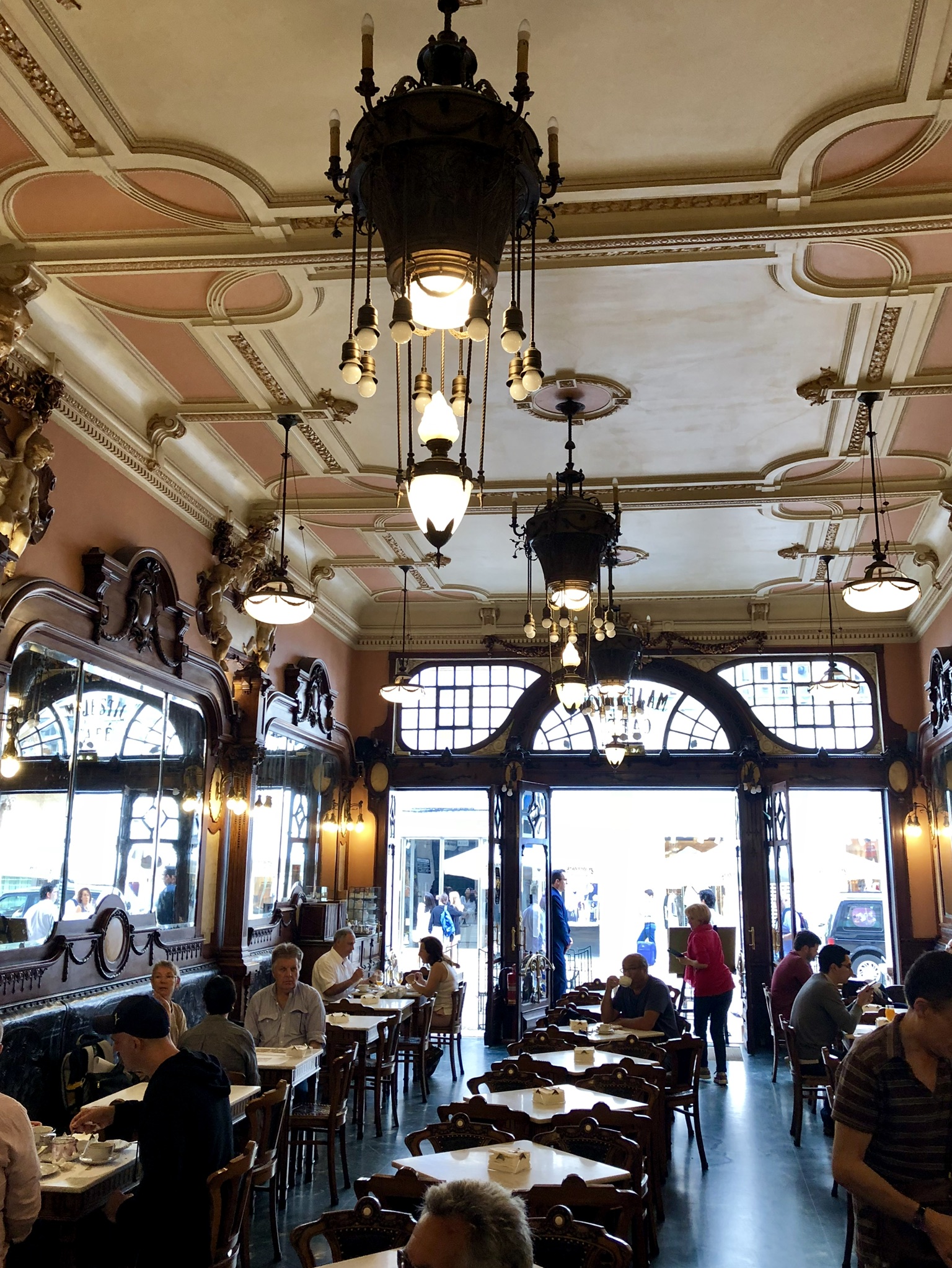 There're seats at the back up the steps at the courtyard, but somehow I don't think the ambience is quite the same!!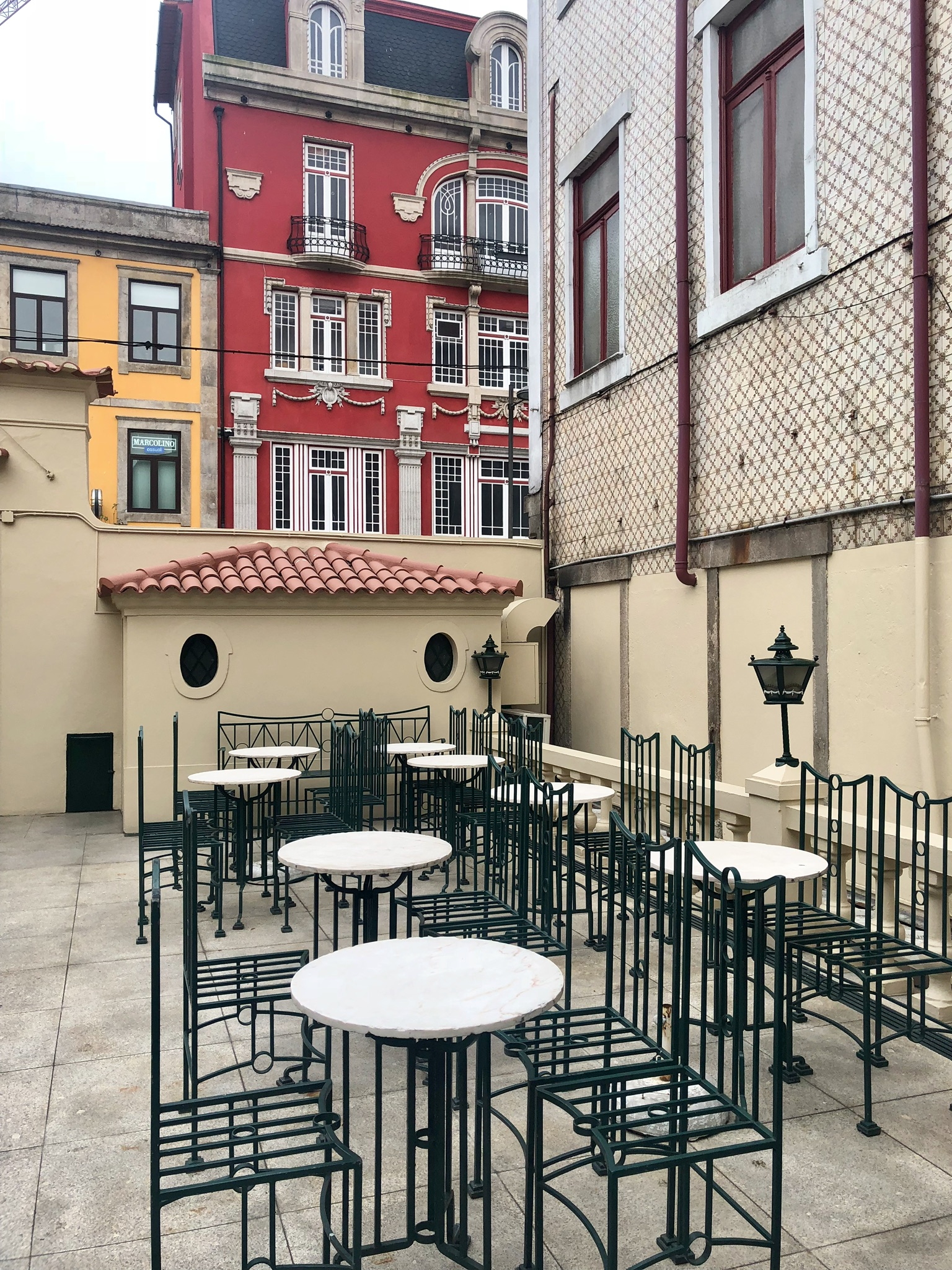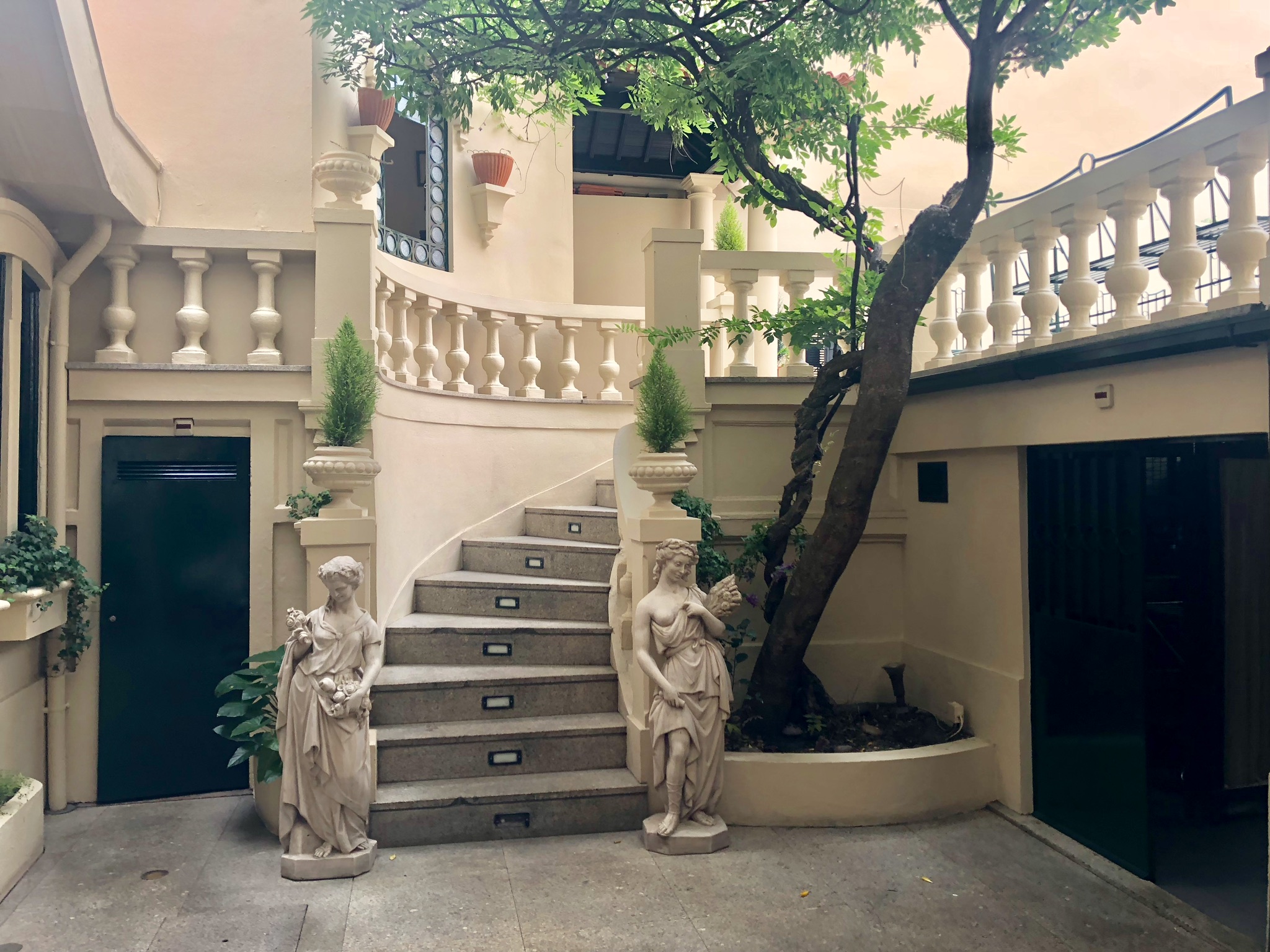 Palácio da Bolsa (Stock Exchange)
This was one of the must-sees in my itinerary so I bought the tickets online. However we still had to book a schedule for an English speaking tour which was 14.30 or 16.00. (There might be other time slots between 9.00 and 13.00, but we missed them)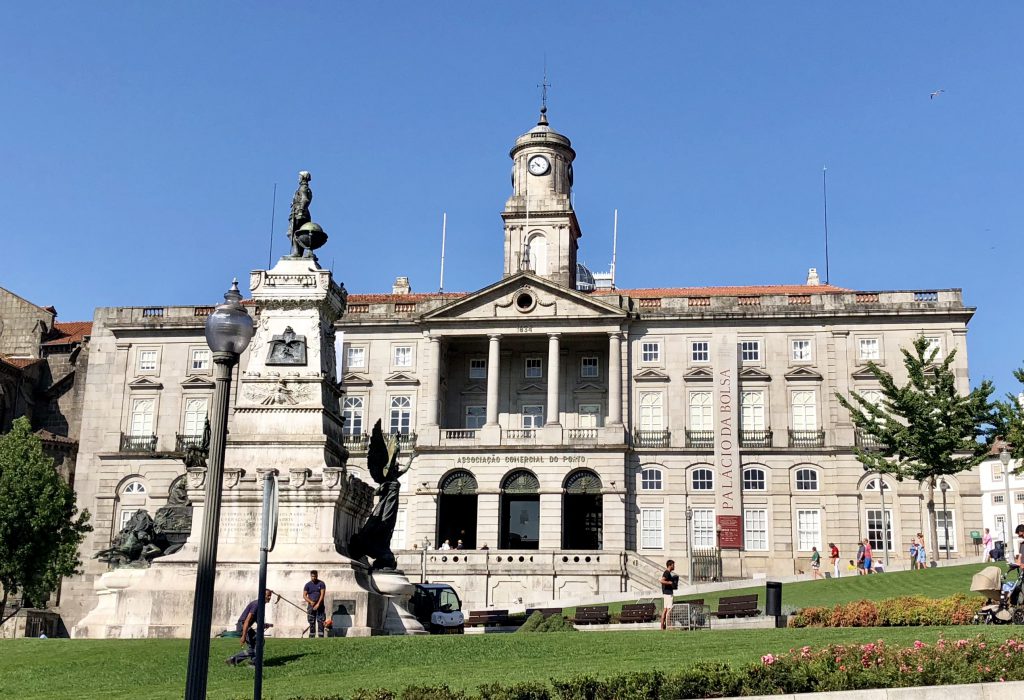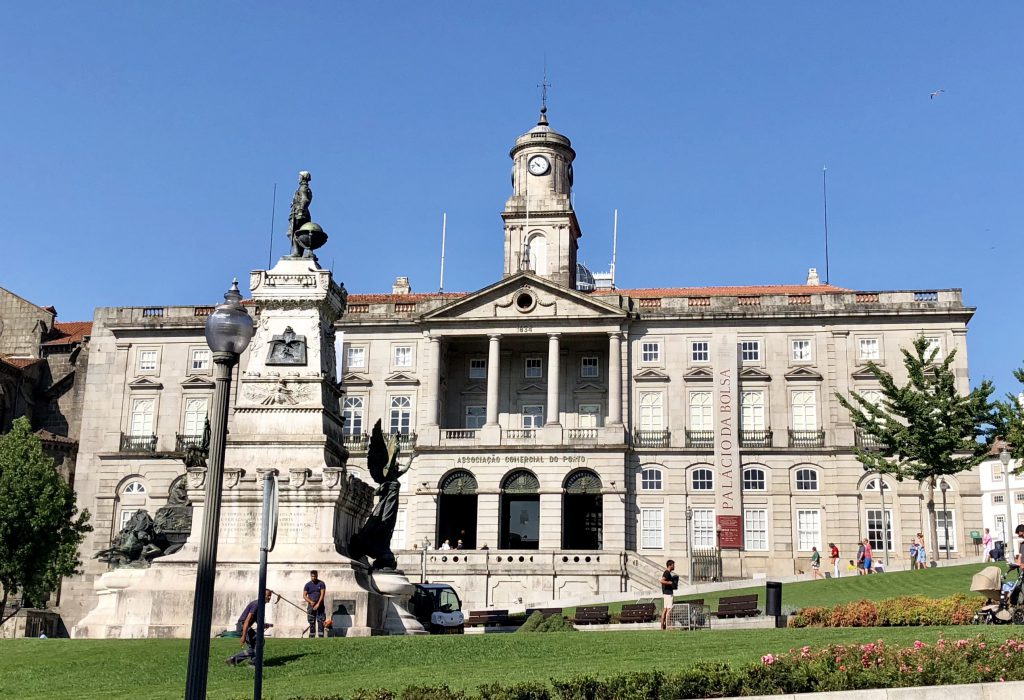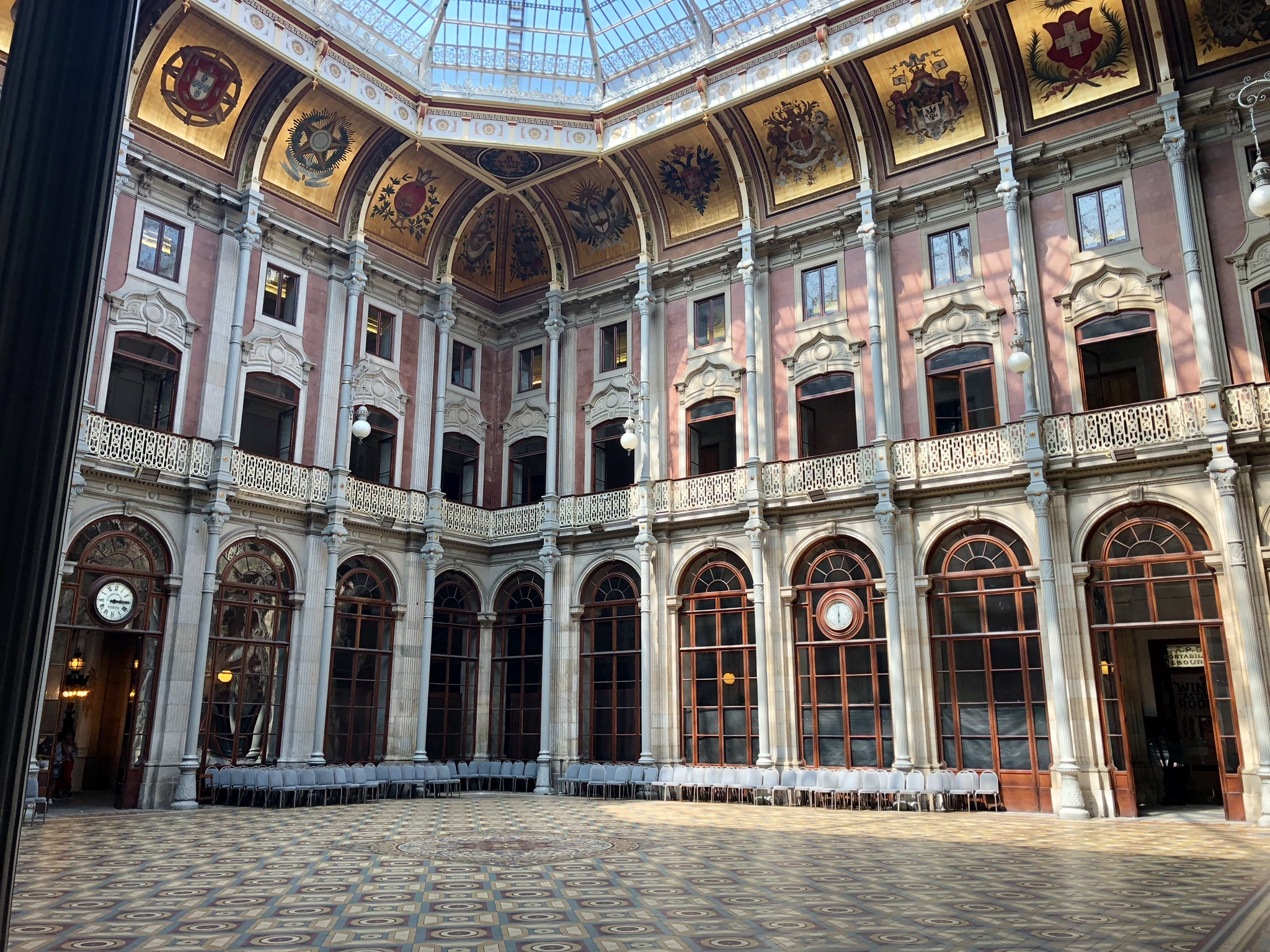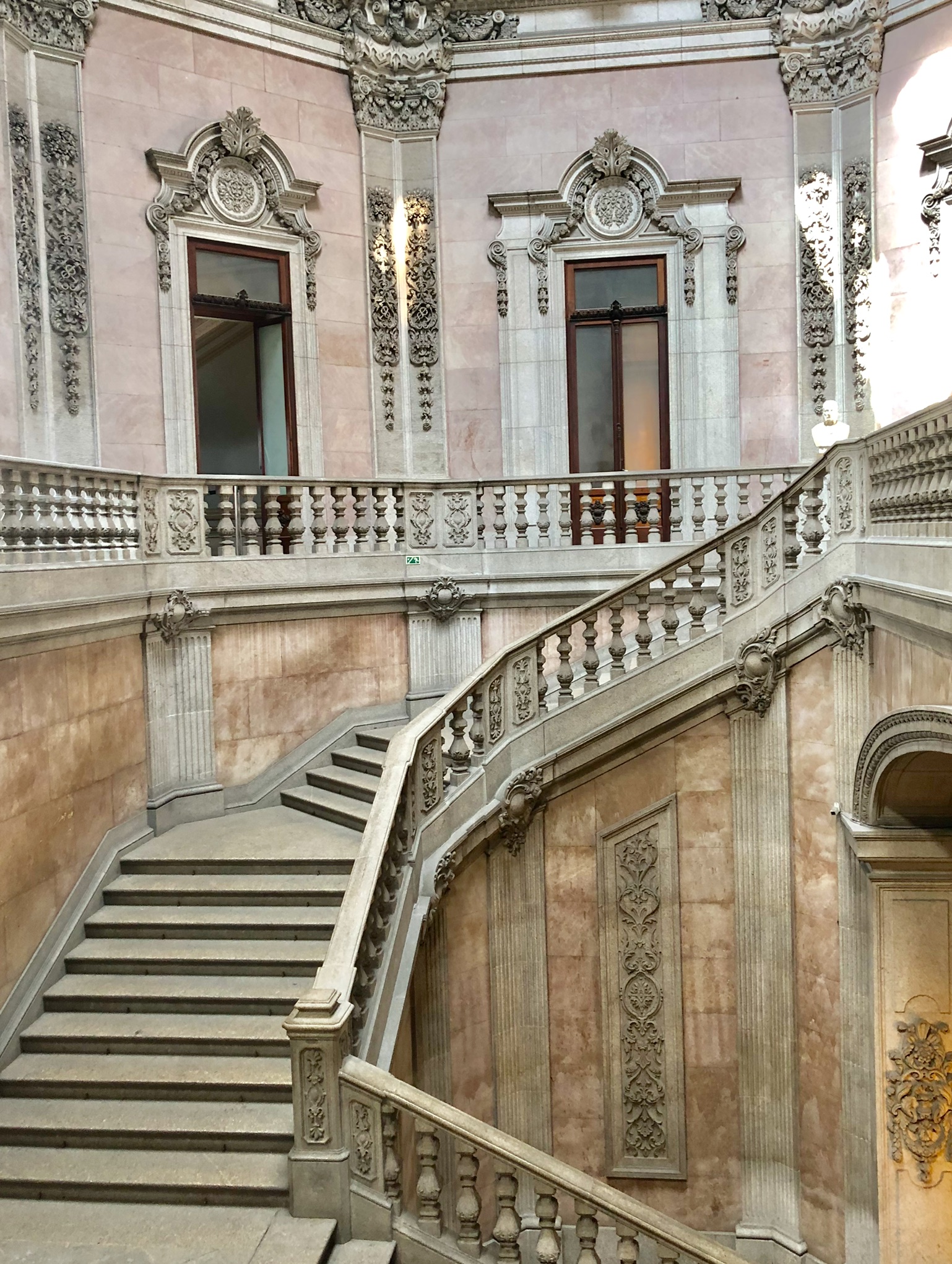 The interiors were amazing and the tour was very well conducted. The guide was great and interacted with us visitors with humour. She gave us just enough information to keep us interested without bombarding us with too many facts and figures. 
For instance we were amazed to be informed that the wood panelling in the rooms was in fact plaster painted to look like wood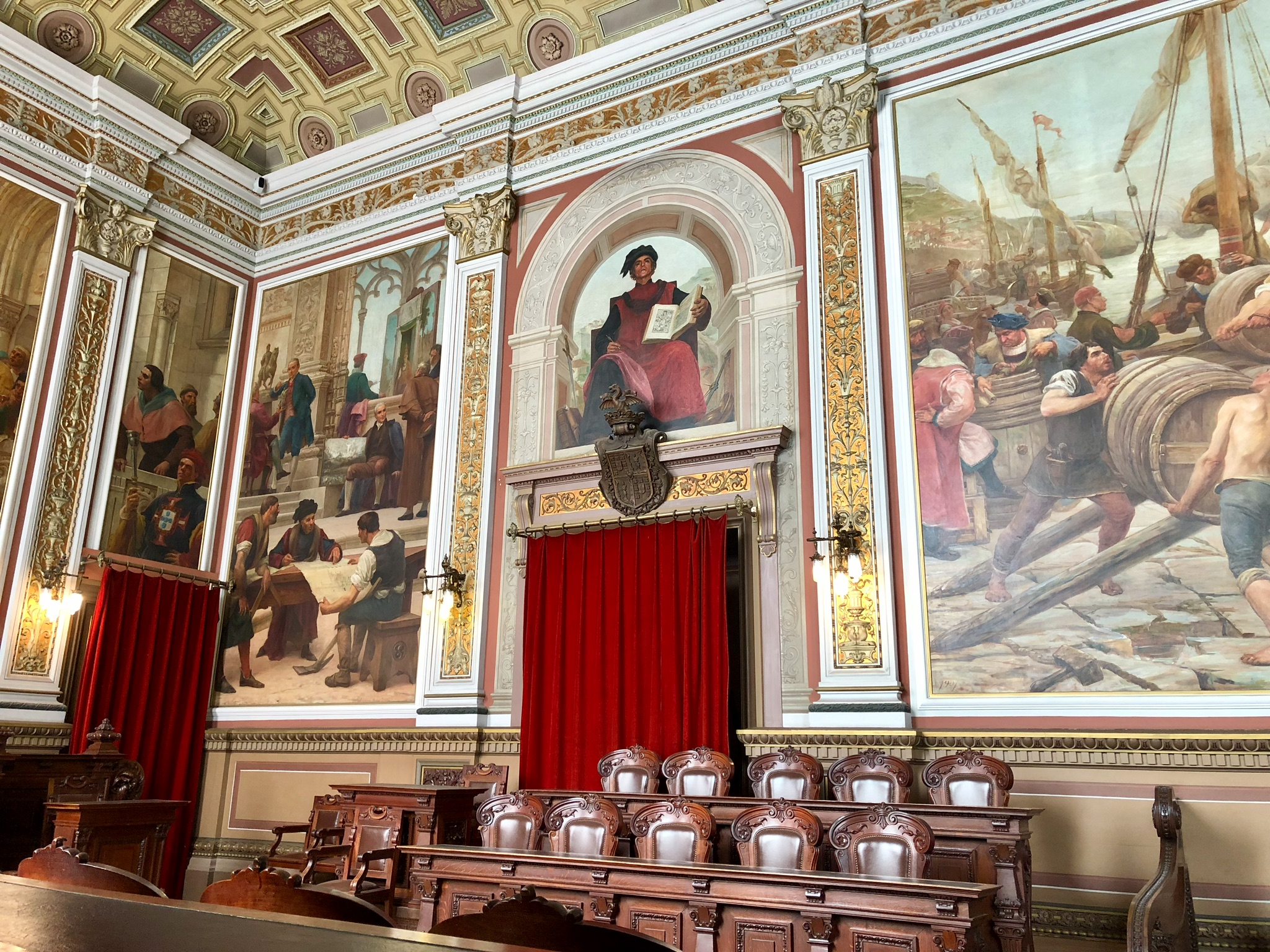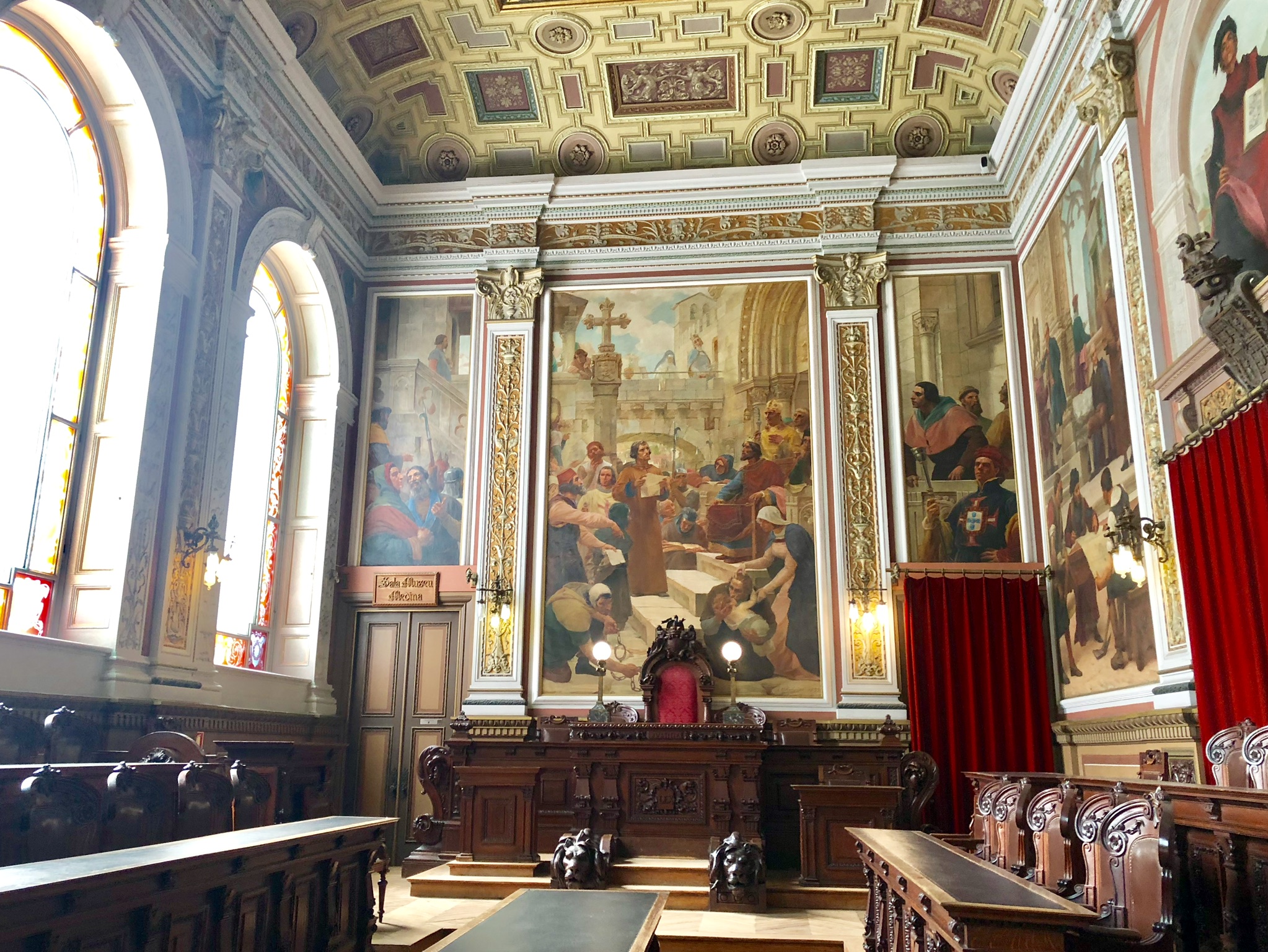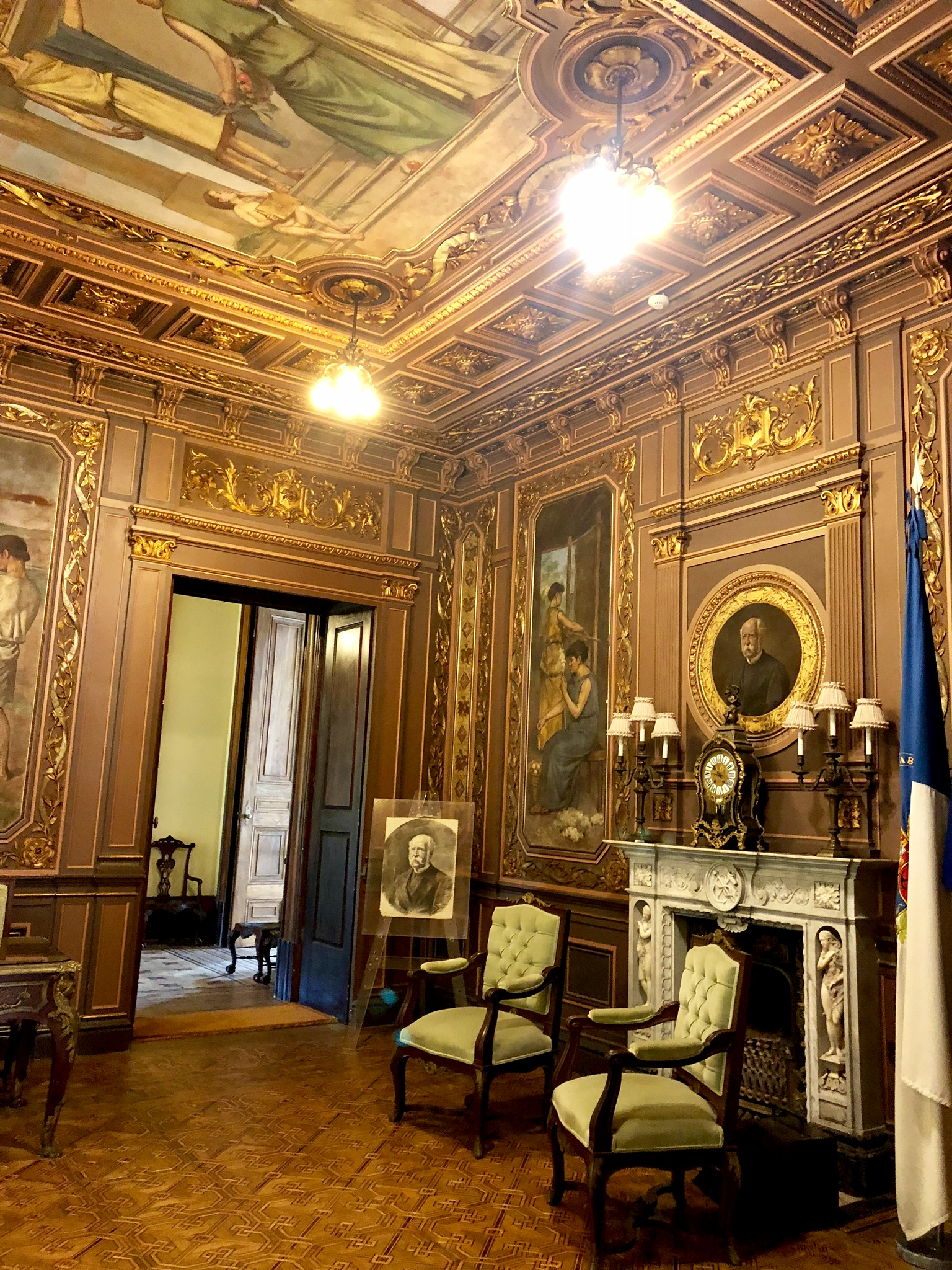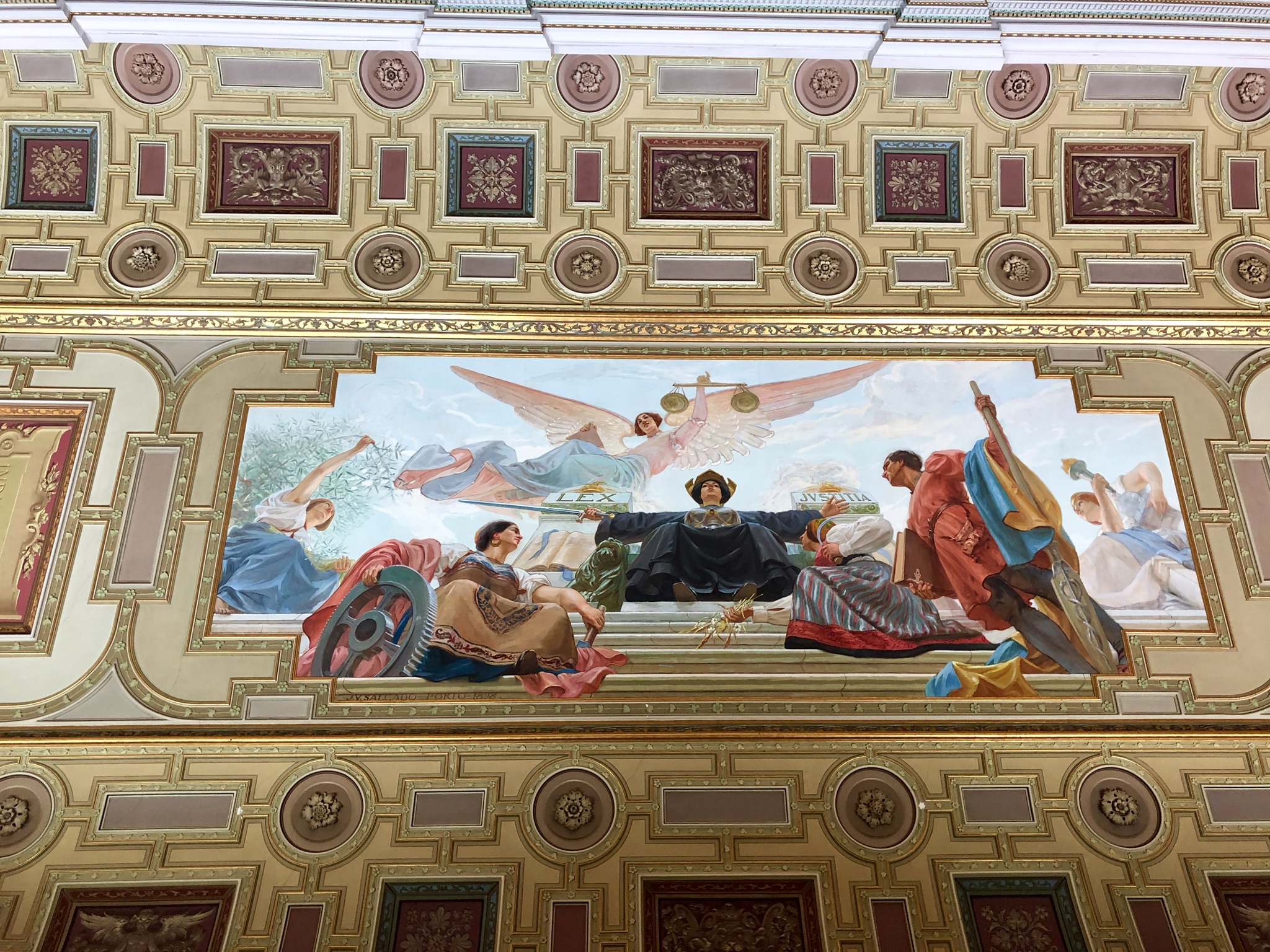 The most opulent room of them all!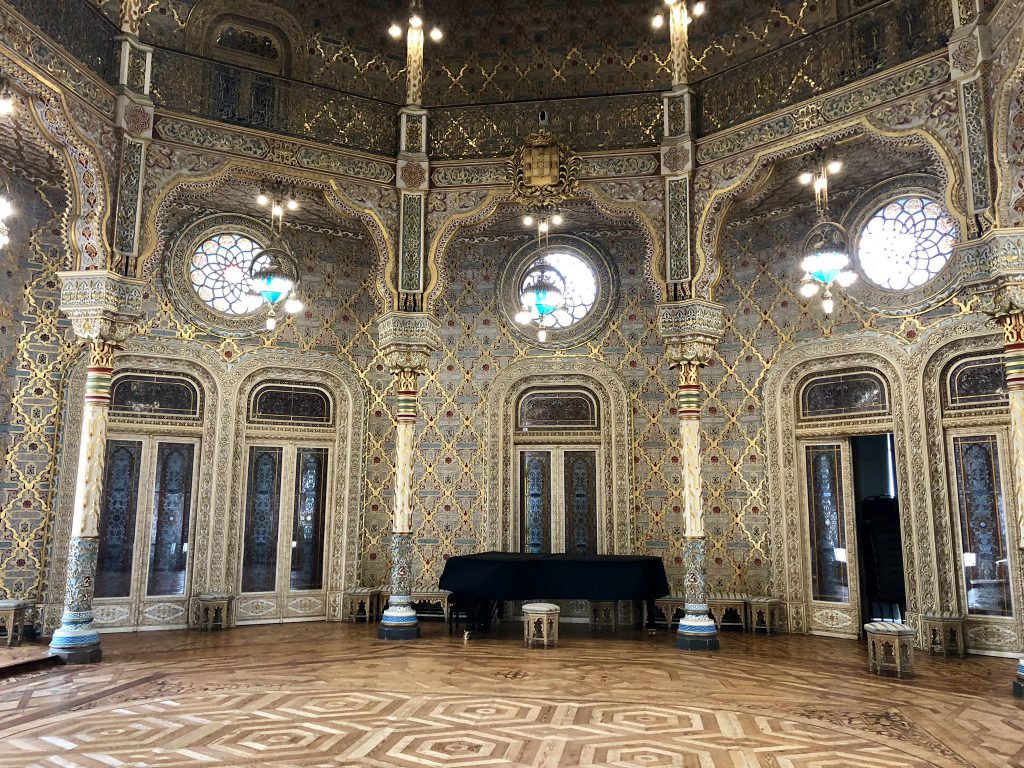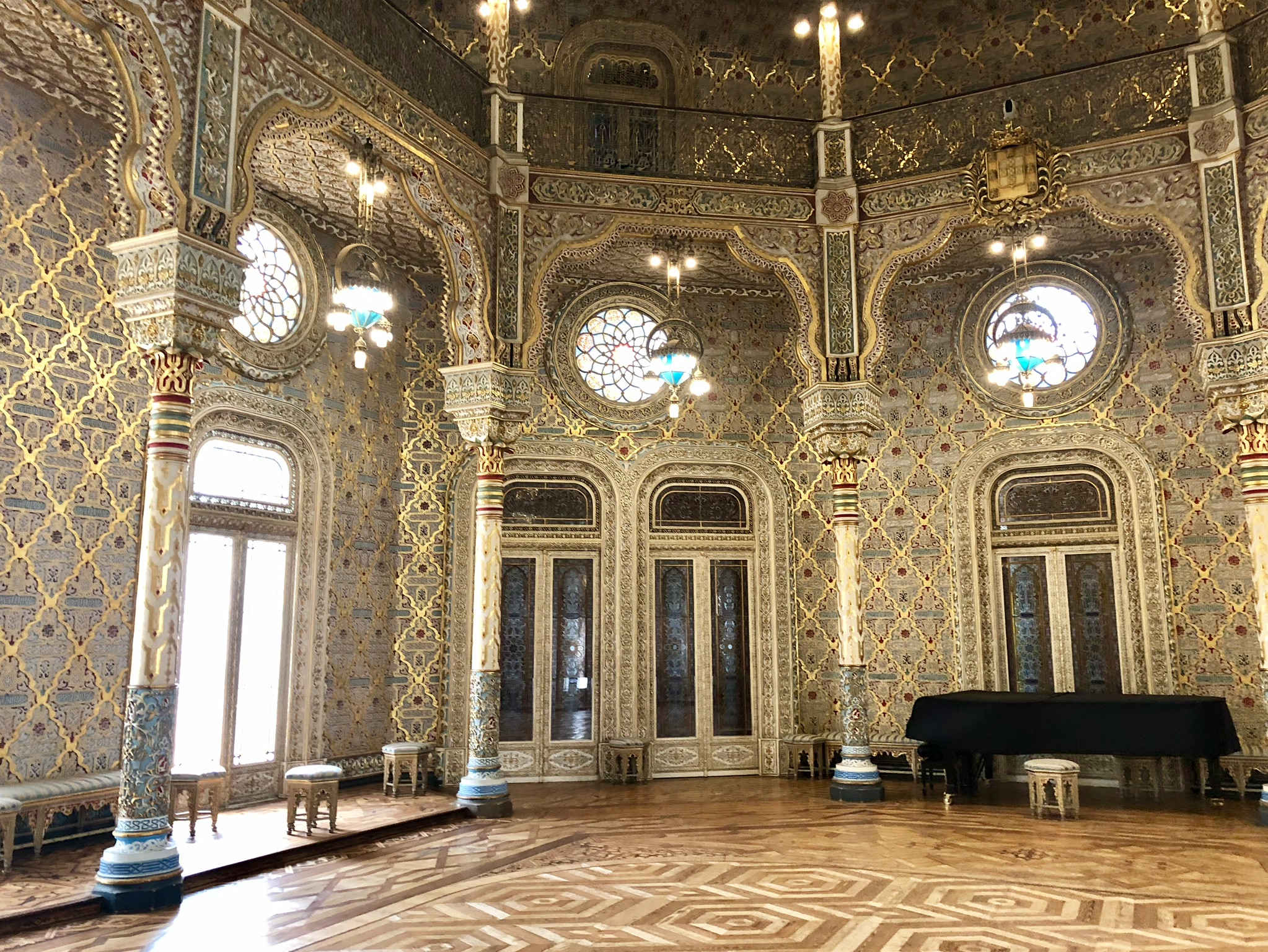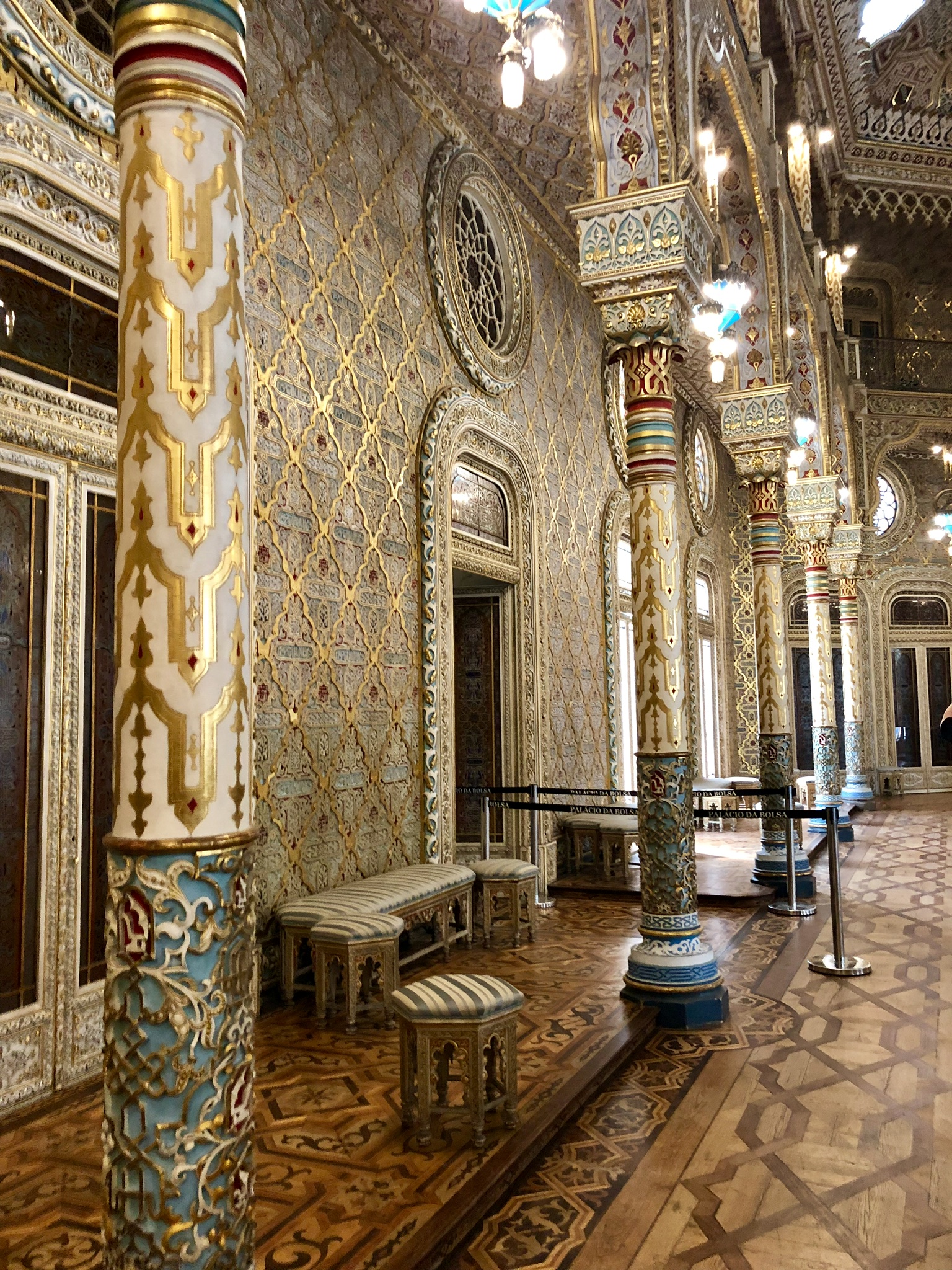 Livraria Lello
It is reputed to one of the ten most famous bookstores in the world. Apart from the rather exquisite interiors, the association with JK Rowling who apparently frequented it when she was teaching English in Porto no doubt enhances its fame.
With the fame come the crowds, and how they come! All day long!! Despite the charge of €5 for entrance (though redeemable against the purchase of books) and having the tickets, it's still necessary to queue. At 10.15 the queue was stretching a long way.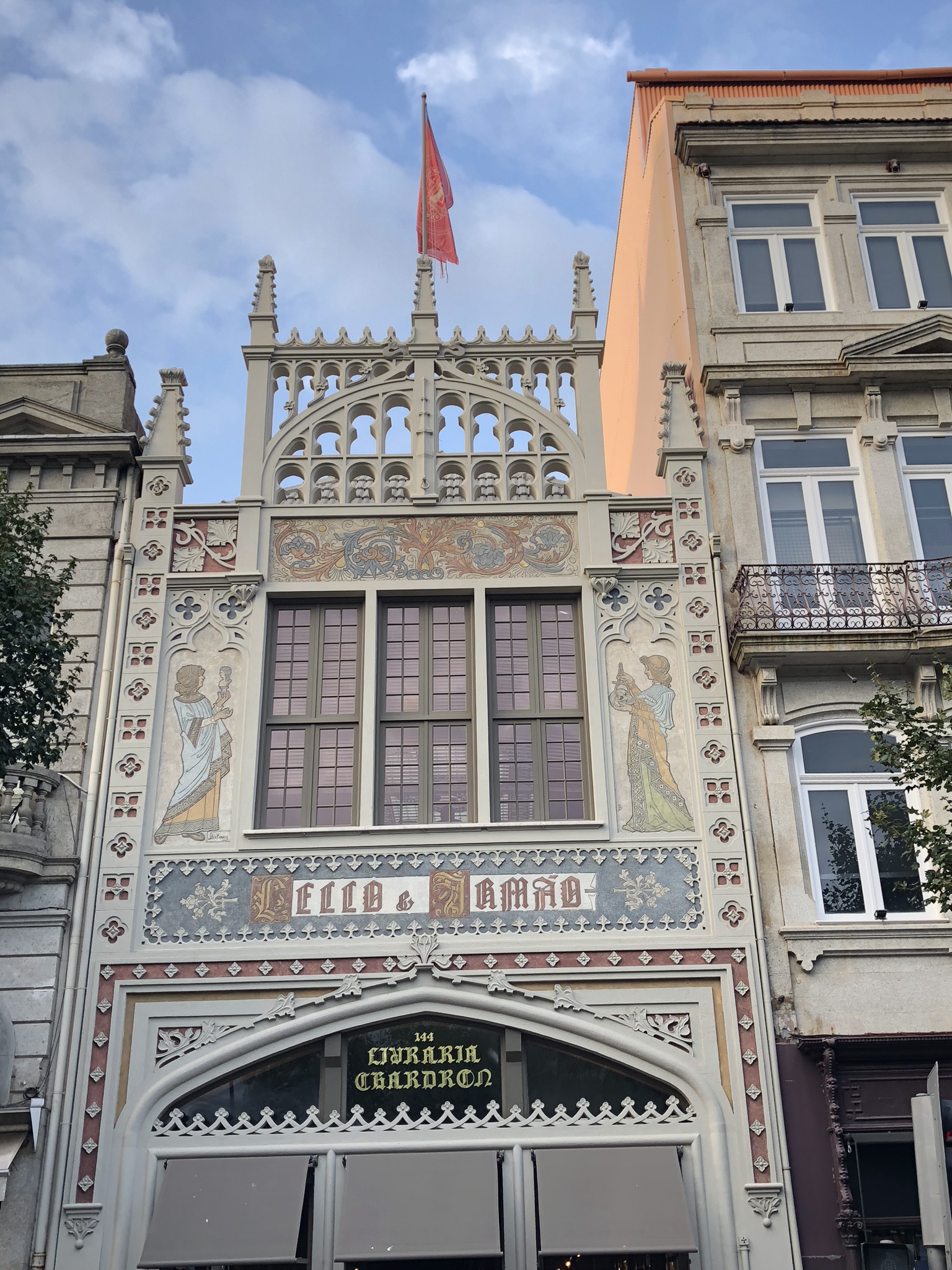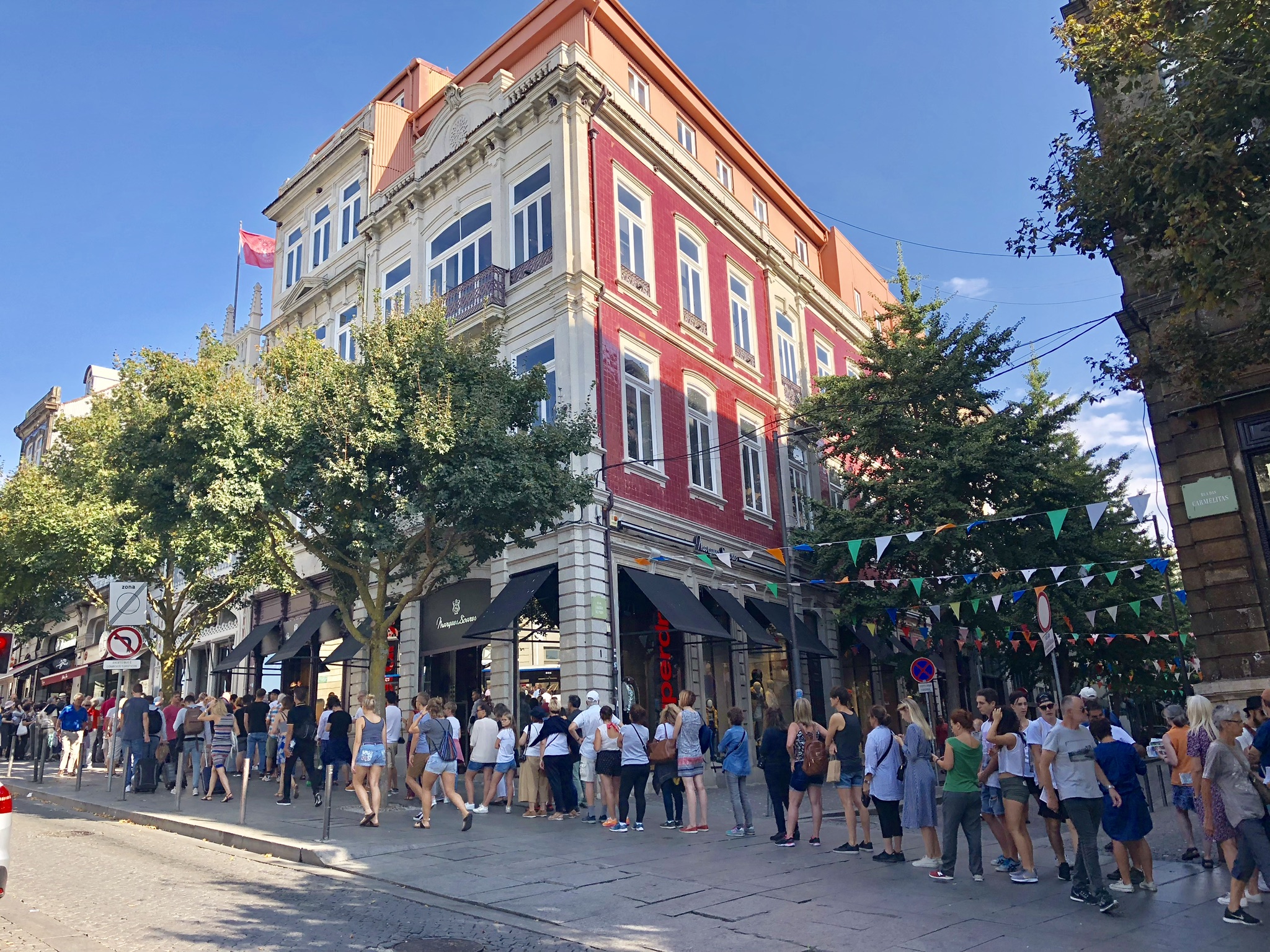 Knowing that the tickets are not for sale at the bookstore itself but some place else, I tried to buy mine online, paying an extra €0.50 for each ticket, but it was not that easy!
On checkout I was asked my VAT number 😳 and I could not proceed without it. I tried their website but it was no help, so I tweeted to their Twitter account and was told to use the number 999999990. Success at last!
When we arrived at around 18.30 there were only a couple of people in the queue, though it was still very crowded inside with people taking and posing for pictures of these views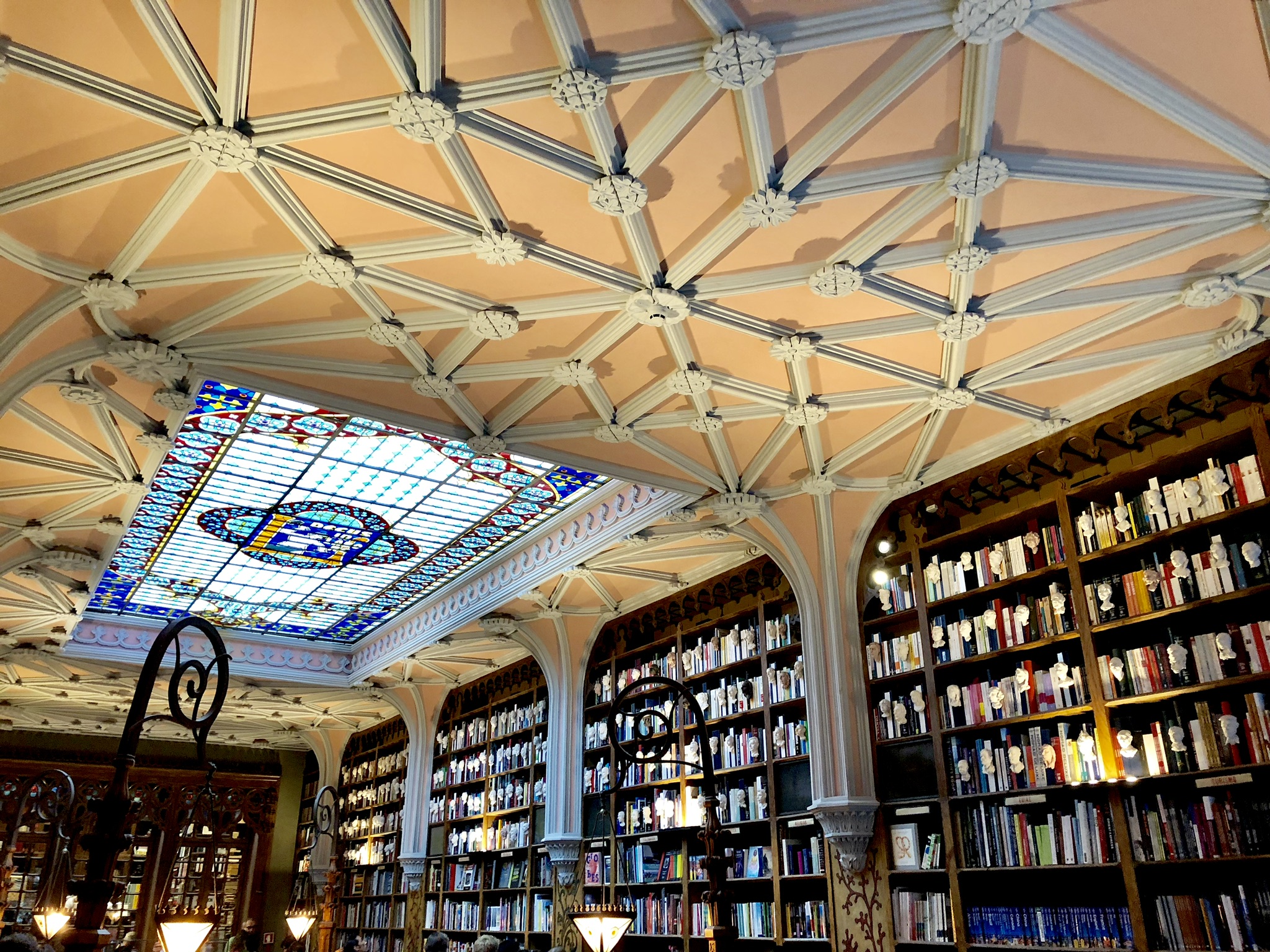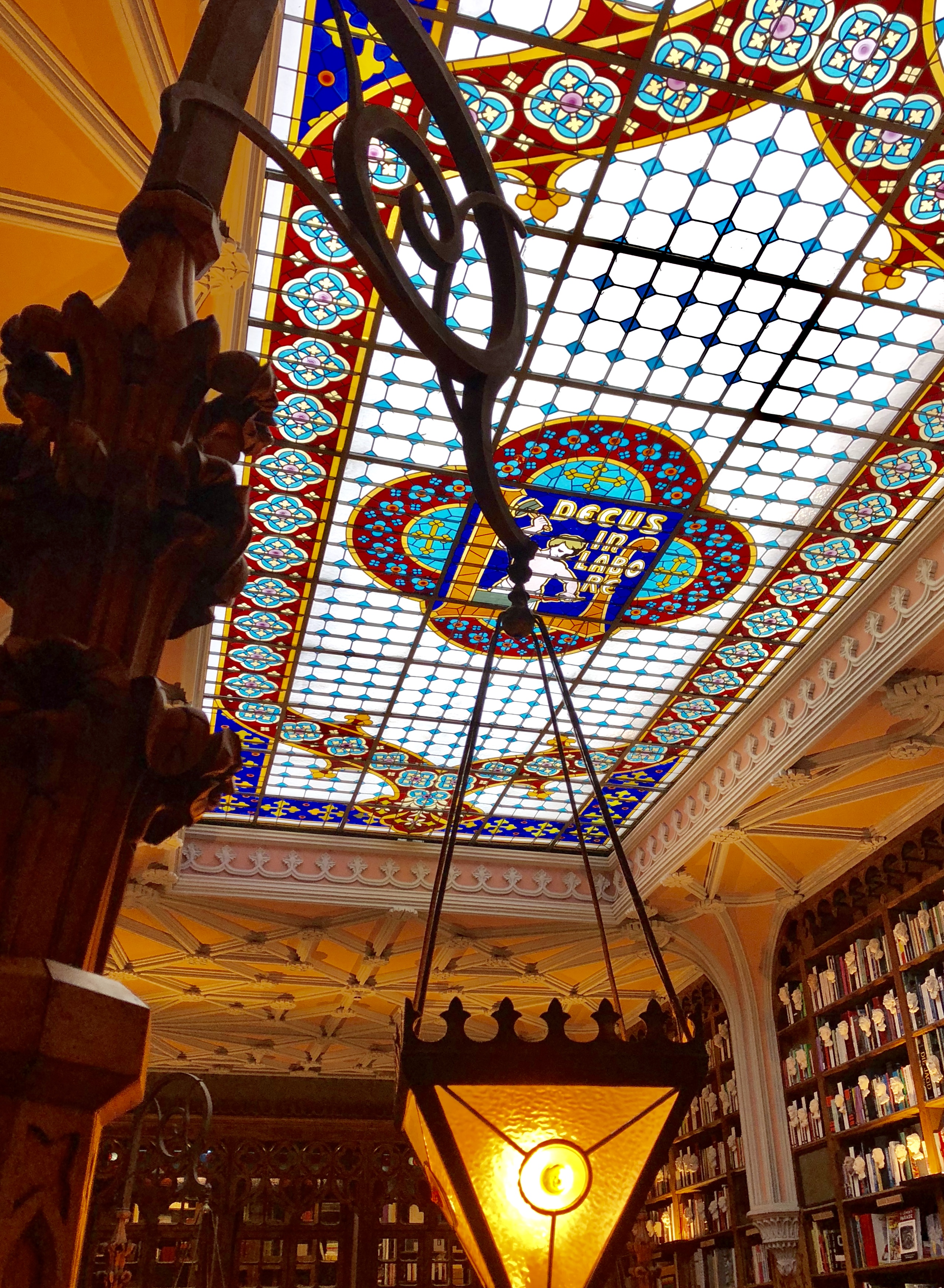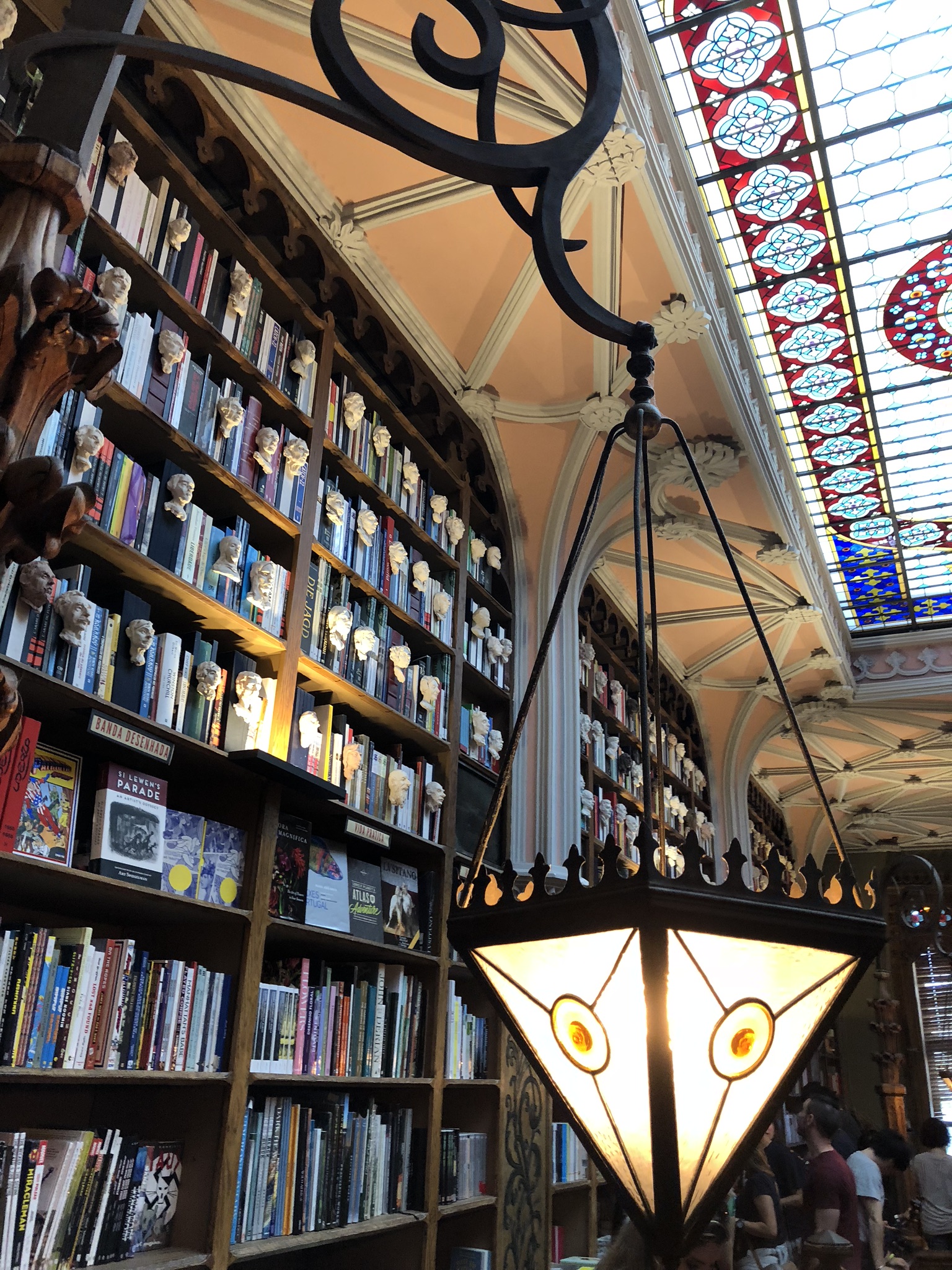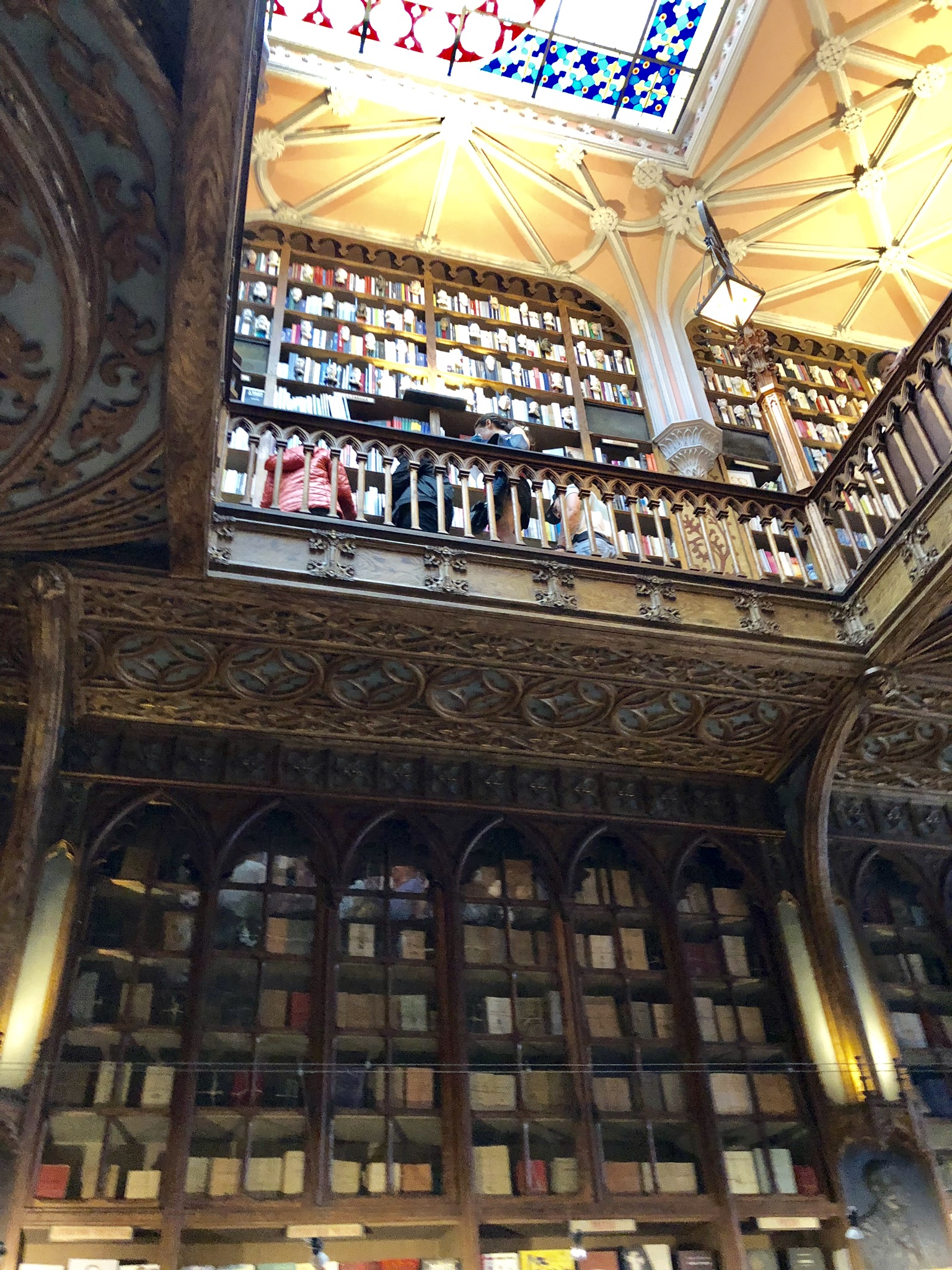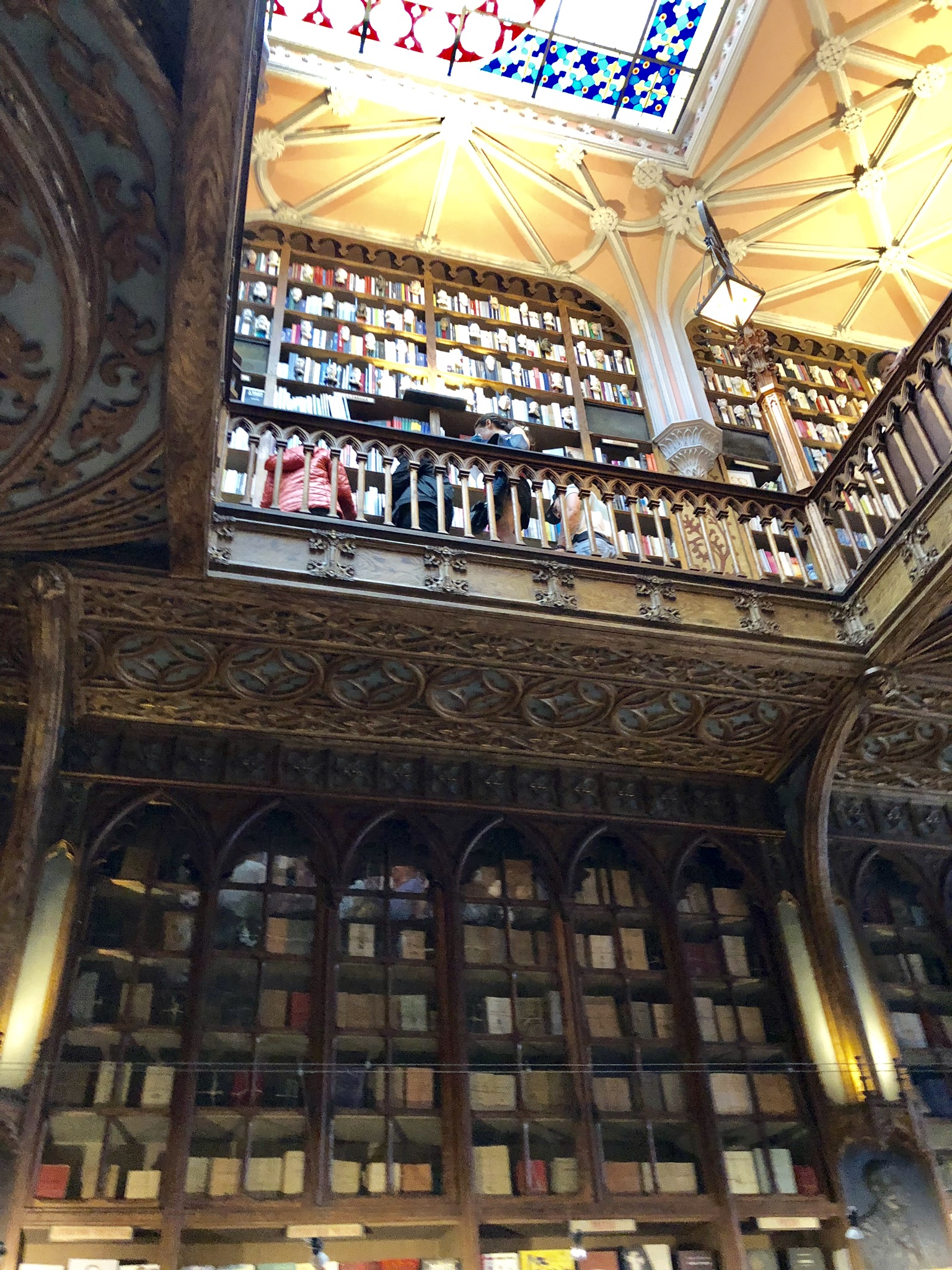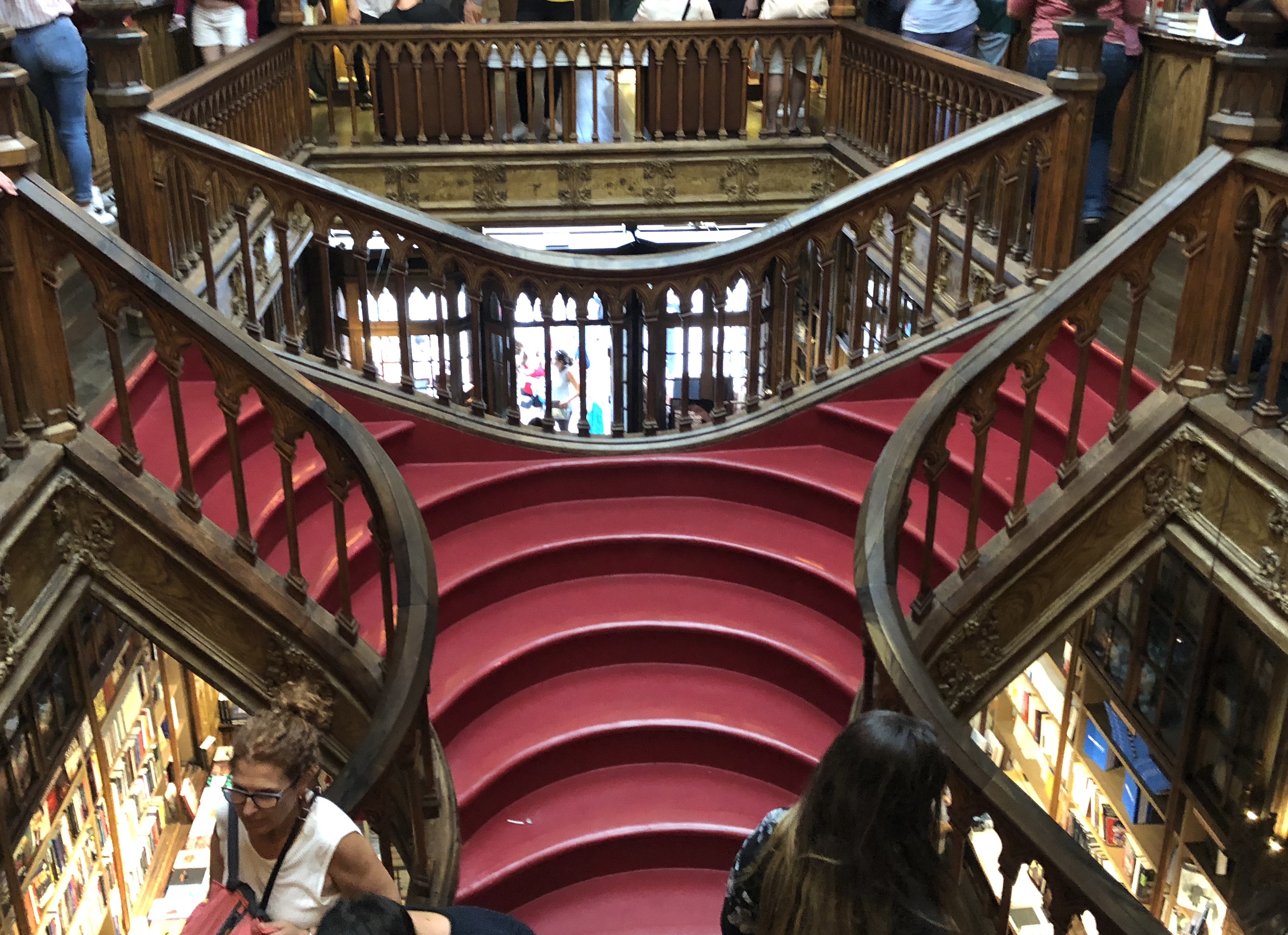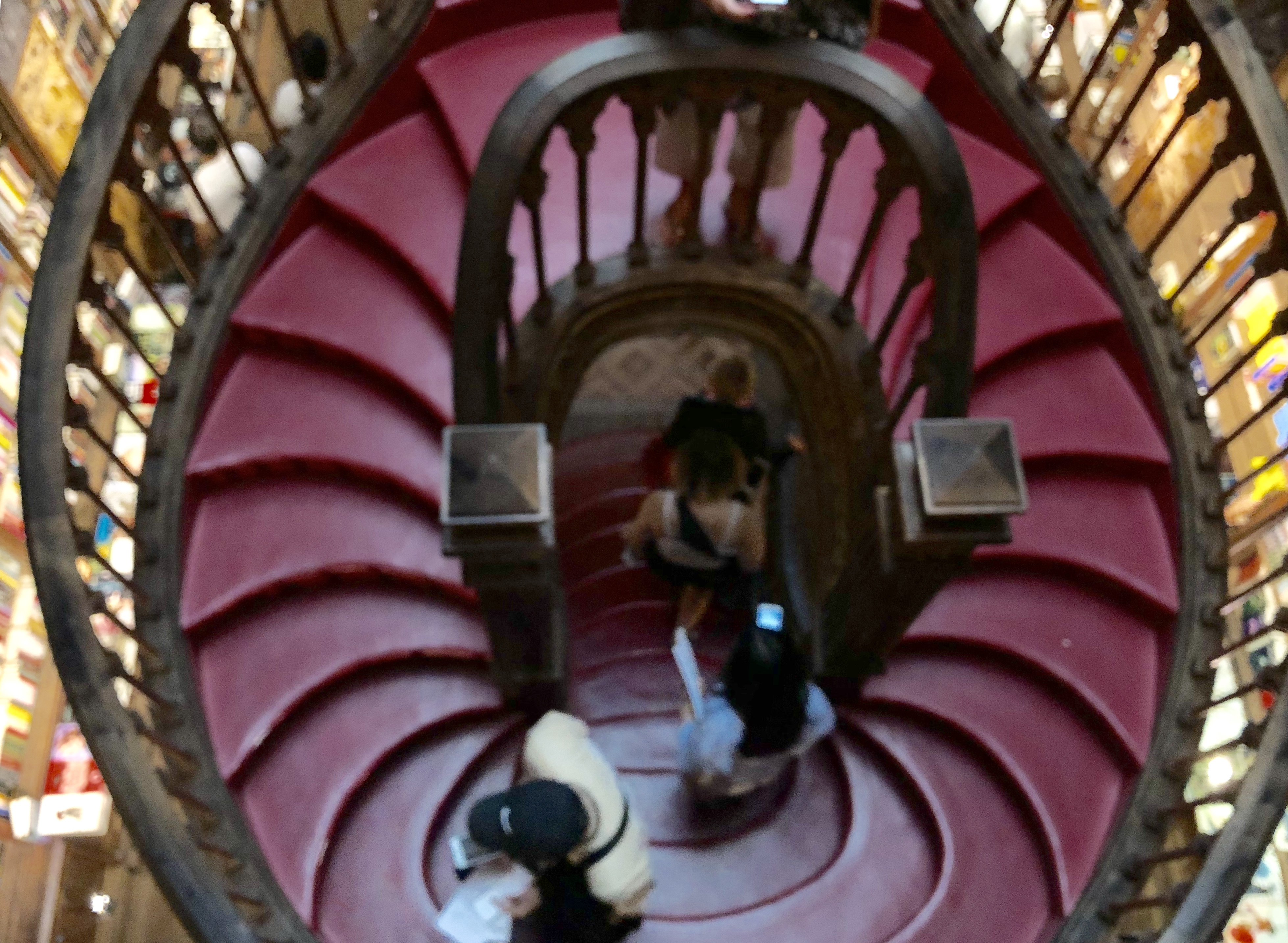 According to our guide at Palácio da Bolsa earlier in the day the carvings on the stairs were not on wood but plaster! They were still remarkable, though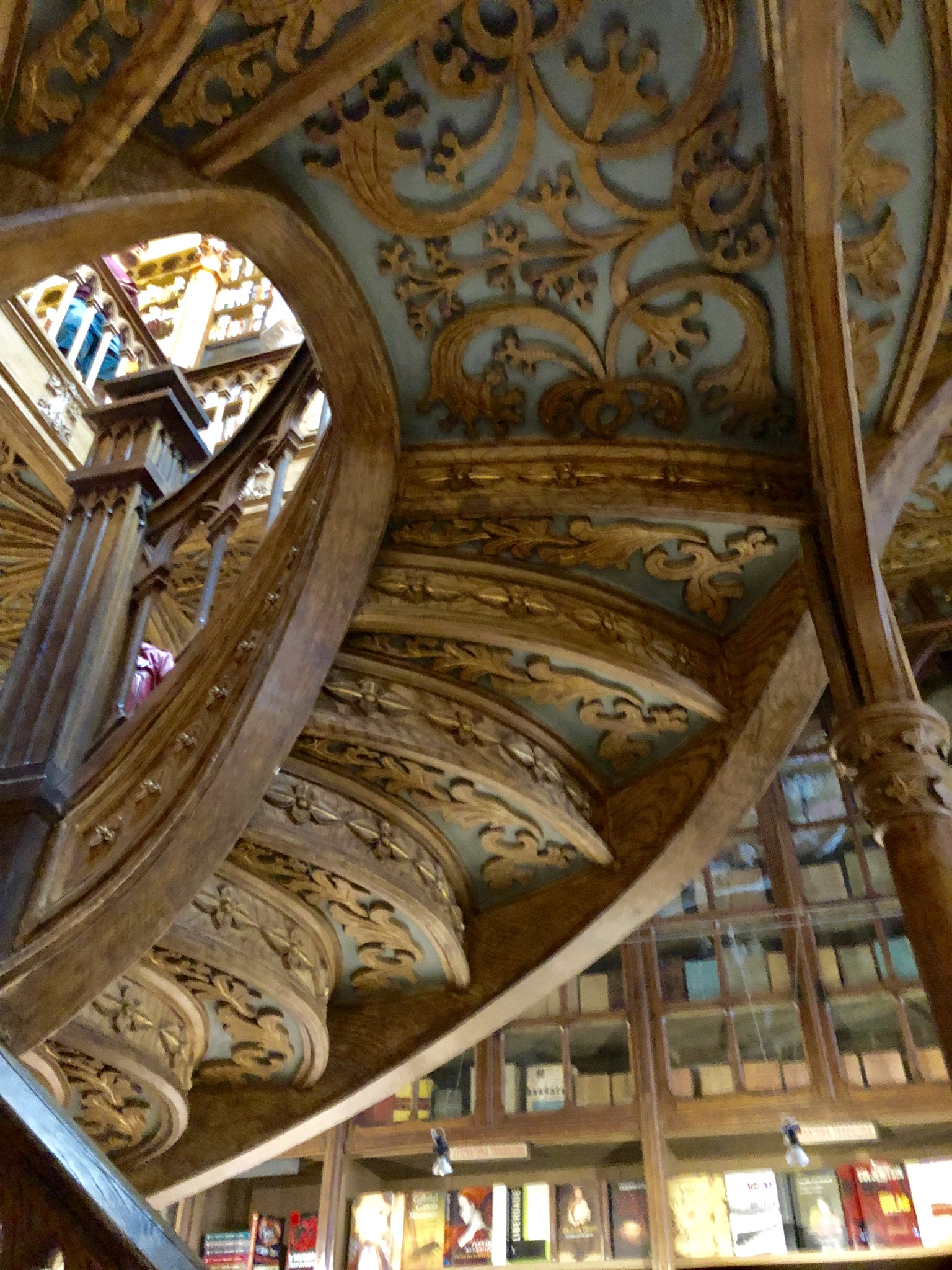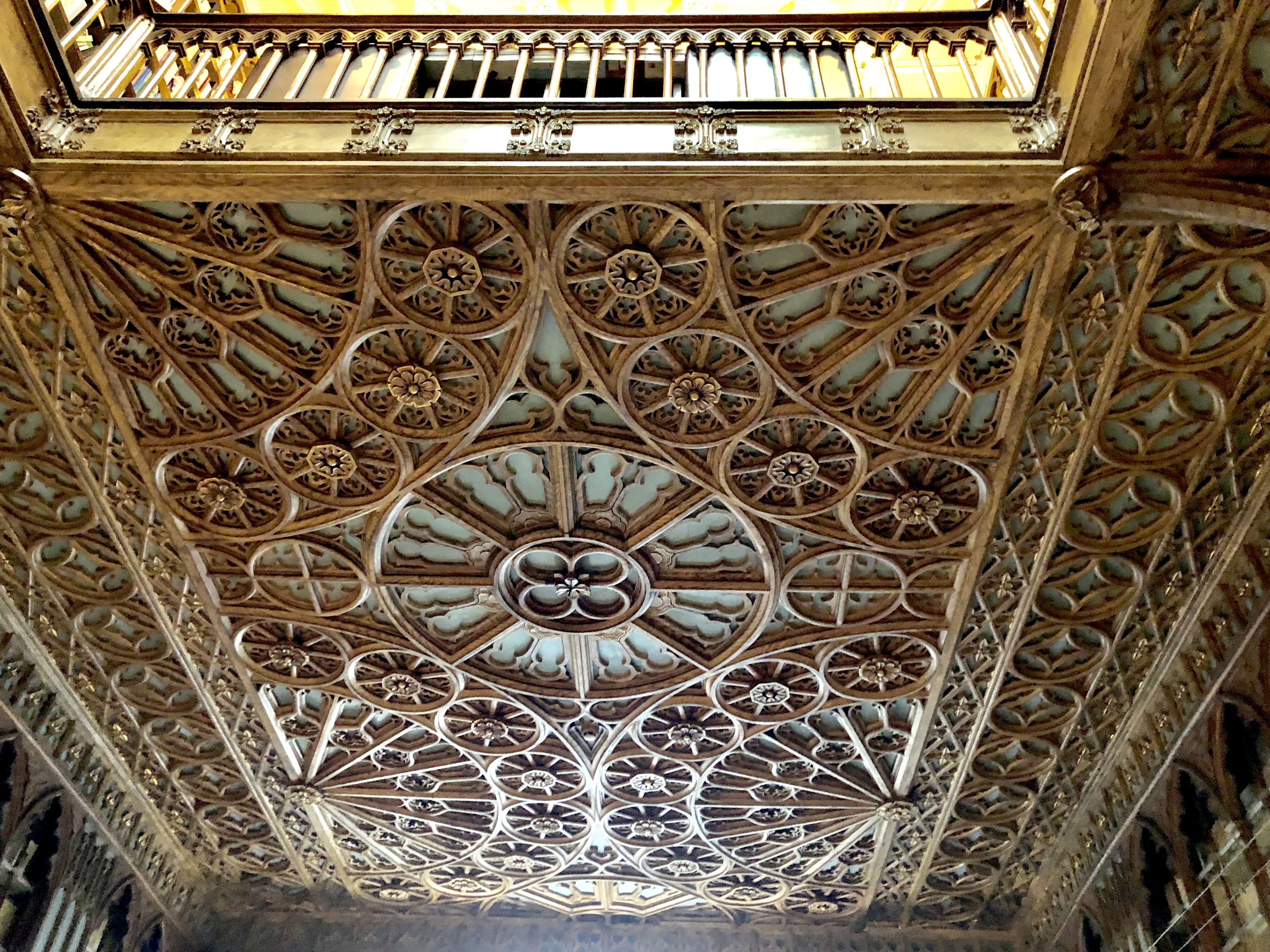 São Bentos Railway Station
The exterior of this railway station looks its best in twilight, but the interiors are magnificent any time of the day! The predominately blue tiled wall paintings are works of art and so Portuguese!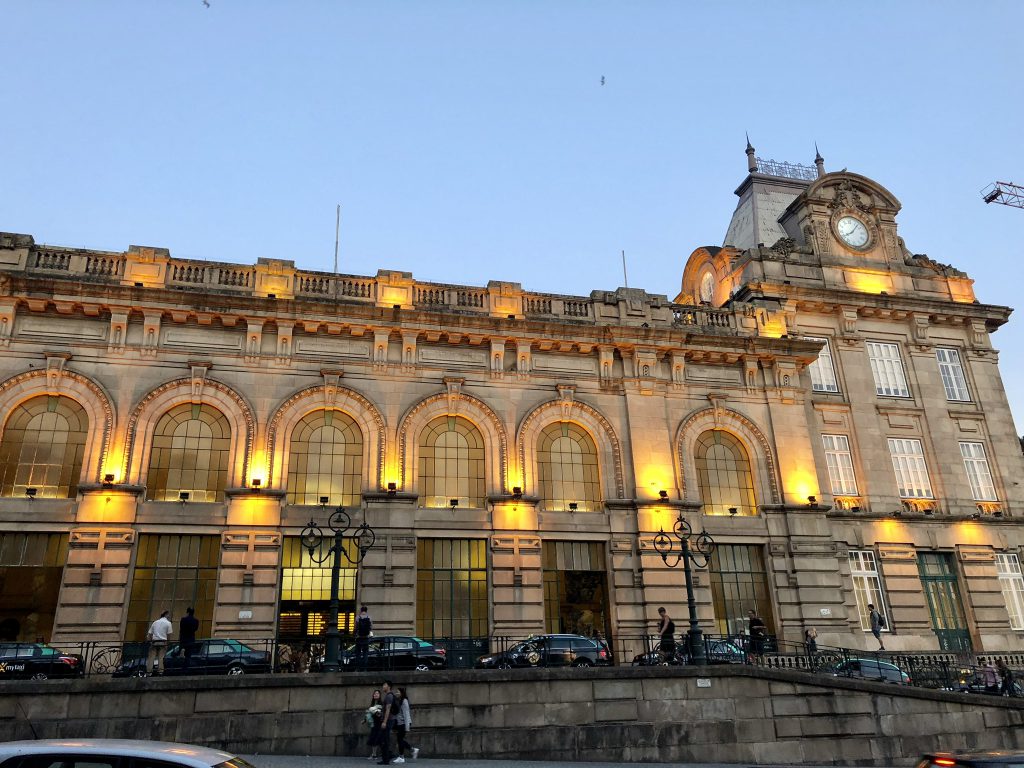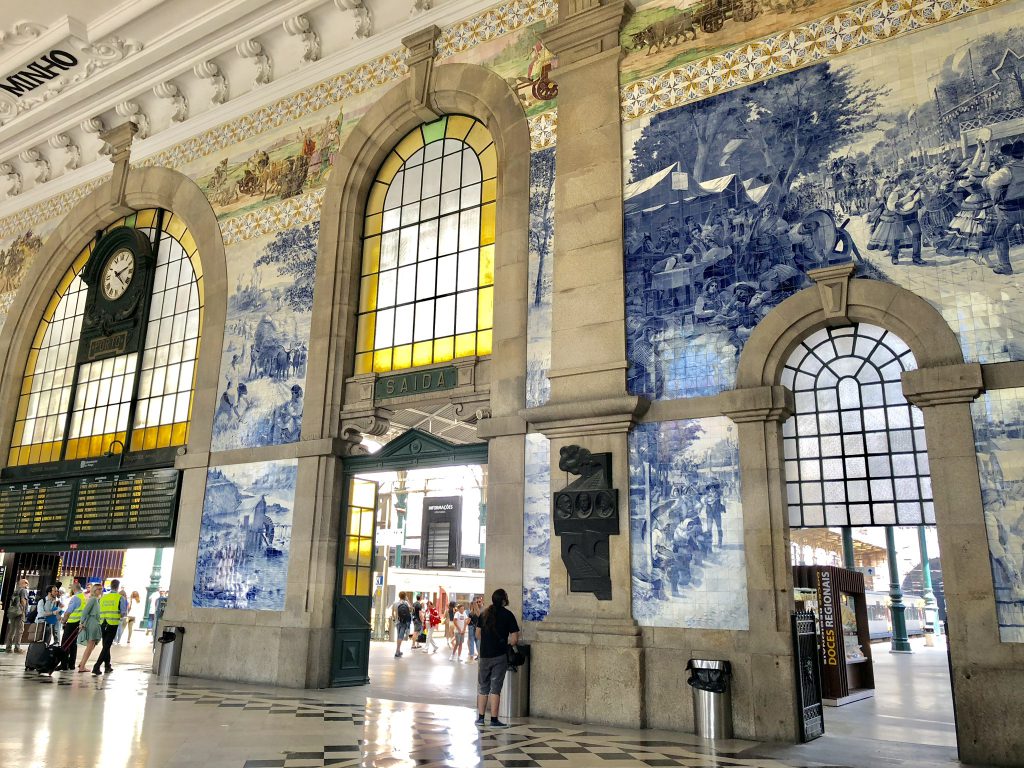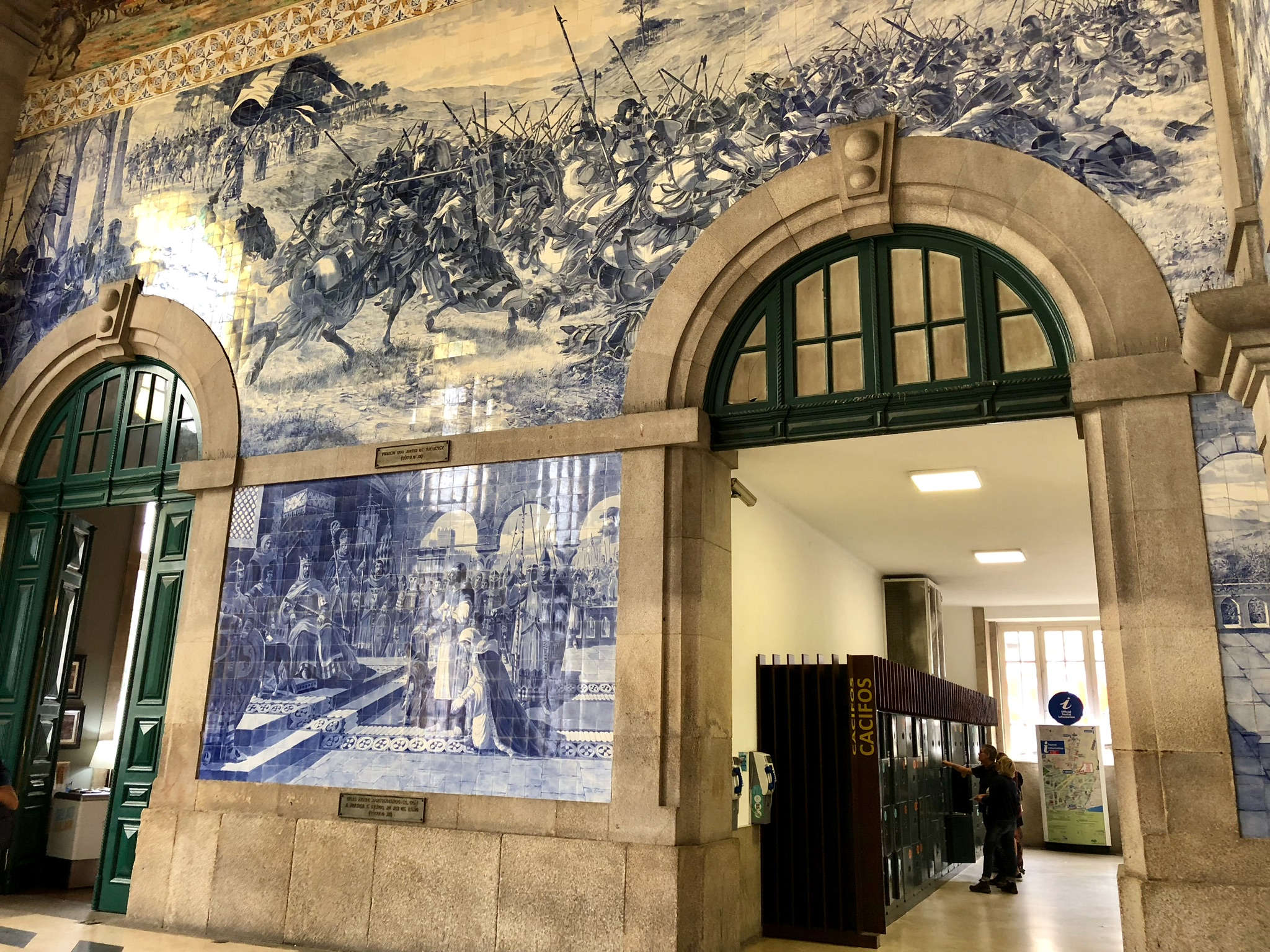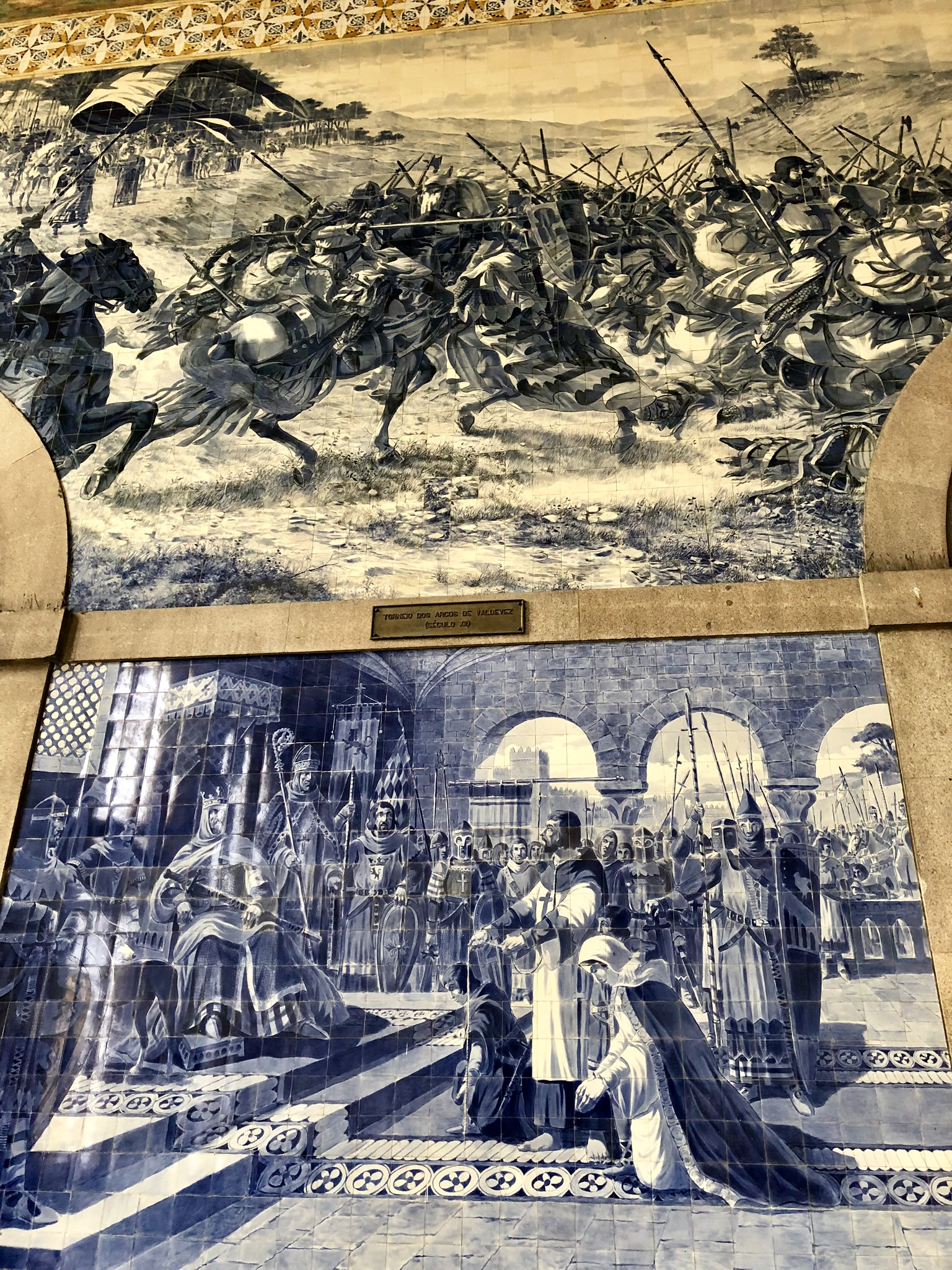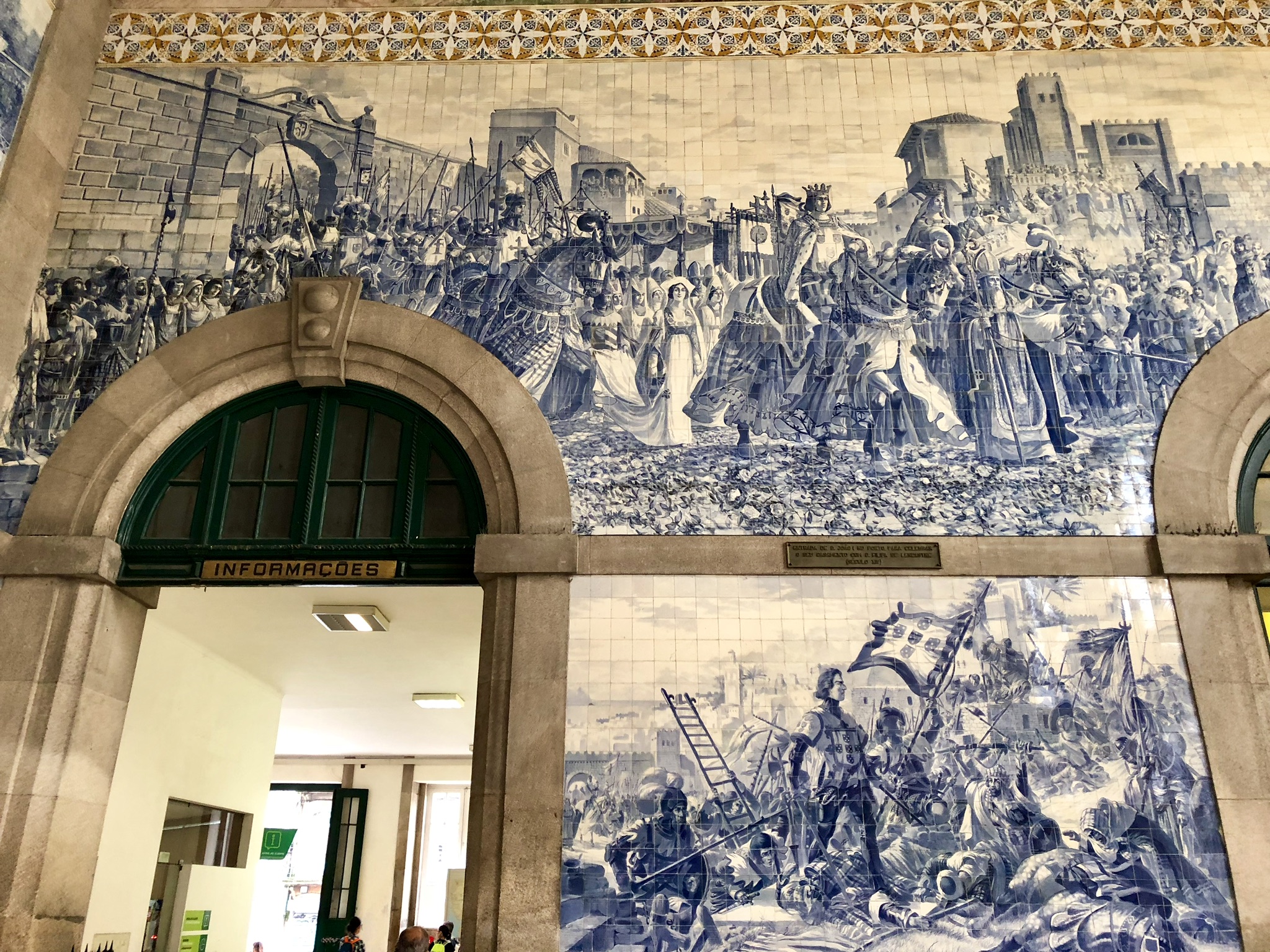 Igreja e Torre dos Clérigos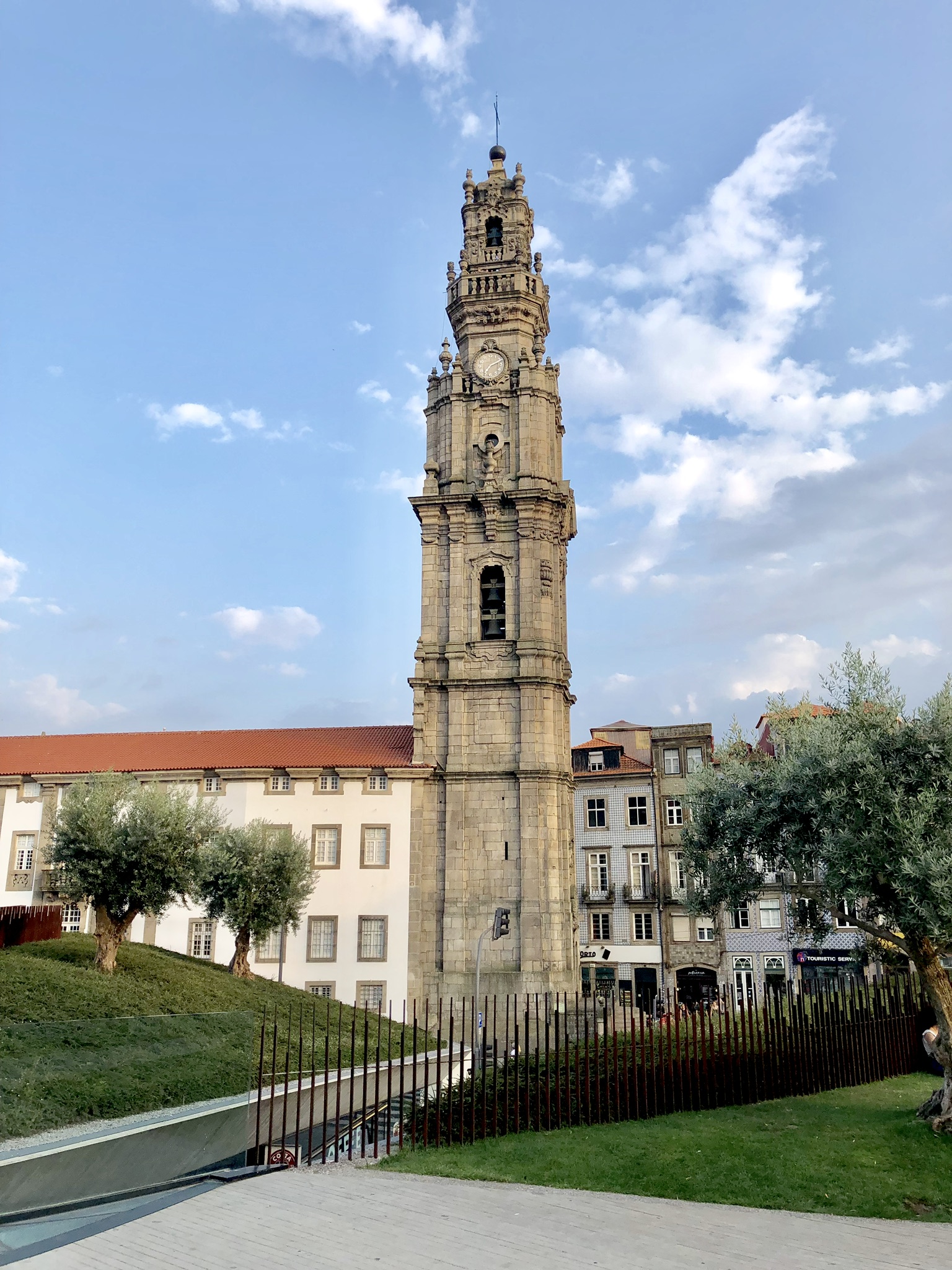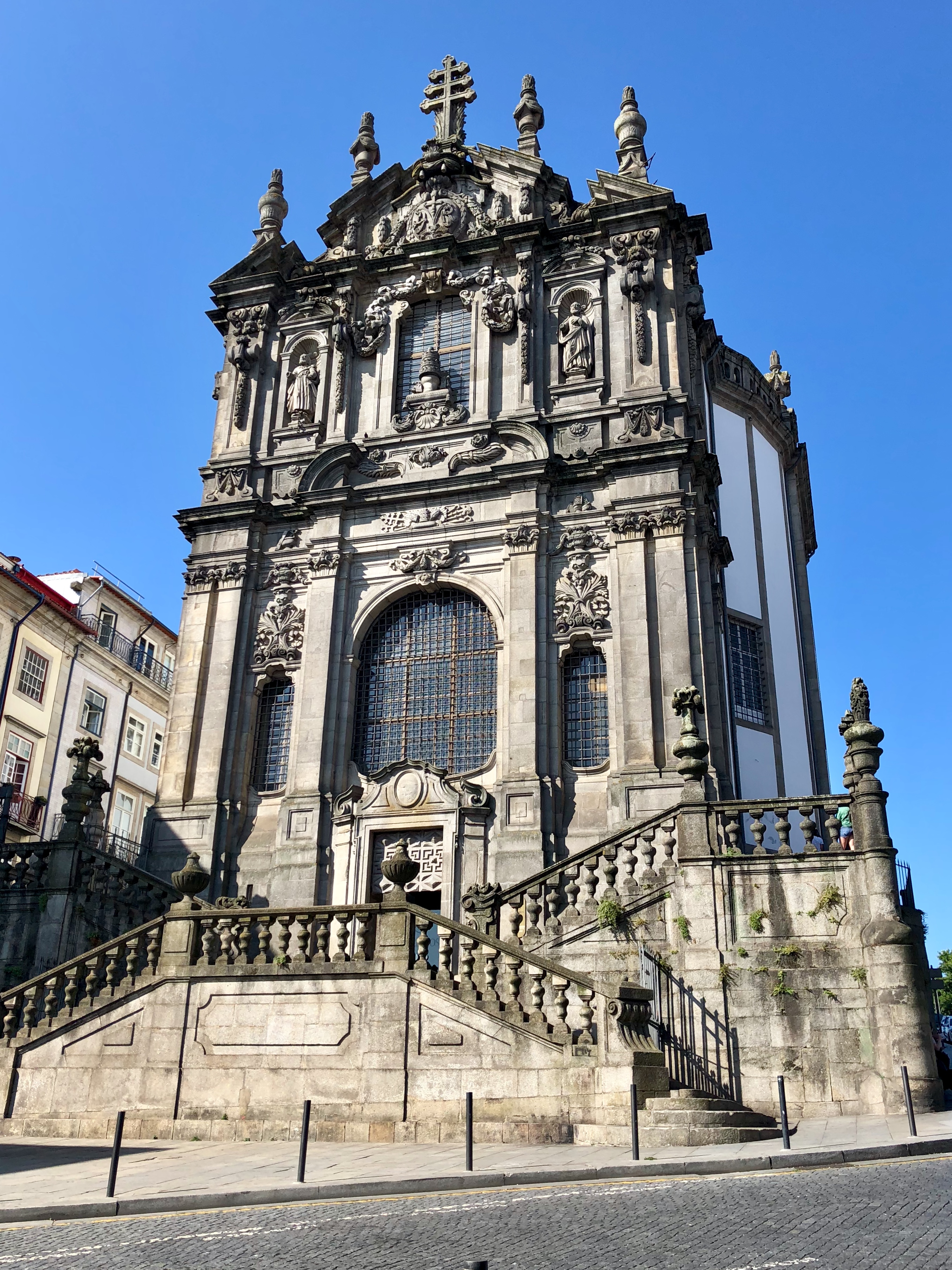 Torre dos Clérigos with 220 steps was perfect for keeping up with my tradition of climbing a tower at a new place for the views from the top. The views did not disappoint me. However, shortly after it opened at 9.00 it was already crowded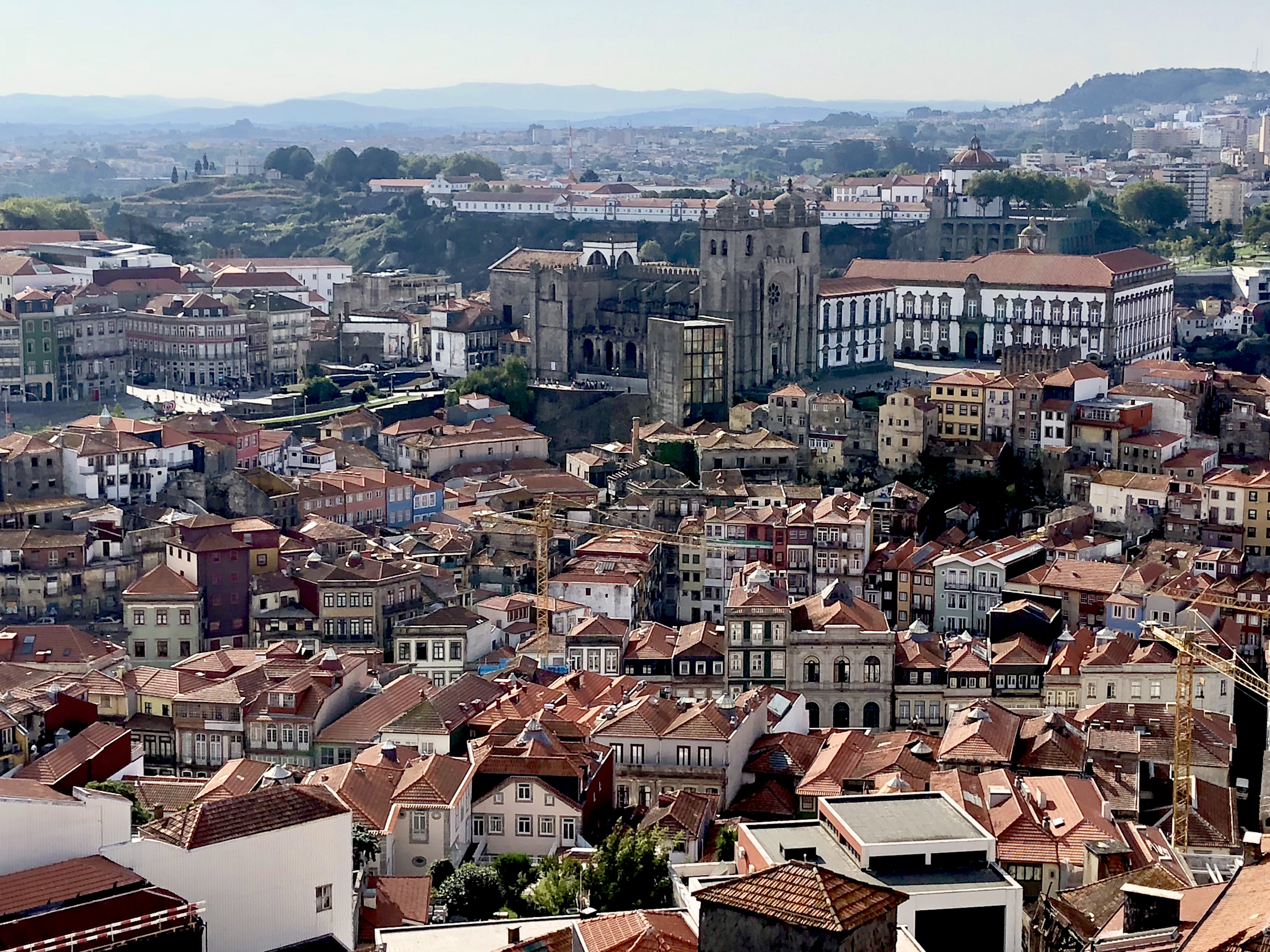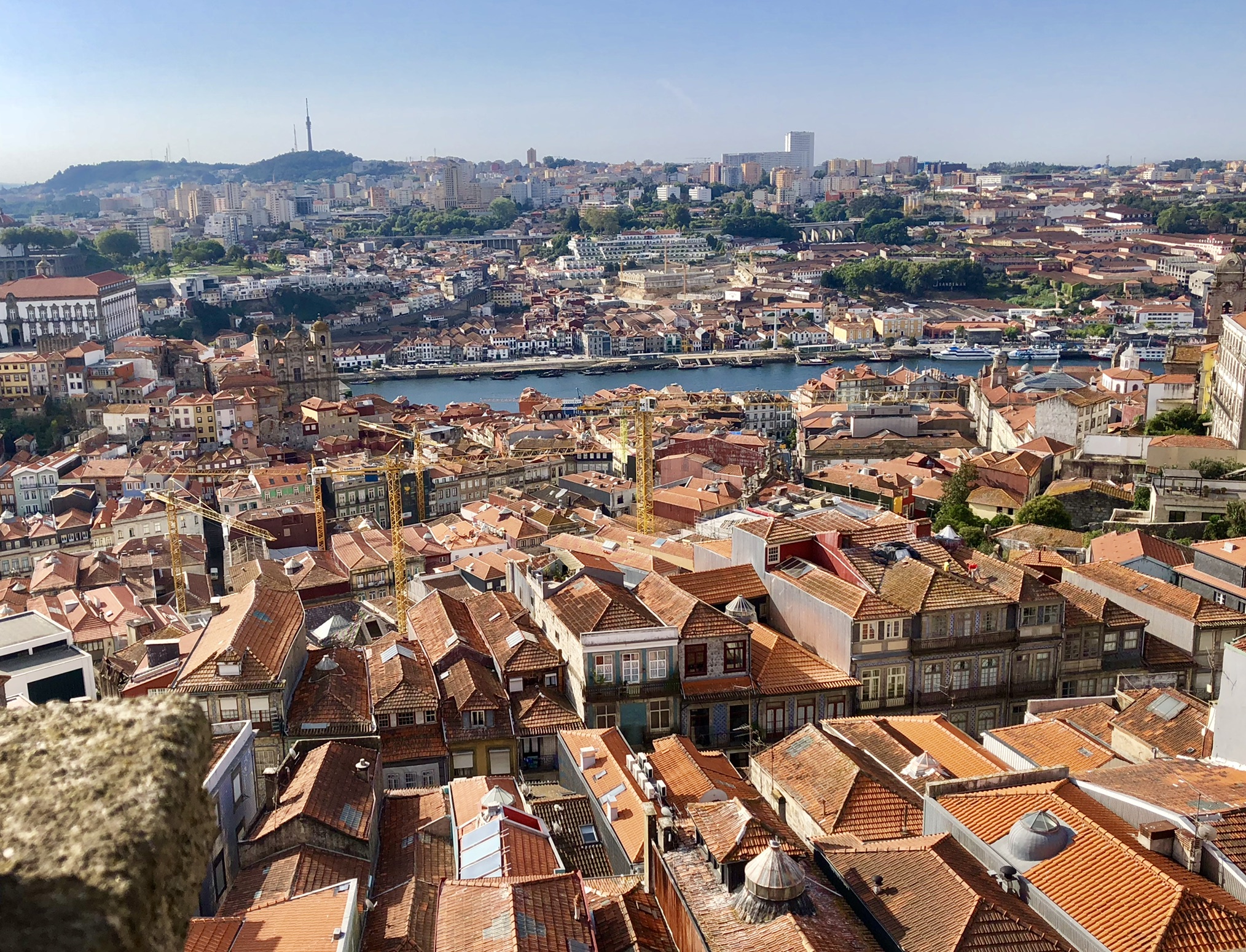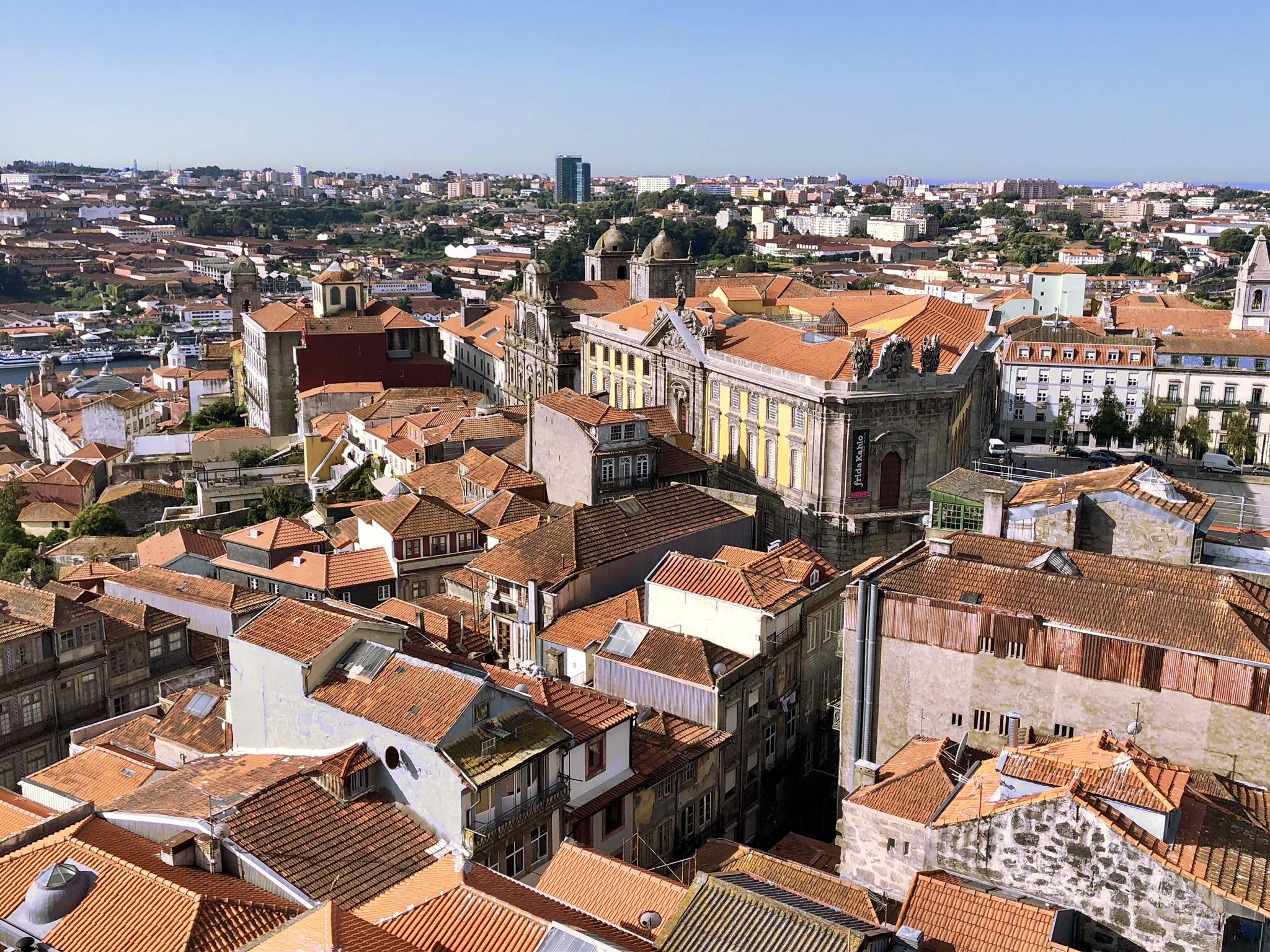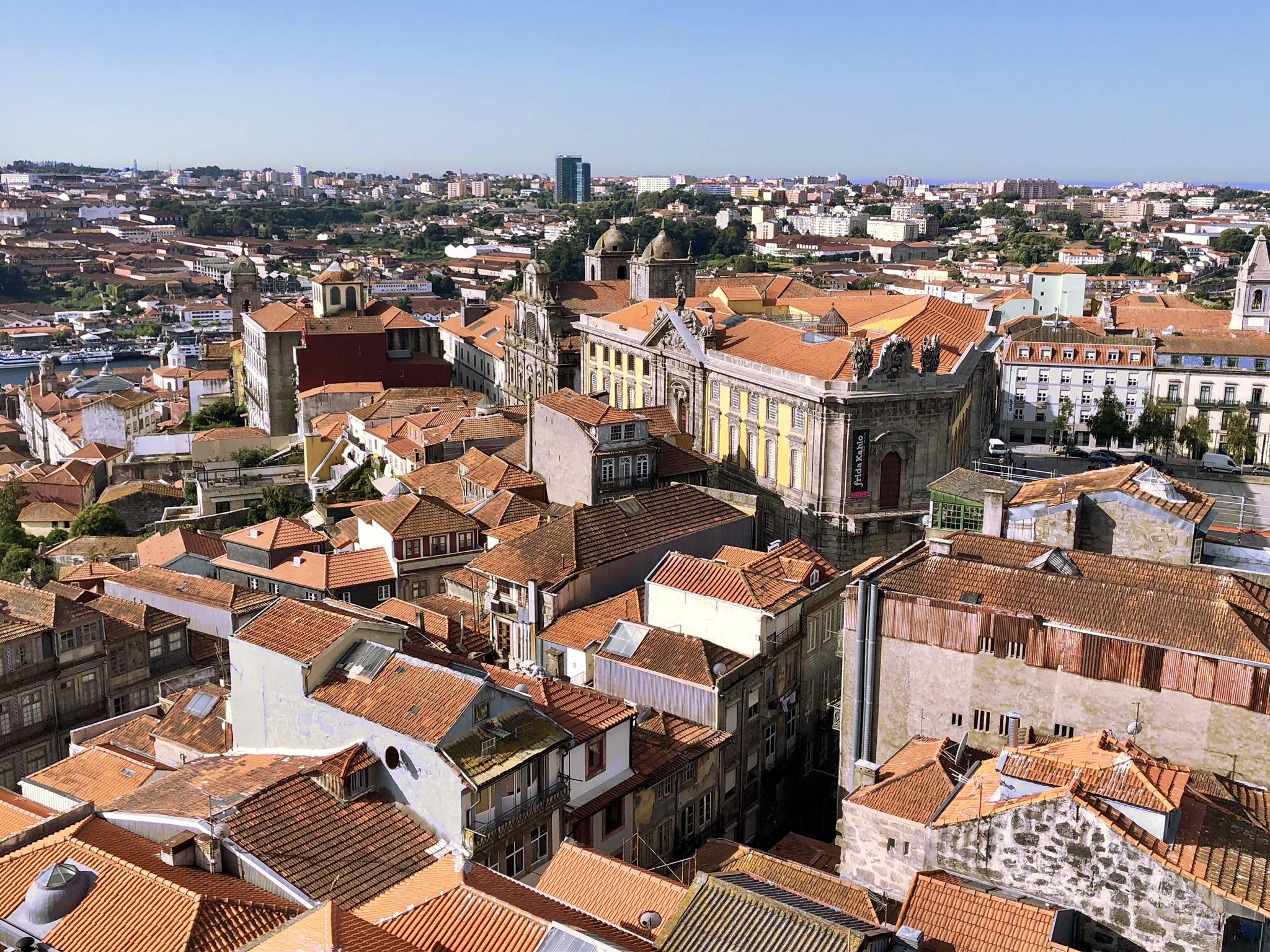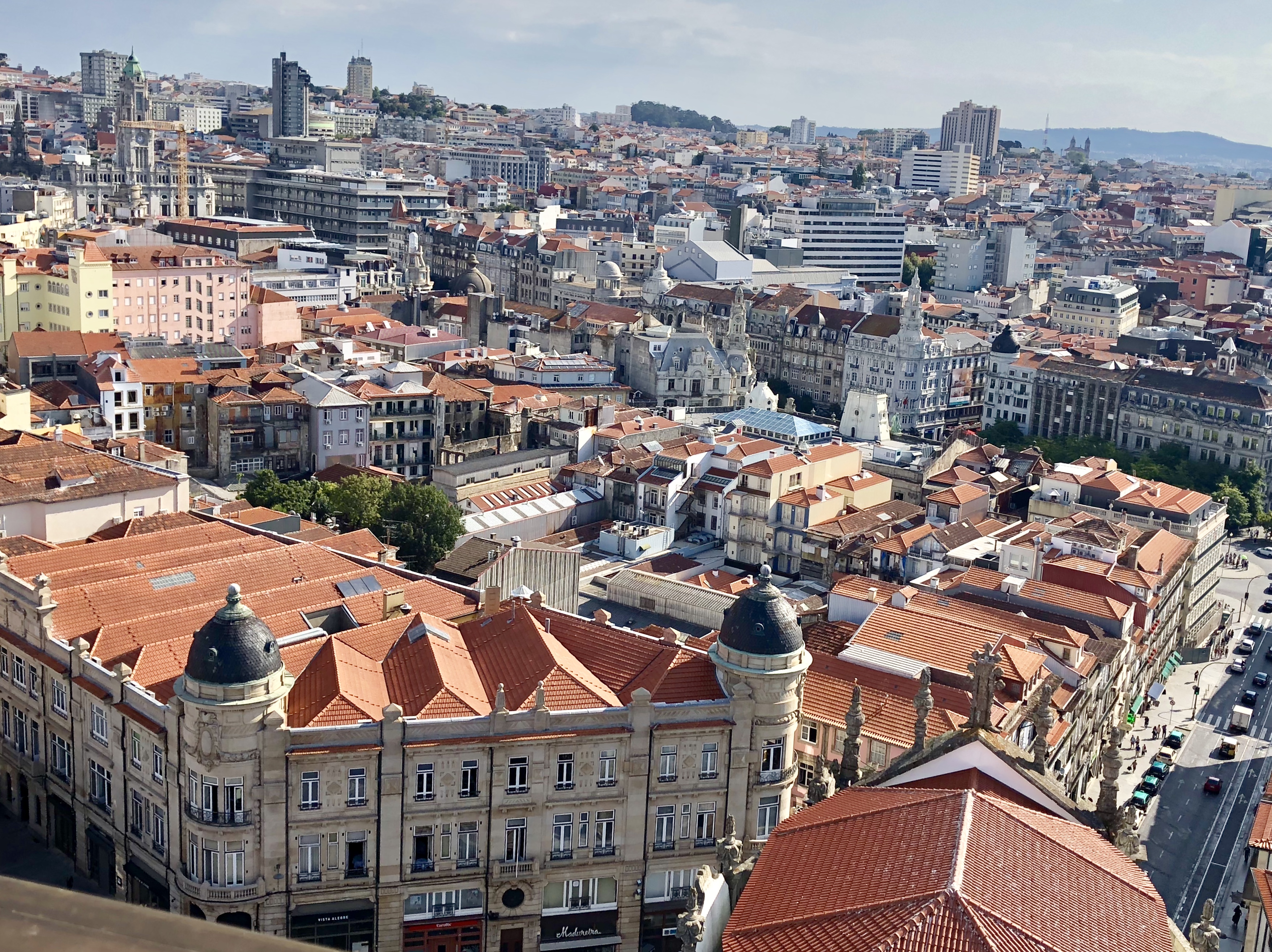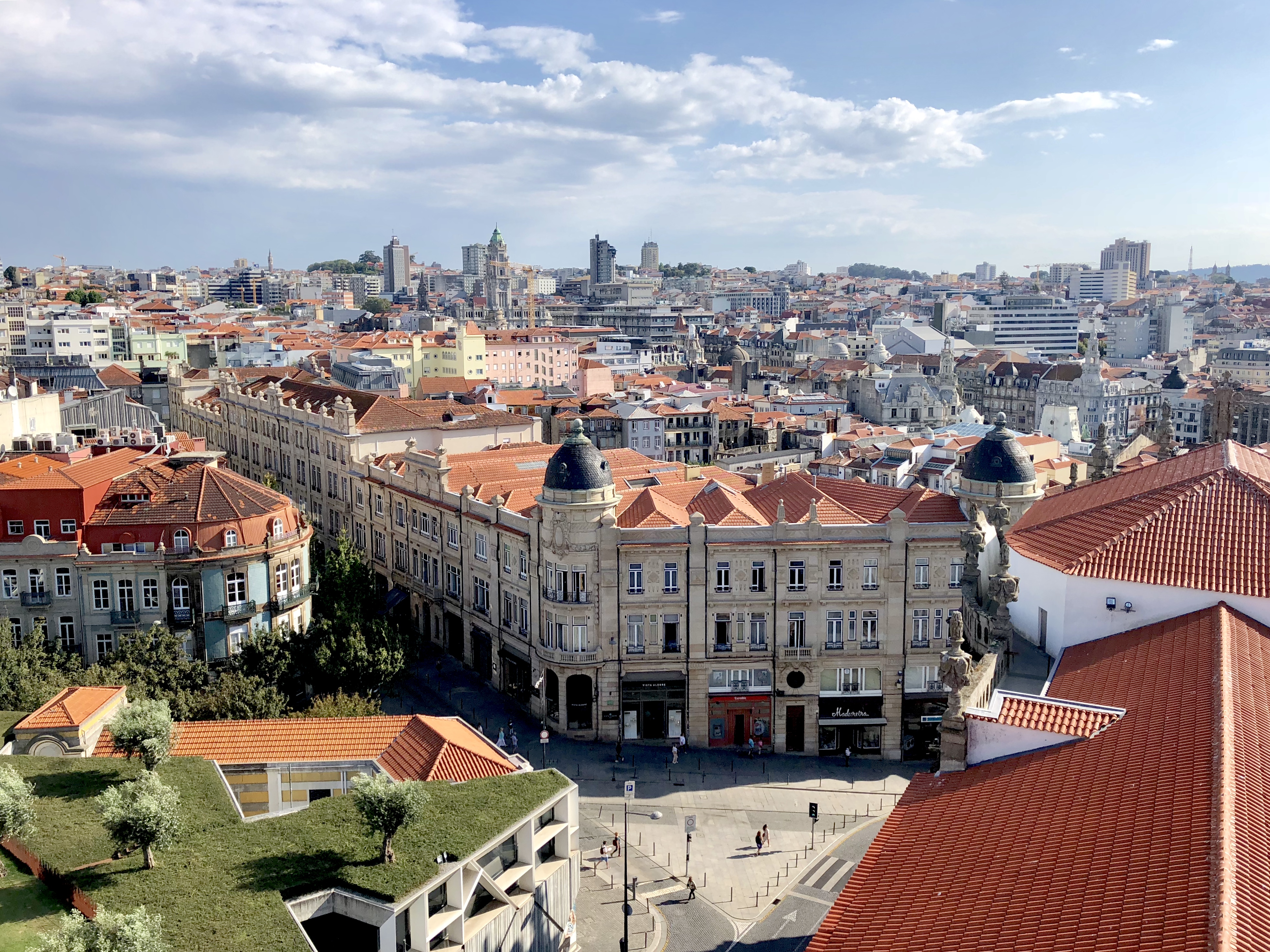 Avenida dos Aliados 
This is regarded as the heart of Porto. It's dominated by a bronze statue of King Peter IV in the middle of the square. The imposing Town Hall occupies the far end with Intercontinental Hotel at the other The square is flanked by some splendid period buildings.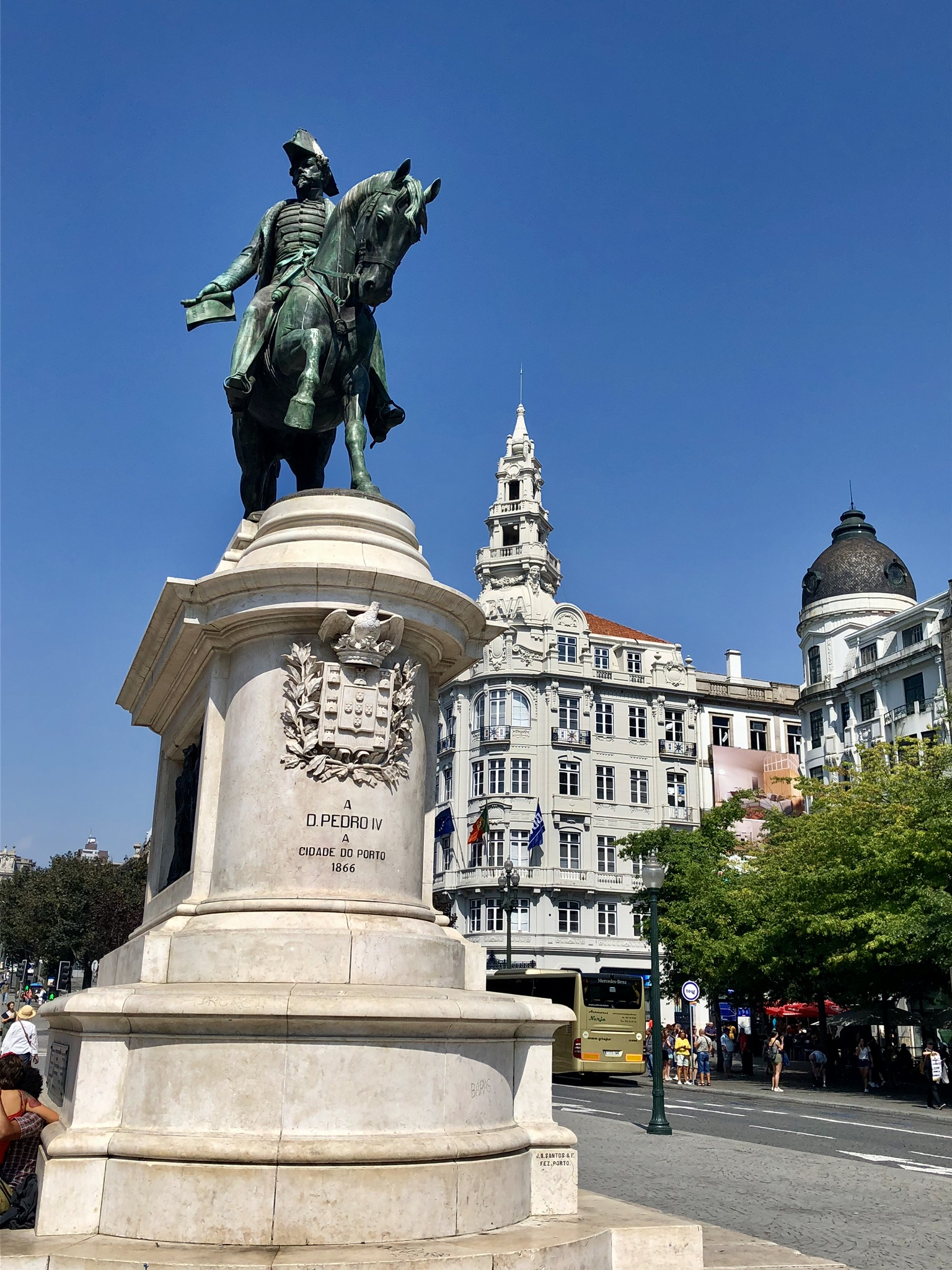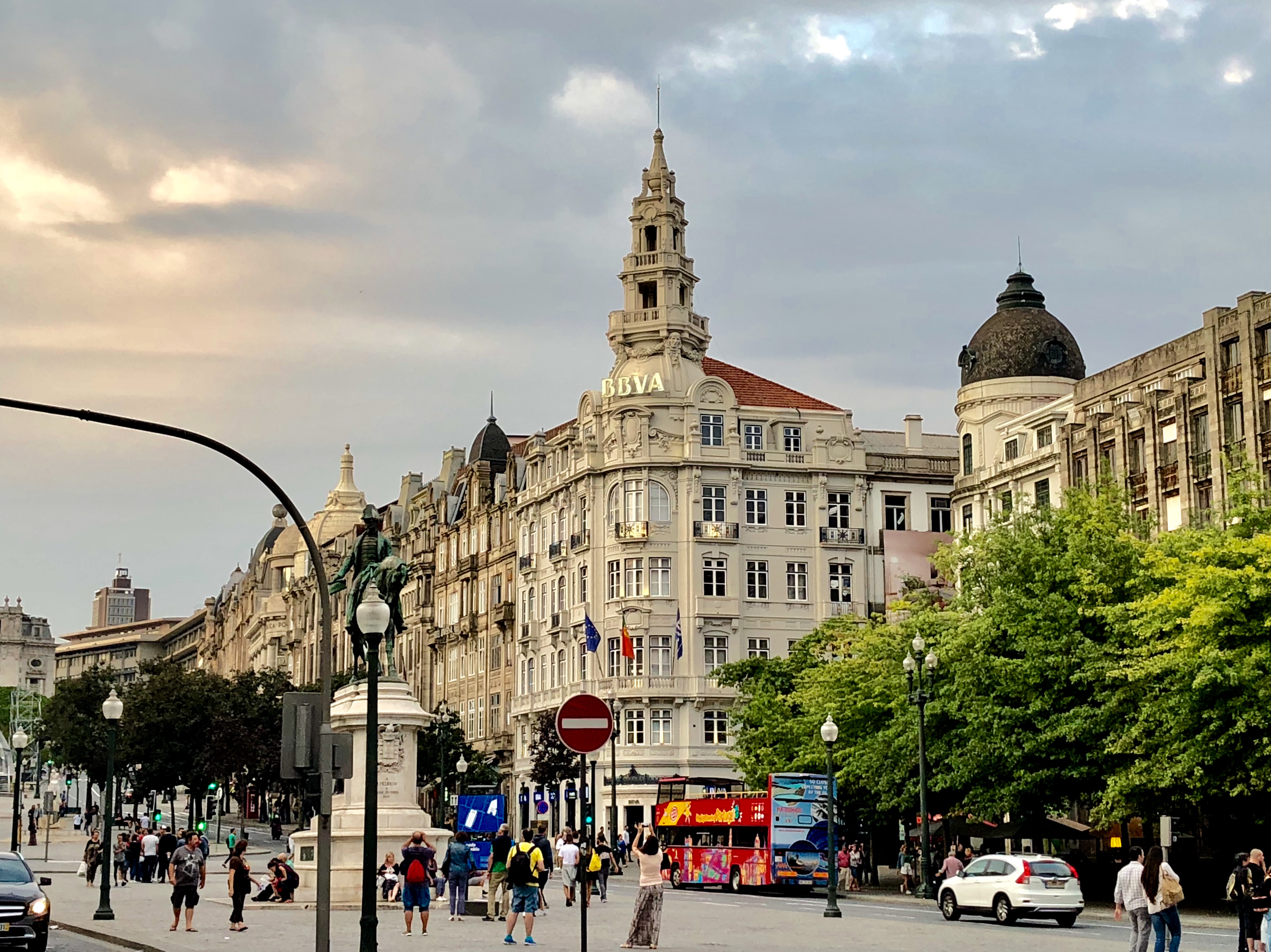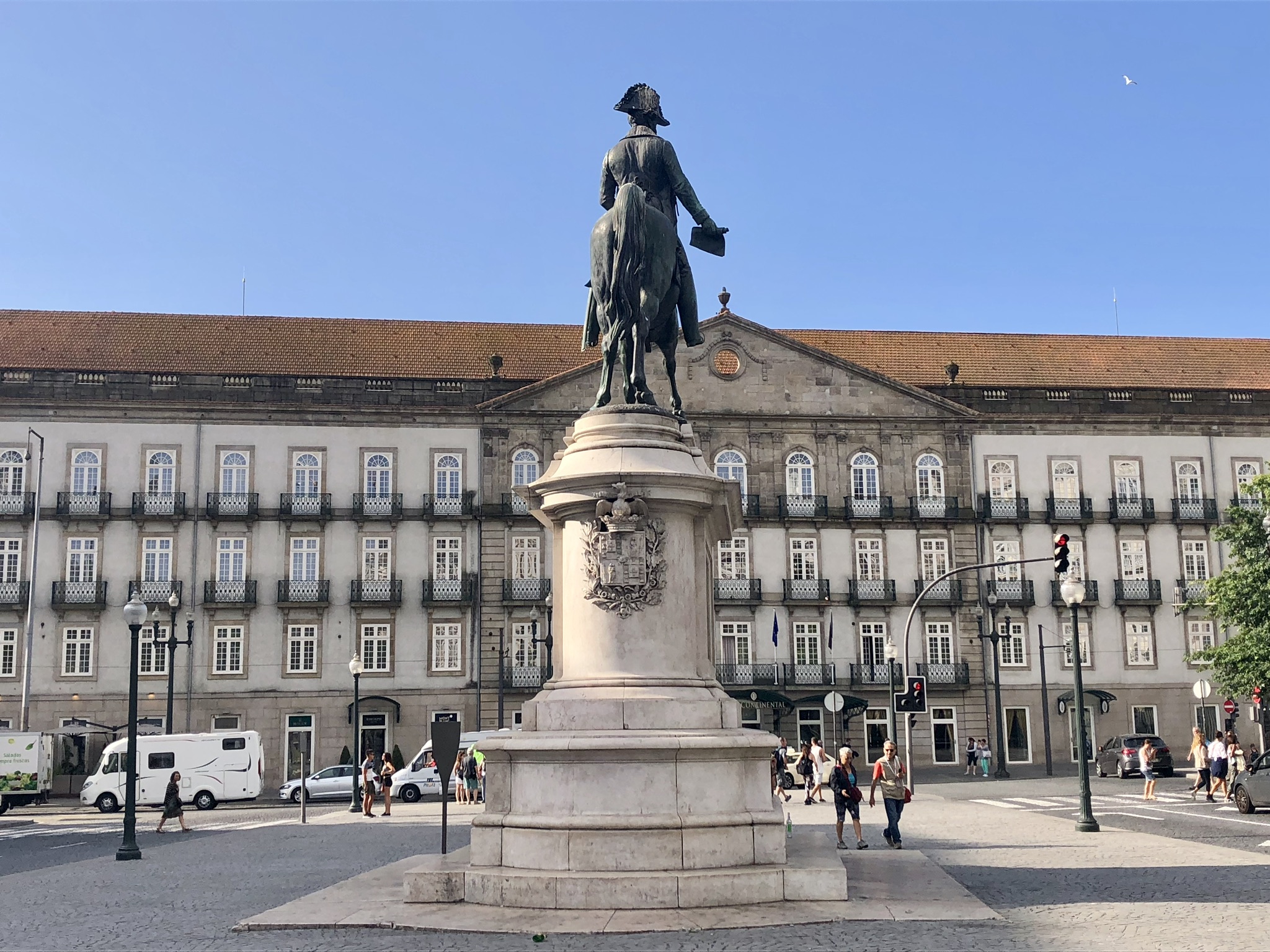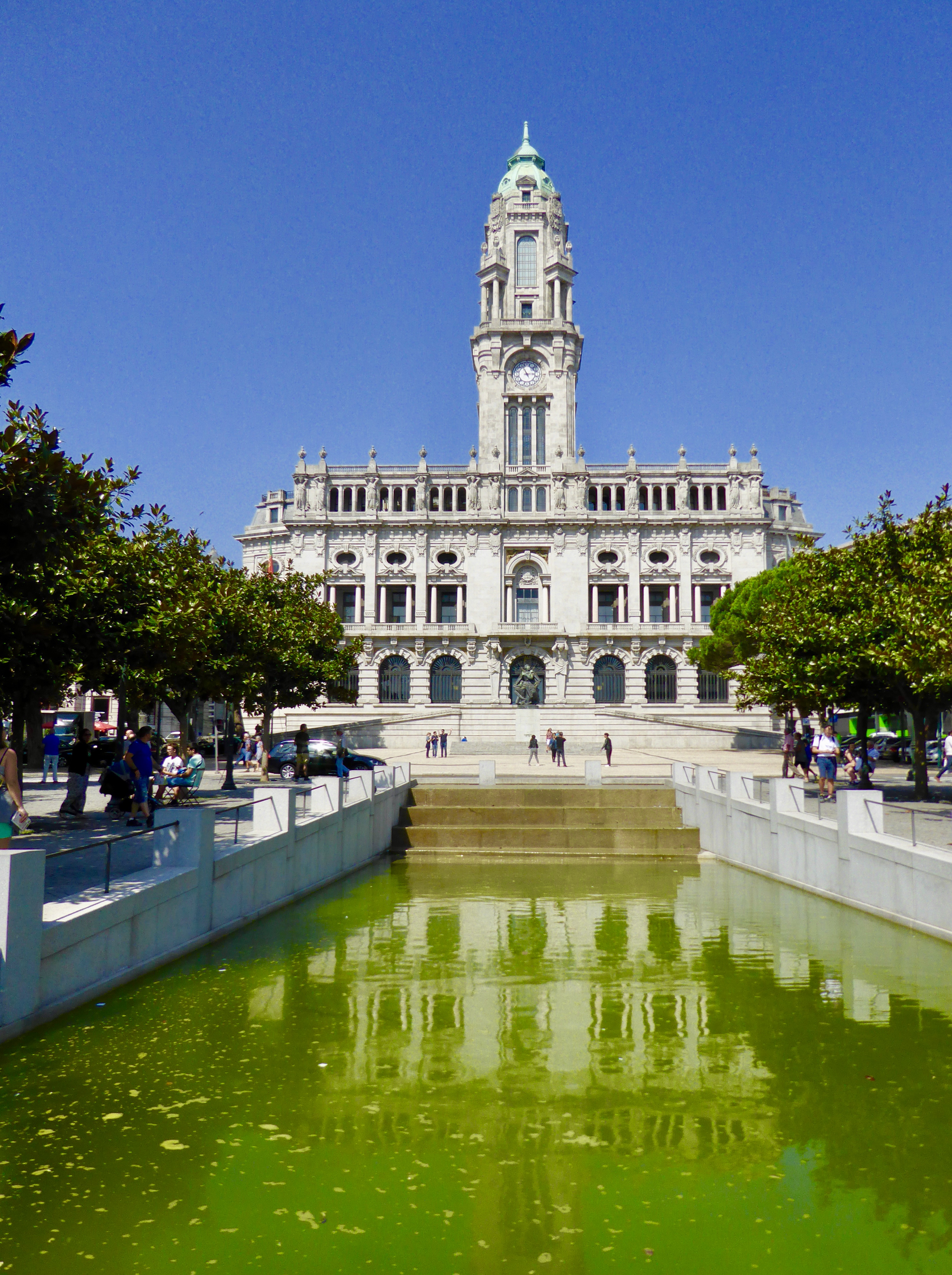 Porto is a truly beautiful place with many splendid sights, but the most memorable for me is those uniquely Portuguese blue wall tiles that adorn the front of so many buildings, especially churches.
Here are two more! On the left is Church of "Nossa Senhora do Carmo" (Our Lady of Mount Carmel) one side of which is covered with wall paintings on mosaics tiles. 
On the right is Capela das Almas (Chapel of the souls) on the corner of the busy Rua de Santa Catarina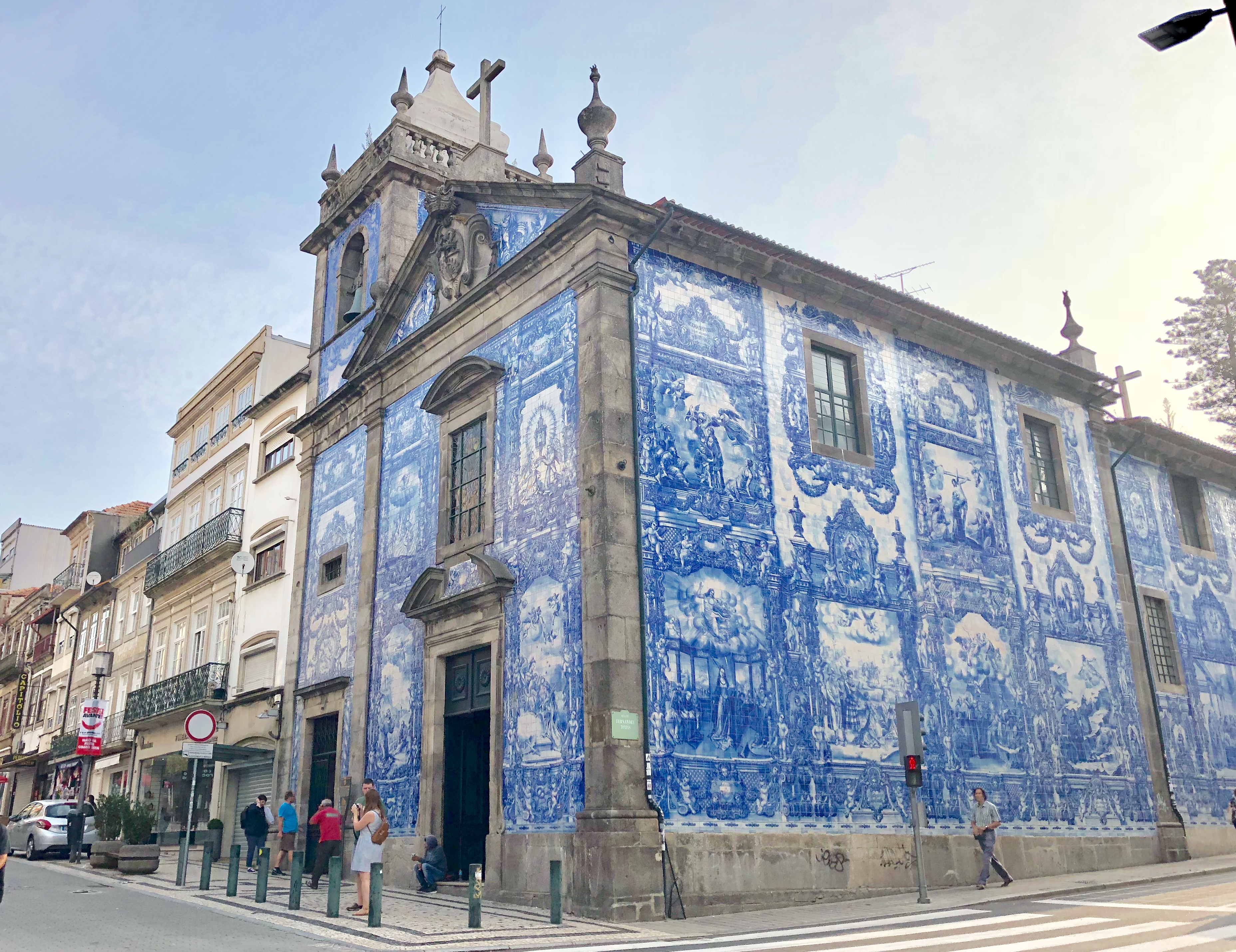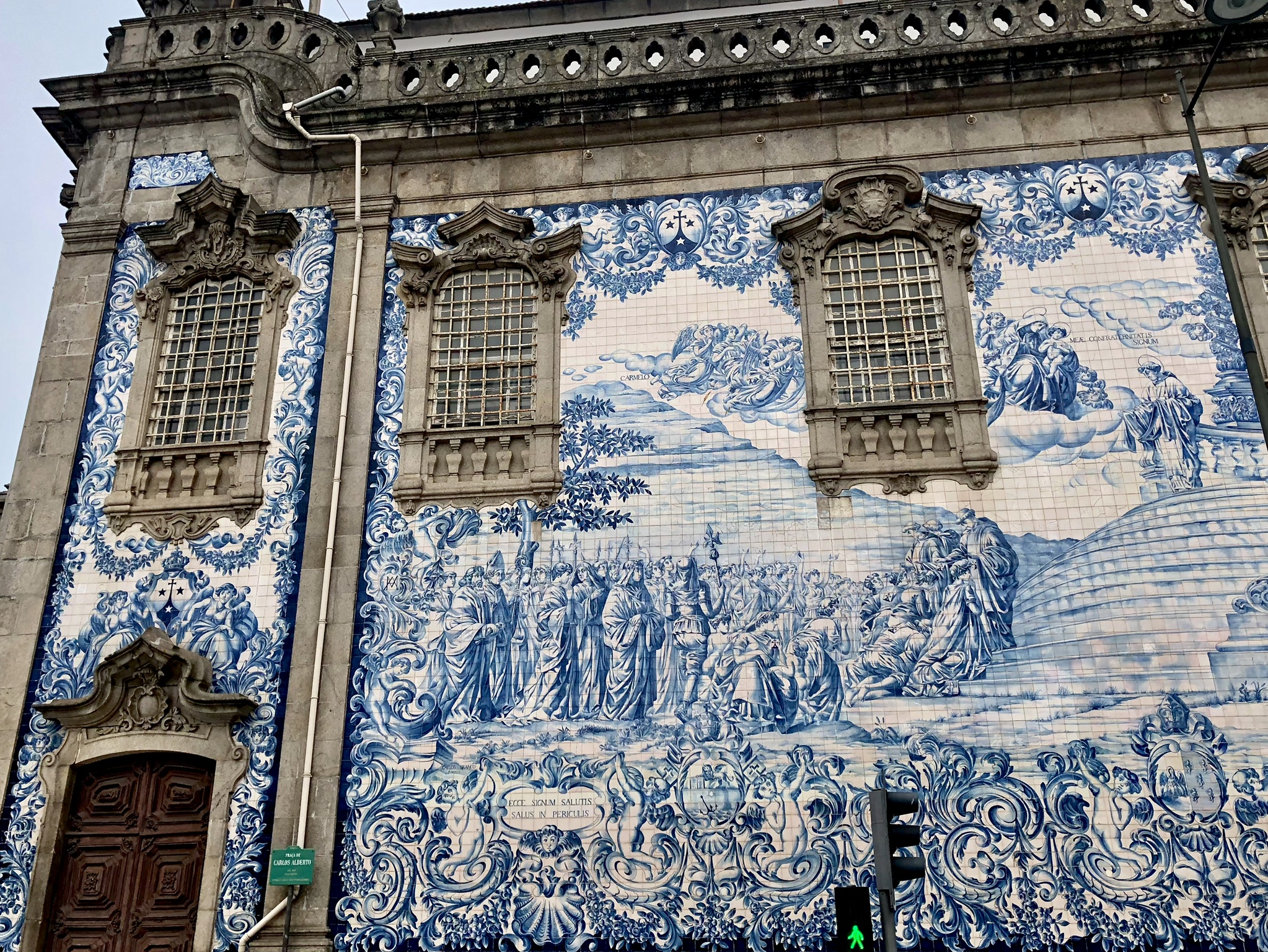 Cruise on River Douro 
To me, no visit to Porto is complete without sampling the delight of cruising on River Douro.
We had originally thought of taking the 6-bridges cruise that would take about an hour, but we changed our minds. The cruise we chose was for a day trip from Porto to Régua, including  breakfast and lunch.
We were glad not to be put off by some negative reviews – it was too crowded, no vegetarian food, no choice of the wine provided! (Oh, please!! 🙄) We reckoned that the cruise would be a great way to spend a sunny day anyway. So we joined the cruise with only realistic expectation and had a great time.
The boat was pretty full but everything was well organised. On presenting our tickets we were told our table number and then ushered to our table which was well laid out for breakfast. The 3-course lunch was nothing special but plentiful, including a bottle of red wine for 2 persons. Okay it was not a gourmet meal, but what else could be expected for the price charged??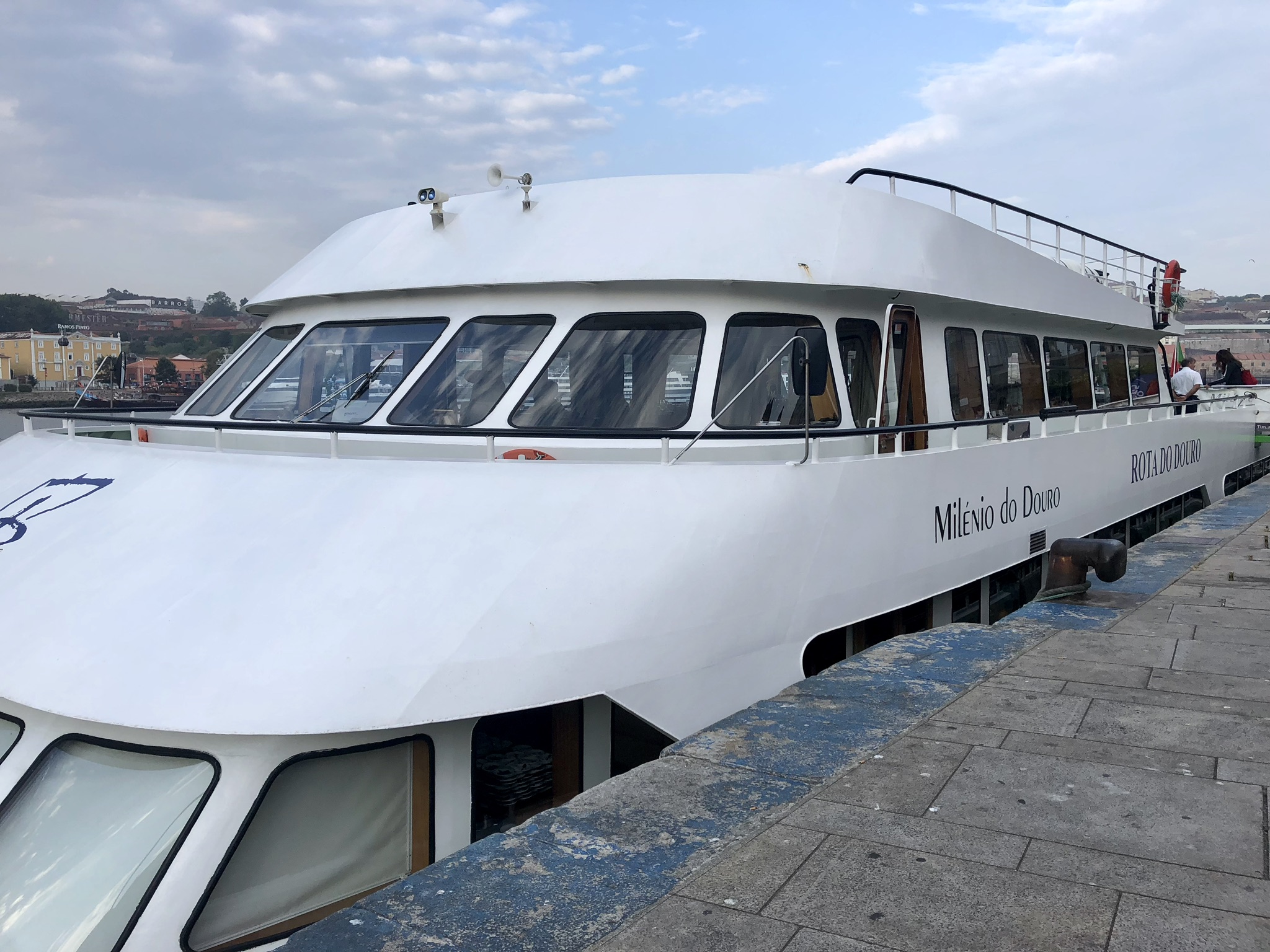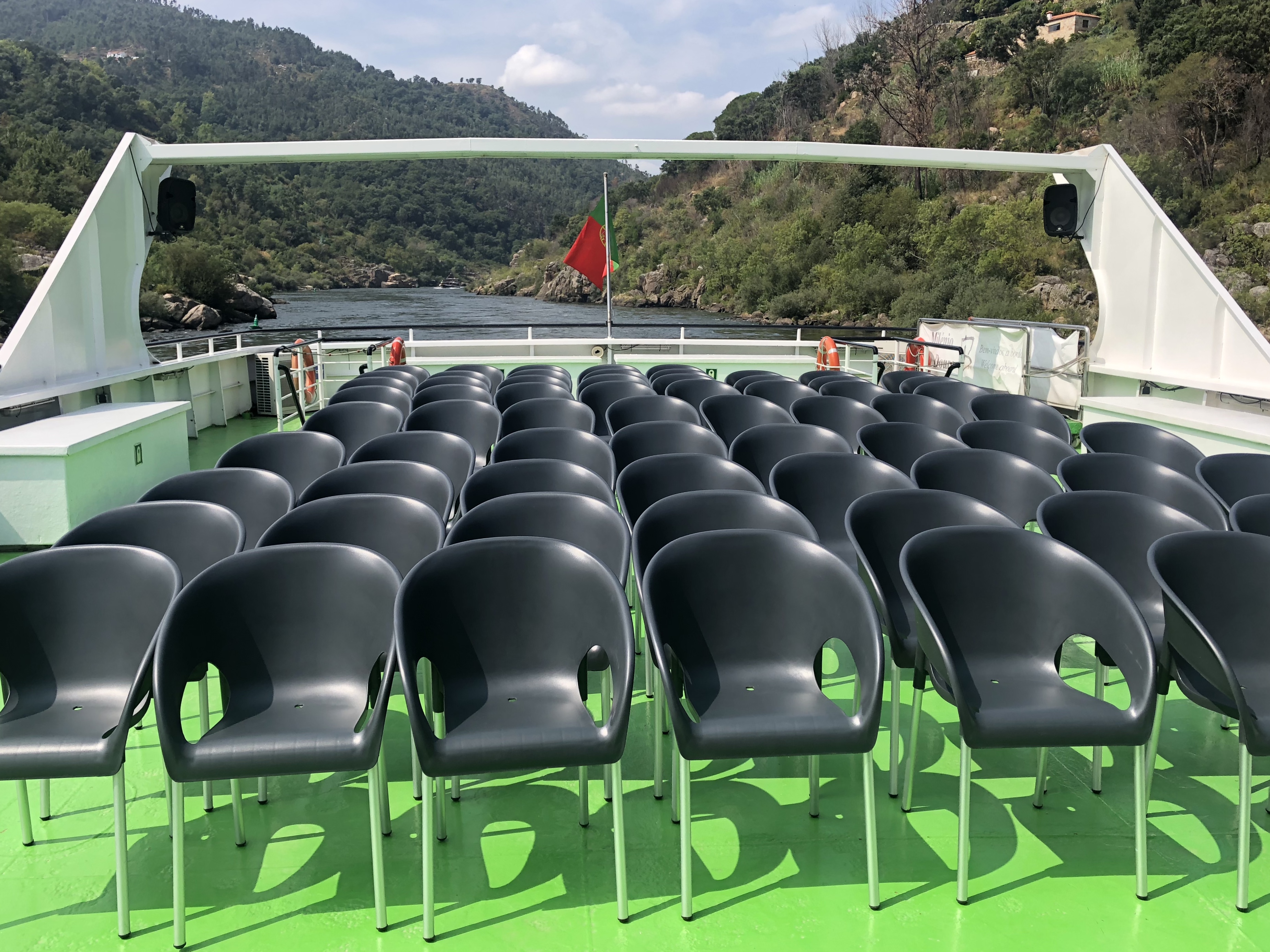 The scenery on both sides of the river was very pleasant. Going through the 2 dams (Crestuma-Lever Dam and the Carrapatelo Dam) created a bit of excitement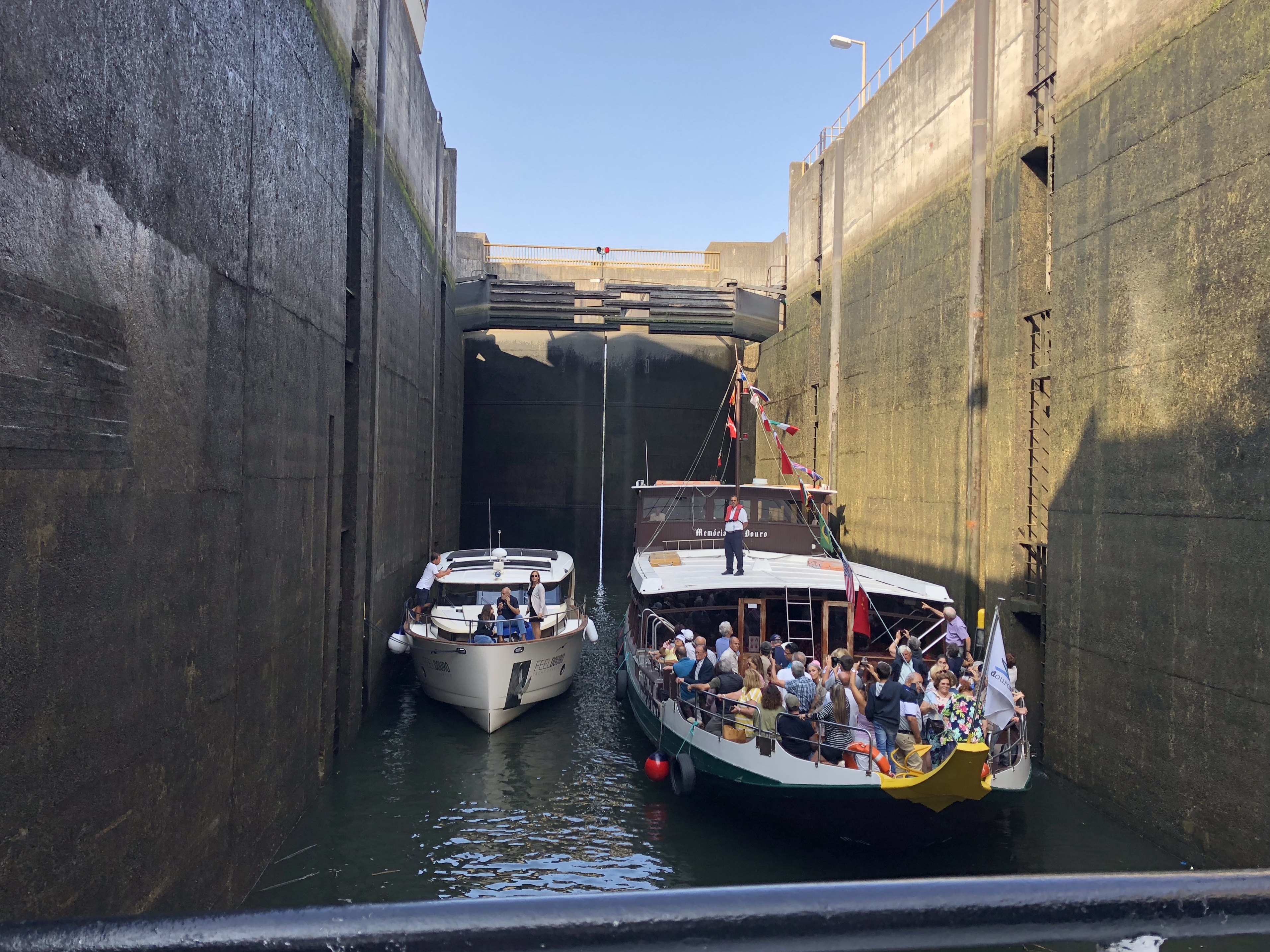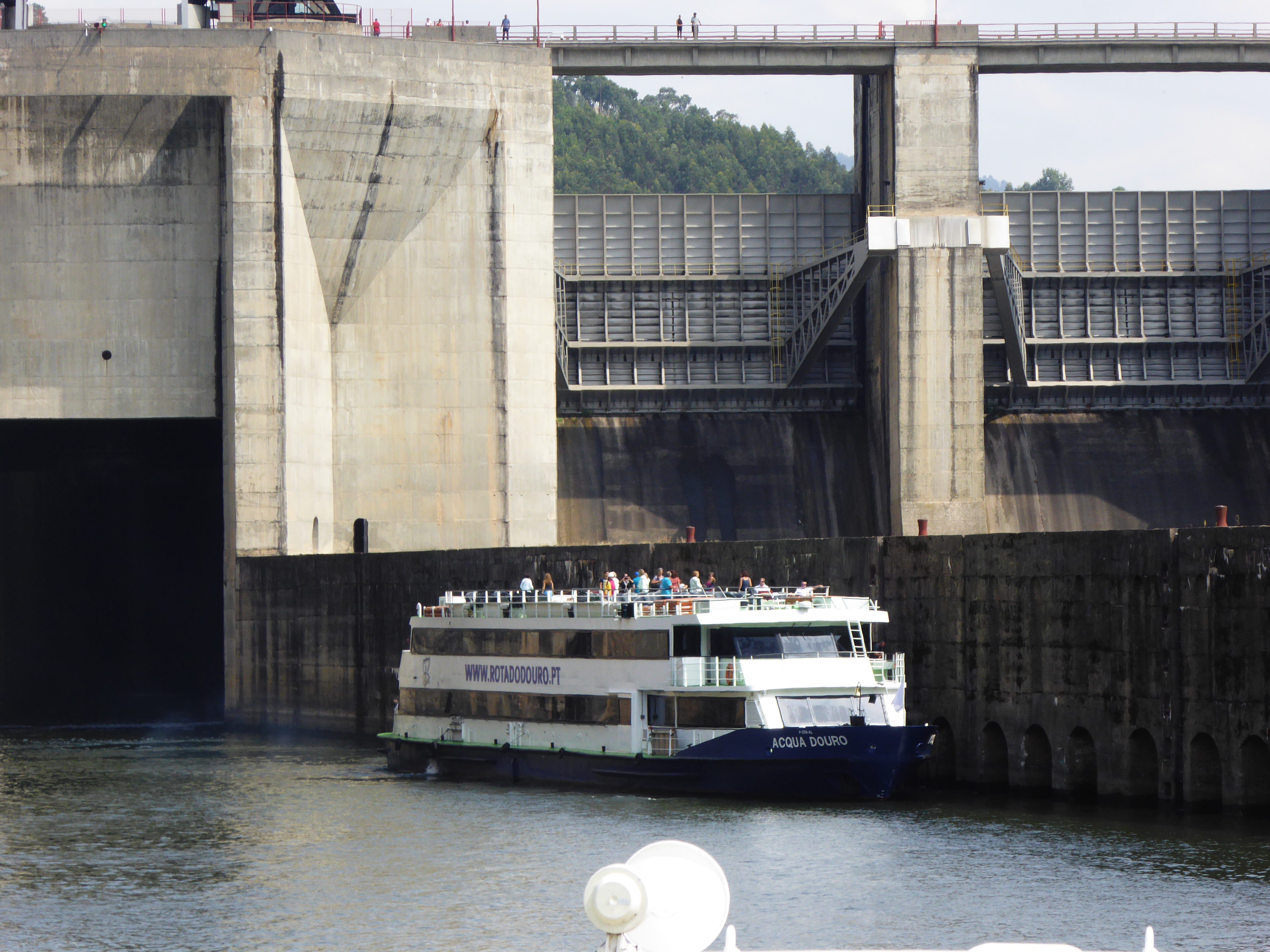 People drifted in and out of the cabins onto the deck all the time so there were plenty of opportunities for everyone to enjoy the views of the terraced vineyards scattered across the hills, more so as we approached Régua mid-afternoon.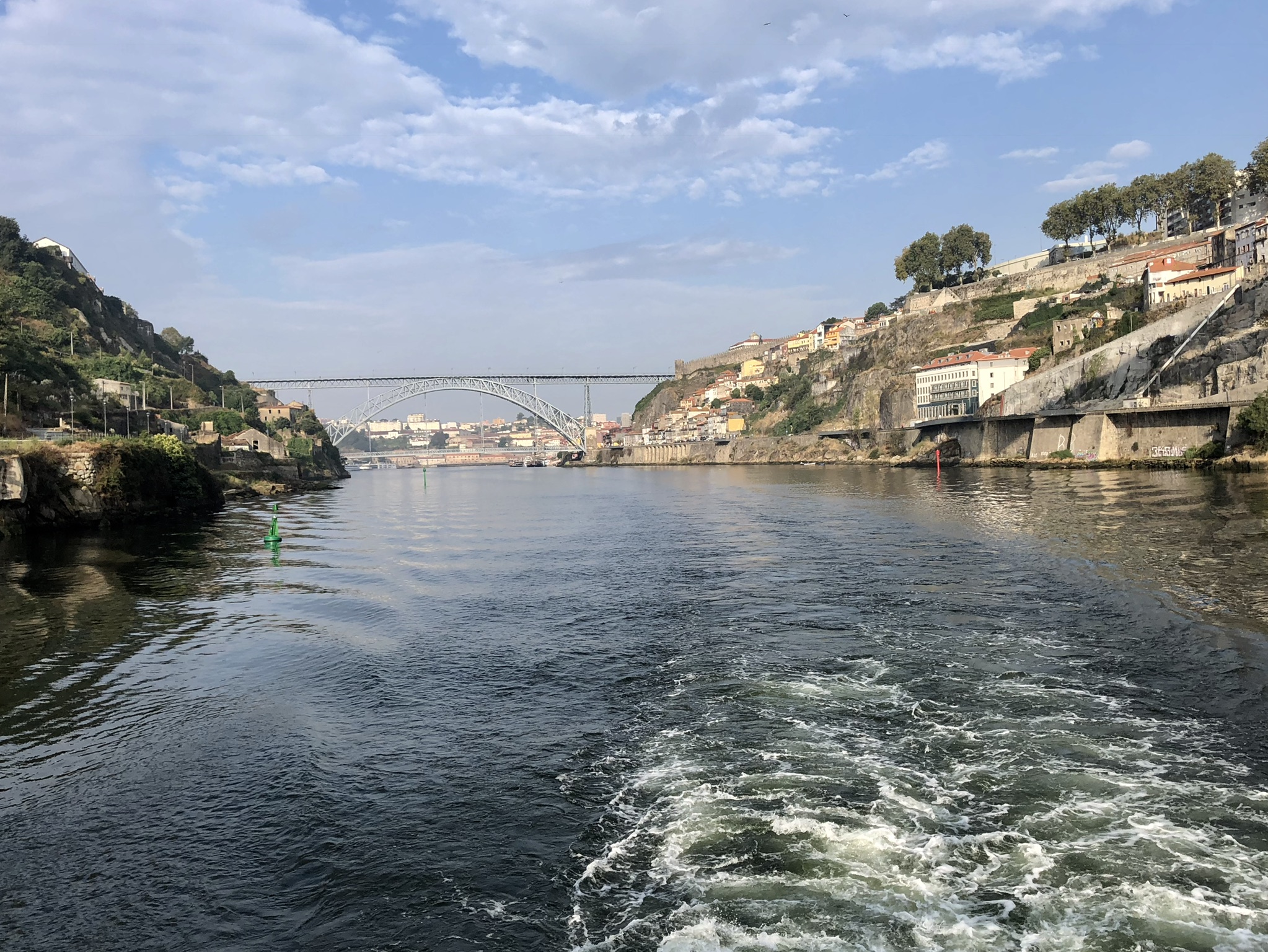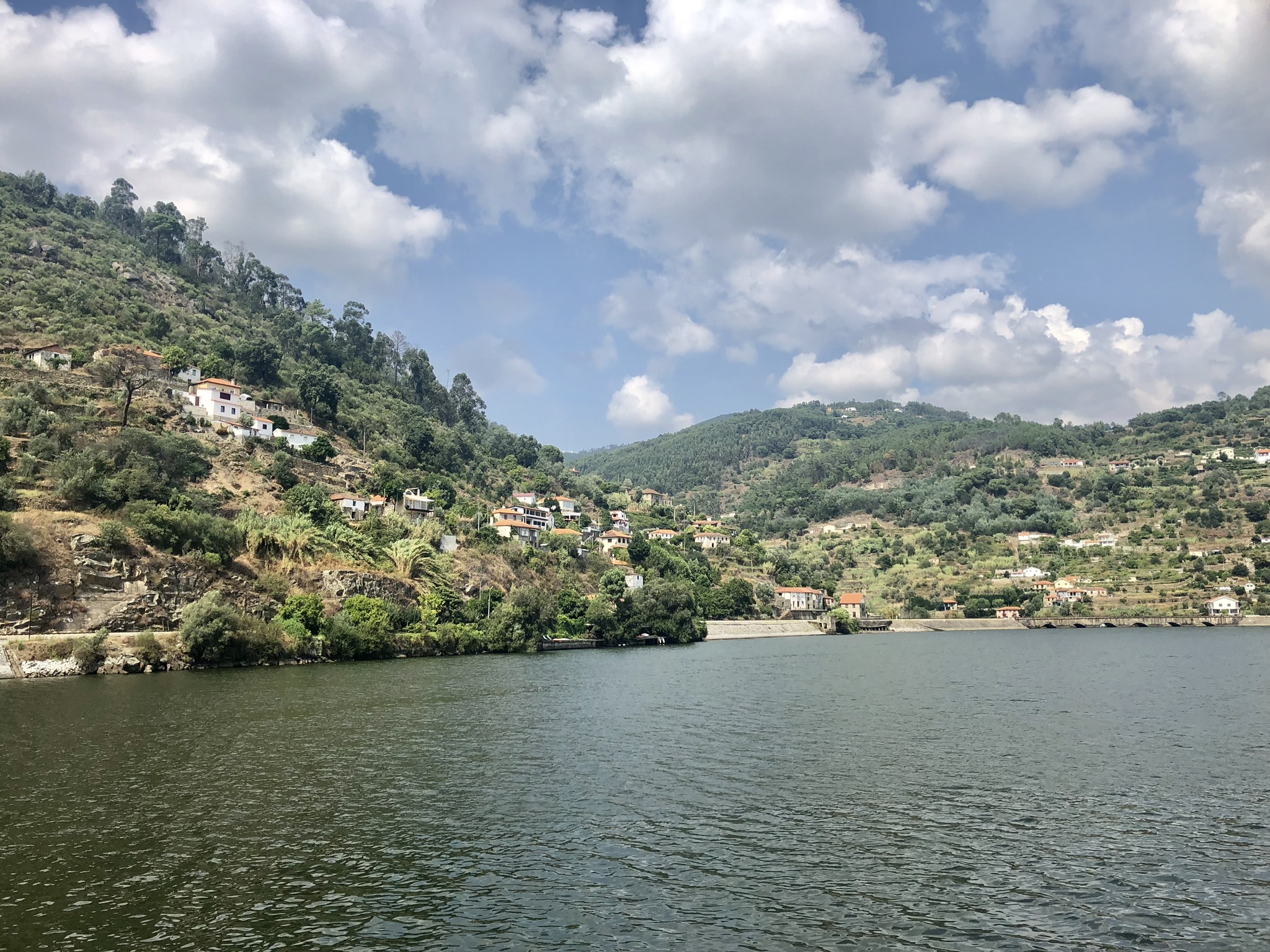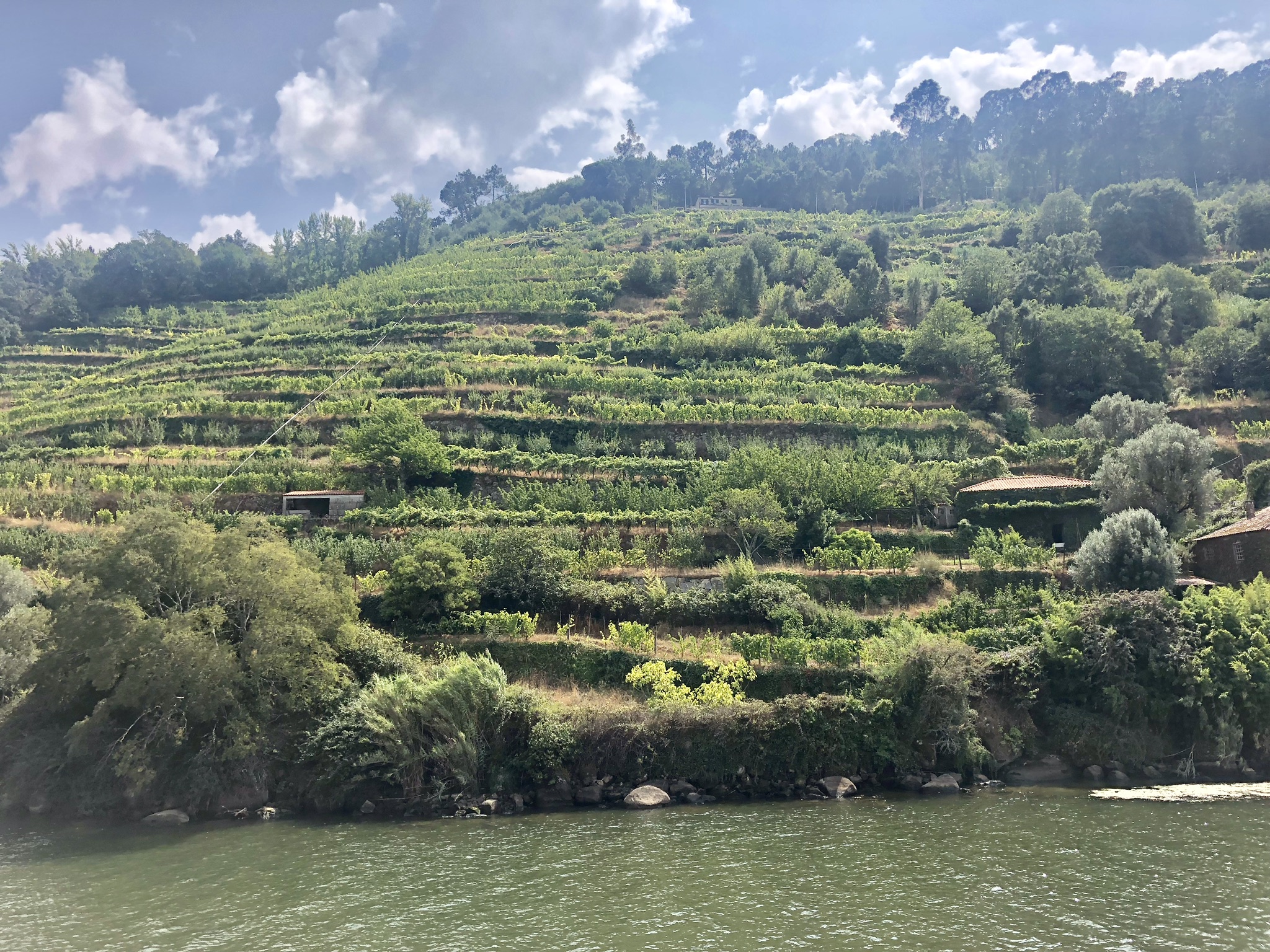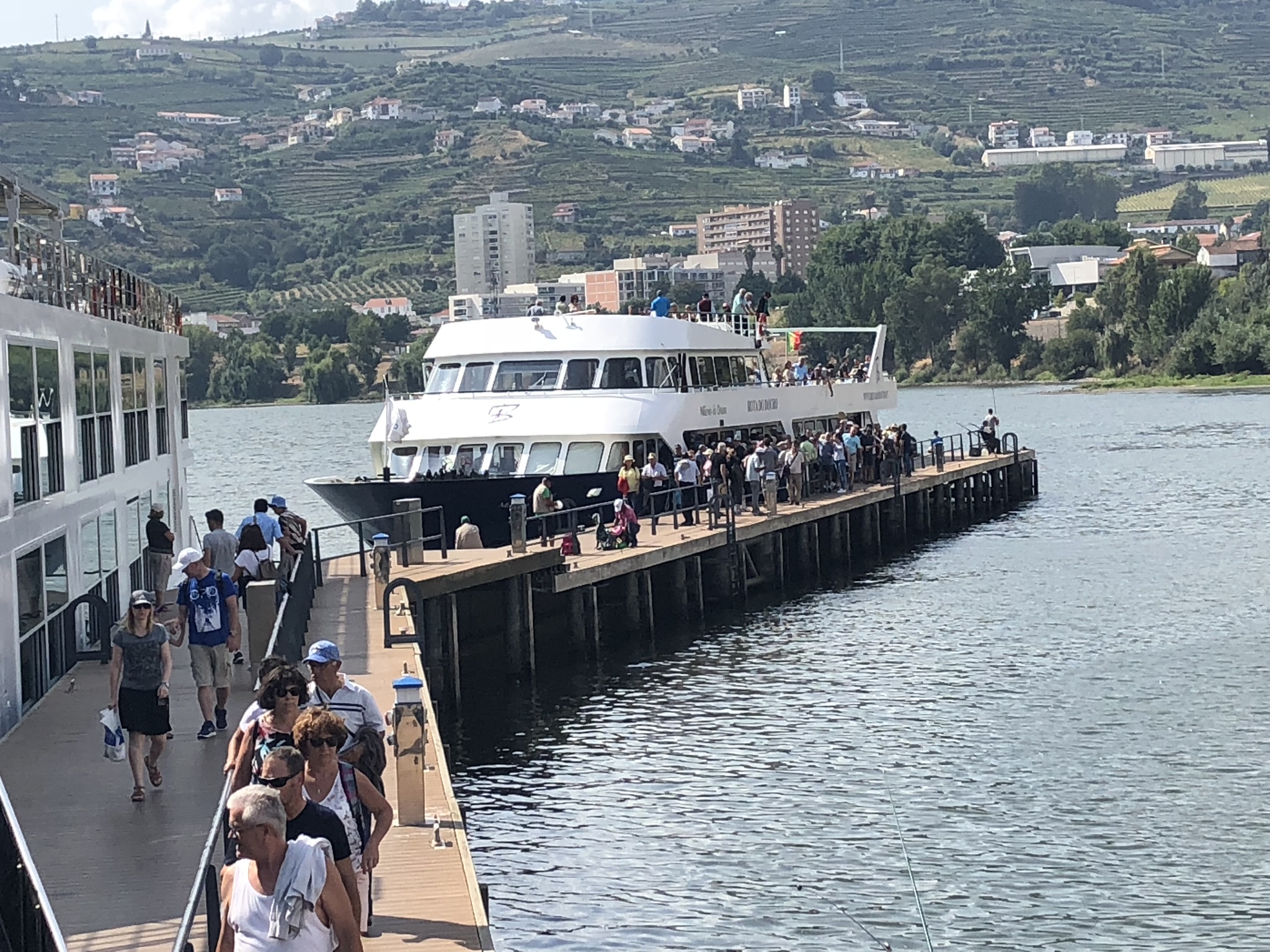 We were to meet up with a guide from the cruise at the train station at 17.00 to be given train tickets back to Porto. It was no doubt to allow people free time to explore Régua. My friends and I chose to take an earlier (and faster) train back to Porto at our own expense.
It was so worth it (€9.95 per person) to have a glimpse of Douro River and the valleys every now and again,  golden in the early evening sunshine, as the train meandered alongside the river
Finally, I got the fridge magnet and photos on a thoroughly enjoyable trip – job done! 👩🏻‍💻