Lecce is known as "Florence of the south". It's easy to see why!
I first visited Lecce in 1988 when my Italian friend and I took the overnight train from Bologna to Lecce. Although I was not into take photographs in those days my memory of all those beautiful buildings and bright blue sky drew me back there in April 2016. There're so many beautiful buildings in the historic centre.
Grand Hotel Di Lecce
From our base in Bari, my partner and I took the train to Lecce to stay one night at Grand Hotel Di Lecce. It's a beautiful historic building. The hotel's just 50 metres from the railway station – I could see it from the balcony of our spacious room on the first floor which faced the tree-lined road.
It is also within very easy walking distance to the fabulous historical centre of the city, just 10 minutes walk from the famous Piazza Duomo!.
The amphitheatre
Piazza del Duomo, the Cattedrale di Lecce and the bell tower.
There're period buildings at every turn and many lovely lanes lined with local shops to explore.
There's a little tourist train leaving from Piazza del Duomo. It cost €10 for a round trip that apparently took an hour. However we gave it a miss as all the worthwhile sights could be reached on foot!
Finally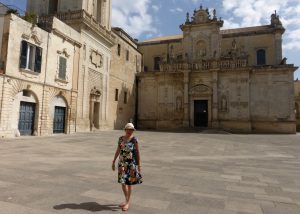 Got the fridge magnet 😁