As soon as I knew, at rather short notice, that my partner and I would be going to Frankfurt, I started my research on places suitable for day trips.
I drew up a short list, but when my German friend, who lives in the north of Germany, suggested to meet us at Koblenz (about 124 km from Frankfurt), I didn't have to think twice about it!
And what a great choice it turned out to be!
The train journey took 1 hour 46 minutes by regional train. It's one of the most scenic train rides I have ever been on! There're some really pretty places along the way. For the last third of the journey, the track ran along the Rhine passing some spectacular scenery.
After we met up, my friend took us down to the promenade by the Rhine. Under her guidance we bought combination tickets which included cable car rides to and from Ehrenbreitstein Fortress, entrance to the Fortress plus a riverboat ride on the Rhine. Great value for €19.90 per person!! And that pretty much shaped our itinerary for the day
Koblenz Promenade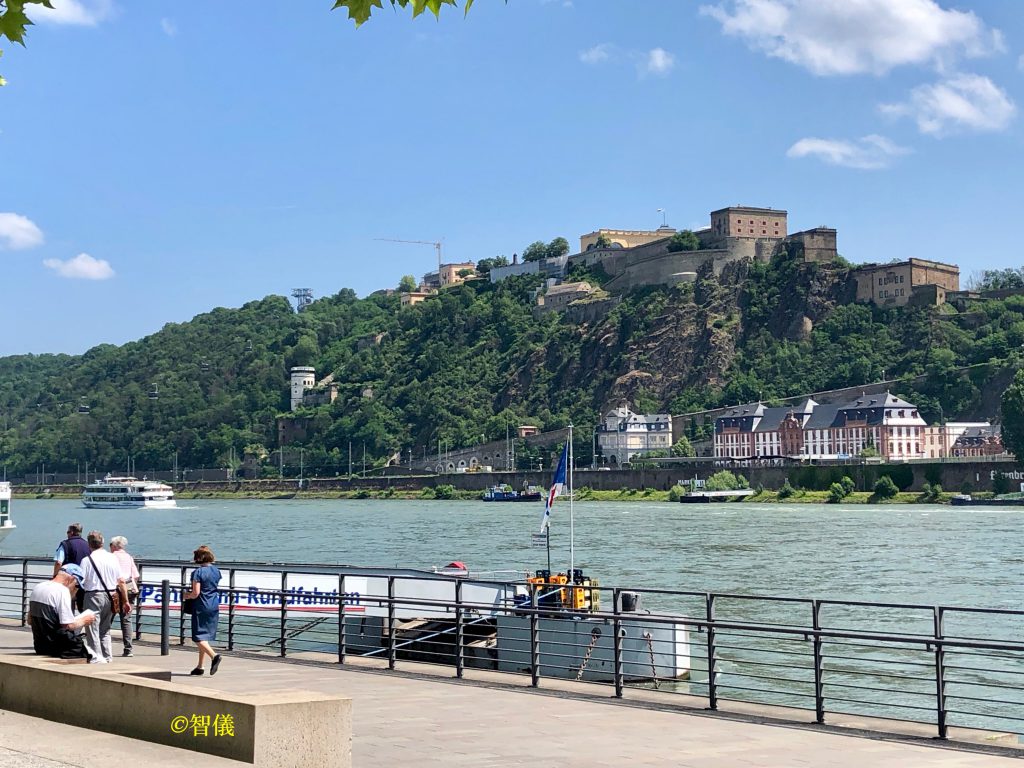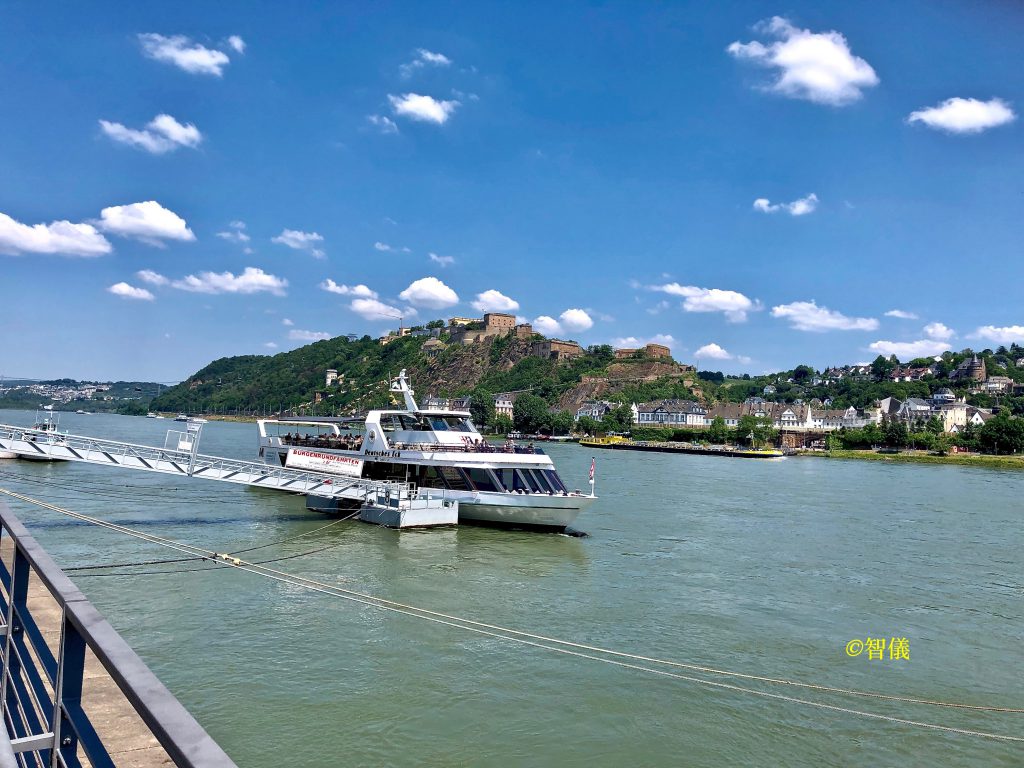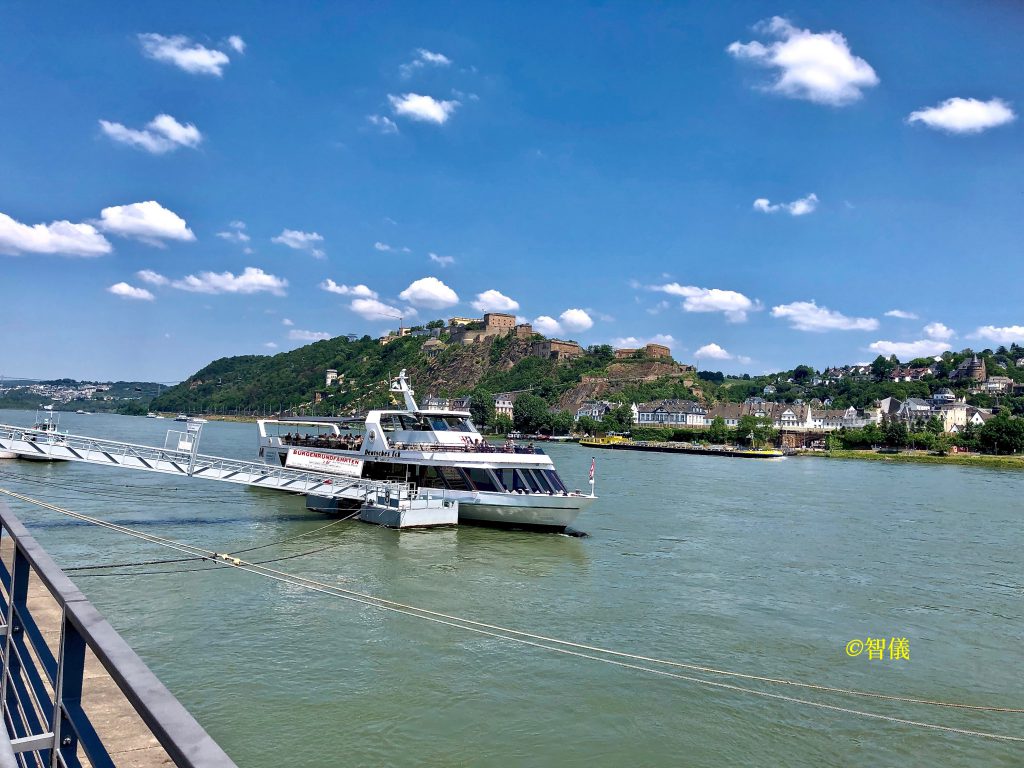 Koblenz Promenade

Koblenz Promenade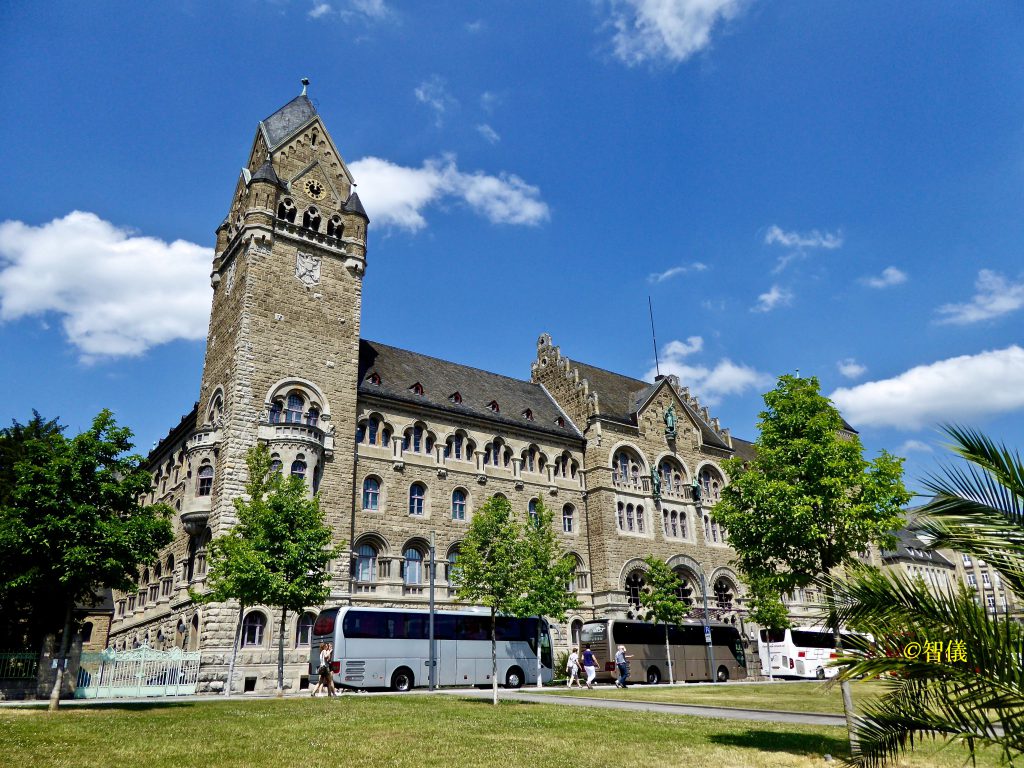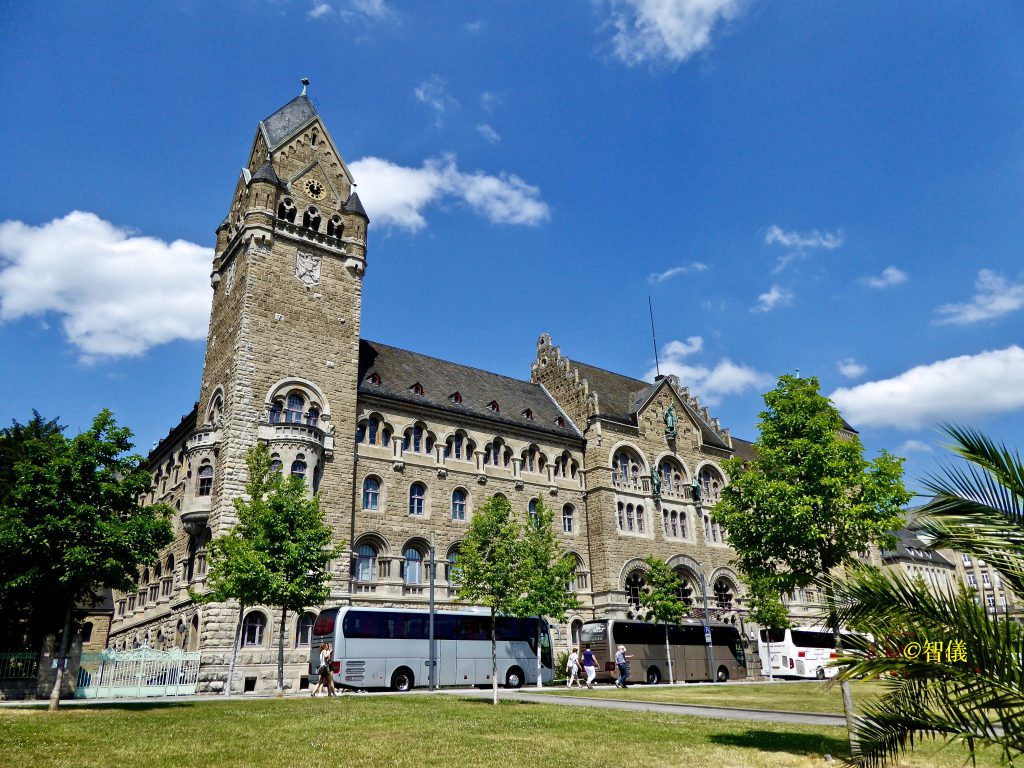 Weindorf Restaurant

Weindorf Restaurant
Koblenz cable car ride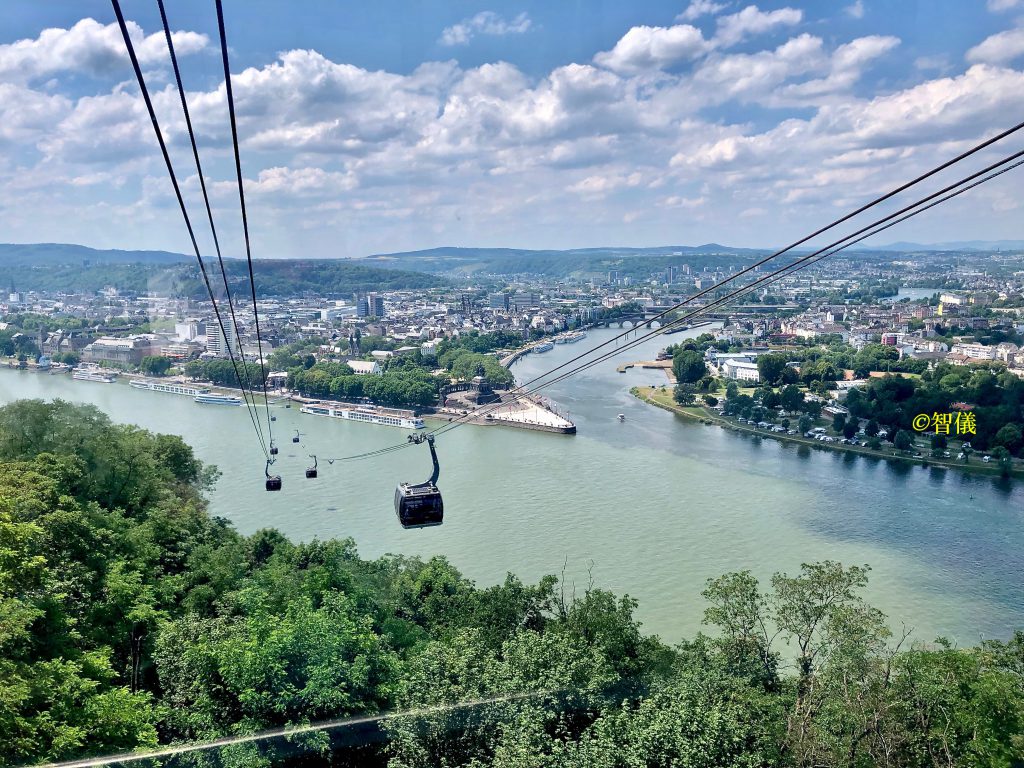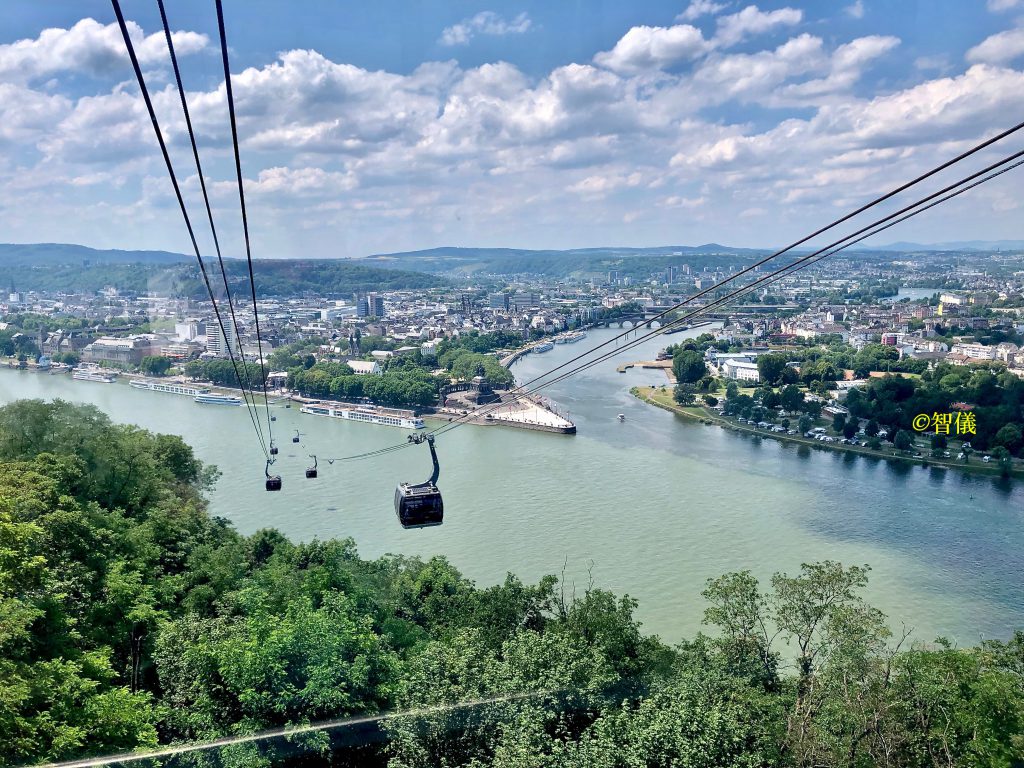 To Ehrenbreitstein Fortress across the Rhine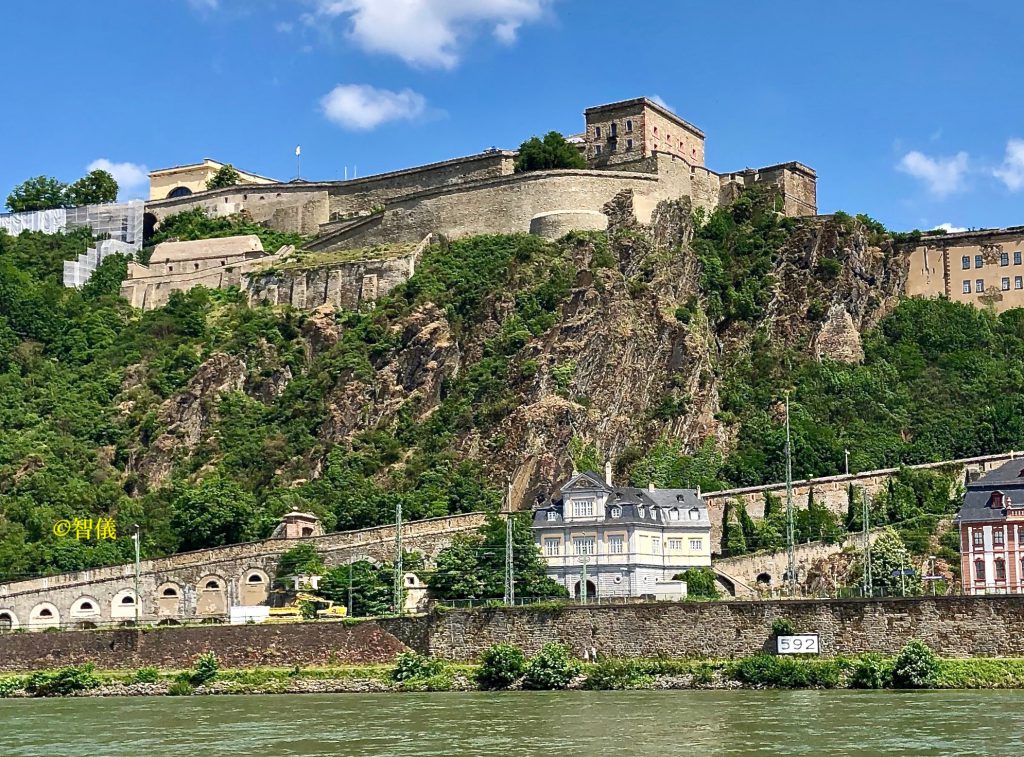 Views from the observation deck of the Fortress
From one side of the Fortress, the Rhine can be seen meandering elegantly around the valley ……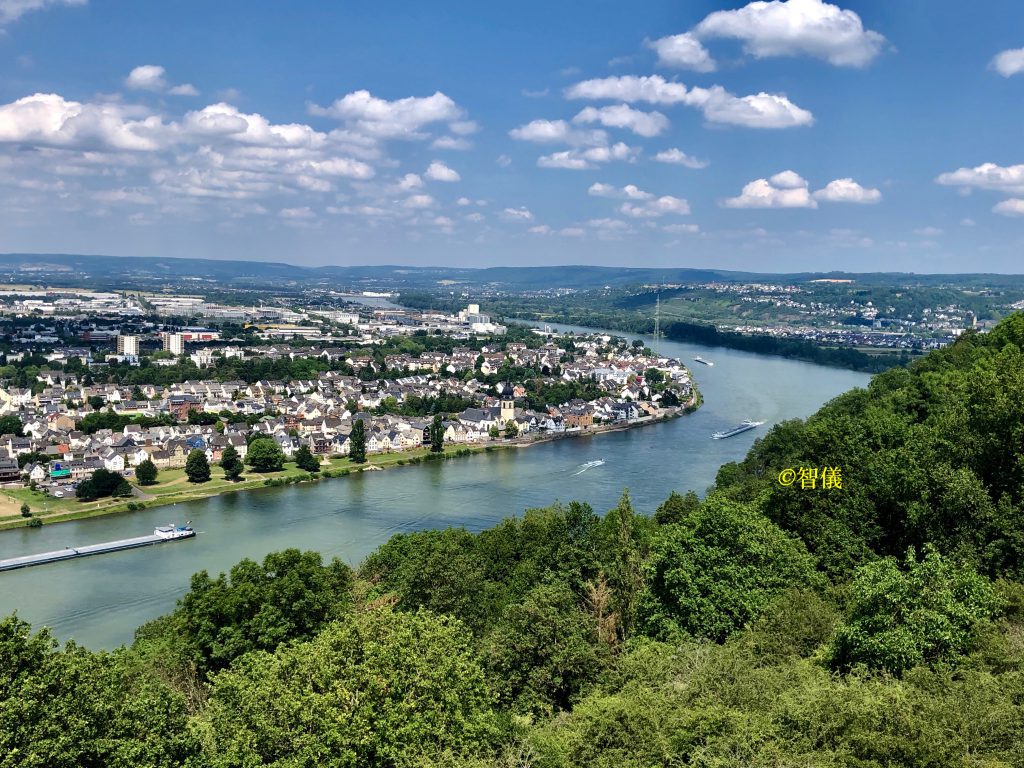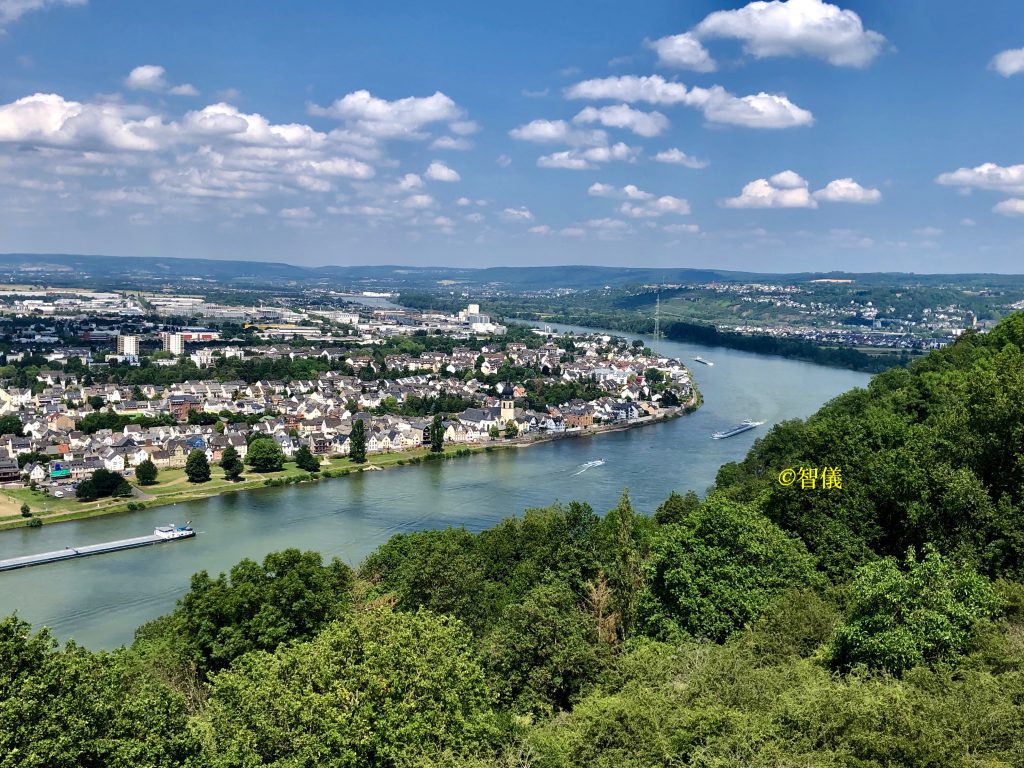 ….. to merge with the Moselle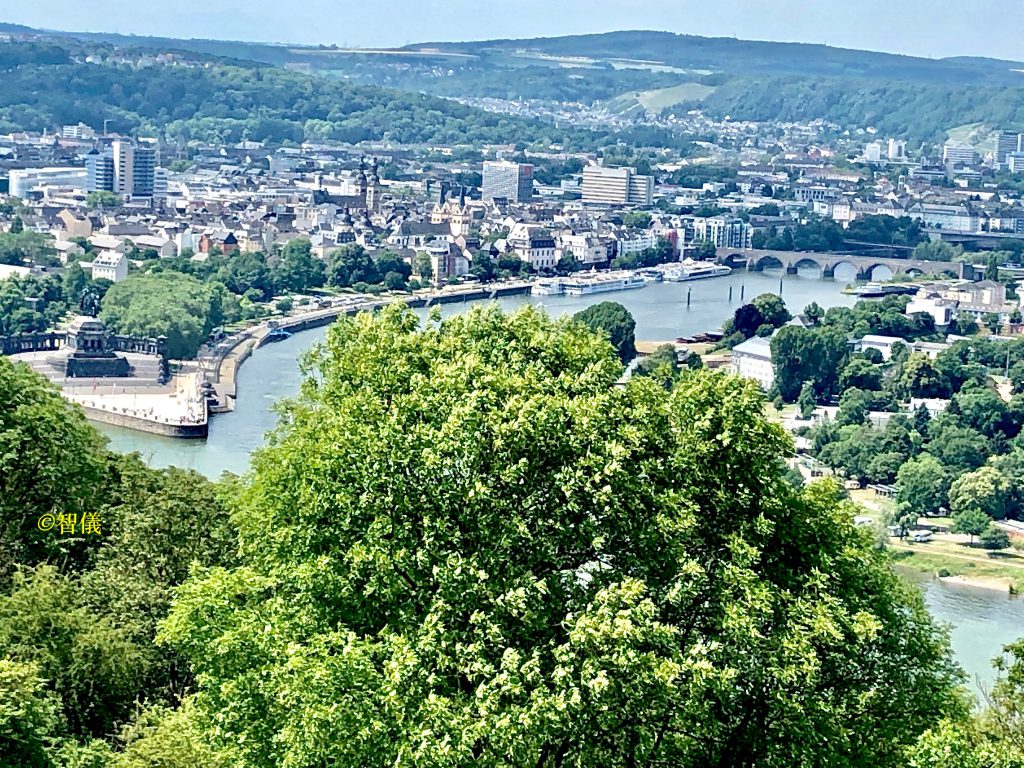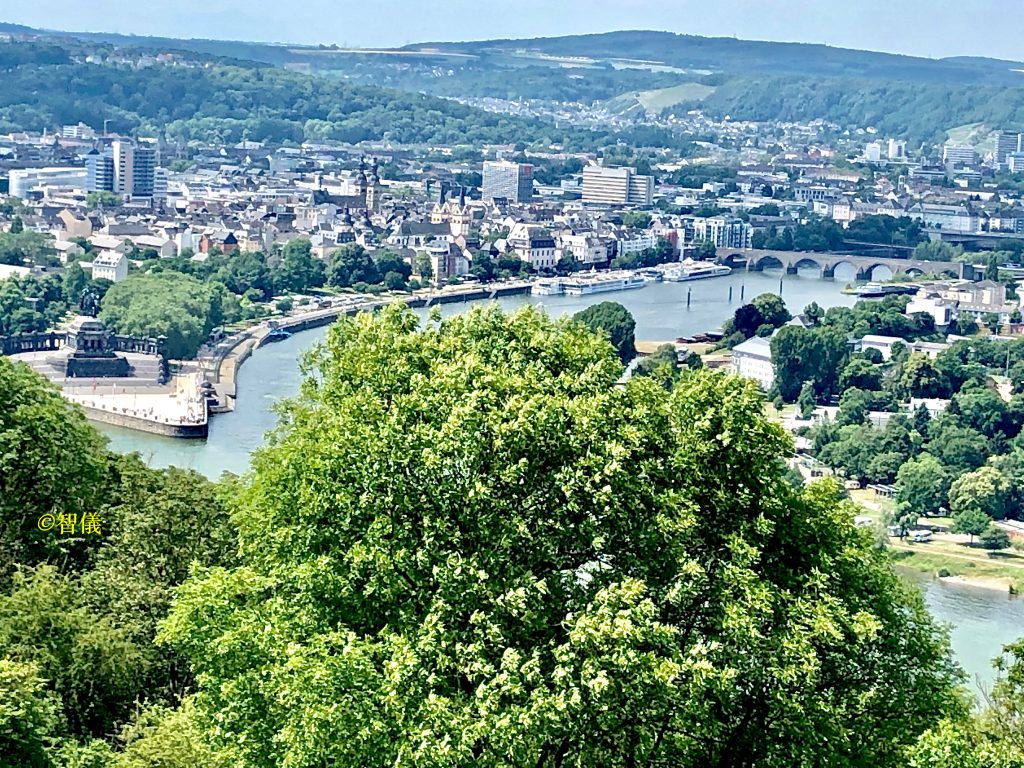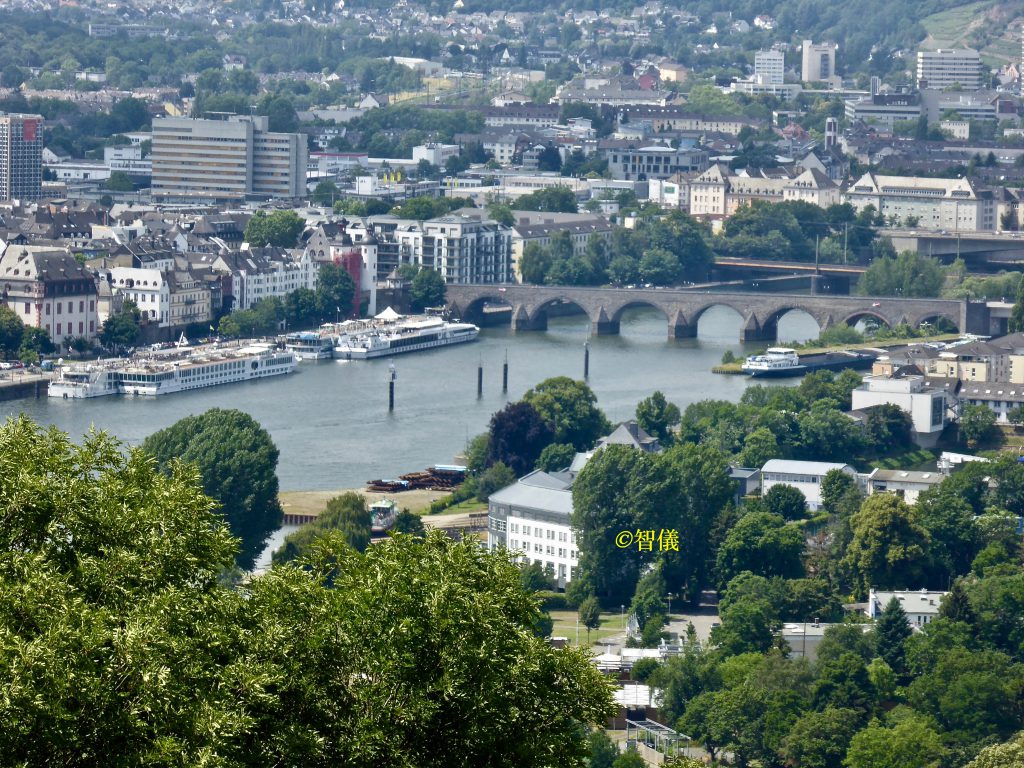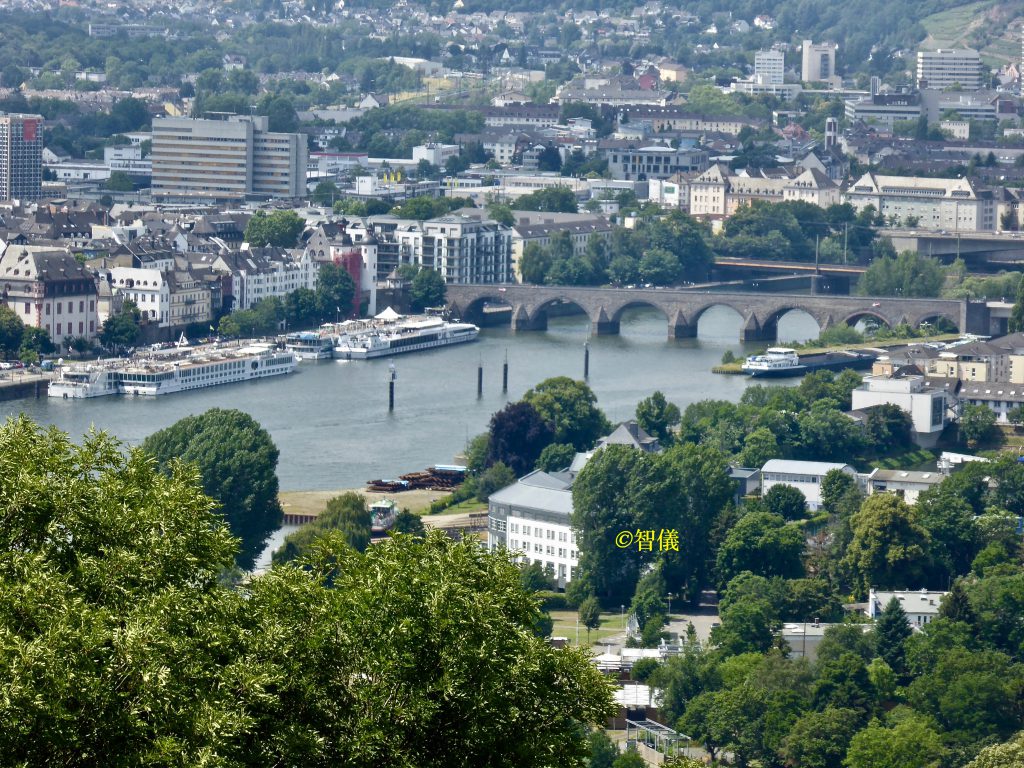 Here is the iconic view of Deutsches Eck from another side of the Fortress where River Rhine and River Moselle meet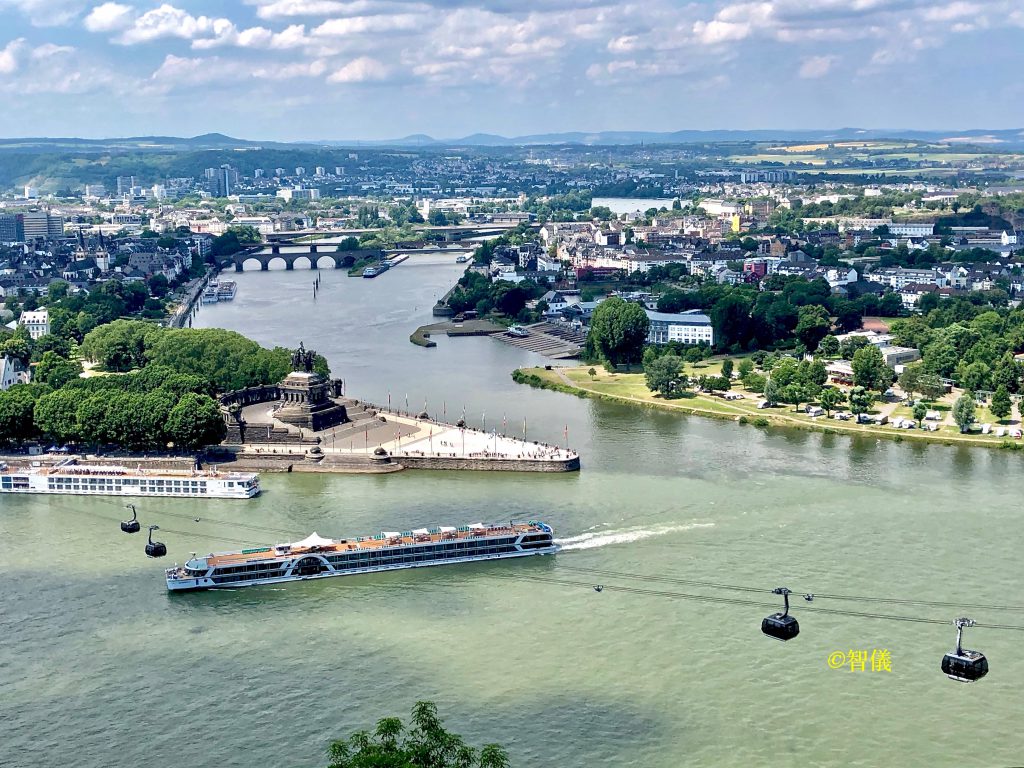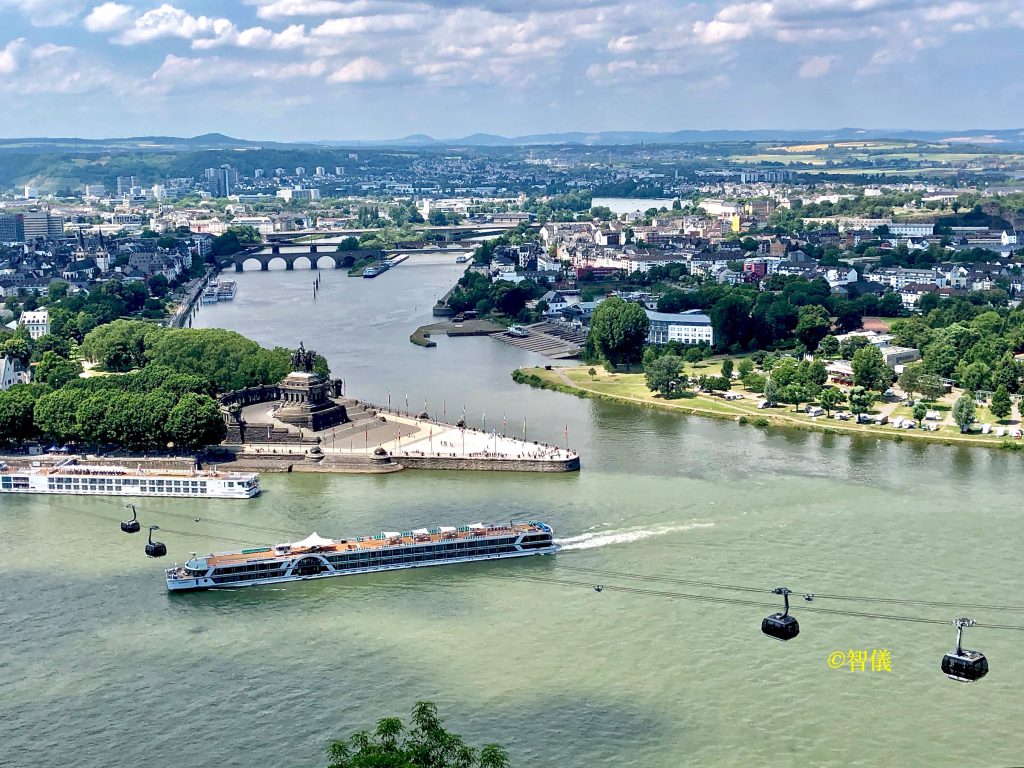 Deutsches Eck (German Corner)
The imposing statue of William the Great marks the confluence of the Rhine and Moselle rivers.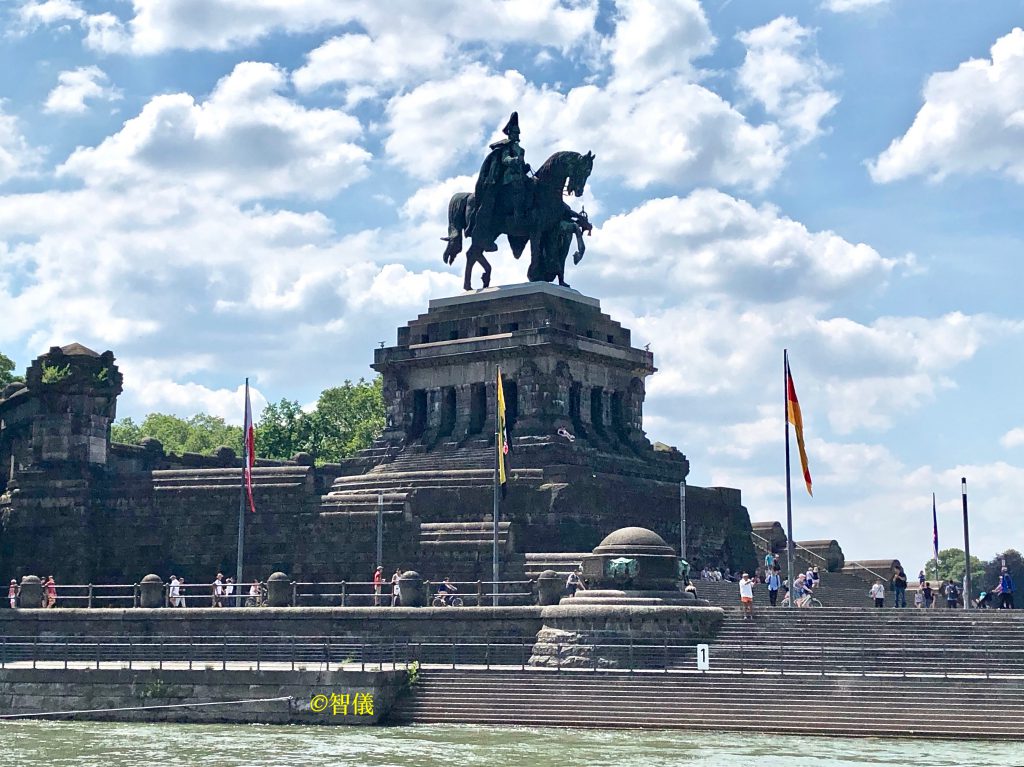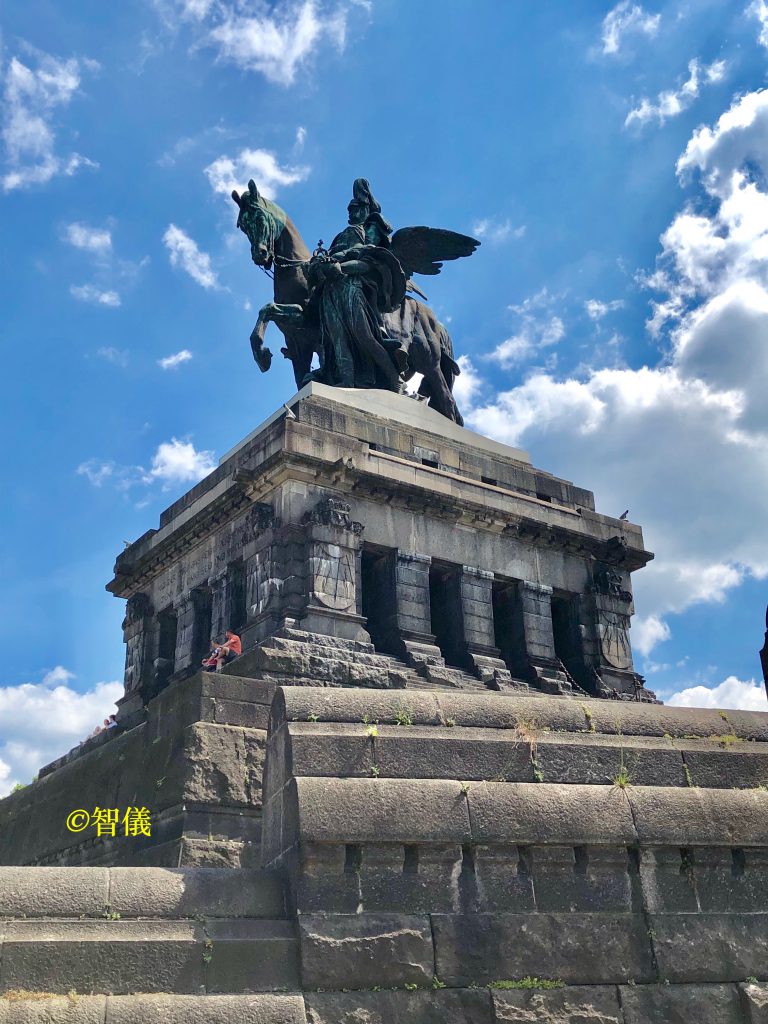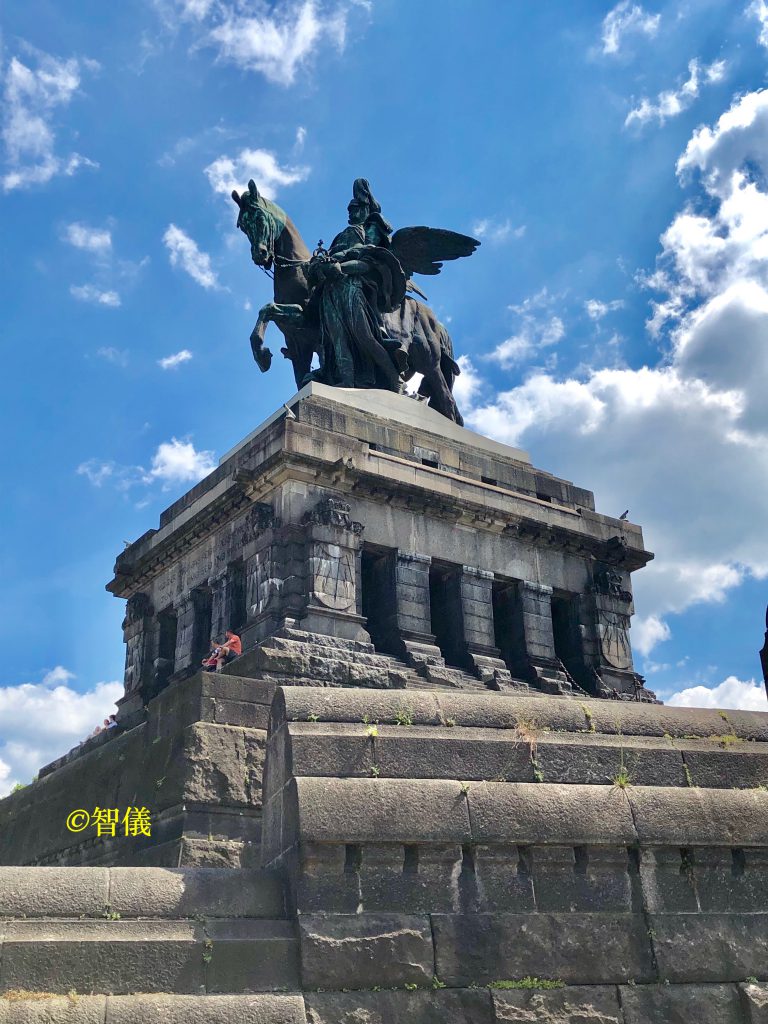 Time for the riverboat cruise on the Rhine!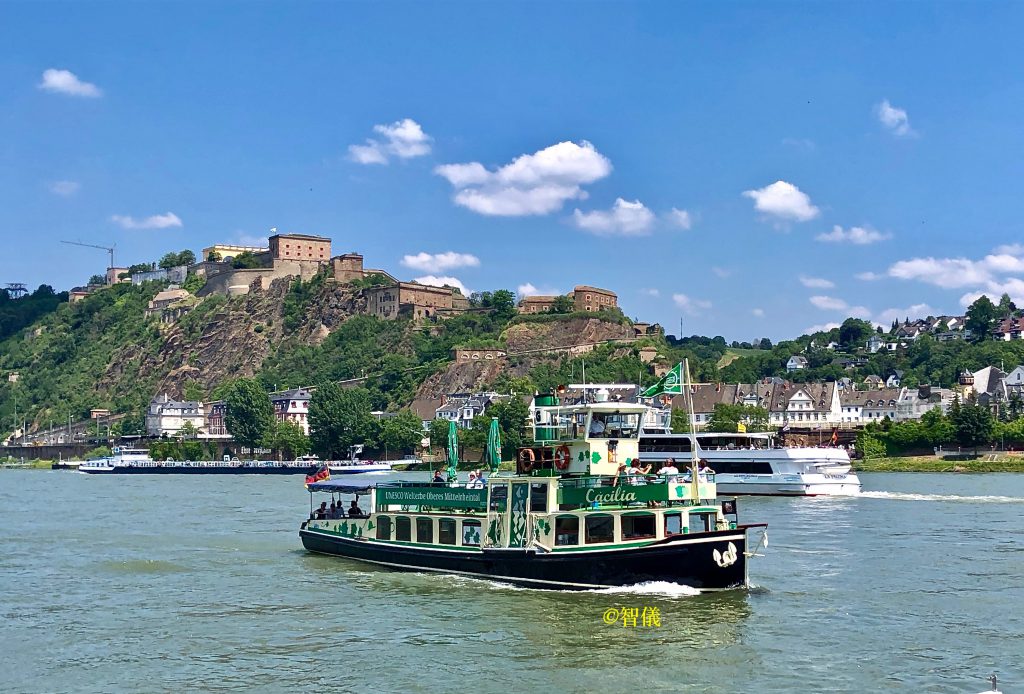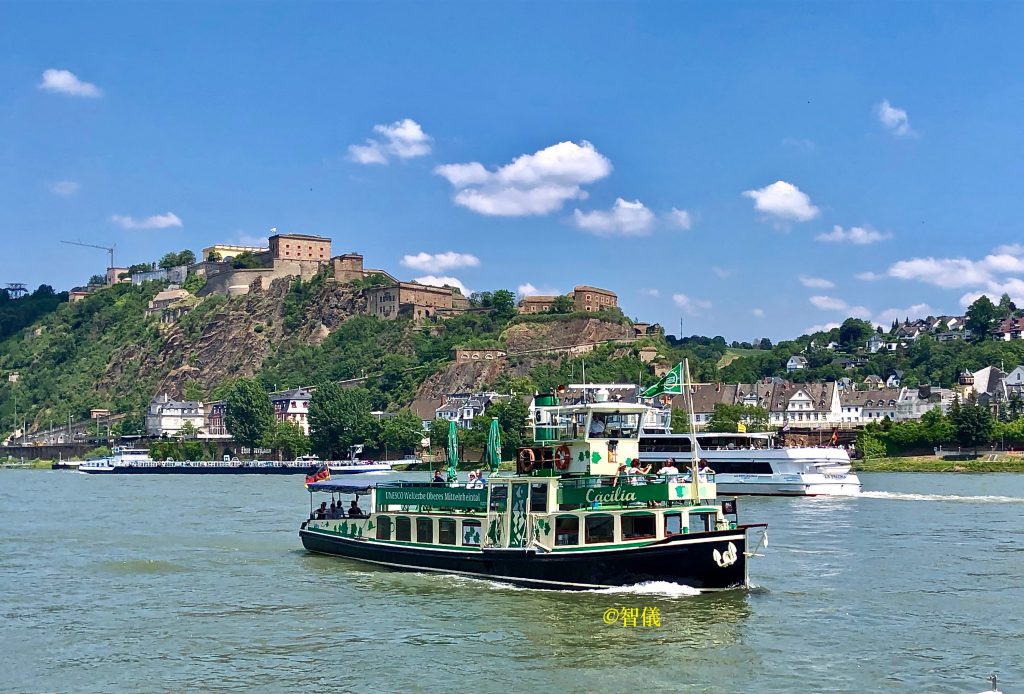 The scenery was especially pretty on a lovely sunny day!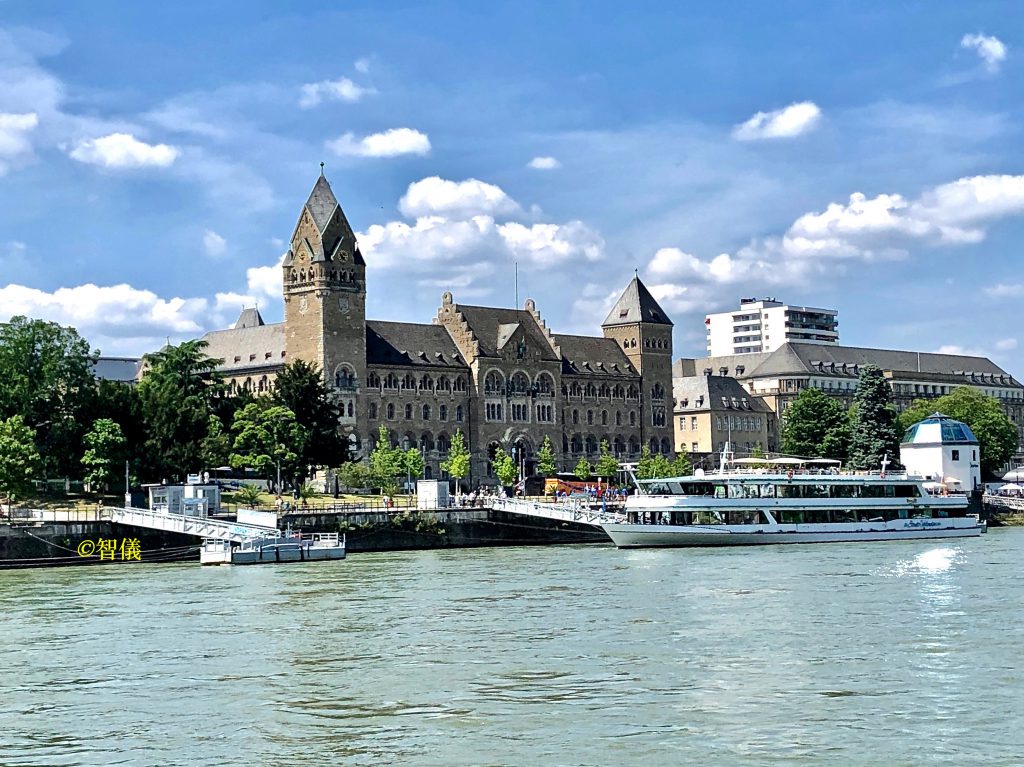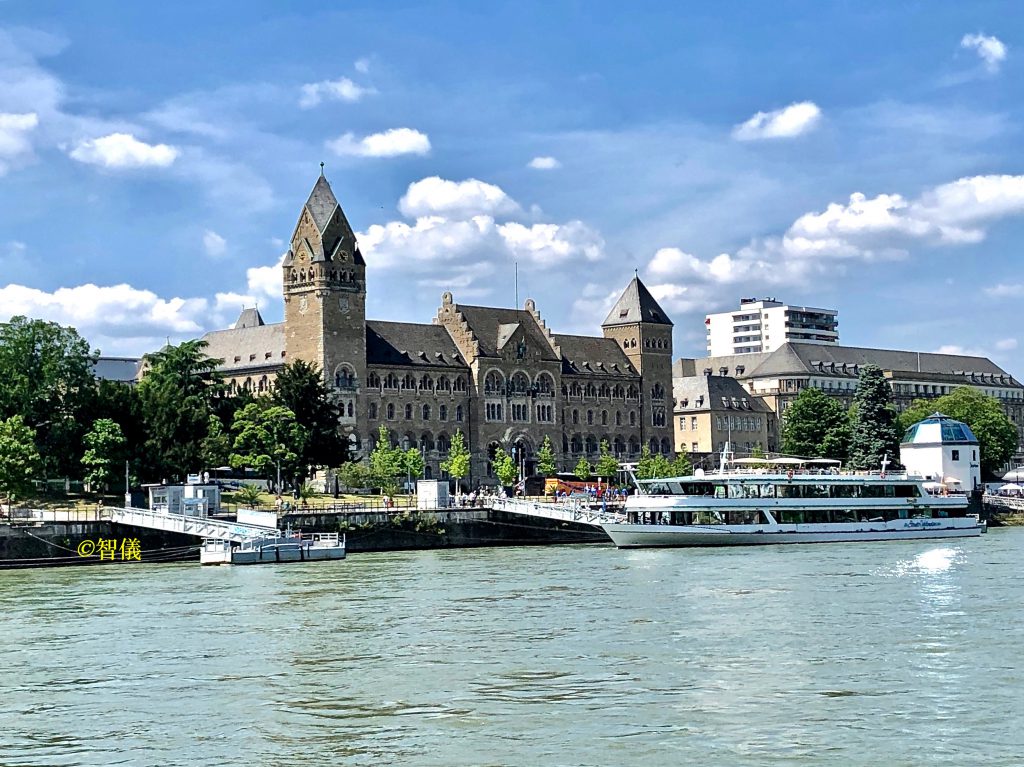 Meanwhile, back ashore, look what I found!! A large Chanel No 5 bottle on the grounds of The Ludwig Museum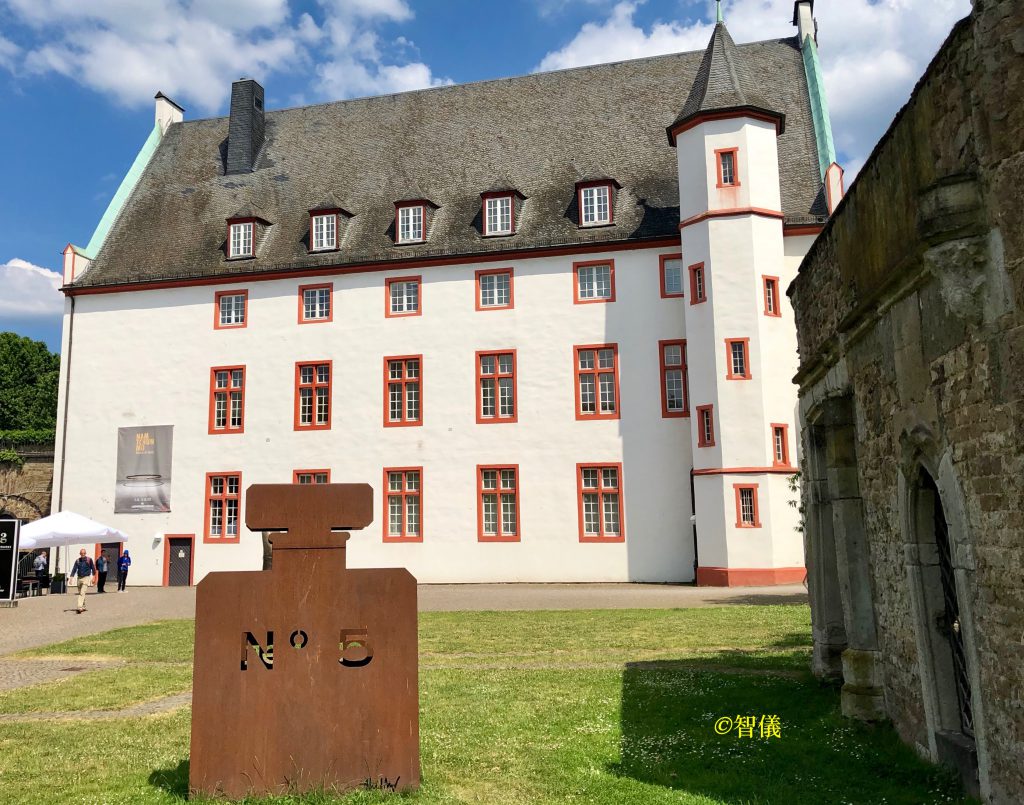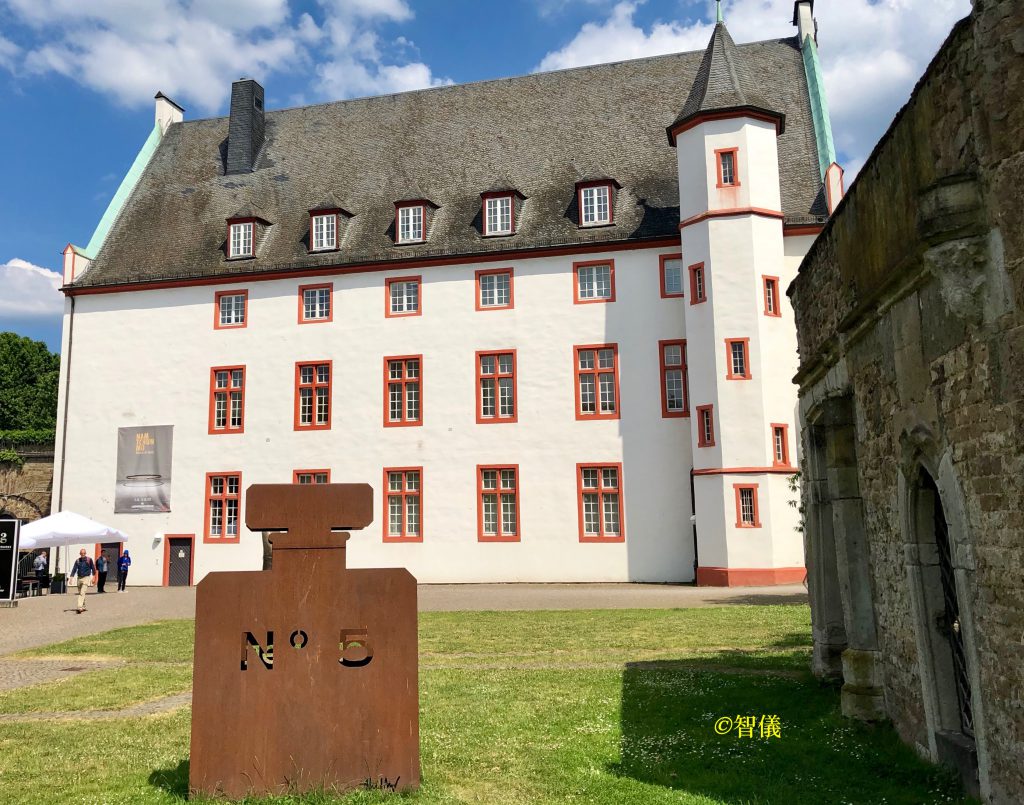 Next to the museum was Basilica of St. Castor (Kastorkirche)
Jesuitenplatz – Altstadt (Old Town)
We took a different route back to the station, via Altstadt, passing one pretty square after another! What a wonderful place to stop here for a refreshing drink on a hot day!
The square is surrounded Koblenz city hall on one side and elegantly renovated town houses on the others with a memorial statue in the middle. An utterly charming setting for many photos!!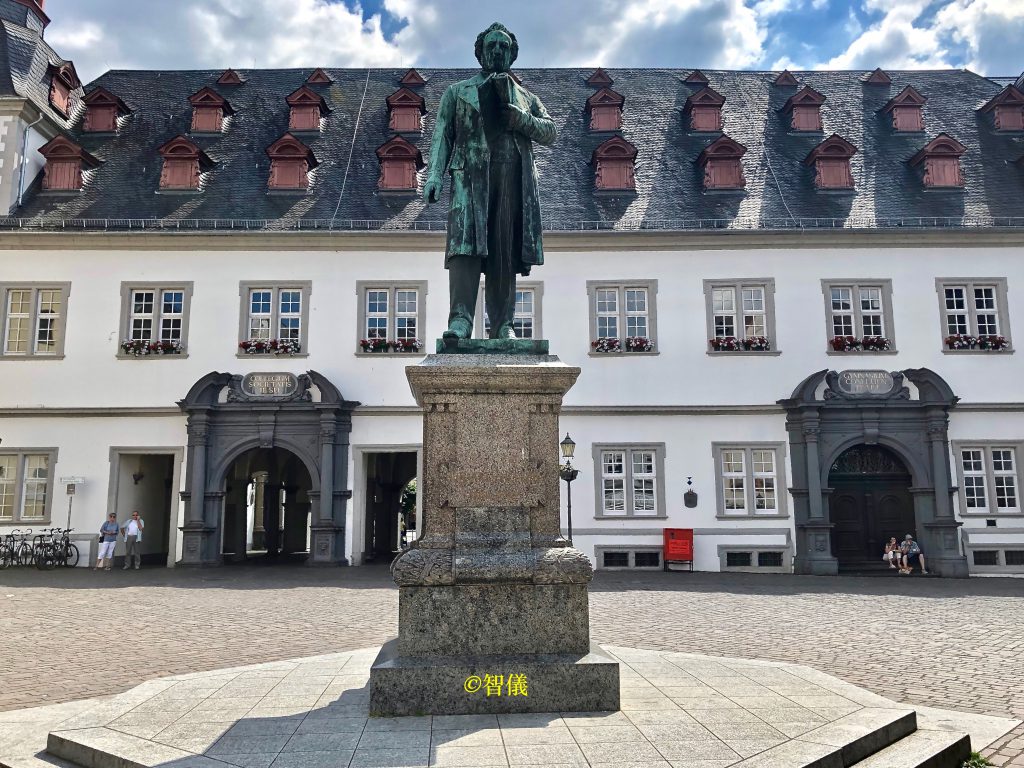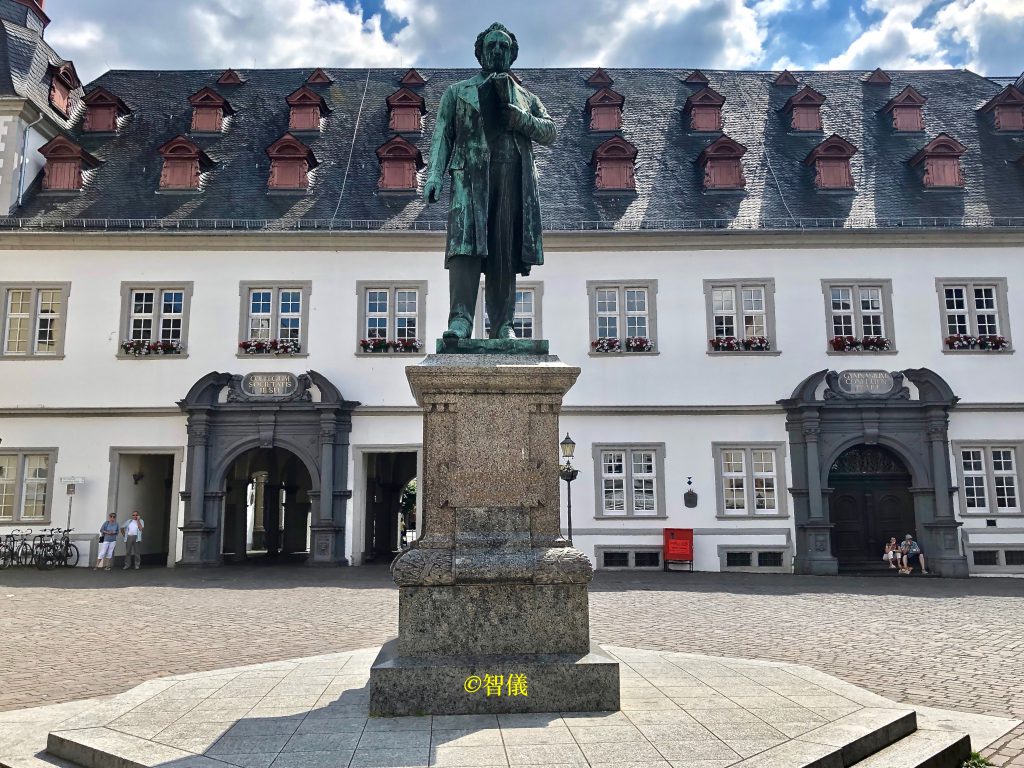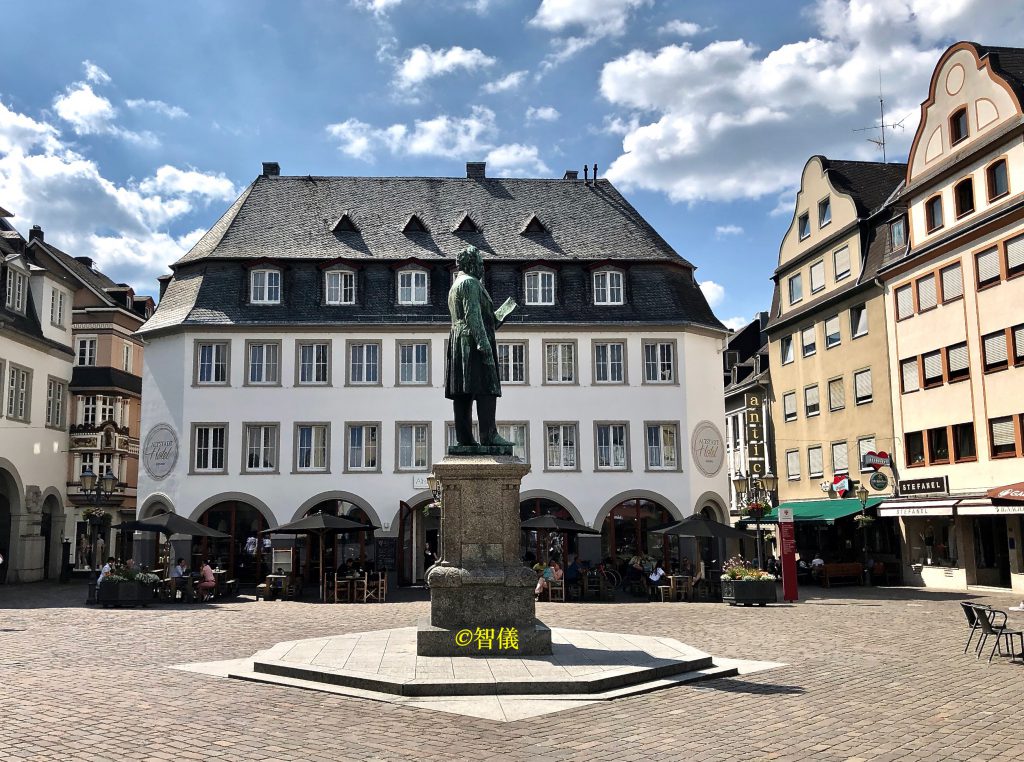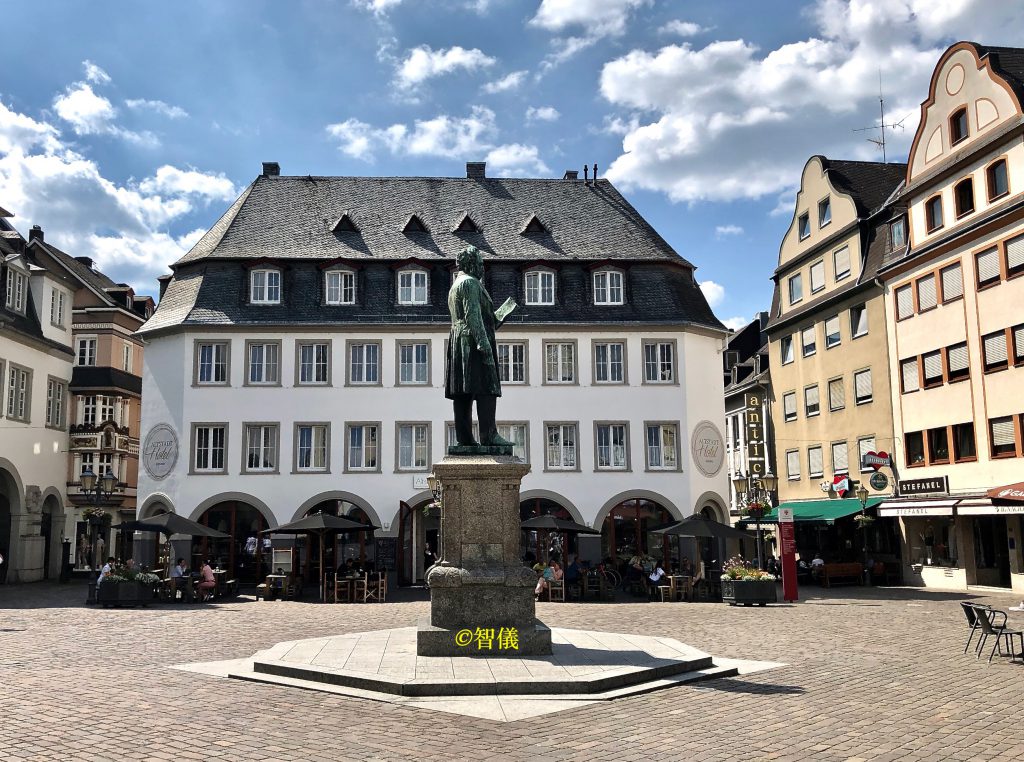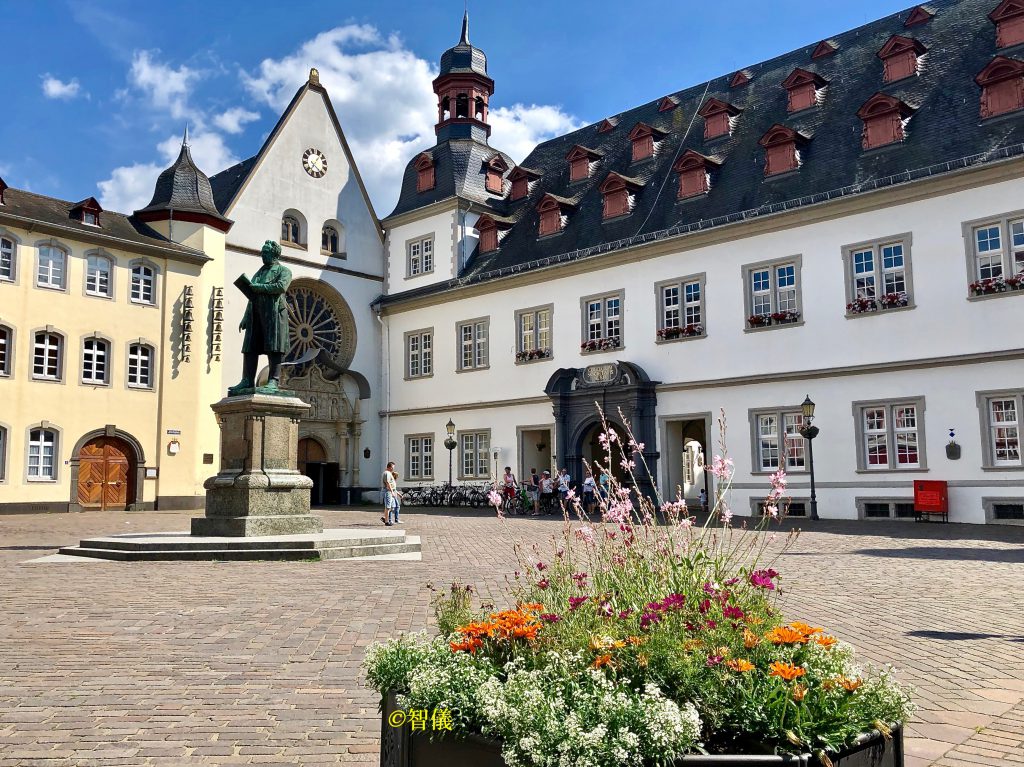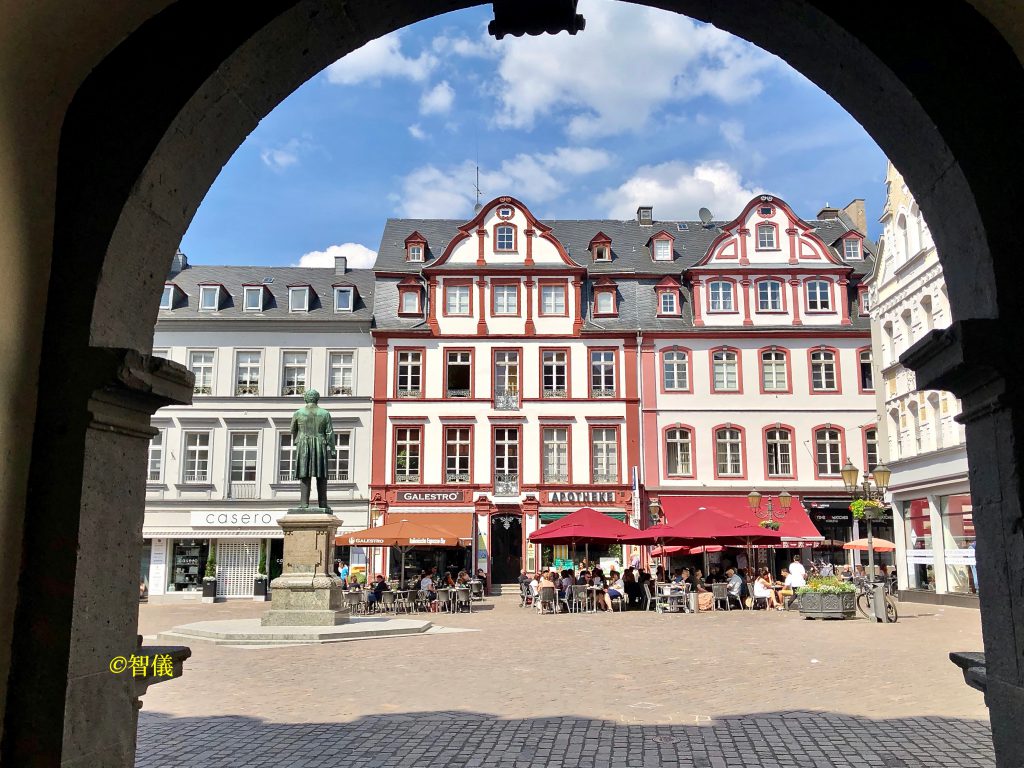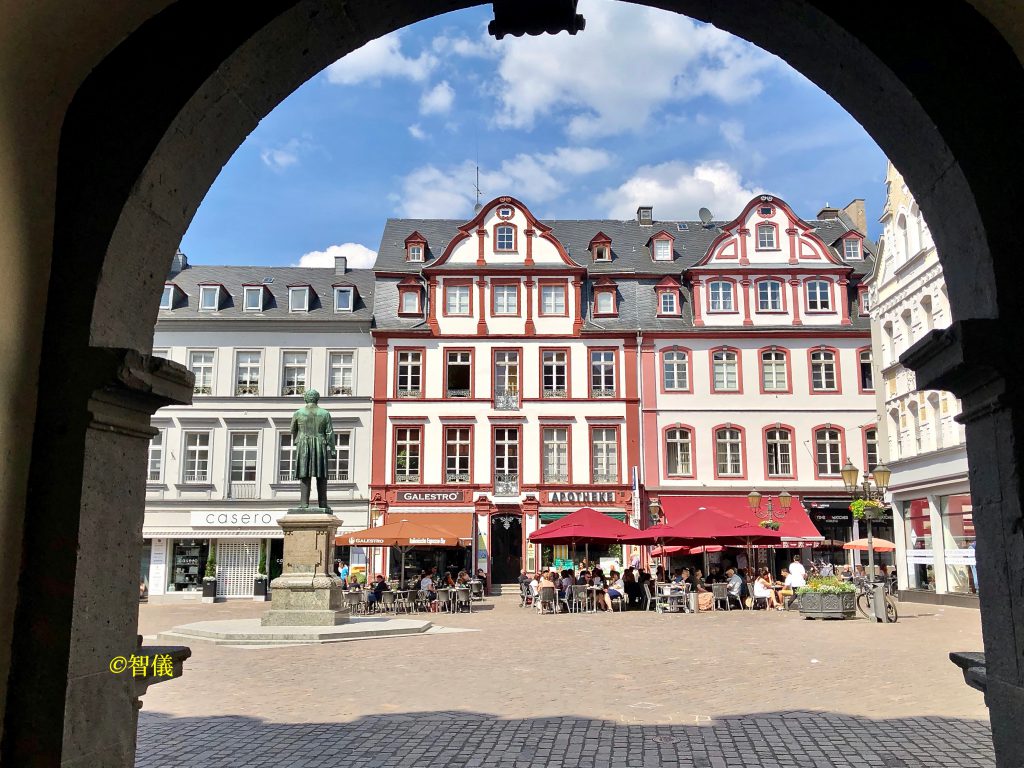 Am Plan – another pretty square in the Old Town
What a thoroughly enjoyable day it was! I never knew Koblenz was such a beautiful city that well worth a visit!
Here I finish off with my prized fridge magnet and me in my usual pose!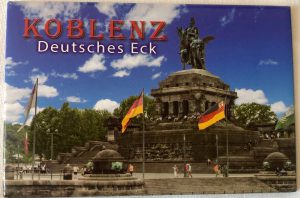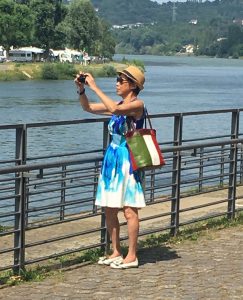 Comments are welcome but spams are deleted immediately unread