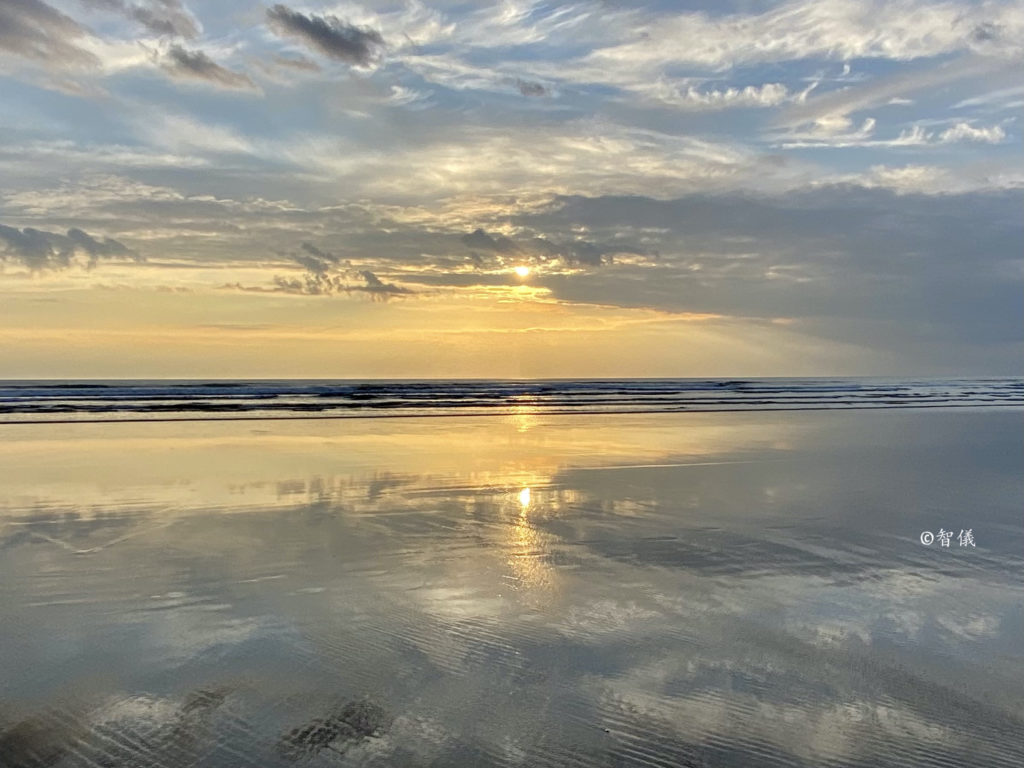 With foreign travel fraught with difficulties, and alleviation nowhere in sight, staycation seems to be the only way to revive the deflated spirits.
As Hunters Inn in Exmoor (link) would take us to north Devon, it's a good opportunity to revisit old favourites, taking in new places in Somerset (link) on the way.
Royal Hotel in Bideford
Mistaken loyalty took us back to stay at Royal Hotel as our base. It was the fourth time we stayed there, the last time was as recent as last August. Had this been our first, we would not have bothered to return! If the double room we were allocated this time were a "standard double room", it didn't say much for its standard. The non-standard size bath was only 2 steps from the door and accounted for the length of the bathroom, with the washbasin next to the bath its entire width. There wasn't even anywhere to put a wash bag! Had there been a shower rather than a bath, perhaps it would have felt less claustrophobic.
Sunset at Northam Burrows
There's only one place to see a spectacular sunset in Bideford. No, not Westward Ho! but nearby Northam Burrows, a designated Site of Special Scientific Interest (SSSI)! When I was there in August 2020, I was mesmerised by the sunset. It was like watching an orange being dropped in slow motion.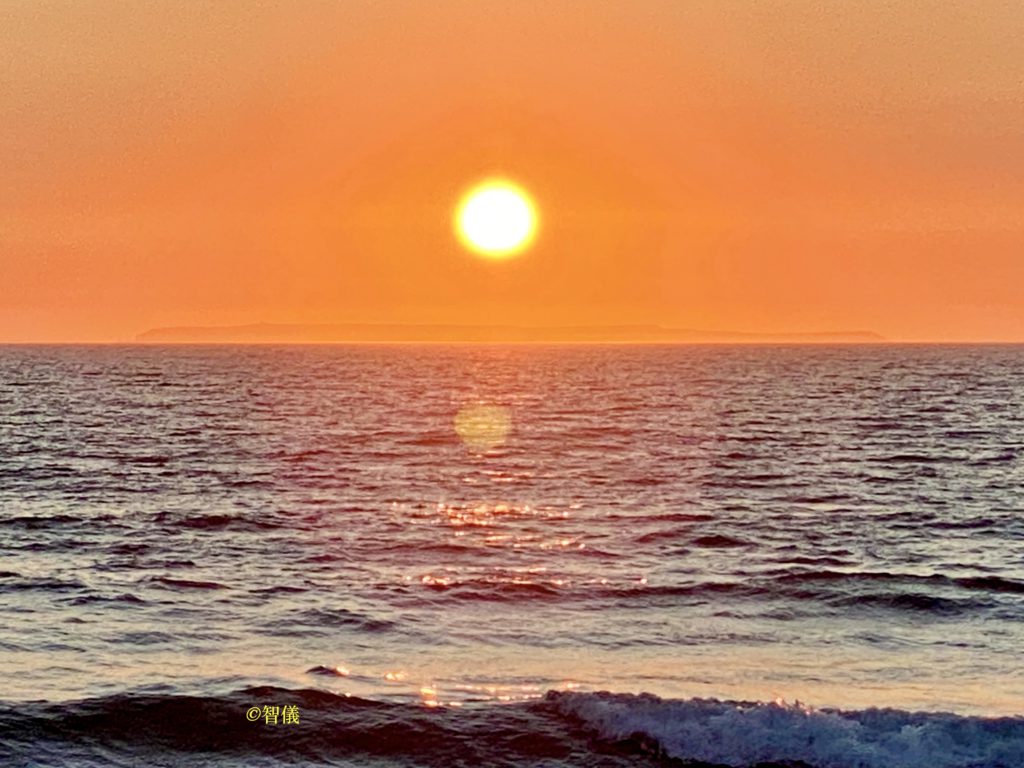 This time round, the colours were more subtle and dramatic! On 21 June, the longest day of the year, the sun didn't set until late. We had time to wander over there after an early dinner at the hotel. The colours were magical and ever changing in the gathering dusk.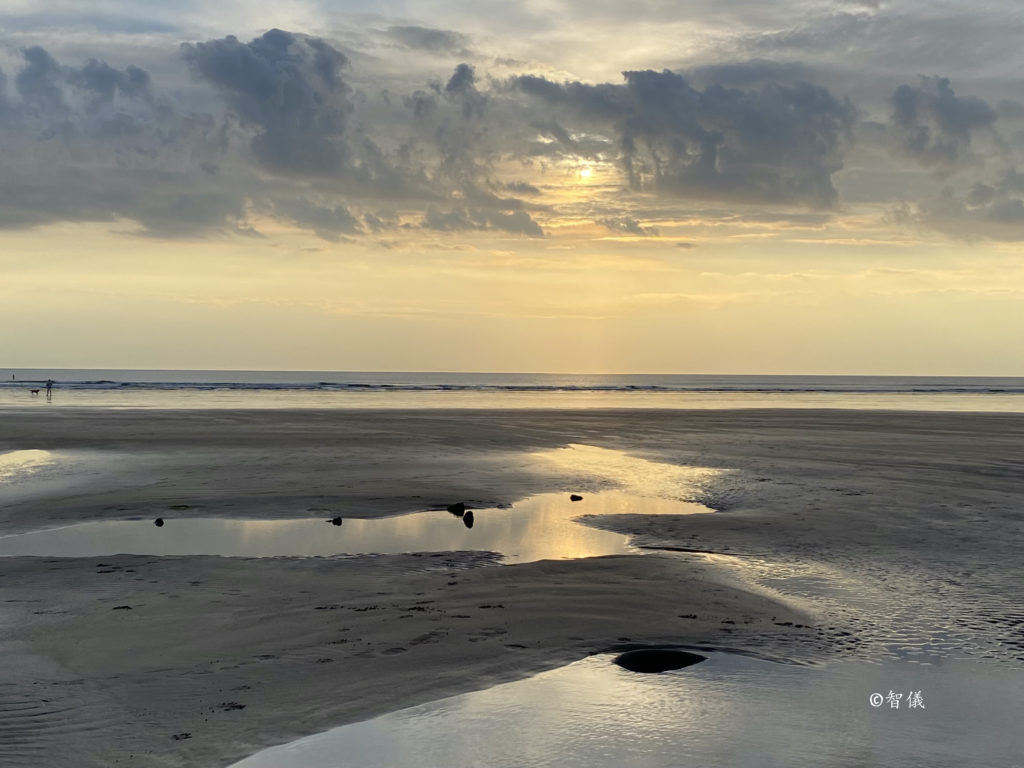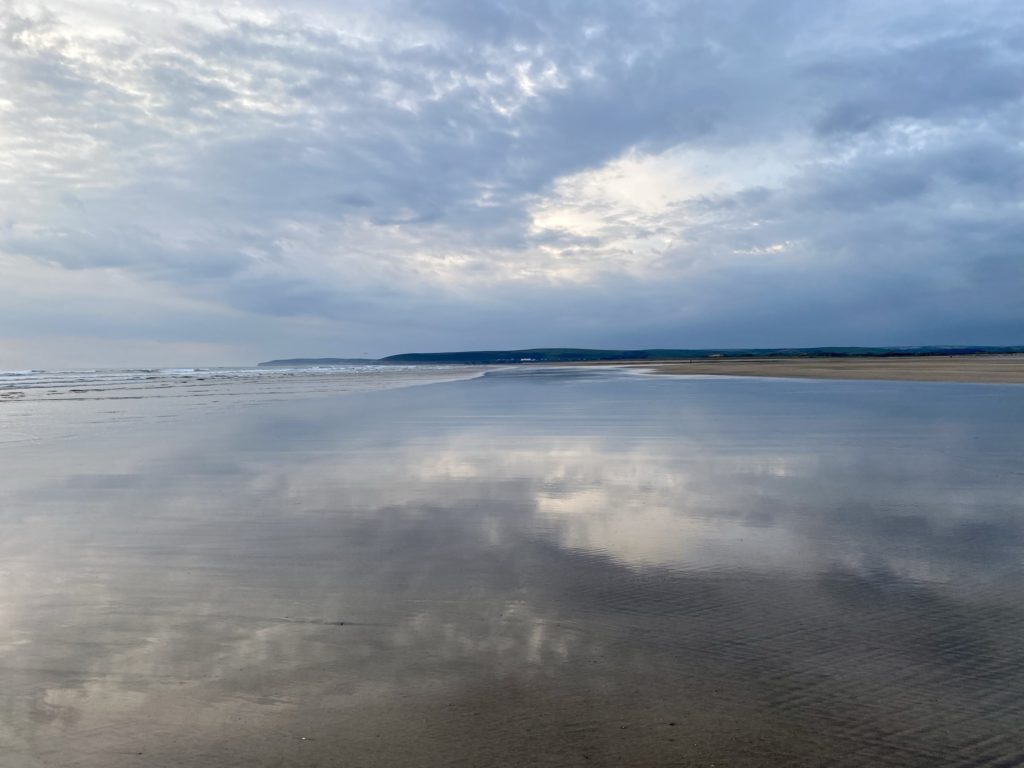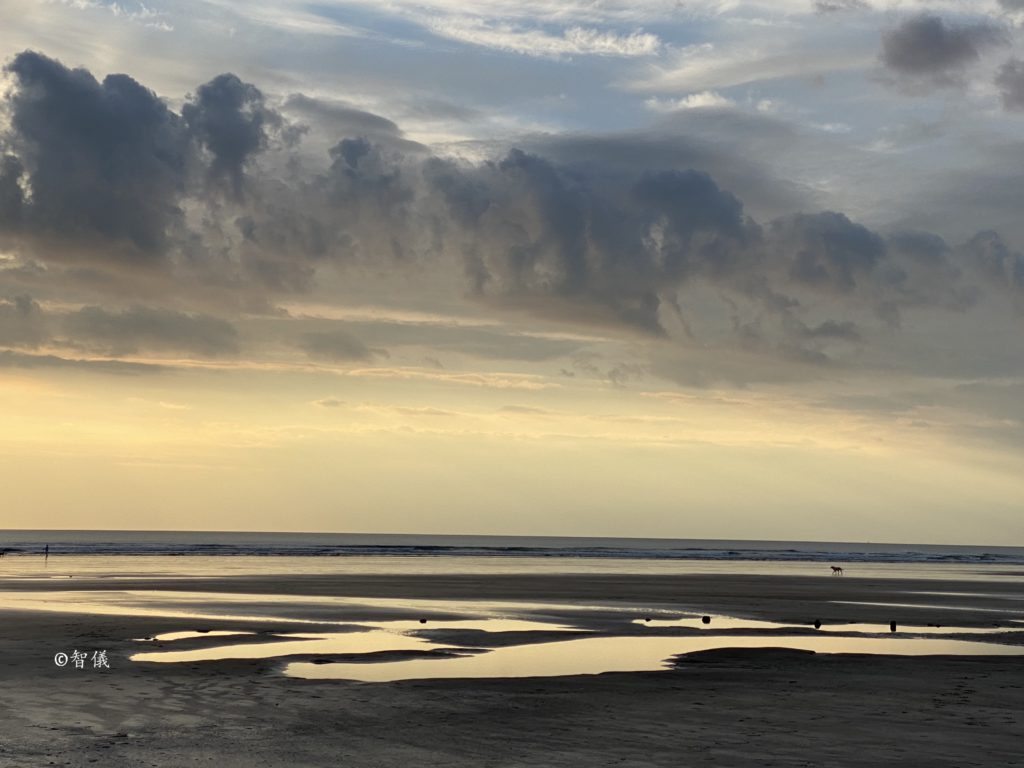 As the tide was out we walked a long way towards the far horizon which was a blurred line of blue, grey and orange dividing the sky and its reflection on the shore.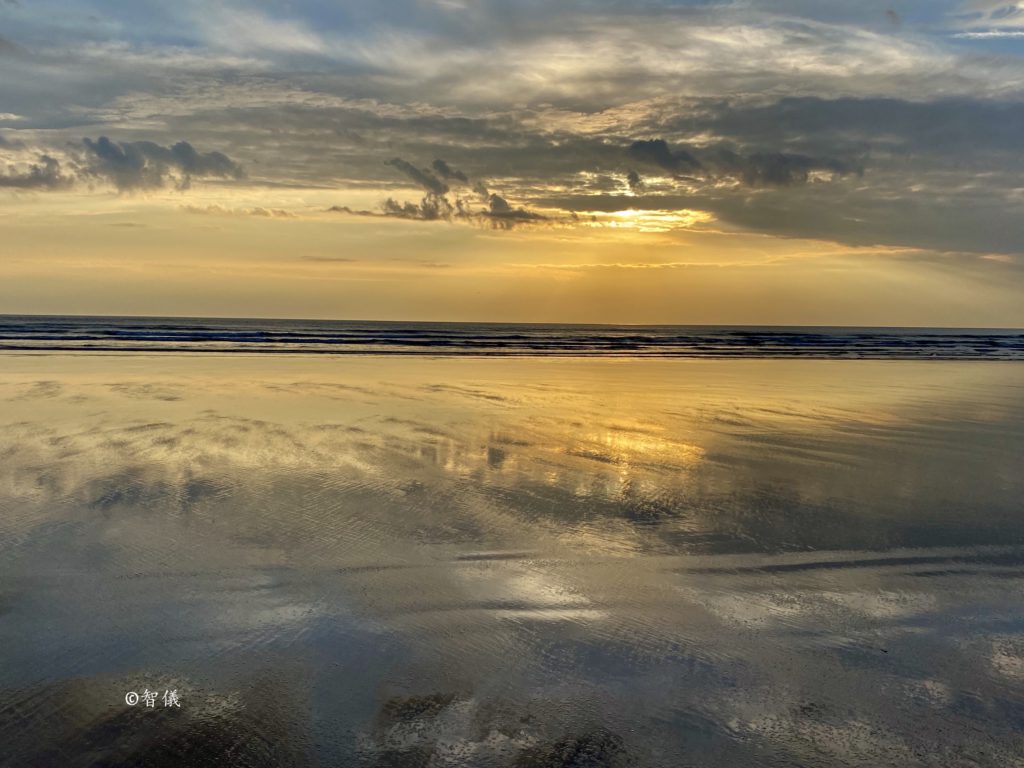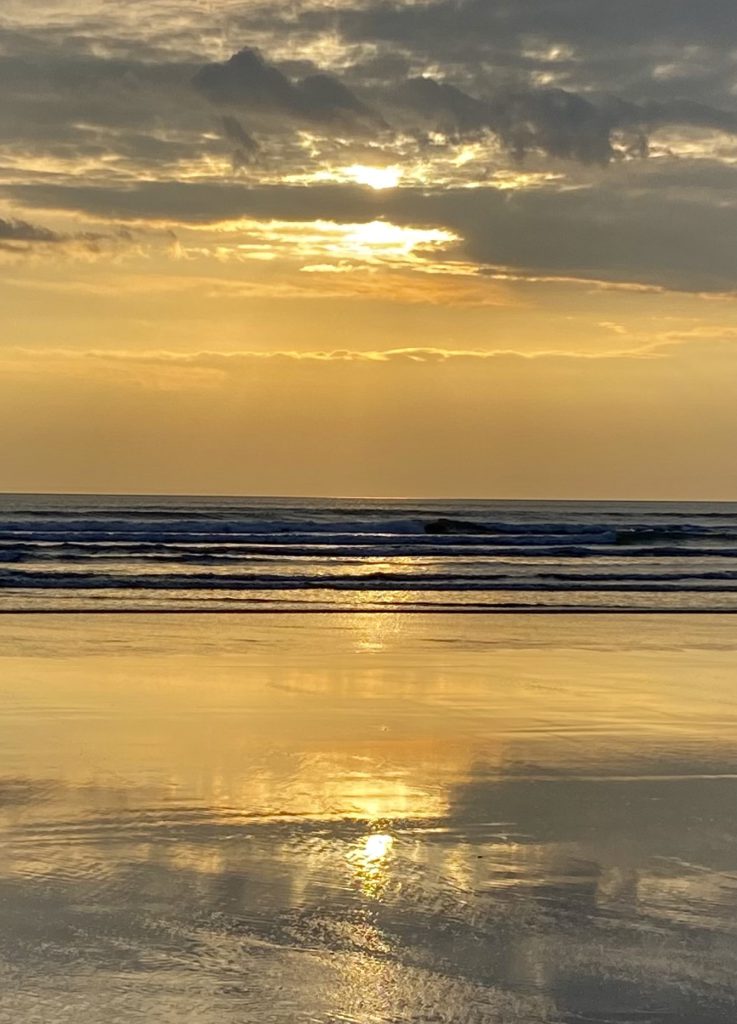 In a matter of minutes a swathe of dark blue descended on the horizon, like the curtain slowly falling at the end of a performance, to the gentle applause of the ebbing tide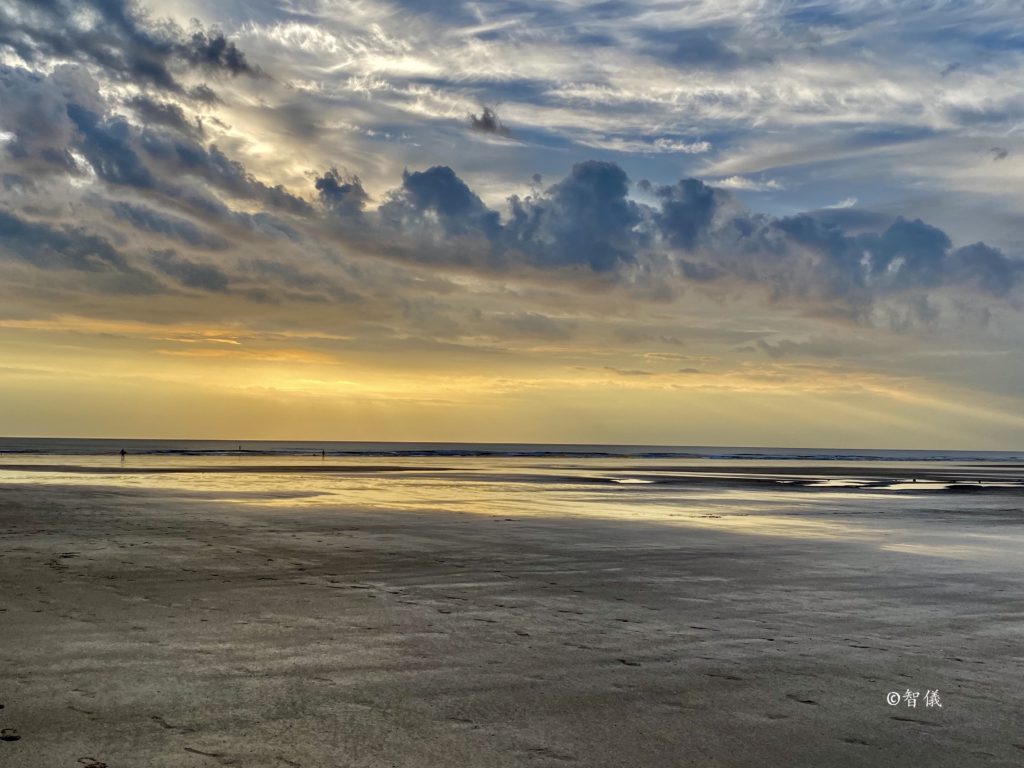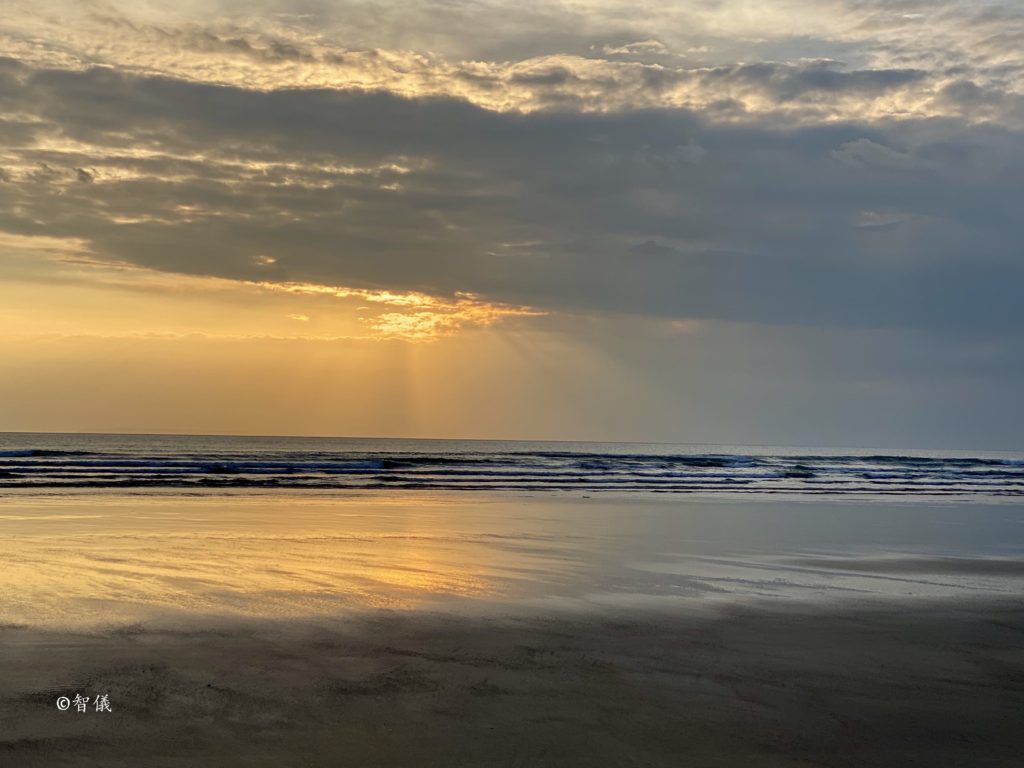 Hartland Quay
Hartland Quay is about 5 miles from Hartland village. It lies on the Atlantic coast and is part of the North Devon Area of Outstanding Natural Beauty. This stretch of rugged coastline has a range of spectacular folds and faults, with steep and very high cliffs. It's an experienced hiker's paradise as shown on the map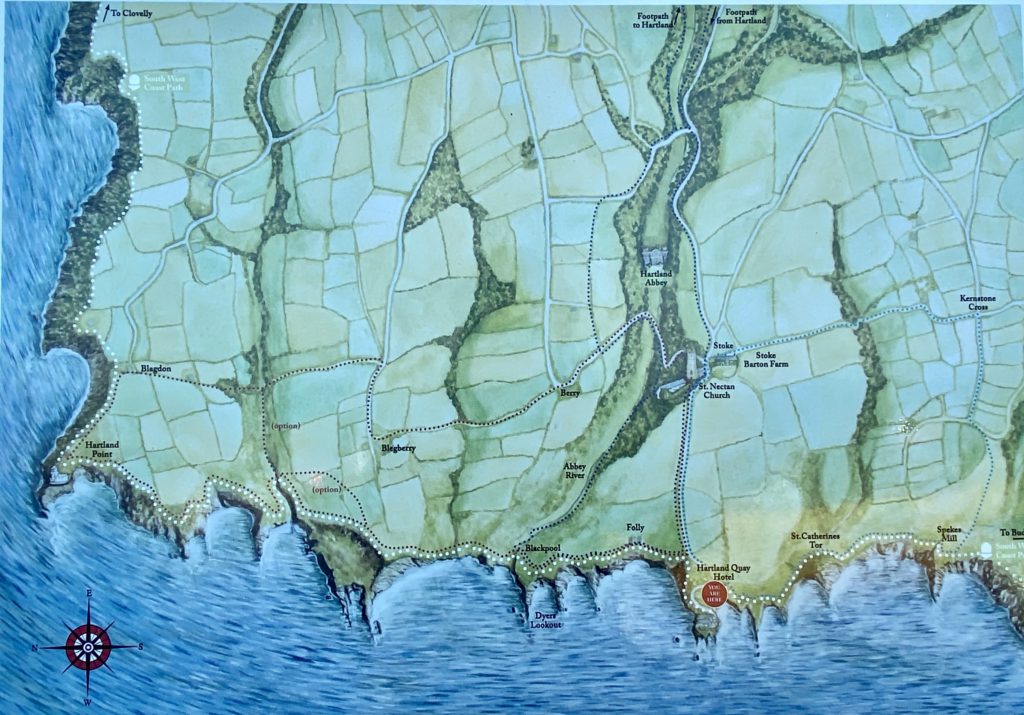 For walkers with limited hiking experience like us, we were contented to admire the peaceful views with our feet firmly on the ground, at the headland occupied by Hartland Quay Hotel. Being there just after 7.00 had the advantage of admiring the views with very few people around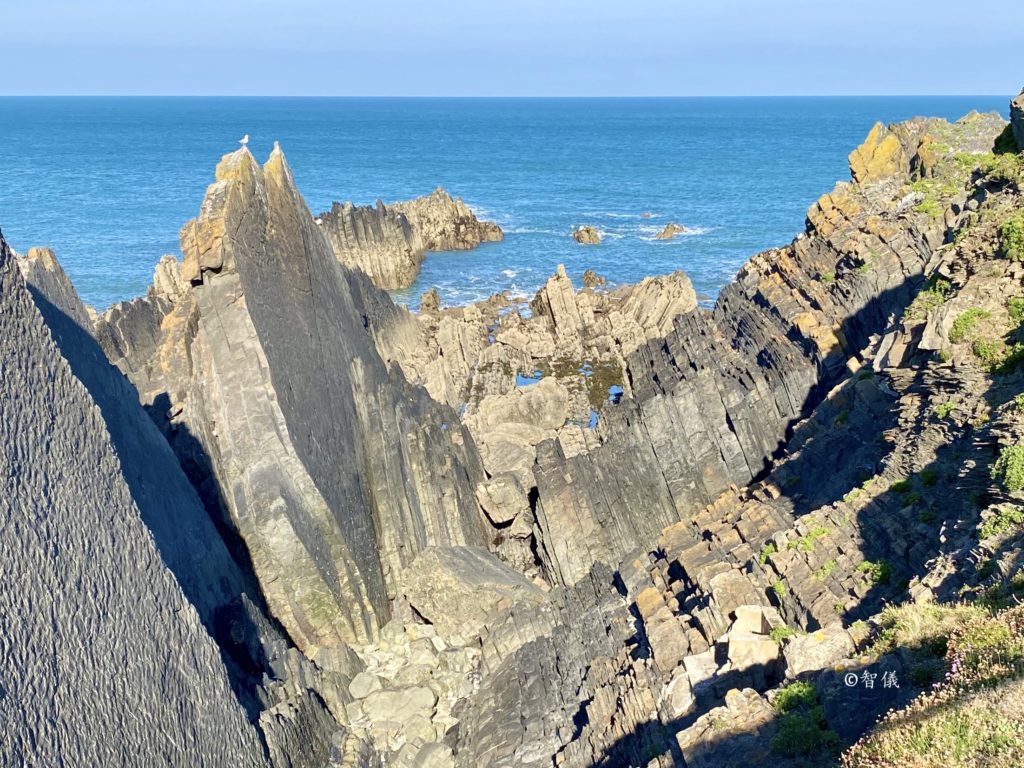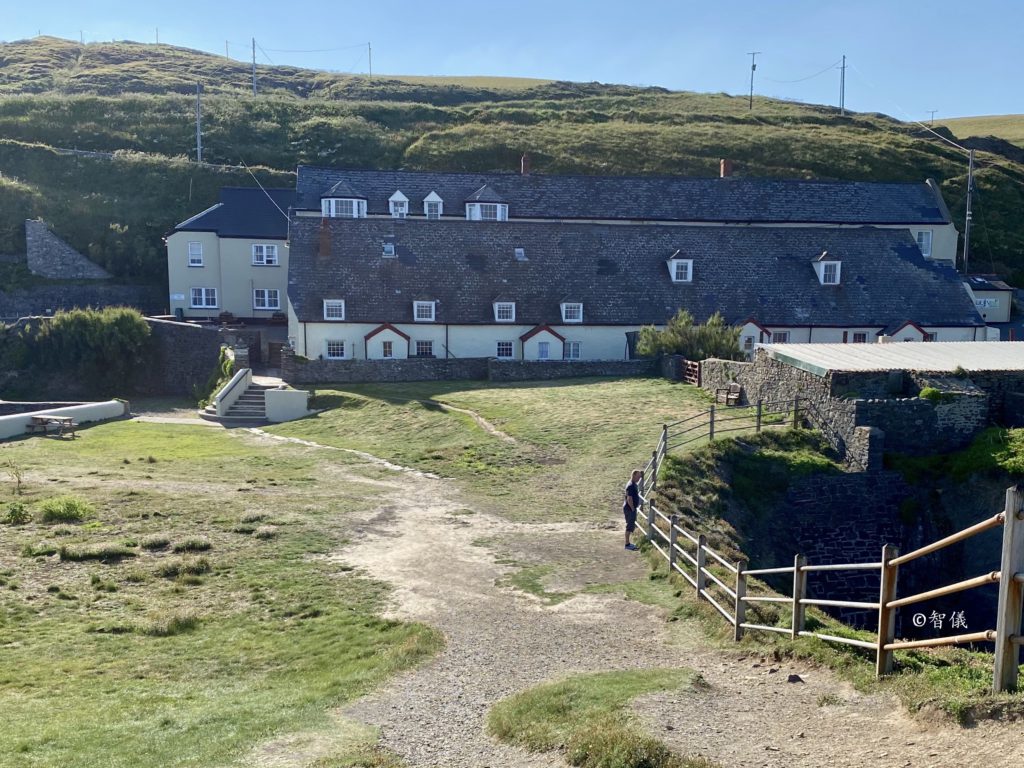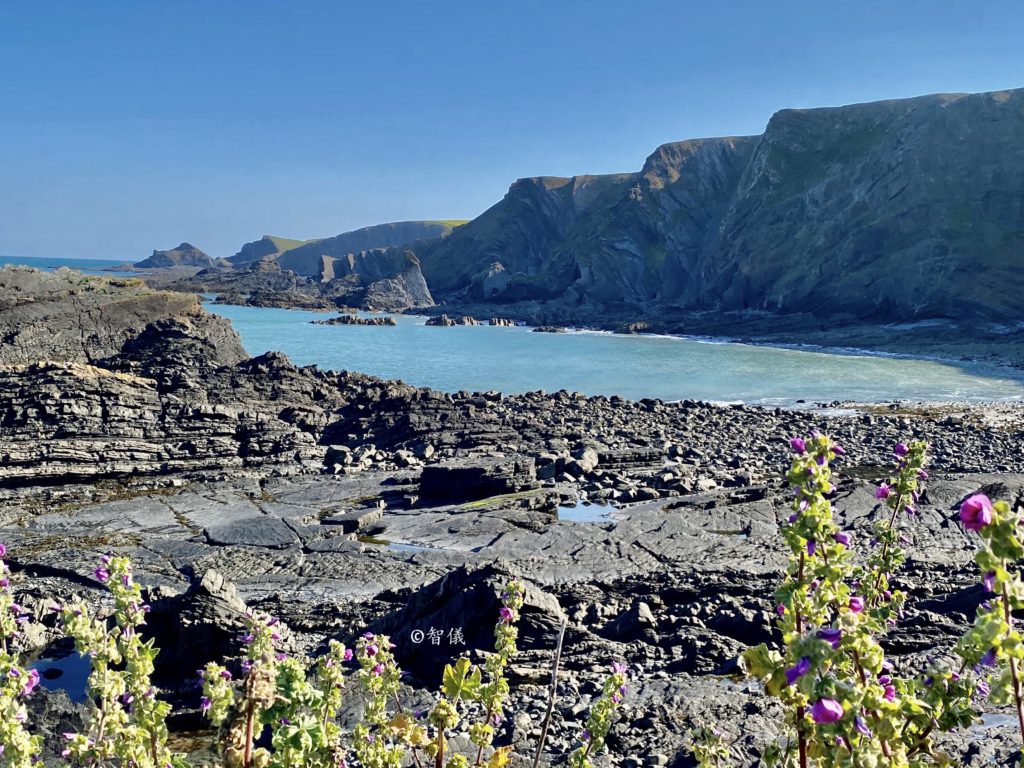 Clovelly
It was years since we visited Clovelly while in North Devon. It's a very popular place for tourists from far and wide and tends to be very crowded. However, as it was just before 9.00 on a weekday when we left Hartland Quay, we decided to risk it and head for Clovelly for our mid morning refreshment. Our hunch was right as there were only a few early birds like us!!
With its steep, cobbled street leading down to the ancient harbour, Clovelly is decidedly one of the most picturesque villages on the north Devon coast.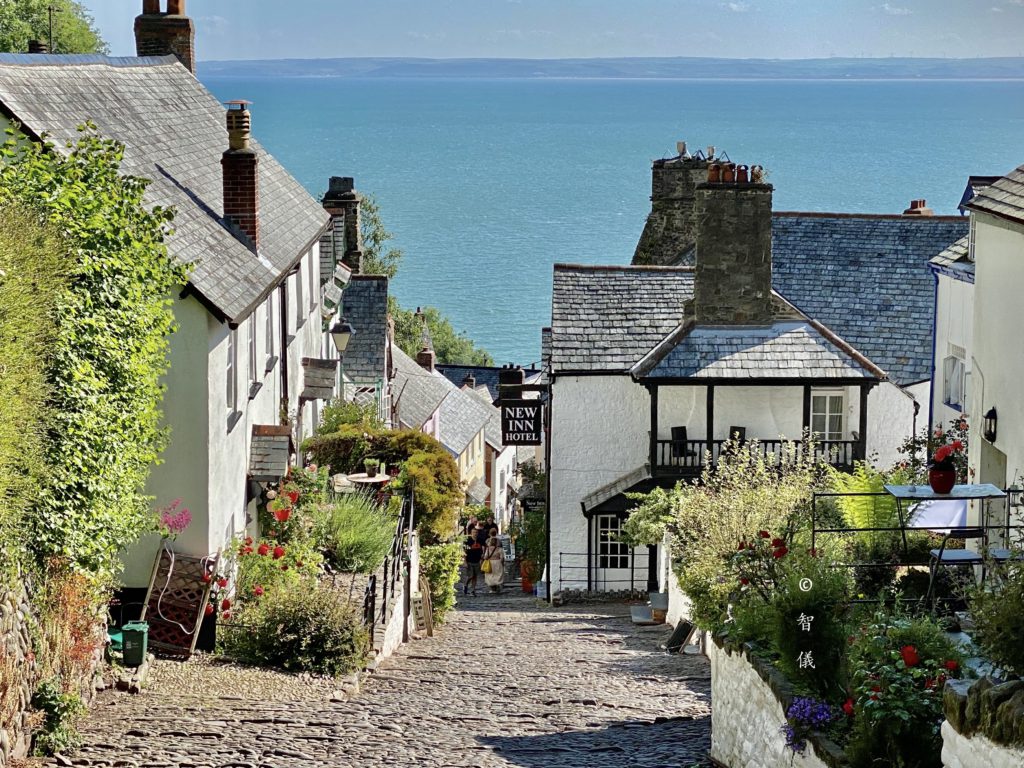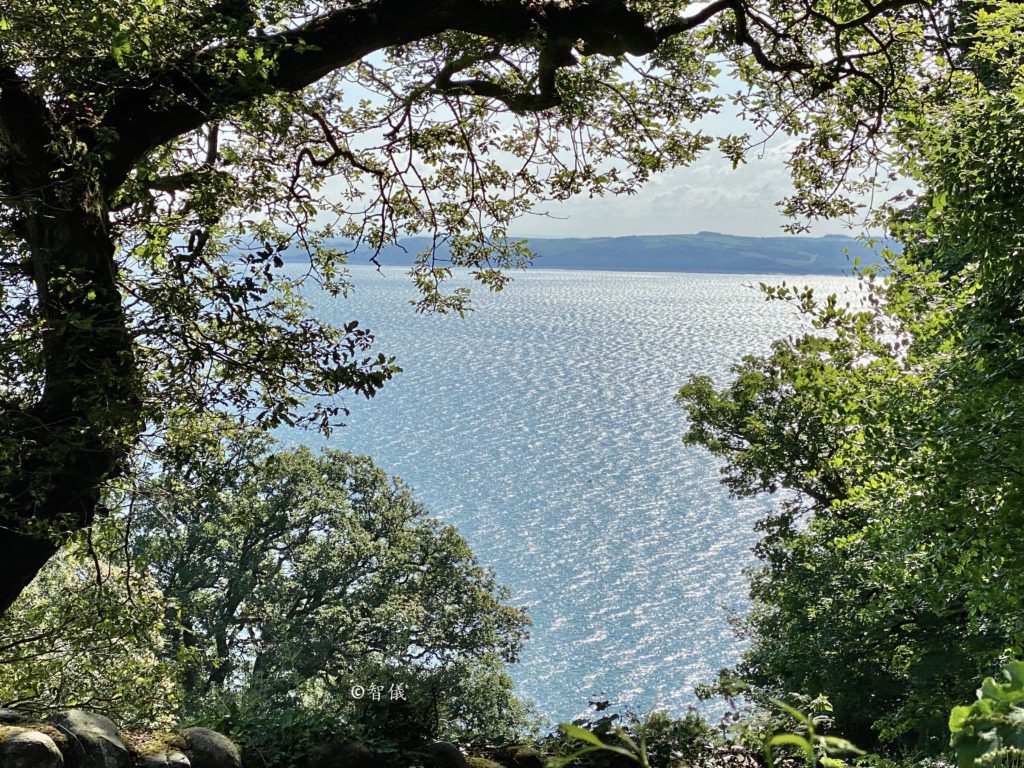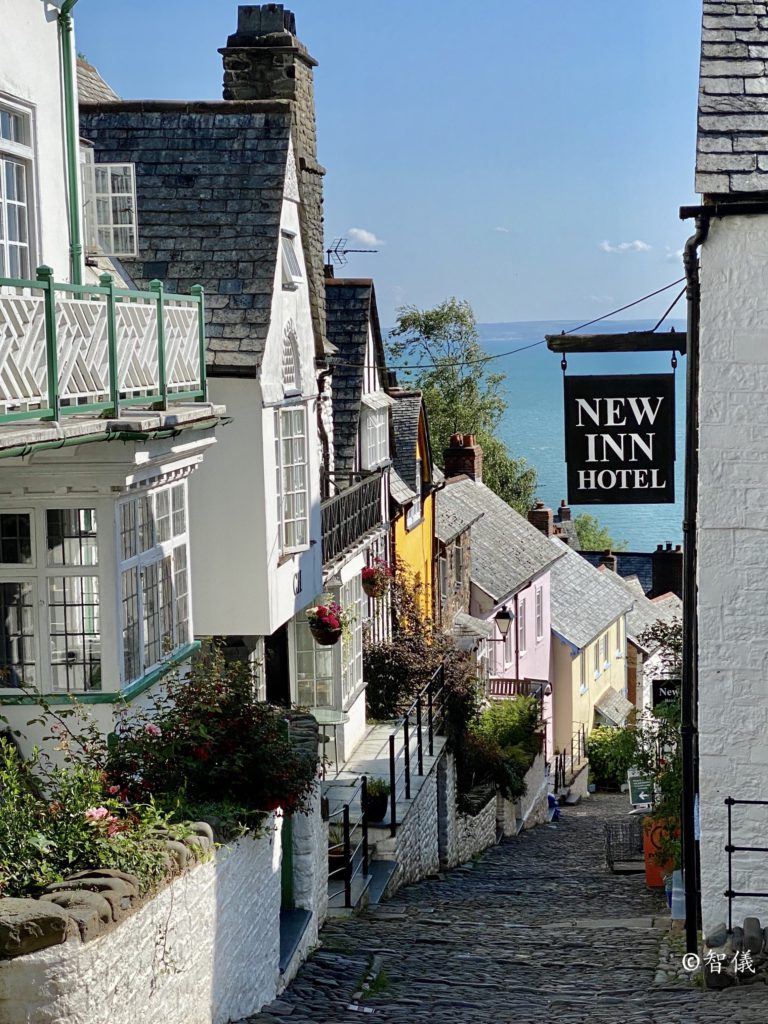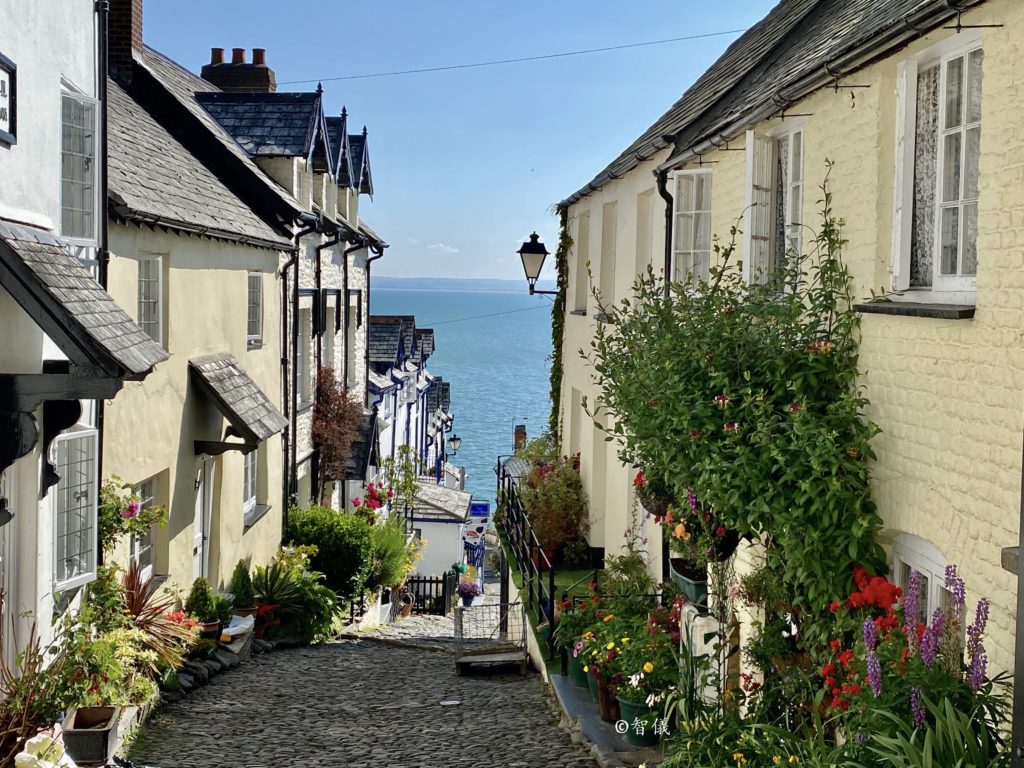 The Harbour
Down at the harbour Red Lion Hotel was a great place for our well-earned cup of coffee and a piece of cake. It was rather restful to take a break on the terrace outside under the sunny blue sky.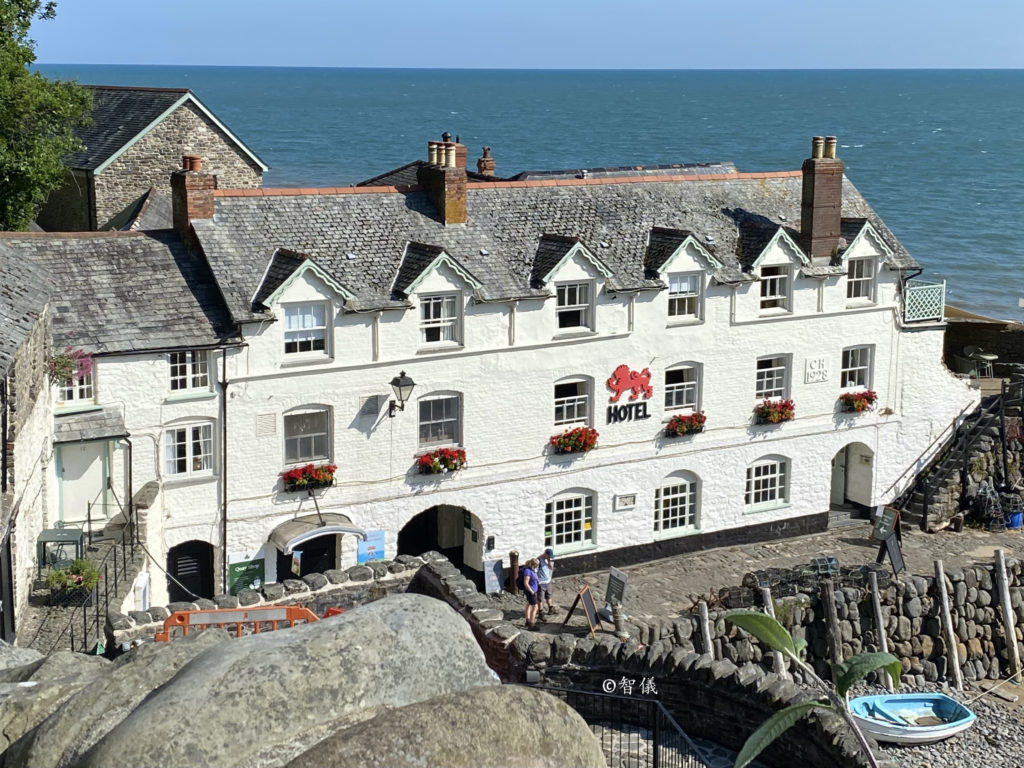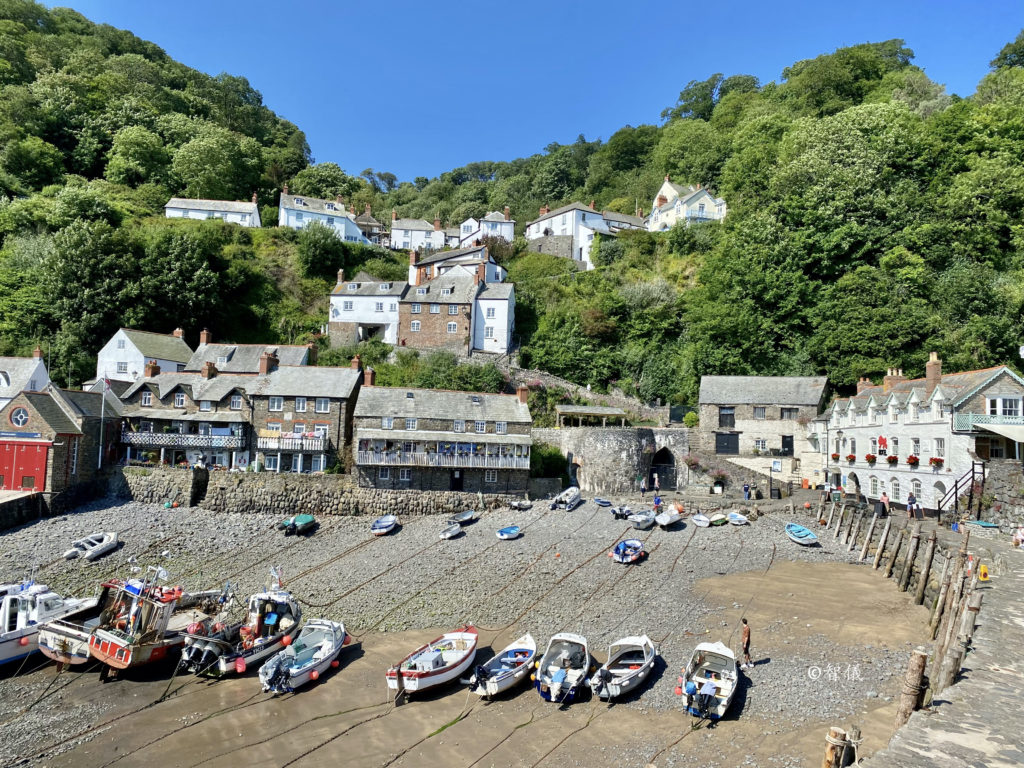 Behind Red Lion Hotel is a car park for residents and there is a winding vehicular road to the top of the village from there. We opted to take this rather uninteresting road to get back to the Visitor's Centre rather than to go against the tide of visitors making their way down. As expected, by 11.00, there's a queue outside the Visitor's Centre and the carparks were packed!
North Devon is certainly not short of places with photo opportunities!!